Coronavirus
COVID-19 presents unique challenges for the agriculture industry
The coronavirus has cut off a major part of the supply chain for New York farmers.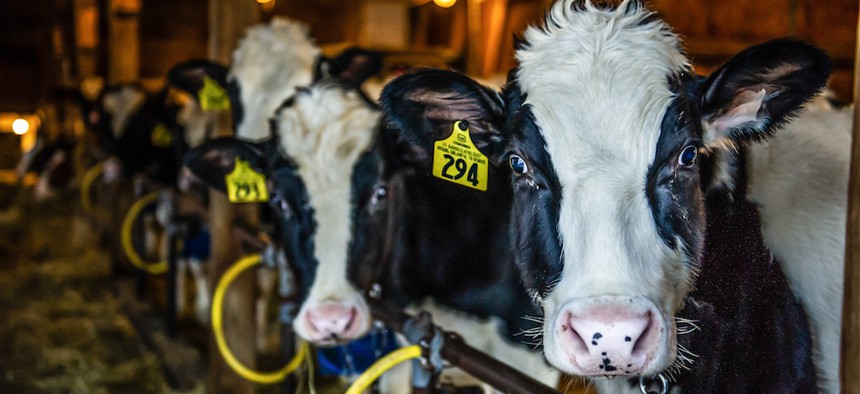 The future of the agriculture industry in New York, which supplies many of the state's schools, restaurants and residents, looks different than it did just two months ago, when farmers were already struggling to turn a profit in an increasingly volatile open market.
New threats have now emerged for farmers in upstate New York, where the COVID-19 pandemic has caused a series of ripple effects for the state's agriculture industry.
It started in March, when New York closed restaurants to the public and pulled students from schools in an effort to contain the spread of COVID-19. That immediately cut off a major part of the supply chain for New York's farmers.
Assemblywoman Donna Lupardo, a Democrat from Broome County who chairs the Agriculture Committee, said dairy farmers have been hit particularly hard. Half the butter that's produced in New York goes to restaurants and schools, she said.
"I have heard from so many farmers, so many craft brewers, so many people in the horticulture field, so many folks who put that food on people's tables, who really were not set up for this type of work shortage," Lupardo said. "We're not nimble, we can't really shift quickly."
The problem extends beyond dairy farmers, who were hoping for a comeback this year afterseveral years of lower-than-ideal milk prices. Prices werestarting to go up in January before COVID-19 hit New York in March.
Slaughterhouses in New York have also proven vulnerable to the disease. Some meat processing plants have been forced to close temporarily after the disease affected workers, said David Fisher, president of the New York Farm Bureau.
"Just for pork, for example, last week, a couple more pork plants have closed," Fisher said. "We were about a half a million pigs short each week of processing capabilities. So, that's causing those prices to plummet and backlogs in fat hogs."
Farmers in New York are now seeking more detailed guidance from the state on how to keep workers safe without sacrificing the food supply. That's to avoid a situation where a farm is left understaffed – or without staff – at a critical time.
The disease presents a unique challenge for some farmers, who hire guest workers and provide them with congregate housing on-site. If one worker contracts the disease, it's likely that others will be put at risk without an area to isolate and treat that individual.
Fisher said farmers have approval from the U.S. Department of Labor to secure temporary housing for workers in the event that they have to be placed in quarantine.
"That will spread quickly in some of those housing units," Fisher said. "So, we have approval to get waivers on temporary housing or for quarantine reasons and things like that."
Farmers are also getting help from the federal government to allow more flexibility for their workforce. It's difficult to bring guest workers to New York from certain countries right now, Fisher said. That means the labor market for agriculture will be tight this year.
"We hope that this loosens up a little bit by fall, especially for large numbers of people that come in for apple harvest and fruit like that," Fisher said. "A lot of workers are here, but not without challenge."
The U.S. Department of Agriculture haslent a hand in that respect by allowing certain workers to stay in the country beyond their allotted time. The federal agency has also made it easier for farmers to hire guest workers already in the country.
Farmers have also tried to take advantage of the federal Paycheck Protection Program, which was created by Congress last month to offer short-term loans for small businesses to pay their employees for up to eight weeks.
Fisher said he's heard from farmers who applied for the program during its first round of funding, which ran out in April. Congress has since approved more funds, which Fisher said will give farmers in New York a second chance.
"I know a lot more people are interested in that," he said.
That money comes with an advantage: if a farm, or any small business, uses it for purposes of payroll, and a collection of other limited expenses, the loan will be forgiven.
But Lupardo said the federal government didn't do enough for farmers in New York when the COVID-19 crisis started to affect the supply chain. Officials should have addressed the issue when it became a problem in March, she said.
"On the federal side, we are so late in trying to address supply chain disruptions across the system in New York state," Lupardo said. "These folks should have leaped into action weeks ago."
That's an obvious challenge presented by the COVID-19 pandemic for farmers, who are struggling to raise revenue to cover costs. There may be fewer opportunities to sell for farmers, but that doesn't mean cows stop producing milk, or chickens stop producing eggs.
With less demand for dairy products, farmers in upstate New York have been forced to start dumping their milk, which is exactly what it sounds like. Rather than going to a plant to be processed, the milk is literally dumped down the drain, or in an approved location.
Fisher, who runs a dairy farm in St. Lawrence County, recently had to dump some of his own milk supply. That's frustrating, he said, because he knows it could be put to good use if the demand was high enough for processors to take it.
"It's very frustrating to the fact that, you know, we have excess milk but we can't get it to people that are in need at this time," Fisher said.
That has also frustrated Gov. Andrew Cuomo, who said last week that it's "a total waste" for farmers to be dumping milk while demand at local food banks has surged across the state over the last month. Demand at food banks in New York City alone has doubled.
"We have people downstate who need food. We have farmers upstate who can't sell their product," Cuomo said. "We have to put those two things together. It's just common sense."
New York is now planning to address the problem in two ways. First, Cuomo said last week, the state is planning to buy milk from struggling farmers who would otherwise have to dump it, and make sure it's used to make dairy products for low-income families.
Second, New York is planning to provide an additional $25 million to food banks across the state. Of that, $11 million will go to New York City. The rest will be split between various regions of the state experiencing the most need.
Some companies in upstate New York have also stepped up to use excess milk from farmers to make dairy products for regional food banks. Among them are Chobani, well-known for its Greek yogurt, and Cabot, a cheesemaker.
It also includes smaller businesses, some of which have taken the initiative to purchase milk from struggling farmers and produce food for those in need.
Lively Run Dairy in Seneca County usually makes artisan cheese products, but has shifted its strategy in recent weeks to make as much cheese as possible for food banks in the Finger Lakes and Southern Tier. They donated 450 pounds of cheese last week alone.
That's thanks, in part, to more than $40,000 raised through an online fundraiser for the initiative, which started in mid-April. That money's been used to buy milk from farmers at prices above market value.
Pete Messmer, the head cheesemaker at Lively Run, said they heard farmers were being forced to dump their milk and decided to instead take it off their hands and do something with it.
"There's more people with food insecurity issues now than I think we've had in a long, long time. It's pretty unprecedented," Messmer said. "Food banks are scrambling for food in general."
New York is planning to continue its support for food banks while demand remains high at those locations, Cuomo has said in recent days.
Lupardo remains cautious about the state's support for the agriculture industry, particularly when it comes to direct spending. With New York facing a projected $13 billion revenue gap, spending could be cut in the coming months for services that benefit farmers, she said.
New York state spends money every year on agriculture research and production. That funding went down in this year's state budget, Lupardo said. She hopes lawmakers can prevent Cuomo from targeting it for more cuts in the coming weeks.
The state Legislature, in early April, approved legislation that will allow Cuomo to cut spending across the board if revenues remain down. Initial cuts are expected to be announced in mid-May, according to Robert Mujica, director of the state Division of Budget.
Lawmakers left a provision in the bill that would allow them to convene in Albany after the cuts are announced and approve a joint resolution between the state Senate and Assembly to prevent them. That may be a hard ask for some lawmakers, who agreed to grant Cuomo that power.
Lupardo hopes that, if farmers are affected by the state's finances, the Legislature will agree to push back.
"When we revisit this, we have to view this as essential," Cuomo said. "We cannot take a line across agricultural funding and research."
Fisher said farmers are hoping for the best in an increasingly uncertain market, but that disruptions in the agriculture industry aren't out of the norm. Farmers take a gamble every year when they plant their crops, only to find out later how much of it can actually be sold.
"We're used to those risks, I guess is the best way to put it," he said.