Campaigns & Elections
How local boards of elections are preparing for the pandemic primary
The obstacles are many and often unprecedented. Here's how they'll try to manage.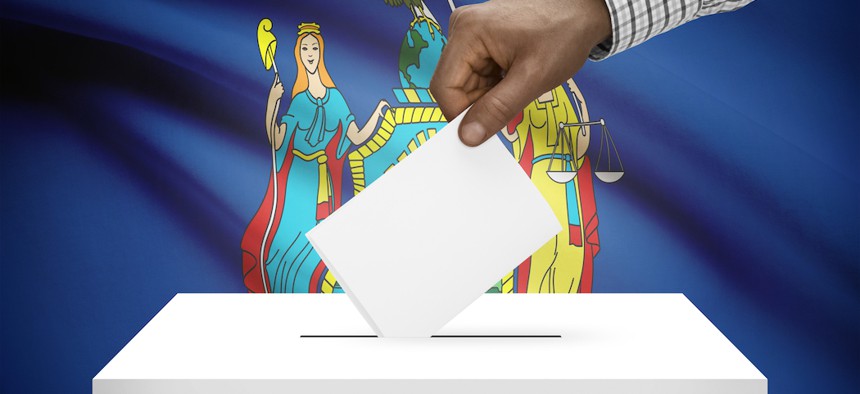 Usually, major changes to election operations come after months or years of careful planning, with a roll out meant to minimize hiccups and maximize voter education. In New York, thanks to the coronavirus pandemic, local boards of elections have been given a matter of weeks to figure out how to complete that Herculean task before the June 23 primaries, after an executive order from Gov. Andrew Cuomo expanded absentee voting to minimize COVID-19 transmission. Local election officials will have to overcome many hurdles, often unprecedented ones, with limited resources. 
Other states are also figuring out on the fly how to hold safe and fair elections amid the pandemic, including by using expanded mail-in voting. But New York, thanks to the existing restrictions on who could vote by absentee ballot, has further to go than many others. According to the Brennan Center, absentee ballots accounted for only 4% of total voter turnout on Election Day in 2018. That's among the lowest proportions nationally. In Florida, which allows anyone to vote by mail, 31% of turnout came through mail ballots. California, which also permits absentee voting for any reason, had an even higher rate of 66%. "The states that do a lot of mail voting have had years and years and years to gear up for, and to knock the kinks out of their various systems," Myrna Pérez, director of the Brennan Center's Voting Rights and Elections Program, said. 
The first task is sending the applications to all eligible voters, as required by Cuomo's executive order. For example, the New York City Board of Elections is mailing out 3.6 million applications to voters across the five boroughs. Michael Ryan, executive director of the city Board of Elections, said at a May commissioners' meeting that the agency used an existing print vendor contract to mail all those applications out. Ryan added that a national envelope shortage may hinder mail-voting efforts, although there appear to be no news reports of such a national shortage and election officials elsewhere in New York state that City & State spoke with did not raise any concerns about the supply of envelopes. Reports have emerged from other states about some boards of elections running low on absentee voting supplies, including envelopes, locally.
Other boards of elections in the state took similar action, since they do not have the capacity to send that volume of mail on their own. An executive order from Cuomo gave local boards of elections the ability to cut through the traditional red tape around contracting and procurement to make the process go faster. Every county in the state has its own board of elections that run its elections, from president to a town council. They all have a bipartisan leadership structure, with one Democratic and one Republican commissioner. The exception is New York City, which has one Board of Elections for all five boroughs, but 10 commissioners with one Democrat and one Republican per borough.
There are other challenges when it comes to mailing the applications and then the absentee ballots. Nassau County Democratic Elections Commissioner James Scheuerman, who expects his county to send about 600,000 applications, said that covering the cost of return postage as required by the governor is expensive. "Nassau County got $1.9 million in the federal COVID funds grant, and that is a bulk of that," Scheuerman said. "I believe somewhere between $1 million and $1.4 (million) is going to go just for postage." A recent executive order has mandated that all absentee ballots also include prepaid return postage. 
The boards, with a staff that is likely not large enough to handle the workload, then must process what is expected to be a much higher volume of applications and mail unprecedented numbers of ballots. St. Lawrence County Republican Elections Commissioner Thomas Nichols said that his office has a staff of six full-time employees. The most absentee ballots he recalls they had ever received was 3,200 during a general election. This year, if 30% of voters request a ballot, that number could skyrocket to between 16,000 and 19,000. "I'm not complaining, I'm saying that's a monumental challenge for a small staff and a lot of rural counties," Nichols said. He said that his agency received about $126,000 in federal funds, which is expected to cover only about half of the cost of the primaries alone.
Kristen Zebrowski Stavisky, the Democratic commissioner of the Rockland County Board of Elections, said her staff of 20 will likely need additional help, whether those are new hires or borrowing people from other agencies in the county. She said that going through a vendor to mail the applications is helpful, but their return will likely cause a bottleneck at the board that could ultimately affect other board functions. "I'm not going to have people working on registrations when we have to get the absentees in such a quick time period," Zebrowski Stavisky said. "That doesn't mean we stop registrations, but that might mean that gets backlogged and we're dealing after the primary with catching up." 
Zebrowski Stavisky said Rockland has received $398,000 in federal funding, but said it's not enough. Postage for mailing the applications alone will cost $90,000 and given that's just the first step, she said, "the pot is shrinking quickly."
To make matters more complicated, the court-ordered return of the Democratic presidential primary means that local boards of elections are essentially running two parallel but separate elections at the same time. In many cases, Democratic voters will receive two different ballots, one for the presidential primary that was originally scheduled for April 28 and one for any congressional, state or local races in their district. In the case of the eight counties that are entirely or partly in the 27th Congressional District in Western New York, boards of elections may have as many as three elections to run, thanks to the special election for that seat being held on June 23 as well.
At poll sites, this can mean separate check-in tables and the need for more machines to process the different ballots. Scheuerman suggested this will be the case in Nassau. "As it stands now, it's two ballots, which is double everything, which means polls sites get tighter because we have to put extra inspectors in and it leads to confusion," he said. 
The state Board of Elections originally decided to cancel the Democratic presidential primary since every candidate other than Joe Biden dropped out or suspended their campaign. After a lawsuit, a judge overruled the decision and reinstated the election. The state appealed the decision, meaning that there's still a chance that the race will get canceled again. Scheurman, Zebrowski Stavisky and Nichols alike said that strictly from a logistical standpoint, calling off the presidential primary again would lift a huge burden off their shoulders.
Voters and candidates hoping for speedy results will likely have longer waits than usual. Secretary to the governor Melissa DeRosa suggested at a May 6 press conference that results in many cases may not be finalized on election night due to large numbers of absentee ballots still trickling in days after the polls close. Local officials agreed, although preliminary election night returns from in-person voting will still be released as usual. Cuomo thus far has not made any changes to how absentee ballots are processed, meaning that boards of elections cannot even open them until over a week after the election because they must first verify who voted in person and share that data across the state to prevent double voting by absentee. 
In past years, absentee ballots represented a small sliver of votes cast that were unlikely to sway any but the closest elections. Generally, they follow the poll site votes – if a candidate receives 60% of the vote on election, chances are they will receive about 60% of the paper ballots counted later. But Zebrowski Stavisky said the calculations may be different this year because paper ballots are expected to represent a much higher percentage of the overall turnout. If 30% of the vote isn't available on election night, it would be hard to call the race unless the lead is insurmountably great.
When asked whether an executive order allowing boards of elections to open absentee ballots sooner would be helpful, Nichols suggested such an action would raise constitutional concerns because it might allow some people to vote twice. "You can't count absentees until you know where that person has voted," Nichols said. "That's why absentee ballots are held so long in abeyance after the election – we have to make sure that person didn't vote in person somewhere in the state." Zebrowski Stavisky suggested that eventually, the state could figure out how to conduct secure elections while counting absentee ballots sooner if New York eventually made mail-in voting permanently more accessible, but not within the current timeframe – especially given all the other obstacles the pandemic has created.
Counting a large volume of absentee ballots when the time arrives to open them is no small undertaking either. The process can be slow going and existing machines that boards of elections may have can't handle large volumes quickly. Scheuerman said the Nassau Board of Elections recently purchased a new machine that can count 50,000 to 80,000 absentee ballots a day, a significant increase over the current capabilities. He said it would also make workers safer by limiting their exposure to outside ballots. 
On top of the logistics of handling the expanded absentee voting, election officials also have poll sites to worry about as well. Boards are purchasing hand sanitizer, plexiglass dividers and personal protective equipment to protect poll workers. Having enough election inspectors at poll sites is another concern. They tend to be older and thus more vulnerable to COVID-19. Officials expect fewer will want to work to protect themselves, potentially leaving polling places understaffed. This could lead to the consolidation of some sites to accommodate fewer workers. 
Additionally, policing in-person voting and ensuring that voters are social distancing while standing in line is another concern. DeRosa said that the state is considering dispatching the National Guard to counties that feel they may need extra help ensuring poll site safety, although officials that City & State spoke with said they have not discussed this possibility with the state.
Zebrowski Stavisky, who is also second vice president of the New York State Election Commissioners Association, said she has been in regular contact with the state Board of Elections and fellow commissioners across the state. She said that while it would be impossible for officials throughout the state to be prepared for the upcoming election, she felt everyone she works with is up to task.
But that doesn't take away the fact that, ideally, boards of elections would have at least a year to prepare themselves and educate voters about the change. That this is a presidential year when turnout is highest and boards are under the most stress under normal circumstances does not help either. "We're really doing what is essentially close to a vote by mail for the first time," Zebrowski Stavisky said. "I would say in my professional career, this is the most daunting challenge."
Powered By
NEXT STORY: What will absentee voting mean for the June primaries?