New York State
State lawmakers eye a legislative response to coronavirus
Legislators across the state are proposing COVID-19 related bills.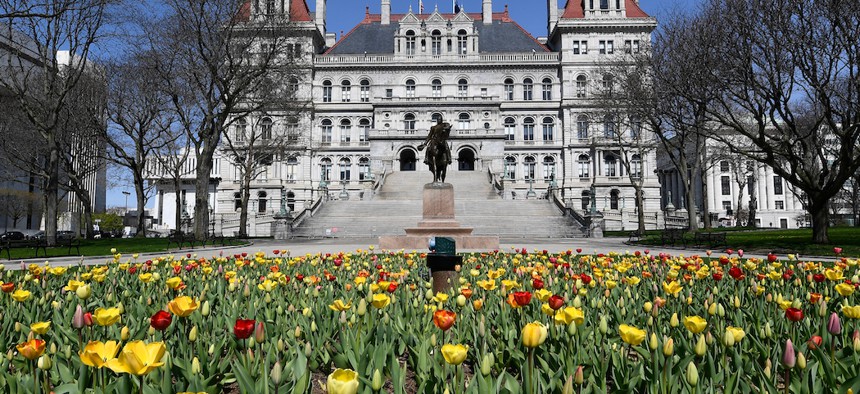 Although Gov. Andrew Cuomo asserted last month that the state legislative session is "effectively over" due to COVID-19, state lawmakers are scrambling to put forth new legislation to address the pandemic. In March alone, lawmakers introduced 60 coronavirus-inspired bills, according to The Buffalo News. Here's a list of some of the coronavirus-related bills that have recently been proposed or introduced. 
Absentee voting 
A number of New York elections, including the state's Democratic presidential primary, have been canceled, but state and federal legislative elections are still on, with the primary date coming up in June. While Cuomo has responded by issuing an executive order mandating that every voter receive a form to be able to request a mail-in ballot, several state lawmakers introduced bills for absentee voting. State Sen. Alessandra Biaggi proposed legislation that includes the "spread or potential spread of any communicable disease" as a reason to apply for an absentee ballot. Assemblyman Joseph Lentol introduced a more far-reaching bill that would have effectively mandated vote-by-mail for the presidential primary – although it's already moot, and any other measures may come too late as well. 
Funeral costs 
While state law covers funeral service and burial for qualifying individuals, lawmakers are now championing a bill to increase assistance and expand the law to include immigrants. Sponsored by Assemblywoman Catalina Cruz and state Sen. Luis Sepulveda, this legislation increases the minimum benefit from $900 to $3,000 and expands assistance to include undocumented persons. "COVID-19 pandemic has dramatically exposed the inequalities that define our economic and healthcare systems," Sepulveda said in a press release. "Minority and undocumented communities have disproportionately higher rates of infection and death from the virus, while many of them are also the essential workers keeping our societies functioning and saving lives during the shutdown."
Hazard pay 
After President Donald Trump's administration and congressional Democrats have shown an interest in providing health care workers with a bonus, state legislators are demanding essential workers receive hazard pay for serving on the front lines of the crisis. In a joint letter signed by 42 other lawmakers to the congressional delegates, state Sen. Andrew Gounardes urged hazard pay for essential workers to be prioritized in Congress' next stimulus bill. In the letter, they request benefits to be extended to "to any gig or freelance workers serving an essential role, including delivery workers, freelance journalists/photojournalists and drivers." Similarly, Assemblywoman Aravella Simotas and State Sen. Jessica Ramos sent a letter to state Senate Majority Leader Andrea Stewart-Cousins and Assembly Speaker Carl Heastie on April 14, urging the state to use a number of the federal stimulus funding allocated to the state for hazard pay. 
Price gouging of medical products
While price gouging is technically outlawed already, state Sen. Brad Hoylman sponsored a bill to crack down on price gouging of consumer medical supplies. This legislation, which is supported by Assemblywoman Nily Rozic, newly defines an "unconscionable excessive" price increase as a price greater than 10% before the pandemic began, following states like California and New Jersey. The sale of hand sanitizer, face masks and over-the-counter medications at such increased prices would be subject to a civil penalty of up to $25,000. "Profiting off fear of disease is unconscionable," Hoylman said. "We can't allow shady businesses to hike prices on the supplies New Yorkers need to stay safe and healthy, like hand sanitizer and face masks."
Support for nursing homes
Gounardes and Assemblyman Ron Kim introduced new legislation to support nursing homes, which have been particularly hard hit by the pandemic. The proposed bill, which applies specifically to the administration of residential health care facilities during a state disaster emergency, mandates increased protection for nursing home residents and staff. This includes restricting visitation and entry by non-essential workers, screening of staff before their work shift, daily inventory of personal protective equipment, establishing communication between residents with close family and friends three times a day, and authorizing home care services. The facility would also have to report fatality and infection rates to the state health department daily. If these numbers remain the same or increase over 15 days, the health commissioner could appoint a temporary operator who assumes control and responsibility. 
Suspension of fines and fees
Buffalo state Sen. Tim Kennedy and Syracuse Assemblywoman Pamela Hunter are proposing a bill to suspend or cancel the enforcement of fines, fees and court debt in the state. Sixty Democratic state lawmakers have voiced their support and signed onto a letter sent to Cuomo, urging him to take immediate executive action to prevent incarceration and suspending drivers' licenses for unpaid fines. Furthermore, legislators are urging the governor to give courts the ability to waive criminal court fees and mandate surcharges. They demand local law enforcements stop issuing parking tickets or citing other minor violations that do not threaten public safety. "Now more than ever, New Yorkers shouldn't have to live in fear of losing a job, missing a rent payment or forfeiting an education due to personal and financial challenges," Kennedy said.
Tax break for front-line medical personnel 
State Senate Deputy Minority Leader Joseph Griffo pushed for state income tax exemptions for medical workers and first responders fighting the spread of the coronavirus. His bill would apply to firefighters, emergency medical technicians, law enforcement personnel, doctors, nurses and others helping on the front lines. On April 14, Hoylman also proposed new legislation to amend the state tax law and create a tax deduction for certified first responders, health care professionals and emergency medical technicians. The bill would deduct up to $5,000 in COVID-related expenses, such as for personal protective equipment and transportation costs. "New York owes front-line medical workers an enormous debt – one we will never be able to fully repay," Hoylman said. "It's particularly outrageous that our federal government is asleep at the wheel, forcing hard-working medical personnel to purchase their own personal protective equipment and other necessities."
Tenant protections
In March, Cuomo imposed a 90-day moratorium on evictions, which prevents landlords from kicking out tenants unable to pay rent. With the moratorium running out in several weeks, several lawmakers have proposed other action. State Sen. Michael Gianaris and Assemblywoman Yuh-Line Niou have proposed two bills to address the matter. The first would cancel rent for tenants who have lost their income due to the pandemic and suspends mortgage payments for landlords according to the amount of lost rent. Their second and more recent piece of legislation would allow tenants to pay no more than 30% of their income while establishing a fund for landlords who aren't receiving any federal, state or local assistance. As reported by City & State, Gianaris and Niou's bills would exclude single-family and some multi-unit homeowners if they were to lose their jobs. 
State Sen. Juliana Salazar has also put forward the Emergency Coronavirus Affordable Housing Preservation Act of 2020, also known as Relief For All. This legislation, similar to Gianaris' first bill, would cancel rent for anyone struggling financially or facing a loss of income due to COVID-19. However, tenants must provide documentation proving financial hardship. Landlords could write off a certain amount of their lost income from their property taxes or have mortgage payments suspended. Salazar told City & State that she supports Gianaris' bill, but she believes that her law best addresses the rent issue. "New Yorkers are facing down an unprecedented crisis, and we need an unprecedented response," Salazar said in a press release. "By passing Relief For All, we can preserve affordable housing, while keeping families in their homes and businesses afloat. With no home left behind, and every rent paid, this is a unity bill that meets the needs of this moment."
Unemployment benefits 
State Sen. Monica Martinez is championing a bill to suspend the forfeiture of unemployment benefits during the pandemic. The state Department of Labor's forfeit day penalty denies unemployment insurance benefits to individuals who are accused of, in the past, having made a false claim to get benefits. Once they are eligible for payments, these will first be used to pay the penalty, reducing the amount of money received in unemployment insurance benefit payments. The legislature, supported by Hoylman and Assemblywoman Linda Rosenthal, would authorize the Department of Labor commissioner to "temporarily suspend the imposition of forfeit days," until the end of the state of emergency. "New York State is facing an unprecedented crisis with more than one million New Yorkers having already filed for unemployment, and unfortunately, this pandemic is not over," Rosenthal said. "It's simply unconscionable that the New York State Department of Labor would withhold the payments right now over issues with previous unemployment claims when the situation has become so dire."
Powered By
NEXT STORY: Weekend weather offers a glimpse of the 'new normal'