Andrew Cuomo
The Cuomo Show ends this week
The governor's daily press conferences earned him national attention, huge ratings.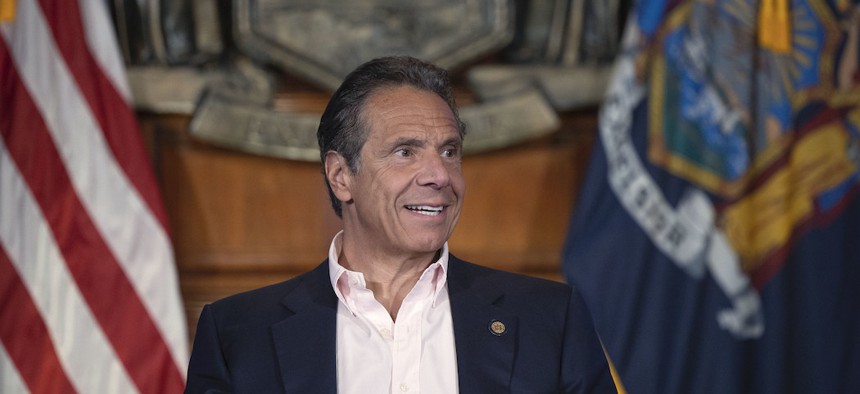 Gov. Andrew Cuomo will hold his final daily coronavirus briefing this Friday – ending a 97-day streak of press conferences.
"Well do briefings as necessary," Cuomo told reporters at a Wednesday press conference in Albany. "And I'm sure they will often be necessary, but we're going to turn the page on the immediacy of this crisis."
The press conferences have served as a powerful tool – despite his arguable failings – for the governor since the state reported its first cases of COVID-19 at the beginning of March. His data-filled PowerPoint presentations presented him to a national audience as an effective crisis leader who stood in stark contrast to President Donald Trump and New York City Mayor Bill de Blasio.
More than a few people who tuned in each day saw the governor as the Empire State's own white knight as his popularity in the state and nationwide skyrocketed. While chatter of a dark-horse bid for the Democratic nomination never panned out, it is fair to say that the daily briefings have given the three-term governor the opportunity to reinvent himself.
After holding most of his press briefings in the state Capitol for the first weeks of the crisis, the governor shook things up by taking his show on the road. Cameos by elected officials past and present began to pop up as new recurring characters were added to a rotating supporting cast that included Secretary to the Governor Melissa DeRosa and Budget Director Robert Mujica. Celebrity cameos also spiced things up from time to time but, like any popular show, things got stale with time.
With the Cuomo Show's demise, the pandemic just will not feel the same – at least for anyone who has become accustomed to Cuomo's daily mix of data, humor and personal musings. "Oh god how will i know what day it is on Saturday," Politico reporter Bill Mahoney tweeted.