Campaigns & Elections
Nobody votes in local elections. Could moving them to November help?
Elections are scheduled all over the calendar, and lots of New Yorkers don't even know it.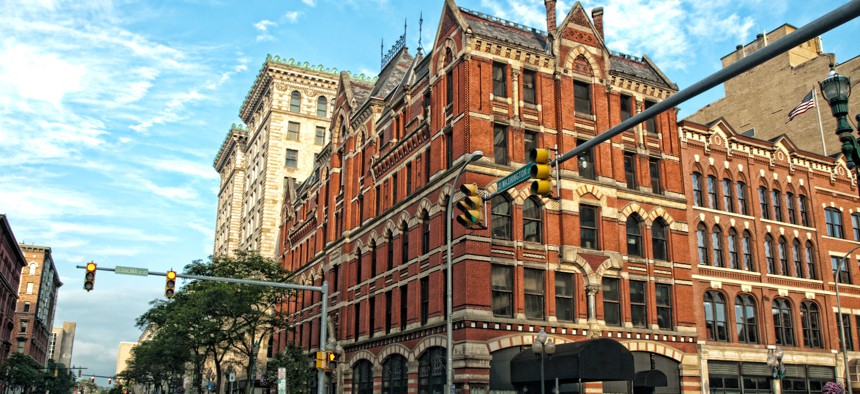 New York state typically has low voter turnout: Just 57% of the eligible voters cast a ballot in the 2016 general election, ranking 41st in the United States. In 2020, preliminary results showed New York's turnout rose to 65%, placing 32nd among the states.
While turnout for presidential, congressional and statewide elections in New York is unimpressive, it can be even worse at the local level. Though it is difficult to get aggregate data on voter turnout from village, school board or other local elections because they are run individually, it typically falls far below turnout for larger elections. The village of Port Chester in Westchester County, for example, has seen consistently anemic turnout of about 10% in many local elections. "I think turnout for a school district election rarely exceeds 10%," said Perry Grossman, senior staff attorney at the New York Civil Liberties Union, who has evaluated school boards across New York. "I think it frequently is less than 5%."
Low turnout in local elections has been prevalent for years. The Association of Fire Districts of the State of New York wrote in 2014 that elections for fire district commissioner tend to be less than 10% in most districts. A statewide commission on local governments wrote in a 2008 report: "Voter participation in New York, generally not strong, is abysmal in elections for officials below the town and village level."
Across the country, local elections tend to attract fewer voters. In New York, that may be exacerbated by the fact that many of these elections happen at unusual times. Voting rights experts say that problem could be addressed by consolidating local elections onto the usual November election date. 
Because local elections are largely managed by individual villages or school districts, their timing varies widely across New York. Village elections take place either annually or biannually. Whether they occur in even or odd-numbered years varies. There typically are no primary elections for these local races. 
Many village general elections take place on the third Tuesday in March, but some villages have chosen to hold them on another date. The third Tuesday in June – a week before the state's primary election date – is a popular alternative, according to the New York State Conference of Mayors and Municipal Officials. A few do use a November election date, but those that do cede the responsibility of the election to their respective county board of elections, per state law. Major cities such as Rochester and Syracuse, like New York City, hold local elections in November in odd-numbered years. Elsewhere in the state, school districts generally have their elections annually in May so new board members can enter office at the start of the school budget year in July. Meanwhile, fire district elections are held annually in December. This is all further complicated by the fact that polling sites can differ during each election because villages and school districts are in charge of administering their own elections. 
"It's just so confusing for voters and for even me," said Jennifer Wilson, deputy director for the League of Women Voters of New York State. "This is my job and I get confused, too, when all these different elections are being held."
Research indicates that holding local elections on the first Tuesday after the first Monday of November drives up turnout, and several states have already taken steps to consolidate their elections. At least 11 states, including Georgia and Pennsylvania, hold municipal elections in November in odd-numbered years, according to the National Conference of State Legislatures. Another five do so in November in even-numbered years, meaning they are held on the same day as federal races.
State legislation signed into law last year switched the date of Buffalo's school board elections from May to November. Turnout for those elections has ranged from 5% to 14% over the last 16 years, but the effort faced opposition from the Buffalo Teachers Federation and board members, and took about eight years to gain traction. 
"I viewed it as a method of voter suppression," said Assembly Majority Leader Crystal Peoples-Stokes of the previous election date. Peoples-Stokes sponsored the bill and is from Buffalo. "You have it at a time that's not convenient for people, where they don't even realize there's an election."
Brian Fessler, director of governmental relations at the New York State School Boards Association, said that the drawbacks of implementing November elections generally outweighed the increased turnout. Nonpartisan school elections tend to become more partisan when they are lumped in with other races, he said, and the timing switch can conflict with the budget timeline for some school districts. A November election date would mean board members would enter office in January, in the middle of the current budget year and planning the next year's budget. 
Peoples-Stokes said the arguments against moving to a November election date fail to acknowledge the current system's failures. The low-turnout school board elections in Buffalo have often been dominated by the teachers union, she said. "I also think that parents have a role here, too, and it gets overshadowed when parents don't have the kind of resources to put into an election that teachers unions have." 
There is a bill sponsored by state Sen. Zellnor Myrie and Assembly Member Latrice Walker that could change the timing of local elections if those elections consistently have significantly lower voter turnout than the presidential election. The legislation would also create a new statewide database that would aggregate data such as election results and lists of polling sites from each election district level in New York. This would consolidate information from local governments that is otherwise not accessible at the state level, and make it easier for researchers, reporters and the public to access information about local elections.
In addition to consolidating elections, there are other efforts local officials can take on to improve voter turnout in local races. Wilson said greater funding allocated to elections could help promote them, by improving out-of-date websites, investing in advertising and other communications. Some challenges associated with managing elections effectively, such as providing sufficient educational materials and language assistance, could also be improved by shifting responsibility to full-time election professionals rather than town clerks, Grossman said. "The sensible thing to do would be to consolidate all of our elections on the same days and have them run by the same authorities, at the same polling places, using the same procedures and the same technology," Grossman said. "It would take a burden off these local government entities." Individual villages can choose to hold elections on the November date, which would cede control to the county board of election, but a broader change of shifting that responsibility would have to be made via state law.
One strategy that emerged from the pandemic that proved especially effective for school districts was the switch to 100% absentee voting this year, Fessler said. Gov. Andrew Cuomo mandated that school districts manage their entire elections by mail this year, which led to massive increases in turnout. The New York State School Boards Association found that voter turnout increased anywhere from threefold to eightfold, depending on the district. Many school districts in Central New York saw turnout jump anywhere from 100% to 454%. Some in Western New York saw an increase of more than 600%. "We had turnout that blew away numbers compared to any previous year that we knew of," Fessler said. 
Though the boost in turnout has increased interest for school districts to continue this practice, this year's sudden transition was also not easy. Some districts struggled to get ballots mailed out in time to voters, and the process was logistically difficult and more costly, especially given that the changes were made by executive order because of the COVID-19 pandemic. 
What's clear is that without change, New York's local elections will continue to see little engagement from voters. But there is at least hope for a brighter future where local races aren't just decided by 1 in 10 registered voters.