Campaigns & Elections
Andrew Yang is more than New York City's "tech candidate"
The mayoral contender has run successful companies and built a nonprofit, but it didn't turn around cities like he hoped it would.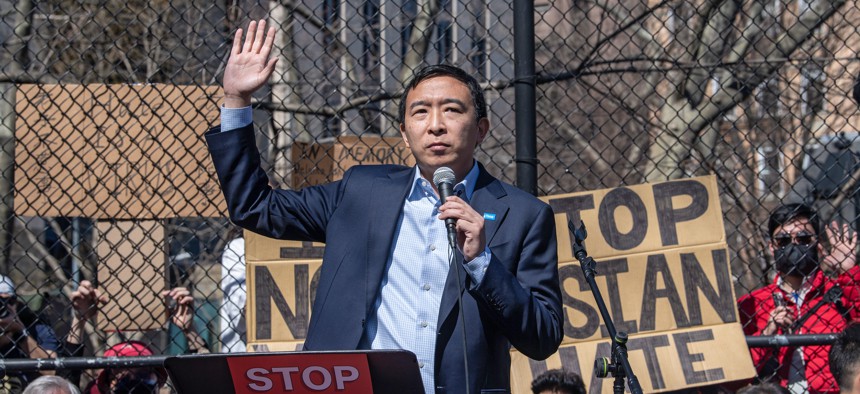 Andrew Yang is somewhat ambivalent about being known as the "tech guy." Once a presidential longshot and now the frontrunner in the Democratic primary for mayor of New York City, Yang has spent his short political career being characterized as a tech entrepreneur or the "Silicon Valley candidate." This characterization stems from the fact that Yang founded a short-lived tech startup in the early 2000s and then a nonprofit that sent hundreds of college graduates to work at tech startups around the country. His interest in the labor market problems potentially posed by automation and artificial intelligence also help explain the label. 
But Yang is not actually a product of Silicon Valley, nor is he someone whose career is defined by the creation of a successful app or website. A good chunk of Yang's professional life was spent leading a test prep company that he said tried to use technology in an innovative way, but was an educational company at heart. "I get characterized as a tech guy in a way that probably is something of an oversimplification of my background," Yang told City & State recently. 
Yang's background is the subject of intense focus as he continues to lead polls in the crowded mayoral primary despite never having worked in local politics, policy or social services in any capacity. Though he's lived in New York City for over two decades, he hasn't voted in any of the past four mayoral elections.
So what does his professional record consist of, and how would it prepare him for City Hall? 
In interviews with over a dozen of Yang's former coworkers, business partners and fellows at his nonprofit, Venture for America, nearly all praised Yang's plainspokenness, self-deprecating humor and impassioned talk about creating a better future. 
But while many agreed that Yang the candidate is a lot like Yang the CEO, and some said that positioned him well to lead New York City, several of the people City & State spoke to suggested that echoes of some of the criticisms Yang has received during the mayoral campaign – including that he's taken a hands-off approach to getting involved in city politics – can be found in the work he did before he set his sights on elected office. Two former fellows with Venture for America said that while the nonprofit under Yang's leadership was well-intentioned and provided them with valuable experiences in startups, it was not always an organization that had equity or the most vulnerable people in mind. Founded by Yang in 2011, Venture for America is a nonprofit organization that recruits and trains recent college graduates to work at startups, many of them technology-focused, in struggling cities across the country. The nonprofit raises money from rich donors including Uber CEO Dara Khosrowshahi and other companies and foundations, which fund a startup accelerator and investment fund to help those fellows start their own companies.
At its outset, part of Venture for America's mission was to "revitalize" those struggling cities by sending graduates of elite colleges and universities to work at and build startups there. But with largely white and male classes in its early years and little importance placed on fellows becoming civically engaged in the cities they were joining, some said the organization parachuted in to create companies and jobs in cities it didn't know well. Some said that Yang's mayoral run is emblematic of his approach to revitalizing cities through Venture for America. "If he was someone who did believe that constant active civic engagement was really critical, and that those things are part of the fabric of the city, then the structure of what revitalization, quote-unquote, might have looked like as part of the VFA program would probably have looked different," said a former fellow who asked not to be named in order to speak freely about their experience. Getting to know the city council and attending community meetings in the cities whose economies fellows were meant to help "revitalize," for example, were not activities that were emphasized, the former fellow said.
However, that fellow and others complimented the nonprofit for moving beyond that mission in recent years and focusing on diversifying its classes; more than half of the 2020 fellow class identified as a racial or ethnic minority. Spokespeople for Yang did not respond directly to the claim that the nonprofit was not closely involved in the cities it operated in. "Andrew built VFA from the ground up by investing in American entrepreneurs from every corner of the country to build businesses in cities eager for innovation and investment," said Alex Sommer, a vice president at Tusk Strategies, which is working on Yang's campaign. "Since Andrew founded the organization, VFA has welcomed over 1,000 fellows who have helped generate $115 million in investment capital, and created jobs and developed companies in cities across America." Venture for America did not immediately respond to a request for comment on this or other criticisms of the nonprofit under Yang's leadership.
As the entry in Yang's resume whose mission most closely relates to his political and policy priorities, Venture for America is an important part of Yang's story to consider in judging his mayoral run. But Yang's story starts with a far more conventional job: as an associate at a big Manhattan law firm. After graduating from Columbia Law School in 1999, Yang followed the Big Law pipeline to Davis Polk & Wardwell, an international firm with nearly 1,000 attorneys today. Yang lasted five months before quitting out of boredom. A self-described "serial entrepreneur," Yang headed for riskier pastures, founding a startup in 2000 called Stargiving, a website that allowed fans to donate to the charitable causes championed by their favorite celebrities. Brian Yang (no relation), one of Stargiving's first employees, said that many of the strengths the candidate exhibits on the campaign trail – fundraising, galvanizing audiences and being both a big thinker and effective at working out the minutiae – were on display at his first business venture.
But Stargiving failed to catch on and folded amid the dot-com bubble burst in 2002. Today, Yang takes a more positive view of his first startup failure, which is something like a rite of passage in tech, after all. "I think most anyone with any common sense would think that if you start a business and it doesn't work out … that's the kind of experience that would really help inform you about both success and failure, and how tough it is for small businesses," he told City & State.
Following Stargiving, Yang worked in executive roles at a content management company and a medical records software company, but his next big job was at Manhattan Prep, then a startup known as Manhattan GMAT. Yang joined in 2006 and quickly took over as chief executive officer. Under his leadership, the company expanded to offer not just preparation for the business school admissions standardized test prep, but courses for other tests as well. In 2009, the company was acquired by the test prep giant Kaplan – a sign of the success Yang had turned the company into. One former employee said that in addition to other qualities that make a good leader – a hands-on approach and inspiring employees to be invested in the company's success – Yang also took on an open-minded approach to hiring at a time when the company was growing, taking chances on candidates who resumes may not have lined up perfectly with the job but who were smart and showed promise.
It was in 2011, after Kaplan's acquisition of Manhattan Prep, that Yang launched Venture for America. Yang first conceived of it as a way to direct top-tier talent from colleges and universities to work at and create startups in cities that don't typically attract that talent – cities like Detroit rather than San Francisco. While Venture for America was headquartered in New York City, the nonprofit didn't send fellows there.
In his 2018 book, "The War on Normal People," Yang describes thinking up Venture for America as an engine of job creation in cities that needed economic stimulus. "I arrived at a vision, an army of smart, enterprising graduates building businesses in Detroit, New Orleans, Providence, Baltimore, Cleveland, St. Louis, and other communities that could use a boost," he writes. 
After a starting class of just a few dozen fellows, Venture for America has grown into an organization that sends classes of over 100 fellows to 13 cities across the country every year. College graduates selected to participate attend about a month-long training camp with Venture for America staff, where they bond with their classes and attend lectures with guest speakers, business leaders and Yang himself. Then, they set off for their cities, where they've lined up – either on their own or with the organization's help – a full-time job at a company. 
While many of the fellows City & State spoke to said that the organization has had a positive impact on their own life and career, the nonprofit's effect on the communities it works in is less clear.
Initially, Yang set a goal of creating 100,000 jobs through the program by 2025, but as the technology outlet Recode reported during the presidential race, the organization has claimed credit for creating only a few thousand jobs in its cities, generously measuring their impact by the number of jobs a company creates after employing a Venture for America fellow. Yang has said more recently that the goal was unrealistic. "In order for organizations to have a very high ceiling, you need to set the goal very, very aggressively," he told Recode in 2019. Recode reported that as of 2019, 52% of fellows remained in the cities they'd worked in during the program. 
An organization's impact can't be measured in statistics alone, of course. Many of the former fellows City & State spoke to praise the nonprofit for creating a stable on-ramp to the volatile world of startups and entrepreneurship. "Startups are very risky, and I don't come from a family with a wealthy background," said Chisom Uche, a fellow from 2014 to 2016 who worked in St. Louis. A two-year program that gave fellows built-in networks in their cities and offered some support in finding a new job if a fellow's company were to fold, took some of that risk away, Uche said. 
Former employees at Venture for America said that Yang led the organization with the same kind of charisma and passion that won him supporters on the campaign trail. "He went out there and basically went door-to-door at colleges and universities, doing all the recruiting, all the conversations, all the pitching himself," said Mike Tarullo, the former senior vice president of corporate development at Venture for America, of Yang's work in the early days of the nonprofit. 
Former fellows – even those with criticism of Yang's leadership – praised Venture for America today for evolving to have more diverse classes of fellows, by race, gender and socioeconomic background, and for focusing more on creating a path to entrepreneurship for communities historically excluded from the startup world, including women and people of color. Venture for America now hires community directors in each of its cities in an effort to have an on-the-ground presence and help fellows become more engaged with the communities they're joining. 
But some fellows said that those changes only started happening after Yang left in 2017. Two former fellows said that during their time at Venture for America, Yang expressed an interest in increasing diversity but said that he didn't want to lower the organization's standards, suggesting it couldn't have one without the other. Spokespeople for Yang did not comment on whether these changes started happening after he stepped down, or on whether Yang remembered ever saying or suggesting this. 
Even fellows who had overwhelmingly positive things to say about Yang and their time at Venture for America said that diversity was an issue. "VFA wasn't a very diverse organization back when I was doing it," Uche said. But Uche said that the organization took some steps right away to address critiques about diversity when he started as a fellow in 2014, when Yang still led the nonprofit, suggesting that it was an issue that Yang took seriously then. Uche started an affinity group with several other fellows to offer support to people of color, primarily African American fellows. "VFA, they took that very seriously the first time we approached them with it, and gave us the resources that we needed to put together a group. They let us go out to events like Black Tech Week in Florida and they subsidized that trip," Uche said.
Yang has acknowledged that in the early years of the program, the classes of fellows were predominantly white and male. "I was one of the first people to say that we needed to broaden the types of graduates we were recruiting in multiple ways," Yang told City & State. "So if someone looks at our early years and says, 'Hey, we should head in this direction,' like, I would agree with you. And I agreed at the time."
Criticisms of Yang's lack of a local voting record in New York City prior to his political career are not unrelated to the issues that some fellows raised with Yang's leadership of Venture for America and the nonprofit's original mission of revitalizing struggling cities. Comments that recently surfaced in which Yang said he wasn't involved in New York City politics because it was "so blue that there isn't that much to be engaged with, politically," made their way around group chats with fellows. "It strikes me as typically Andrew, where he has an idea as to how to help and support a place, but he doesn't do that with any on-the-ground understanding of that place," said one former fellow, who asked not to be named in order to speak candidly about their experience. "He was structuring VFA where you have fellows across 11 different cities, and each of those cities is notably different geographically, economically, in terms of the diversity of the city – so many things – and he was doing that without any on-the-ground knowledge of what each community or place was actually like. So it was an incredibly hands-off, dismissive approach." Spokespeople for Yang did not respond with a comment on this claim.
Three months away from the primary election that will in all likelihood decide the next mayor of New York City, Yang does not hesitate to acknowledge that despite living in New York for over two decades, he has not often been politically or civically engaged in the city. "I'd be the first to admit that I was not as heavily involved in local politics, the last number of years, as I could have been," he said, before adding that there are different ways that people can contribute to a community, citing his work founding Venture for America. The nonprofit may not have had the impact on cities that Yang once envisioned, but that may not matter to voters enamored with a political outsider with big ideas and a can-do attitude.
This article is part of our For The Record series, examining the leading mayoral contenders' professional records. You can read the rest of the series here.