Andrew Cuomo
What we know, and don't know, about Cuomo's sexual harassment investigation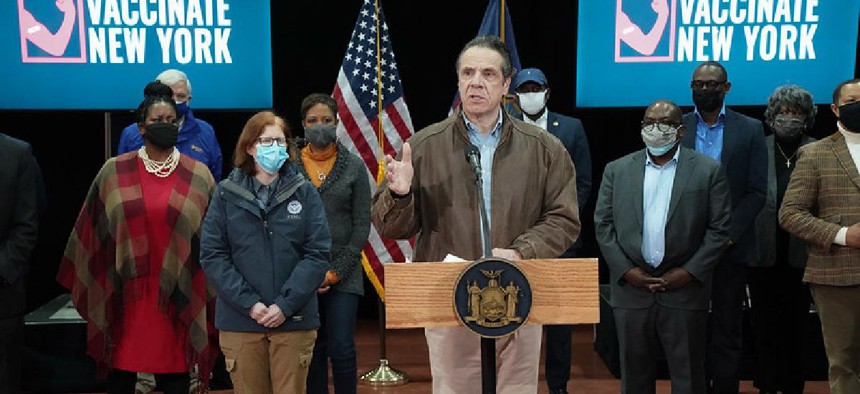 Gov. Andrew Cuomo broke his silence this weekend in response to new claims of sexual harassment from a former aide, relenting to calls for an investigation into his actions. But between a flurry of emails and public statements from both his and the attorney general's office, there was little clarity by Monday on how that investigation would proceed, who would lead it and how independent it would be.
In an article published in The New York Times on Saturday, former Cuomo aide Charlotte Bennett accused the three-term governor of sexual harassment. The allegations follow separate claims made last week by Lindsey Boylan, who accused Cuomo of sexual harassment and assault when she worked for Empire State Development. Cuomo has denied the latter allegations and, in response to the new allegations, issued a statement on Sunday in which he said he sometimes makes jokes and comments on people's personal lives, but said he was sorry if it was misinterpreted as unwanted flirtation.
Amid calls for probes into the claims and even some calls for Cuomo to resign, an apology – especially one that many, including the woman who made the allegations, suggested was insufficient – wasn't going to mollify Cuomo's growing number of critics. Later on Sunday, the governor agreed to an independent review of those allegations overseen by state Attorney General Letitia James.
After a mess of confusing and contradictory statements released by the governor's office and the attorney general's office about how that investigation would work and who would lead it, Cuomo agreed to what many lawmakers were requesting: granting James the authority to oversee an investigation on her own and hire an independent law firm to spearhead the probe.The Wall Street Journal reported Monday that the Cuomo administration has retained a criminal defense attorney, as it faces both these allegations and inquiries into the state's handling of COVID-19 in nursing homes.
While the referral from Cuomo's office gives James the ability to jumpstart the probe, there are still a lot of questions about how the investigation will work. Here's what we know so far: It could take months, it likely won't quiet calls for Cuomo's resignation and it may not be quite as independent as some would hope.
What authority does the attorney general have to investigate Cuomo?
The governor is able to grant the attorney general authority to investigate matters "concerning the public peace, public safety and public justice," and employ outside attorneys to lead those inquiries, under Section 63(8) of the Executive Law. It's that statute that Cuomo invoked on Monday with his referral to the attorney general's office to select an independent law firm to conduct the inquiry into the sexual harassment allegations. 
That the attorney general needed a referral from the governor to investigate the governor is an irony that didn't escape anyone's notice; state Sen. Todd Kaminsky, a Democrat from Long Island, introduced legislation Monday that would no longer require the governor's permission to start this kind of investigation.
Attorneys chosen by James' office can be designated as special deputy or assistant attorneys general, and will have the authority to subpoena witnesses, interview them and require the administration to turn over any records related to the allegations. The attorney general's office did not comment on which law firm or lawyers might be selected, or when they will be chosen. 
Will the investigation be truly independent?
The primary concern with Cuomo authorizing an investigation of his own alleged actions is whether such an inquiry can really be independent. "I think it's the best that we can get given the current state of the laws in New York state," Rita Pasarell, a co-founder of the Sexual Harassment Working Group – an organization of former legislative staffers in Albany who campaign for sexual harassment policy reform – said of James' independent investigation. But Pasarell said that James is taking the right steps. "We do believe she's going to conduct a fair and impartial investigation, and the way that's going to happen is by the AG's office appointing a special investigator."
Still, some good government groups have drawn attention to the details of Section 63(8) of the Executive Law, which suggest that the governor is typically meant to be closely involved in the types of inquiries that the statute lays out. "There's no way that this law was intended to be used to investigate the governor. It makes no sense," said John Kaehny, executive director of the good government group Reinvent Albany.
One concern Kaehny raised is that the law says that the investigator conducting the inquiry has to submit weekly reports on the investigation to not only the attorney general, but to the governor as well. While witnesses examined during the course of the inquiry are generally barred from discussing details of their interview with other people, both the attorney general and the governor could direct witnesses to disclose those details. "Let's just say that a member of Cuomo's staff got subpoenaed, not only would the governor know about that because of the weekly reports, but the governor could also direct that person to tell him everything that they had told investigators," Kaehny said.
When Cuomo made the referral to the attorney general's office on Monday afternoon, his letter addressed some of these concerns, saying that he would not be receiving weekly reports on the progress of the investigation. "Due to the nature of this review … the weekly reports contemplated by Executive Law §63 (8) will not be approved by or transmitted to the Executive. At the close of the review, the findings will be disclosed in a public report," the letter read.
Cuomo's letter to James also noted that all state employees would be directed to fully cooperate with the review.
Still, the statement did not explicitly address the governor's power to direct witnesses to disclose details about their examinations. "We hope AG James will get a comprehensive written agreement from the governor that allows her to create a safe space for new witnesses to step forward by keeping their identities and, if need be, parts of their testimony secret," Kaehny later wrote over email. A spokesperson for Cuomo did not immediately respond to a request for comment on how this section of the law would apply.
Kaehny said that James is able to conduct her own investigation of the allegations against Cuomo – though without subpoena power – and therefore avoid the potential conflicts of interest raised by this arcane section of the Executive Law. While she wouldn't be able to subpoena witnesses, he suggested that people may be willing to come forward voluntarily.
Who will investigators interview?
It's not clear at this point who investigators will interview, and representatives for the attorney general declined to comment on likely witnesses or the scope of the investigation. 
Pasarell said that the investigators should be thorough in interviewing witnesses. "What we would want to see is that every staff member who has been mentioned by any of the victims, that for sure they'll be questioned, (and that) anyone who's worked with those people are questioned. And I think at this point, really the entirety of Cuomo's executive staff needs to be questioned," Pasarell said. 
How long will it all take?
Ensuring a thorough and independent review could take some time. One potential roadblock is the attorney general's task of finding and hiring an independent law firm to lead to investigation. "I think identifying the person is going to be the trickiest part of this, if there is going to be an outside lawyer, because you are searching for a person who is perceived to have impeccable ethics, viewed as independent of the vast Cuomo network, and has the expertise to do what they're supposed to do in this case," said Blair Horner, executive director of the New York Public Interest Research Group. "I don't know how many people there are in that category."
Pasarell said that it shouldn't take years. "We don't want it to lag on forever," she said. "I would be looking at maybe a matter of months."
What are the next steps for Cuomo after the investigation?
There's a long ways to go before the independent investigation into sexual harassment allegations against Cuomo is concluded and the public has a report in its hands. But when that day does come, it will likely depend on the outcome of the investigation to determine what comes next for Cuomo. "I think if it's shown that he did this, that he should resign or be removed from office," Pasarell said.

But Cuomo may face continued calls for resignation or removal even if the findings of the investigation fall short of fully supporting the allegations that have been made against him.Some, including Pasarell and the Sexual Harassment Working Group as a whole, have said that Cuomo should step down now. A spokesperson for Cuomo declined to comment on calls for the governor to resign.