Campaigns & Elections
Who's got the money and who's got momentum?
.And more coverage of key 2021 races.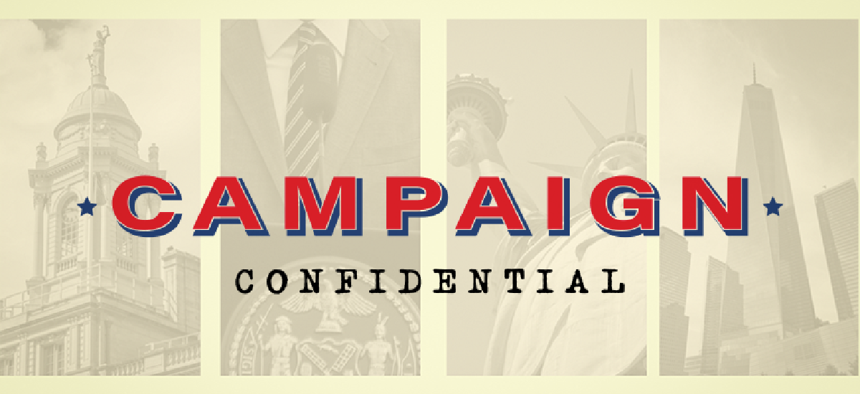 10 things to know about the latest filing
This week marked the massive information dump the New York City Campaign Finance Board calls "the filing deadline." There are enough tidbits and storylines to last us politicos two months until the next one on May 21, but here are 10 things that immediately stood out.
Adams has the money
With $7.6 million on hand, Eric Adams is the undisputed money king of the mayoral race. Scott Stringer is in a not-so-distant second with $6.85 million. Andrew Yang raised an impressive $2.14 million in just two months, but he won't be eligible to receive his $4.73 million in expected public matching funds until April 15 at the earliest.
Yang has momentum
Yang's haul was impressive for its sheer speed, and for the number of individual donors – his 14,758 was well ahead of second-place Maya Wiley's 9,536 contributors. But out of the leading contenders, those two also had the highest percentage of their money come from outside New York City. Just 51% of Yang's total and 63% of Wiley total came from donors with city addresses.
Morales has the voters
Donors with New York City addresses made 9,092 contributions to Dianne Morales – the most of any mayoral candidate.
Who else has a lot of New York City donations? Who's spending like a drunken sailor? And which incumbents are getting outraised? Read more here.
By the Numbers
$118,289
The amount of outside spending reported so far in support of John Sanchez in the March 23 City Council District 15 special election in the Bronx, where early voting is ongoing. About $75,000 of that is for mailers, ads and robocalls from New Yorkers for a Balanced Albany, a pro-charter school PAC primarily funded by Walmart heiress Alice Walton. The other $43,000 is on mailers and ads from the generically pro-big business Voters of NYC Inc. That's the same PAC that bought sweatshirts for Council Member Kevin Riley's special election, but now its top donor is slightly less shadowy, following a large contribution from an LLC affiliated with the Zeckendorfs, who are one of the city's biggest families in real estate. Sanchez, district manager for Bronx Community Board 6, has been running a decidedly pro-development campaign, decrying knee-jerk NIMBYism. But the progressive Our City PAC, which supports taxing the wealthy, is pushing back. Its spending hasn't been reported yet, but organizer Gabe Tobias told City & State that grassroots donations allowed Our City to drop about $15,000 on mailers and digital ads supporting Elisa Crespo in District 15 – and calling Sanchez the worst candidate, with "F" grades on progressive issues. Other outside spending? 32BJ SEIU and LiUNA are both helping Ischia Bravo in District 15. And in District 11, labor and capital are united. Voters of NYC Inc., 32BJ SEIU and LiUNA are all spending money to support Eric Dinowitz.
Get the doctor's signature
Can't say they didn't warn us. At least four candidates have publicly said they contracted the coronavirus in the home stretch of March 25 petitioning deadline. Jimmy Van Bramer, who's running for Queens borough president, Lincoln Restler, a candidate for City Council District 33 in Brooklyn, Amoy Barnes, a candidate for District 49 on Staten Island and Manhattan District Attorney candidate Liz Crotty all tested positive this month after petitioning. Restler and Crotty both said they already have more than enough signatures, and Van Bramer said he has three times the threshold, but was hoping to still get more. While Barnes' campaign spokesperson Brittany Jones told City & State that, although she has a "good number of signatures," the campaign's lawyer will still need to make a final determination on whether Barnes has exceeded the 270-signature threshold. Jones said the campaign won't be able to completely halt petitioning until they get an "all clear" from their lawyer. News of the candidates' positive cases comes as council member – and likely speaker candidate – Keith Powers has been gathering his own signatures to demand the state Department of Health to make campaign workers eligible for the vaccines right away.
"Nothing that she's saying or doing is out of character"
Before she ran for mayor, Dianne Morales worked in the nonprofit sector for decades – and even helped launch a charter high school with preferred admission for homeless youth or kids in foster care. And before she was campaigning for votes, she was campaigning for more city funding for other nonprofits as a board member of the Human Services Council. Read more about Morales' professional life before politics in this great piece by City & State's Kay Dervishi – the first in a series on the leading mayoral candidates.
Vance: out. Statements: in.
Cy Vance's official announcement that he won't be seeking reelection as Manhattan district attorney was even less surprising than the news that Loree Sutton was dropping out of the mayoral race. Remember, Vance has a measly $4,194 in the bank, but the news gave his eight would-be successors a chance to either toast his tenure or roast his legacy. Liz Crotty was subtly kind, saying the next DA "must continue the fight for #publicsafety and equal justice," and Tali Farhadian Weinstein said Vance "built on the great tradition" of the office, crediting him with "standing up to Trump." Others avoided praise. Alvin Bragg said "this office needs fundamental change," but thanked Vance for his service, and Dan Quart sent his best wishes to Vance and his family before saying it's time for "a new era" in an office "committed to criminal justice reform." Lucy Lang, who worked under Vance, kept it vague, and said Vance's retirement "presents an opportunity for transformational change," and Diana Florence, who also worked under Vance, was the only DA candidate not to release a statement. Others were more derisive. Tahanie Aboushi called Vance "the face" of an unfair system, and Eliza Orlins said he had "an unjust approach to justice."
Growing the City Council Bike Caucus
City & State clearly started it, with our 2018 bike ride magazine profile of Eric Adams, but the mayoral race has gone bike crazy, with courageous candidates doing Streetsblog NYC ride alongs and sharing their pedaling policies with Bike New York's cycle-centric forum. Nobody's organized a group ride for mayoral candidates – yet – but on Sunday morning, 10 candidates for (the crowded) City Council District 26 seat showed up for a two-hour ride around Long Island City to Sunnyside to Woodside and back again with the car haters at Transportation Alternatives. It was fun, but biking is a politically charged issue, with a battle over protected bike lanes in the district getting so ugly that somebody might've put thumbtacks on the green paint to cause flat tires. But most of these candidates weren't just pandering to a wheely powerful interest group – they actually ride, and at least three shared that they had previously been seriously injured on a bike. Jesse Laymon broke his leg. Jonathan Bailey got a concussion. And Julie Won was hit by a car late last year.
Endorsement Watch
Brooklyn Democratic Party boss Rodneyse Bichotte Hermelyn endorsed Eric Adams for mayor, but the party itself hasn't officially endorsed yet. Though some district leaders are mad that she used the party email and social media accounts to announce her personal endorsement. Now the Notorious RBH is expected to lobby the four other Democratic county leaders – and her own executive committee members – to follow suit and back Adams, since none of them have endorsed for mayor yet … 32BJ SEIU, one of the city's biggest unions also endorsed Adams for mayor … and so did the District Council 37 executive board, while also backing Corey Johnson for comptroller, Tahanie Aboushi for Manhattan district attorney and more – but it's not an official union endorsement until its members vote next week … the Freelancers Union co-endorsed Maya Wiley and Andrew Yang for mayor … New York Progressive Action Network co-endorsed Dianne Morales and Wiley for mayor … New York Communities for Change backed Scott Stringer for mayor … Assembly Member Daniel Rosenthal endorsed Yang for mayor (no word yet from Daniebby) … state Sen. Jabari Brisport endorsed Morales first for mayor and Stringer second … Assembly Member Harvey Epstein endorsed Morales for mayor too … while Lambda Independent Democrats of Brooklyn and Sheet Metal Workers Local 28 backed Stringer for mayor … Reform the Sex Crimes Unit gave the green light to Tali Farhadian Weinstein, Alvin Bragg and Diana Florence for Manhattan DA … U.S. Sen. Elizabeth Warren endorsed Brad Lander for comptroller … comptroller candidate Brian Benjamin and Bronx borough president candidate Nathalia Fernandez endorsed each other … and comptroller candidate Corey Johnson endorsed Bronx borough president candidate Vanessa Gibson, returning the favor from earlier in the week … Johnson also endorsed Eric Dinowitz in the District 11 special election in the Bronx … StreetsPAC endorsed Jessica Haller in District 11 and John Sanchez in District 15 for the two special elections in the Bronx … the Latino Victory Fund is endorsing Mino Lora in District 11 and Elisa Crespo in District 15 … the Hotel Trades Council is backing Ischia Bravo in District 15 … the New York City District Council of Carpenters endorsed a council slate, including Dinowitz in District 11 and Bravo in District 15.
Poll Sight
It won't surprise anyone to learn that the city's executive class likes former Citigroup Vice Chair Ray McGuire best out of the Democratic mayoral contenders. That's according to an unscientific poll of 509 Crain's New York Business readers released Monday. The bigger question is whether the outlet's affluent readership will devote enough money to McGuire to help him rise in polls of the broader public, or whether they'll invest in other candidates like Andrew Yang – a notable second-place finisher in the poll who has already made inroads with business leaders and said he wouldn't raise taxes.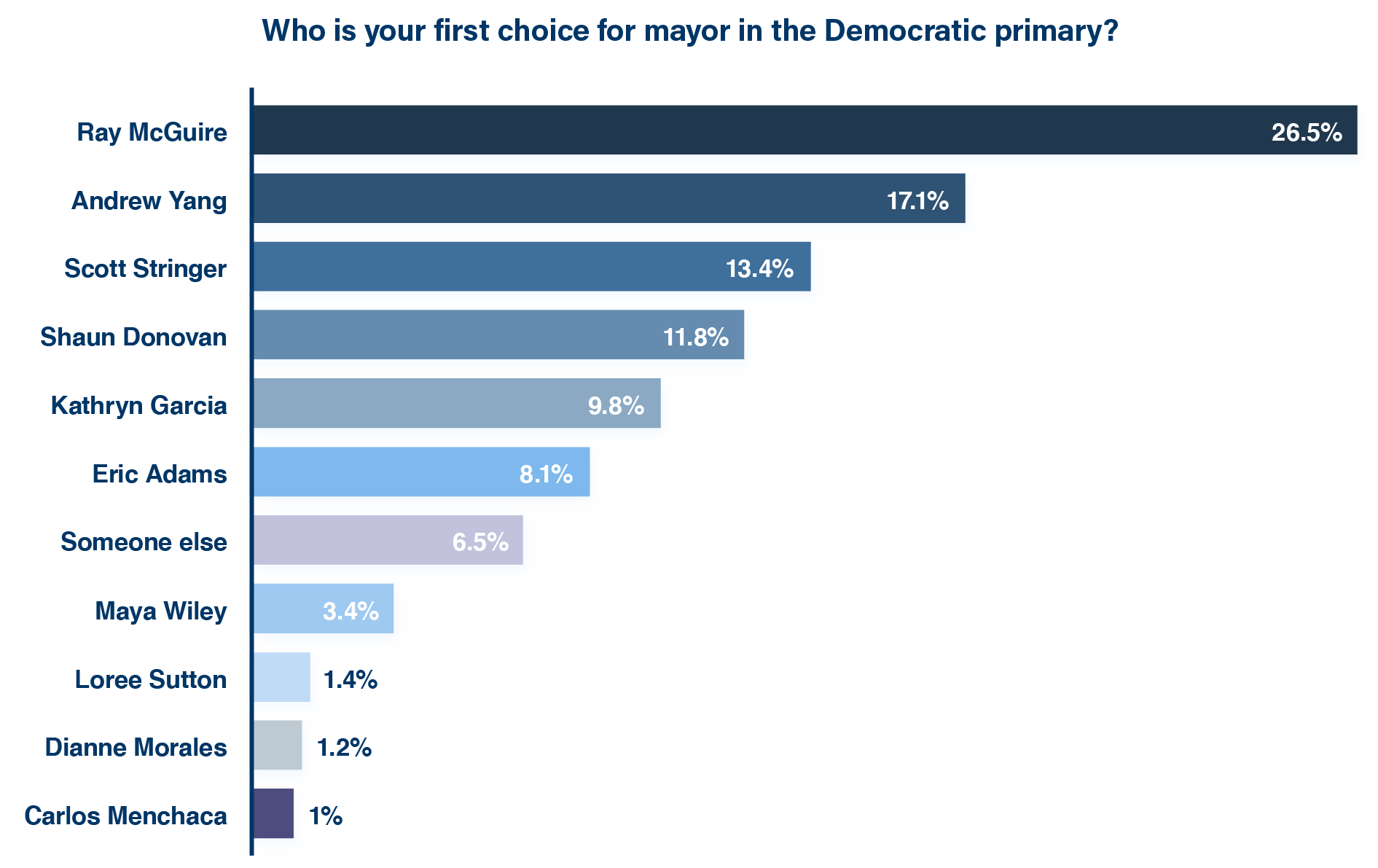 Staffing Up
David Weprin's comptroller campaign hired Zach Bernstein as campaign manager, Cindy Lin – a Brooklyn native fresh off Jon Ossoff's U.S. Senate successful campaign in Georgia – as field director and Yasmeen Telsem as communications director … and Chris Sosa, running for City Council District 5 in Manhattan, has hired Emily Howard as campaign manager and Kat Quinde as field director.
Got tips? Email JColtin@CityandStateNY.com or DM me @JCColtin
District Data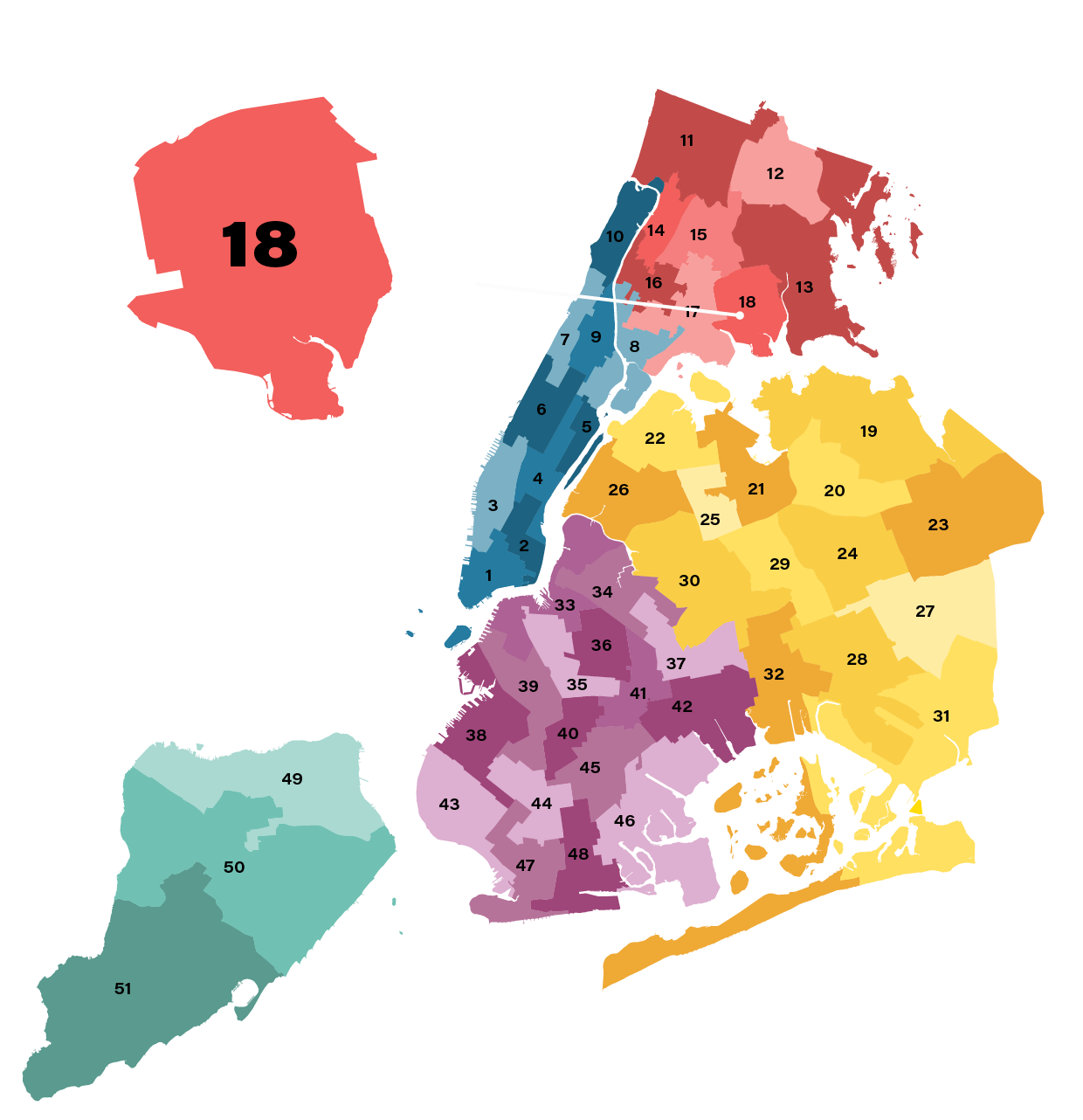 City Council District 18 in the east Bronx, covering neighborhoods including Soundview, Castle Hill and Parkchester
Current council member: Rubén Díaz Sr., since 2018, who announced he will not be running for reelection
2010 census demographics: 58.3% Hispanic, 29.5% Black, 6.2% Asian, 3% white
Housing: 79% renter-occupied, 21% owner-occupied
2013 primary election results: Annabel Palma: 70.7%, William Russell Moore: 29.3%
2017 primary election results: Díaz: 42.1%, Amanda Farias: 20.9%, Elvin Garcia: 14.6%, Michael Beltzer: 13.4%, William Russell Moore: 8.8%
Who's running: Michael Beltzer, Amanda Farias, Darlene Jackson, Eliu Lara, Mohammed Mujumder, Mirza Rashid and William Rivera. Amanda Farias is the candidate to beat, with endorsements from all of the city's largest labor unions, and near-unanimous support from progressive organizations who were all too happy to see Díaz decline to run. William Rivera is connected in the area, as the district manager of Bronx Community Board 9, and has outraised Farias by a few thousand dollars, and Mohammed Mujumder, a lawyer, has also done well with fundraising and has some support within the Bangladeshi community. Michael Beltzer, who ran in 2017, is back, and has made a name for himself as a critic of the Bronx Democratic Party. And William Russell Moore, who ran in the previous two cycles, is out petitioning and expected to run again.
Twitter Posting 
seven campaigns walk into a farmers market to petition,,, that's it. that's the joke.