Campaigns & Elections
Candidates Zoom? Out.
And more coverage of key 2021 races.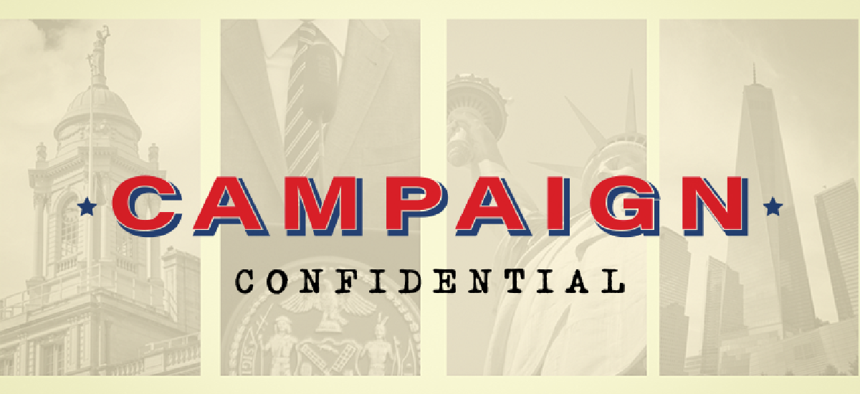 The end of the Zoom campaign?
When the Jim Owles Liberal Democratic Club held the inaugural Zoom forum for mayoral candidates in October, some 1,400 viewers turned in to watch as candidates outlined their visions for governing New York City and said whether they had smoked marijuana. But nearly six months later, many Democratic mayoral candidates have participated in more than 50 Zoom forums. And as the attendance at many of these forums has waned, so has candidates' interest in attending them, a sign that the era of the Zoom campaign could be near the end.
Dianne Morales announced that she would no longer participate in online forums after having attended more than 50 Zoom forums. She said that "the race will not be won on Zoom." Other candidates are more or less following Morales' lead. Ray McGuire will weigh forums "on a case-by-case basis," Shaun Donovan will begin limiting his forum attendance and he transitions to in-person events, as will Maya Wiley. While some political observers welcomed the news of fewer Zoom forums, others said the move could leave out groups from overlooked parts of the city.
So who will keep going to Zoom forums and what do political observers have to say? Read more here.
By the Numbers
$190,000
That's the primary election spending limit for City Council candidates taking part in the public campaign financing program. But Rebecca Lamorte, who's running for District 5 in Manhattan and has a physical disability, wants spending on accessibility services, such as sign language interpretation or ramps for stages, to not count toward that limit. "To me, it's about inclusive elections," Lamorte told City & State. "Are elections free and fair if campaigns have to choose to not do these things to be able to run other campaign operations?" Some 73 other city candidates, including mayoral candidate Dianne Morales, agreed, signing on to Lamorte's letter to the Campaign Finance Board. But the board turned them down on April 1, saying it can't change the law itself. And even if it could, the current exemptions to the spending cap, like child care costs or petition challenges, are costs that don't apply to every candidate. In theory, every candidate should be fitting accessibility and inclusion into their budget. Lamorte said "this fight is bigger than this election" and she'll keep pushing.
That's a lot of labor endorsements for a "union buster"
Two labor unions representing legal aid attorneys and staffers sent around a letter obtained by City & State urging fellow unions to pull their endorsements of Council District 25 candidate Shekar Krishnan, claiming he "played a lead role in quashing" a unionization drive at his old employer. Krishnan was a director at Brooklyn Legal Services Corporation A during the 2018 unionization effort. Krishnan's campaign did not deny the claims, but rather claimed the unions' statement was not actually released by one of the unions (a claim City & State hasn't been able to verify.) The campaign did not give further comment. In the joint letter dated March 11, the Legal Services Staff Association and the Association of Legal Aid Attorneys accused Krishnan of being "directly involved in the union-busting," citing management delaying an election and persuading staff to oppose unionization. The unionization effort failed. The unions did not respond to requests for comment and Brooklyn Legal Services Corporation A declined to comment. Krishnan appears to be holding on to his extensive union support, including endorsements from UFT, 1199SEIU, DC 37 and the New York City Central Labor Council.
Be specific, please
The problem with pledges against taking developer dollars is that they often lack nuance. Manhattan borough president candidate Brad Hoylman's one-word "yes" answer to the Jim Owles Liberal Democratic Club's question of whether he would "refuse contributions from real estate developers" is clearly refuted by the $1,300 donation from GCS Sigal Chair Gerry Sigal and $1,825 from his wife Ellen. And also by the $4,000 from members of the Abramson family of The Tower Companies. Hoylman's defense: "I'm not accepting real estate donations from New York City developers." Both of those companies only work in the Washington, D.C., area. To be fair, the Sigals are Hoylman's husband's parents. But the Abramsons aren't, and Tower Companies has previously partnered with Lerner Enterprises, which does have business in New York. There's no rule against nuance. Bronx borough president candidate Nathalia Fernandez told Jim Owles that although she has stood up for "tenants over profits" she can't make a "no real estate money" pledge since members of her family are landlords. Then again … Hoylman got the Jim Owles endorsement, and Fernandez didn't.
Songs in a mayor key
Andrew Yang wasn't fooling with the April 1 release of his campaign song "Yang for NY" by MC Jin. With apologies to Paperboy Prince, Yang is the first major mayoral candidate to share a song written for the campaign – but he's joining a long history of campaign songs in New York politics. Rapper – and City Hall staffer – Madame Star dropped "Can't Mess with Bill" for de Blasio's 2017 campaign, which was basically a Nicole Malliotakis diss track – and a big change from Madame Star's "Four More Years" written to celebrate Mike Bloomberg's 2005 reelection as mayor. That 2005 campaign also featured a Fernando Ferrer salsa tune – though you might have been distracted by Al Sharpton's dancing. The best campaign songs are catchy – like Adriano Espaillat's repetitive 2014 groove, or Charles Barron's 2012 earworm. But others tell a story, like Fireboy LD's 2014 "Vote for Rangel." So while Ray McGuire gets some credit for putting out a campaign playlist and Maya Wiley has shown she can make a beat, they'll need to commission campaign songs quickly if they want to win. Just ask former Mayor John Lindsay.
Endorsement Watch
So long Bill de Blasio, living saint of Sant'Agata de' Goti, the Italian American Political Action Committee and Rep. Tom Suozzi have endorsed Eric Adams for mayor … Adams was also endorsed by radio host Angela Yee … the New Era Democrats endorsed Andrew Yang for mayor … outgoing Council Member and Stringer supporter Costa Constantinides endorsed Kathryn Garcia for mayor as his No. 2 selection in ranked-choice voting … Local 372 New York City Board of Education Employees co-endorsed Brian Benjamin and Corey Johnson for comptroller … the Correction Officers' Benevolent Association, Local 3 IBEW and Local 2507 Uniformed EMTs, Paramedics and Fire Inspectors all endorsed David Weprin for comptroller … in a Campaign Confidential exclusive, Local 2507 and IATSE Local 52 endorsed Brad Hoylman for Manhattan borough president … Hoylman and Rep. Jerry Nadler endorsed Jenny Low for Council District 1 in Manhattan … Bronx Borough President Ruben Diaz Jr. endorsed his former staffer Ray Sanchez for City Council District 7 in Manhattan … Jimmy Van Bramer and John Choe endorsed each other for Queens borough president and City Council in District 20 in Queens, respectively … Rep. Carolyn Maloney endorsed Lincoln Restler in District 33 in Brooklyn and Jennifer Gutiérrez in District 34 in Brooklyn and Queens … Citizen Action of New York endorsed Chi Ossé as its first choice in District 36 in Brooklyn and Tahirah Moore as its second choice … former District 36 candidate Jason Walker dropped out and endorsed Ossé.
Poll Sight
Will the City Council be shifting left? 70% of political insiders think the next New York City Council class will be more progressive than the current one. And just 7% think it'll be more conservative. That's according to the second part of the latest City & State/Honan Strategy Group poll. (Check out the first part here, with readers' predictions of who will be the next mayor.) We surveyed 367 New York political and policy insiders drawn from our email lists – a population that's been tuned into the council races and has a good sense of the way the city's moving politically. But readers think the leftward shift has its limits. 81% of those surveyed thought real estate will have a seat at the table as soon as the election season is behind us. Check out the full results here.
Staffing Up
Dianne Morales' mayoral campaign expects public matching funds to hit next week so she's making a ton of hires, including Nia Evans as deputy campaign manager for strategy and policy, April Glick as social media manager, Adrien Weibgen as senior policy adviser, Owen Potter as field assistant, Lily Conable as engagement manager, Brennan Jones as virtual outreach director, Sofia Garcia-George as Impactive coordinator/virtual organizer, Devin McCall as virtual organizer and Michelle Perri as finance assistant … Dawn Sanders has joined Mark Levine's campaign for Manhattan borough president … Amanda Turcios has joined Michael Beltzer's campaign for City Council District 18 in the Bronx as field director … Lydia Green has joined Moumita Ahmed's campaign in District 24 in Queens as field organizer … and Briget Rein's campaign for District 39 in Brooklyn has hired Mike Corbett as campaign manager and Seamus Campbell as communications director.
Got tips? Email JColtin@CityandStateNY.com or SKashiwagi@CityandStateNY.com or send a DM to @JCColtin or @SydneyKashiwagi
District Data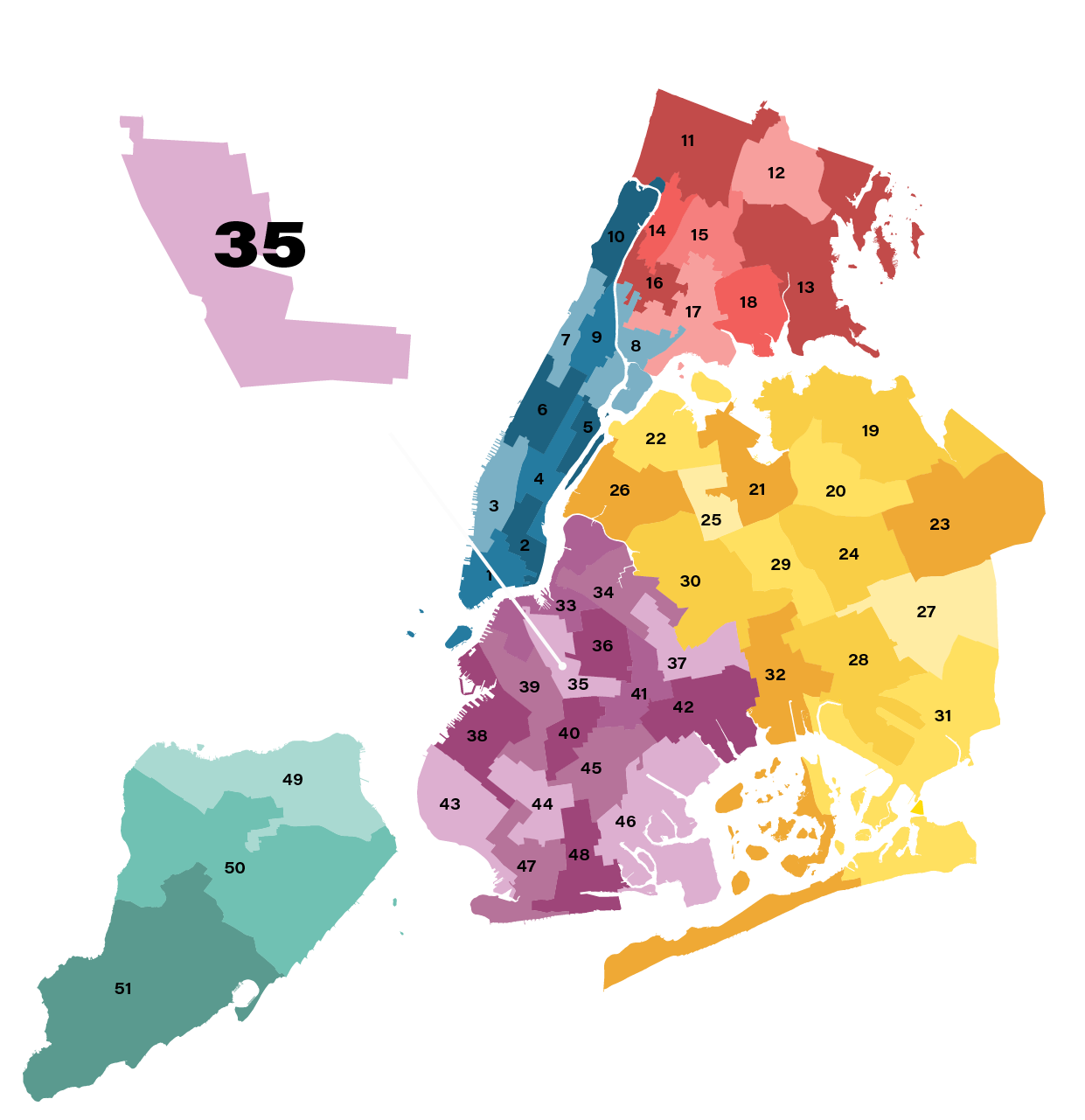 City Council District 35 in Brooklyn, covering neighborhoods including Fort Greene, Prospect Heights and Crown Heights
Current council member: Laurie Cumbo, since 2014, who's term-limited at the end of this year. 
2010 census demographics: 45.5% Black, 33.1% white, 13.6% Hispanic, 4.6% Asian
Housing: 78.5% renter-occupied, 21.5% owner-occupied
2013 primary election results: Cumbo: 36.2%, Olanike Alabi: 25.7%, Ede Fox: 25.6%, Jelani Mashariki: 6.4%, Richard Hurley: 6%
2017 primary election results: Cumbo: 57.4%, Ede Fox: 41.6%
Who's running: Renee Collymore, Curtis Harris, Michael Hollingsworth, Crystal Hudson, Regina Kinsey, Deirdre Levy, Hector Robertson and Sharon Wedderburn. The New York City Democratic Socialists of America helped elect a socialist state senator and Assembly member in this district over labor-backed progressives in 2020. Now the DSA is trying again with Michael Hollingsworth, a tenant organizer who has raised the maximum amount of public funds with the most individual donors in the race. But Crystal Hudson, a former staffer for Public Advocate Jumaane Williams, is extremely well connected in local politics, and has outraised Hollingsworth and the rest of the field. She has support from almost all the city's biggest unions and would be the first openly gay Black woman on the council. Curtis Harris, a nonprofit founder, and Renee Collymore, a former Democratic district leader, are also active in the district and have raised the third and fourth most in the race, respectively.
Twitter Posting
According to the TV in the apartment above ours blasting ABC7, mayoral candidates Shaun Donovan and Ray McGuire both have TV ads out on the channel