New York City
Former Stringer staffers describe his demanding temperament
Two of them call it "Post-Traumatic Stringer Disorder." Others say he's no worse than a typical politician.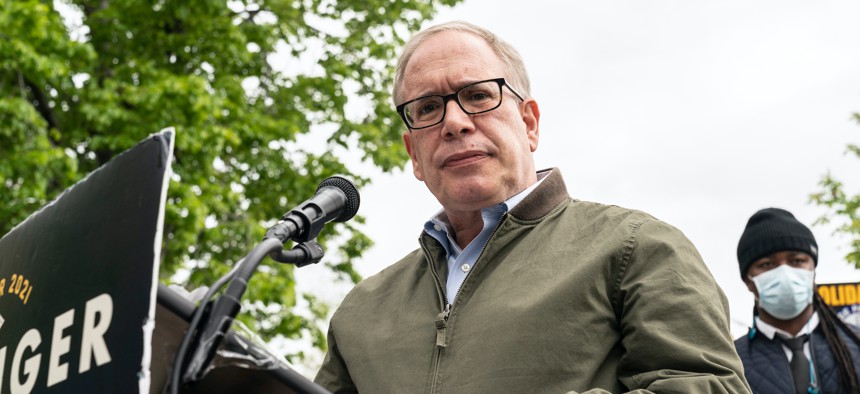 New York City Comptroller Scott Stringer's treatment of colleagues has recently come under scrutiny, as he has been accused by lobbyist Jean Kim of sexually harassing and assaulting her when she said she was an intern on his 2001 campaign for New York City public advocate. The accusation was reminiscent of sexual misconduct allegations against Gov. Andrew Cuomo, who Stringer and many of his top supporters had harshly criticized. Unlike Cuomo, who faces accusations from 10 women, Stringer has been accused by one former subordinate. But just as Cuomo was widely reputed to be a frequently angry, unreasonable boss, some staffers and elected officials have similar, albeit less extreme, stories about Stringer.
Some of these impressions have recently spilled into public view: City Council Member Ben Kallos tweeted about being bullied by Stringer and being cursed at over the phone. Council Member Helen Rosenthal relayed a story about an organization's political director "on the receiving end of a tongue lashing (like) she had never experienced before," after she endorsed Rosenthal in 2013 over a candidate who Stringer was supporting. (Now, Rosenthal is backing Stringer rival Maya Wiley in the mayoral race.) And Marti Speranza Wong, who unsuccessfully ran for City Council in 2017, tweeted about Stringer's "vengeful" behavior, when he "blacklisted" Speranza Wong after she publicly criticized one of his endorsements.
City & State interviewed 16 former staffers for Stringer, almost all of whom spoke on the condition of anonymity to avoid alienating a powerful former boss, about his treatment of employees. A majority said the comptroller can be a cruel and mercurial manager, prone to outbursts at subordinates. Allegations include calling staffers on weekend mornings to berate them, storming out of events when he didn't get a speaking slot and throwing pen caps at staffers.
Others disputed that characterization, saying Stringer was never demeaning in their presence. Some offered more of an in-between take, saying Stringer could be difficult and demanding – but no more so than the average New York politician. None of the sources said they had seen or heard of any sexual misconduct, and in fact almost all said they were surprised by Kim's allegation.
"He's the sort of boss who would call you up at 6 a.m. on a Sunday and yell at you. In my case, it was a speech that he didn't like," said a former member of the comptroller's communications staff. "He can be really mean."
But the staffer added that there was never even a hint of sexual impropriety: "I certainly never saw anything. I never heard of anything. In fact, it was the opposite: He gives off an aura of sexlessness."
According to this staffer, Stringer's perfectionism, workaholic tendencies and moodiness could make him impossible to satisfy. Multiple former staffers said that Stringer's reaction to their work was not only difficult to predict because he had high standards, but often seemed capricious. "It can just be arbitrary," said the former communications staffer. "He likes something on Monday and dislikes it on Tuesday, and then likes it on Wednesday. That was the hardest part, I have to say, because it's like to the point where I wanted to give him his speech only the night before, because if he said that he liked it a week earlier, it meant nothing."
Another former comptroller's office staffer said they once wrote a speech for Stringer. He hated it, so the staffer wrote a new one and presented it to him. He disliked that one too, so the staffer gave him the original again. This time, Stringer said he loved it.
But, the first former communications staffer, who complained about Sunday morning phone calls, said Stringer did not use personal insults. "When he called me, this is for his second inauguration speech, I said, 'I've been working on this for two weeks.' And he said, 'If you've been working on it for two weeks, then it would be perfect now, wouldn't it?' So kind of mean, but no names. He never call me stupid. …  He could be contemptuous, borderline cruel, but not actually name-calling."
A former staffer on one of Stringer's comptroller campaigns said that cruelty left a lasting impression. "I no longer wear a Fitbit because he used to call me basically every hour to scream at me," the former staffer said. "And every time my Fitbit would vibrate, it sent me into a panic attack."
That staffer also said they saw Stringer throw things in the office. During "call time," when he was fundraising on the phone, he would put a pen cap in his mouth and chew on it. "And if a call wasn't going well, then he would take the pen cap and chuck it at me. And I had so many of these chewed-up pen caps chucked at me." When he was particularly angry, the staffer said he'd slam binders down on the table. Although he never actually threw one at the staffer, they said they feared he eventually would. "I stopped carrying around call sheets in a binder because I wouldn't want it to go flying near my head," the staffer said.
Stringer's campaign denied the allegation. "This never happened," Deputy Finance Director Cameron Hellerman said in a statement provided to City & State. "Scott's behavior during fundraising calls has been nothing but respectful and courteous."
No other staffers City & State interviewed said they had ever seen Stringer throw something in the office or chew on pen caps, but many were left with a bad impression of how he handled his anger.
Another former Stringer campaign staffer said they had recently talked with a friend who had worked for Stringer when he was Manhattan borough president. The campaign staffer said the pair dubbed their feelings "Post-Traumatic Stringer Disorder."
Other former Stringer employees referenced Stringer's "temper tantrums," which were especially common if Stringer missed out on a public speaking opportunity. Michael Lambert, who served as deputy comptroller for public affairs from 2017 to 2019, was one of the only former staffers who would speak on the record with City & State – possibly because he now works as a political consultant and has been a loud critic of Stringer's mayoral campaign on Twitter. Lambert and another former comptroller's office staffer who City & State spoke to specifically recalled Stringer's conduct at City Council Member Adrienne Adams' inauguration event in Queens in 2018. Stringer was sitting in the audience, expecting to get a chance to make some remarks. New York City Council Speaker Corey Johnson, who Stringer had a budding political rivalry with at the time, gave a speech. Then, as Lambert recounted, "when they told me it was Scott's turn to speak, (then-New York City Public Advocate Letitia James, another political rival), showed up out of nowhere and took the mic." After James spoke, instead of Stringer, the event shifted to a musical performance, "and Scott lost his shit." Lambert said Stringer stormed out of the venue as he chased after him, trying to talk him down. Cursing, Stringer jumped into his government-issued SUV, and slammed the door.
Some other former Stringer staffers said they never saw him yell or lose his temper. "In my experience, he was not aggressive in that way," said a former senior member of the comptroller's communications team who spoke on the condition of anonymity. "He did not pressure staff in that way. I did not ever feel disrespected."
In any case, by all accounts, the comptroller's office does not have an unpleasant culture of bullying in the way that the governor's office allegedly does. Top staffers in Stringer's office, such as chief of staff Sascha Owen and First Deputy Comptroller Alaina Gilligo are, in the words of the former communications staffer who complained of Stringer's yelling, "the greatest people. They make (Stringer) 1,000 times nicer. They soften the blows."
A former high-level staffer in the comptroller's office, however, told City & State on condition of anonymity that Owen and Gilligo were occasionally the targets of Stringer's ire. "He did sometimes get really angry – not at me, mostly at the people he knew and trusted most," the former staffer said. "I heard him raise his voice angrily, and sometimes accusingly, at his first deputy or chief of staff."
Asked to respond, comptroller's office press secretary Hazel Crampton-Hays said Owen and Gilligo "strongly disputed this characterization of what is a 20-year positive working relationship based on mutual respect."
Stringer and his allies have noted his record of hiring and promoting women. An open letter signed by 14 women who have worked with Stringer or known him for a long time was released by the Stringer campaign just days after Kim made her allegation public. "As a boss and manager, he has hired, promoted, and centered women in any workplace he has led," the women wrote. "Beyond the politician and the policies, as a human and a friend, he has always shown utmost integrity and compassion, in public and in private."
The Stringer campaign has taken harder-edged measures to combat Kim's story, noting that she was 30 years old at the time and a campaign volunteer, rather than an intern, with whom he said he had a consensual relationship. While Kim's fiancé told Gothamist that she had told him about Stringer's alleged abuse in 2014, Kim has produced no corroborating evidence from the time of the event, and reporting by The Intercept has corroborated Stringer's version of certain facts: that Stringer and Kim knew each other prior to the 2001 campaign, that they were understood by mutual acquaintances to be romantically involved and that Kim was not a campaign intern.
According to some staffers, Stringer's hostility to some communications staff was a product of his intense interest in politicking and media strategy. "There is a wall dedicated to tweets that get over 100 likes in the office. When he comes into the office, his first stop will be into the comms office to see how his tweets have done for the day," said one former government staffer who asked for anonymity so as to not anger a former boss. "There were times when (Rep. Alexandria Ocasio-Cortez) retweeted him and it was like a party – 'go home for the day, you've all done your jobs.'" But it wasn't always a celebration. If there were a news story, or even a single tweet that Stringer found embarrassing, or if he thought one of his political rivals was portrayed in a better light than him, Stringer would find someone to blame. "You would receive a verbal lashing," the former staffer said.
Others who worked for Stringer thought his exacting style toward communications didn't necessarily apply to other departments. "Every principal is going to have key areas she or he focuses on. For Scott, that's often communications and politics," another former communications staffer in the comptroller's office, who declined to be named from a desire to avoid weighing in on anything related to the mayoral race, wrote in an email. "He's definitely demanding and definitely has high expectations, and there's nothing wrong with that. There is literally nothing unusual or unique about the way he manages staff versus any other ambitious elected official in the city."
Regarding allegations of poor staff treatment, the former staffer added, "And I think the communications director role is a unique one in my mind for that office. … I'm willing to bet that 98% of people in the office would have no idea about (what) you're describing." 
Asked for a response to the allegations in this story, Stringer's office sent a statement highlighting the number of people who have worked for him over the years.
"Across a 30-year career in government with hundreds of employees, Comptroller Stringer has consistently upheld an office-wide standard of collaboration, respect, and commitment to public service," said Crampton-Hays, press secretary for the comptroller's office. "His leadership style is best demonstrated through the employees who have worked for him for years and even decades, been promoted to senior leadership, and returned to his office after pursuing other opportunities to continue our good work."
Crampton-Hays recommended City & State talk to Rose Pierre-Louis, who served as deputy borough president during Stringer's tenure as Manhattan borough president from 2006 through 2013 and is still an active supporter of his mayoral campaign. Pierre-Louis wouldn't describe Stringer as a demanding boss, but said he had high expectations. "Scott is not overbearing, but set an agenda, and people were excited to pursue that," she said. "It was great that he delegated that responsibly, but he's not somebody who's going to be checking in every day. … The expectation is that you're going to be ready. He wanted a professional office."
But some of those that worked for Stringer in public affairs, including Lambert, said Stringer did a poor job of delegating and wanted a say in everything. "I've been supervising, directing, leading and managing people since I was 21-years-old," Lambert said. "I can't describe what I saw in the comptroller's office as any of those things. Not leadership, not management – it was more like an organized form of control." Lambert said there would often be a line of people waiting outside Stringer's office for their chance to talk to him, because he wanted to personally sign off on so many things. Often, Stringer allegedly would run out of the office, leaving the staffers there without their questions answered.
Former staffers who had either worked with Cuomo or who have personally known many Cuomo aides have rejected any comparison to the governor's treatment of his press team, arguing that Stringer takes a more reasonable approach and lacks what some observers see as Cuomo's "sadistic" streak. "Scott is at his core, a decent, kind human being," the former staffer who emailed comments said. "He really does genuinely care about other people and their well-being. Yeah, he can absolutely be too hands-on and very frustrating to work for, but you know it's only because he's spent his career preparing to be mayor and has a very specific idea of how he wants things done."
Stringer was demanding, another former staffer said, in part because he expects the comptroller's office to run like a bigger operation than it actually was. "I saw it as, 'We're going to act like the mayor's office because we want to be the mayor.'" the staffer said. "Dressing for the job you want, not the job you have."
This same notion, that Stringer is a challenging boss for political staffers because he has long pursued the mayoralty with a laser-like focus, came up repeatedly in City & State's interviews with former staffers. "His political savvy is remarkable," said the first former staffer quoted in this piece. "And most people, definitely including me, do not have that political savvy. And when his advisers, which I sort of was, tell him stuff that is not up to his political savvy, he has withering contempt for it. … It's almost like he can see radio waves, you know, that I couldn't see and that other people can't see and that's why he gets very frustrated."
Powered By
NEXT STORY: Cuomo contradicts his own harassment law