Gaming USA Corp.'s Alan Woinski on what New York's casinos need to do to survive
Photo by Cheryl Ann Quigley / Shutterstock
Gaming USA Corp.'s Alan Woinski on what New York's casinos need to do to survive
The odds against New York's casinos: Gaming USA Corp.'s Alan Woinski on what New York's casinos need to do to survive
New York's newest commercial casinos have failed to meet their projected revenues, creating uncertainty around the opening of a fourth casino early next year. In an interview with City & State, Alan Woinski, president of Gaming USA Corp., a New Jersey-based gambling consultancy group, weighed in on the future of the state's casinos and racinos. The following is an edited transcript.
C&S: How likely do you think it is that the casino revenue projections will be met for the three casinos that are currently open?
AW: No way. The only way that happens is if you close up a bunch of the racetracks. That's probably the only way they have a shot at making it. The reality is, there's just not enough business to go around. There's a very big problem in the industry, and that is, they seem to think that if you build a bigger casino, you will get all the customers. But when you talk about regional or convenience gambling, the majority of people will just go to the nearest slot machine or table, not the one in the nicest property.
C&S: Do you think that this is part of a larger trend?
AW: Absolutely. Ohio opened – their four casinos were $1 billion below what the revenue was expected to be. The first property opened in Massachusetts, which was a racetrack casino, it was well below expectations. So there's really a few ways of looking at this. The casinos have been very successful in creating jobs. For example, the Rivers Casino and Resort – what they've done in that entire Albany area up there. The problem is the gaming revenue. Now, it's easy for lawmakers to sit there and say, "Well, we're not going to give these new casinos a break" (by providing revenue to struggling casinos). But what they don't realize if they don't give them a break, they're going to have to start laying people off. They're going to wind up eliminating the one thing that they have been doing correctly. That's what the state has to understand. Sometimes you cater to the ones that make the big investment, not the ones that have been there the longest. I said a few years ago that any new casinos that open in the Northeast, it becomes a zero-sum game. And what I meant by that is, what gets taken away from the others kind of offsets whatever benefits you get from the new properties.
"You close up a bunch of the racetracks. That's probably the only way the new casinos have a shot."
C&S: Do you think the planned Resorts World Catskills will meet its revenue projections?
AW: Well, if it does not, then the whole state is sunk. That casino cost more than the other three combined. Resorts World – you're spending over a billion dollars on a market that's probably going to be four months out of the year. It's going to be like Atlantic City. Nobody from northern New Jersey or New York City is driving out to the Catskills in the winter just to gamble. There's no way. With a one-lane highway? There's no way that's going to happen. So, I think everybody in New York has to kind of get a little realistic on what this market is and start making changes based on it. If this new governor here in New Jersey is able to convince lawmakers to put a casino in the Meadowlands, it's all over for New York. They'll be able to drive 100 trucks through the hole in their budget because it will wipe out Resorts World in Queens, Yonkers and Resorts World Catskills all in one shot.
"If this new governor here in New Jersey is able to convince lawmakers to put a casino in the Meadowlands, it's all over for New York."
C&S: Why do casinos struggle with competition?
AW: Gambling customers are kind of fickle at times. Some of them will only go where there's marketing and promotions, other ones will just go to the ones closest to you and then other ones will go where they're treated the best. They've kind of got three different customers and everybody's going after the same one. I totally understand the racetracks being concerned. They can't market like the casinos because they pay too much. At this point, what's the sense in keeping them around? Granted, you'd lose a lot of jobs, but you'd have to kind of figure out whether you want jobs, whether you want tax revenue or whether you want both. And to get both these days, from a casino, it's not going to happen because somebody else in the state is going to get hurt. And they'll wait for Resorts World Catskills, but I don't think they're going to be pleasantly surprised by what happens there.
RELATED: Sports gambling coming to the Empire State? Bet on it
C&S: Do you think that a solution would be to just make more realistic projections?
AW: Here's the problem: The commission subs it out to consultants. And unfortunately, in this business, consultants usually tell either the company or the state what they want to hear. A consultant isn't going to be hired again if they give bad predictions. So, if a consultant comes in and says it's going to make X amount, and the casino comes in with a more realistic amount, they're just not going to get the bid. So what incentive does the casino have to come in with a really realistic number? Because somebody else is going to be coming in with an unrealistic one. And a lot of them don't do it on purpose. I'm sure these three casinos had to base their opinion on the fact that they were going to be in noncompetitive markets, just like the state had promised. Now, if the state really wanted a noncompetitive market, why didn't they pick one in Orange County, New York? That would've been the best location for a casino.
Covering the spread
In 2013, voters approved an amendment to the state constitution to allow for full-scale casinos to be built in New York, in addition to existing racinos, which combine racetracks and video lottery games, and casinos on Native American land. However, all three of the new commercial casinos have failed to meet their projected revenues, while a fourth set to open in 2018 that has cost $1.2 billion to build. Here are the locations of casinos, racinos and Native American casinos across the state.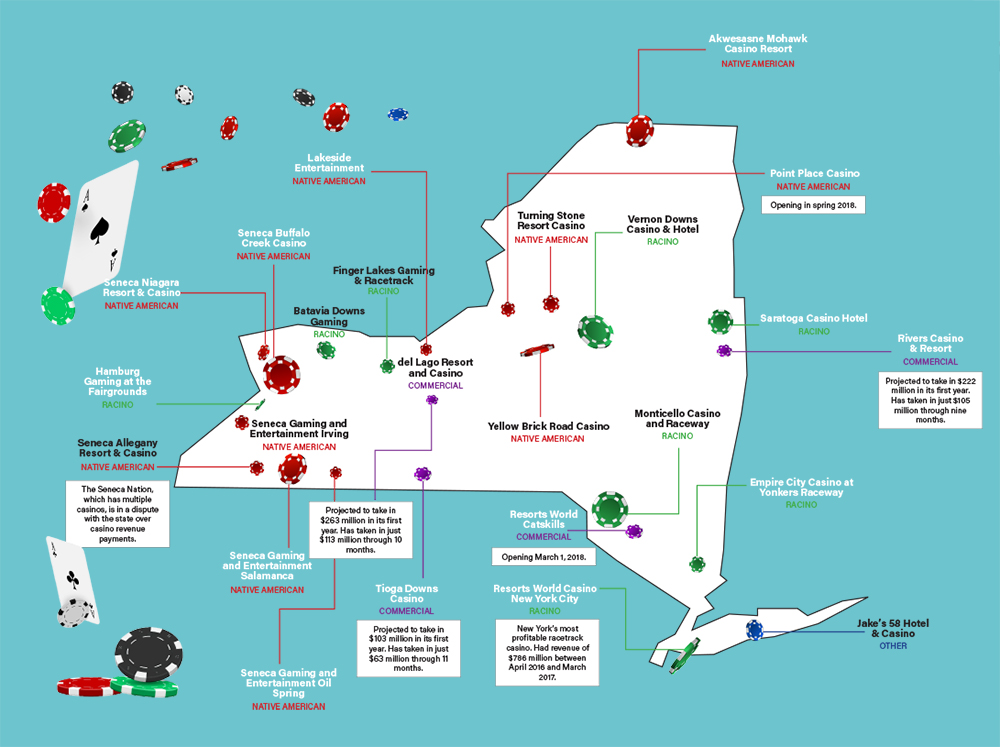 (Click to view larger)