The biggest federal threats to New York health care funding
The biggest federal threats to New York health care funding
The biggest federal threats to New York health care funding
"To say that New York health is a timely topic is probably the understatement of the year," state Department of Financial Services Superintendent Maria Vullo told a room of lawmakers and stakeholders at City & State's State of NY Health event earlier this month.
"When I assumed this role in early 2016," she said, "I never quite imagined that I would be facing this degree of deliberate destabilization of our health care system from the federal level."
Real anxiety undergirded Vullo's keynote address, and as the state's insurance regulator, Vullo spent much of her speech explaining how President Donald Trump's administration is negatively affecting New York's health insurance market.
"We are facing some real threats," she said. "We have the efforts and the actual events to defund critical programs."
Here are some of those threats.
Affordable Care Act repeal
The Affordable Care Act is still one of the country's major health care laws, despite repeated failed efforts by Congress to repeal or replace it. Vullo said New York has been fighting back on all the efforts to repeal or replace the law. "In New York, we believe that health care is a right for all," she said. "We don't believe that it's a privilege for the few." Vullo said the ACA allows for a "vibrant and healthy" health insurance market, and that the uninsured rate in the state dropped from 10 percent to 5 percent thanks to the law.
CHIP funding
The Children's Health Insurance Program, or CHIP, expired at the end of September, and Congress has not yet reauthorized the program, which roughly 350,000 New York children rely on. "Every one of them counts," Vullo said. She described the program as a safety gap for families who don't qualify for Medicaid but still can't afford health coverage.
"It's quite difficult to imagine anything more cruel than jeopardizing health care for almost 350,000 children across New York state and many millions more across the country," Vullo said.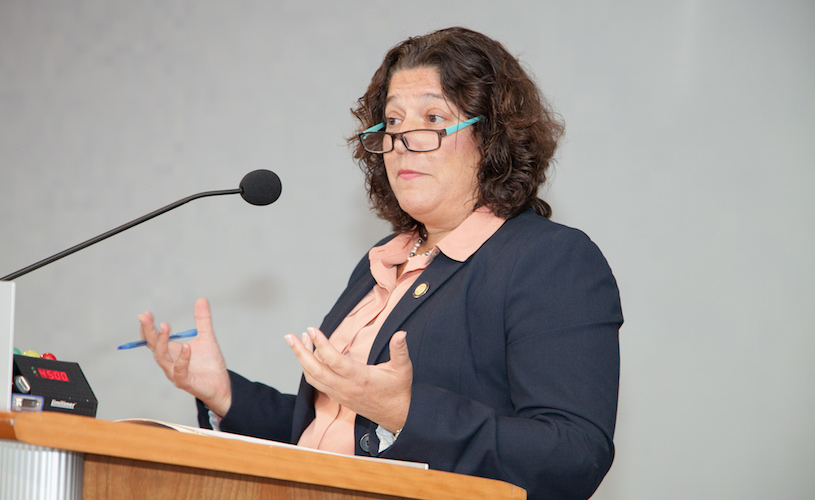 DFS Commissioner Maria Vullo speaks at the State of NY Health event. (Ali Garber)
FQHC funding
Vullo said the failure to renew CHIP would cut $138 million in federal funding for New York's 650 federally qualified health centers. Sites with this designation provide care to about 2 million New Yorkers and are the main organizations providing health care to the uninsured. "These are crippling federal cuts," Vullo said. "I use one word: this is unforgivable."
DSH payments
There has also been a cut to the federal disproportionate share hospital payments, which help fund hospitals that serve low-income patients. Vullo said the cuts will cost New York $2.6 billion, and that it hurts New York more than other states because of the number of hospitals receiving the funds. This lack of funding was the source of a recent dispute between Albany and the New York City government.
Essential health benefits
"There have been assaults on the fundamental premise of the Affordable Care Act, which is essential health benefits," Vullo said. Those are the 10 categories of services that every health insurance plan must cover, such as maternity care, mental health and prescription drug coverage. In September, Vullo issued an emergency regulation ensuring those benefits continue, even if the ACA were to be repealed. DFS also included aspecial mention for contraception and mandated that insurers cover medically necessary abortion services.
Cost-sharing reduction payments
Vullo said the federal government is also causing instability in New York by cutting cost-sharing reductions, which are subsidies paid to insurance companies to lower the copays and deductibles of low-income policyholders. "These are not bailouts of insurance companies," Vullo said. "This is part of the Affordable Care Act to bring down those copays and deductibles for people who need it. And we need to fight back." A bipartisan health care plan crafted by U.S. Sens. Lamar Alexander and Patty Murray would reinstate these payments and attempt to stabilize the market, but President Donald Trump was hesitant in giving the plan his support.
Association health plans
Vullo also spoke out against Trump's executive order that could allow association health plans to be sold across state borders. Plans could potentially be sold in New York that don't follow state regulations. "That is destabilizing – no question about it – to the health insurance market," Vullo said. "Because it's an unlevel playing field" that could end up raising health care premiums for less healthy New Yorkers.