Inside Moreland: Documents Reveal Details of Lawmakers' Campaign Spending
Inside Moreland: Documents Reveal Details of Lawmakers' Campaign Spending
Inside Moreland: Documents Reveal Details of Lawmakers' Campaign Spending
State Sen. George Maziarz shelled out more than $140,000 in campaign funds over a six-year period without identifying what exactly he purchased, according to an investigation by the now defunct Moreland Commission on Public Corruption—by far the most of any state lawmaker. State Sen. Patrick Gallivan was found to have about $80,000 in unreported campaign credit card expenses, including hundreds of dollars spent on cigars, tanning, and at salons and casinos. State Sen. Greg Ball laid out around $23,000 at retail stores, including Brooks Brothers, Banana Republic and Amore Clothing.
The Commission also flagged purchases ranging from car repairs and auto insurance to children's items—even a payment to Do-do, the self-proclaimed "Clown of Clowns"—as well as tens of thousands of dollars charged to state lawmakers' credit cards with little to no explanation of what they bought.
These revelations were uncovered by the Moreland Commission on Public Corruption as part of a broad investigation into the spending of campaign funds by state lawmakers that was shut down when Gov. Andrew Cuomo abruptly disbanded the Commission last month.
To date, there has been considerable speculation about what exactly the Moreland Commission's investigations team probed over the months it was in operation, but few specifics have been disclosed to the public. Several legislators and critics have openly dismissed the Commission's work as a "witch hunt." Conversely, Moreland Commissioner Makau Mutua said earlier this month that the Commission had unearthed potential criminality by 10 to 12 state lawmakers.
U.S. Attorney Preet Bharara was interested enough in finding out what the Commission had discovered that he has launched an inquiry, in part, to get to the bottom of whether "investigations potentially significant to the public interest have been bargained away as part of the negotiated arrangement between legislative and executive leaders," as he wrote in a letter to the Commission's members on April 3—a reference to the ethics deal struck between the governor and the Legislature as part of their budget agreement at the end of March, which coincided with Cuomo's announcement that he was shutting down the Commission.
Now City & State can cast light on at least one of the areas of inquiry pursued by the Moreland Commission's investigations team. Commission documents obtained and authenticated by City & State show that Moreland's investigators sought to determine if lawmakers were spending the contributions they received for legitimate campaign-oriented purposes, or whether any money was going to their personal use, in violation of state law.
Although the Commission investigated a number of different areas of potential wrongdoing by members of the Legislature, including the improper claiming of per diem allowances and outside employment, multiple Moreland sources said that at the time the Commission was disbanded, the personal use investigation had become one of its main focuses.
"It was clearly one of the Commission's greatest priorities during its last months of operation," said a Commission source, who characterized the personal use probe as the Commission's "most ongoing" investigation. This source, like the half dozen or so other sources within the Moreland Commission who spoke to City & State for this article, did so on the condition of strictest anonymity both out of fear of reprisal and citing the U.S. Attorney's ongoing investigation.
The Commission's inquiry into personal use tracked campaign dollars spent by the current members of the state Legislature from July 2007 through June 2013 (as reflected in filings from 2008-13). Notably, the Commission did not look into the filings of the governor, the attorney general or the state comptroller.
According to multiple Commission sources, the legislators the investigations team chose to focus on were determined strictly on the merits: no party or conference was singled out.
Legally, candidates for the state Senate or Assembly are not required to itemize purchases less than $50, but investigators wondered whether lump sums categorized as "unitemized"—or large unspecified credit card charges—concealed purchases of goods or services unrelated to a campaign.
The Commission's investigators decided to hone in on lawmakers who had accrued at least $10,000 in unexplained credit card expenses or other unitemized expenditures within the six-year span it analyzed. Based upon this criterion, the Commission narrowed its focus to more than two dozen state lawmakers, who, according to the documents obtained by City & State, span both houses of the Legislature and include Republicans, Democrats and members of the Independent Democratic Conference in the Senate.
The documents do not explicitly accuse any lawmaker of outright wrongdoing or allege any criminality. In an informational, lawyerly tone, they summarize the expenditures that caught the attention of the Commission's investigators, and the status of the Commission's inquiry into each of the individual legislators probed. Though the documents are undated, they refer to subpoenas issued as recently as Feb. 18, 2014; presumably they originate after that date. A Commission source who reviewed the documents but refused to comment on any specific investigations would say only that the personal use probe had advanced between the time the documents were issued and when Cuomo announced he was disbanding the Commission on March 29.
Multiple Commission sources expressed frustrations and regret that the personal use investigation was cut short. The investigations team was set to subpoena the campaign treasurers of the lawmakers in question, as well as the vendors pertaining to the relevant expenditures, but it never got the chance.
Still, before Cuomo shut down the Commission, information from the personal use investigation was turned over to Albany County District Attorney David Soares, with the hope that he would pursue potential criminal charges. According to multiple Commission sources, the executive director of the Commission, Regina Calcaterra, was deliberately left out of the loop in the outreach to Soares by the investigations team, out of concern that she would tip off the governor's office, and that the executive branch would in turn try to influence whether the referrals were made.
Sources within the Commission declined to specify which lawmakers had been referred to Soares for prosecution. A spokeswoman for the Albany County District Attorney said that the office does not comment on "matters of public integrity investigations."
A former spokeswoman for the Moreland Commission declined to comment because the Commission had been disbanded. A cell phone number for Calcaterra was disconnected, and City & State was unable to track down more current contact information for her.
City & State's independent investigation of the expenditures cited in the Moreland documents found no proof of illegality on the behalf of any elected official or candidate. While there are a number of expenditures that raise questions, several experts consulted by City & State made the point that the legal definition of what constitutes a legitimate use of campaign funds in New York State is extremely broad, and that even expenses that seemed like personal use on their face could actually be allowable based on the letter of the law.
Bill Mahoney, the research coordinator at NYPIRG, said after reviewing the documents that the Commission appeared to have gotten off to a promising start with an unprecedented review of a system plagued by wildly inconsistent reporting by campaigns and lax oversight by the state Board of Elections.
"Some of them might have good explanations, and I'm sure many of them do," Mahoney said of the lawmakers scrutinized by the Commission. "It's possible to run up a lot of money in small expenses running a grassroots-style campaign. But it's also very possible that some of them are intentionally hiding this money to avoid letting their voters see how they're spending campaign funds."
While the documents obtained by City & State do not quantify or rank the Commission's relative level of interest in the subjects of its inquiry, several legislators stand out based upon the number of entries pertaining to each individual lawmaker and their descriptions.
The legislator with the most number of entries about him is state Sen. George Maziarz, the third-ranking Republican in the Senate leadership. According to the documents, Maziarz amassed more than $140,000 in unitemized campaign expenses in filings reported between 2008 and 2013—which averages out to more than $23,000 a year, or nearly $2,000 a month. The senator's campaign also had "over $67,000 of charges and expenditures to Chase and Chase Card Services," identified broadly as "office" expenses. The total sum, which exceeded by tens of thousands of dollars the amount of unspecified expenditures by each of the other lawmakers flagged, is broken down in depth within the documents and includes details not included in the senator's public campaign filings.
The Commission found that the Maziarz campaign doled out more than $125,000 at retailers such as Target and BJ's Wholesale Club, including $56,250 in expenditures that investigators concluded had not been reported. Another $10,000 from the senator's re-election funds went to specialty chocolatiers, a florist and wineries and wine stores. The campaign committee also paid for $7,850 worth of reading materials at Borders, Readers Digest and Barnes & Noble, with $2,000 labeled as "unreported" by the Commission.
The Commission also tabulated the Maziarz campaign spending $12,000 at arts and crafts stores like Michaels and Oriental Trading; $7,000 at the now-defunct online gift boutique Southern Living at HOME and its successor, Willow House; and $4,000 on purchases related to children, including from Toys "R" Us and Mud Pie, and payments to Do-do, the clown.
A company called MEM Enterprises also received a cumulative $39,000 from the Maziarz campaign. A Commission document notes that the company has only one employee, brings in $54,000 a year and is based at a residence owned by a person who appears to be the senator's relative. Efforts to reach MEM Enterprises were unsuccessful, however, based upon inquiries made by City & State, it appears that the company's address is the same as that of the senator's brother, Marvin Maziarz, a retired Niagara County Community College professor.
John Conklin, a spokesman for the Board of Elections, said that it is not illegal to pay family members for legitimate campaign services.
In response to questions from City & State, Maziarz issued the following statement: "We have followed all campaign laws, reported all expenditures and have always been very transparent."
According to New York law, state-level campaign contributions can be used for "any lawful purpose," but they "shall not be converted by any person to a personal use which is unrelated to a political campaign or the holding of a public office or party position."
However, the "personal use" ban does not explain what "personal use" actually means, and that ambiguity has created a loophole enabling candidates to buy anything that could conceivably have some connection to a bid for public office or even serving as an elected official. Some lawmakers have used campaign funds to pay legal fees. And in one famous case, then Senate Majority Leader Joseph Bruno used more than $1,000 from his campaign to buy a cover for an indoor pool at his home, arguing that it was because he would use it occasionally for political events.
Experts say that few, if any, violations of the law are ever pursued, and the state Board of Elections has acknowledged that it has little recourse. As a Board of Elections spokesperson told the Times Union in 2005, "Unless you out-and-out stick it in your pocket and walk away, everything's legal."
The Board of Elections' Conklin told City & State that the law "is broad and it has been broadly interpreted by the Board over the years, but that is the current state of the law." Conklin also said that the agency would soon be adding a new compliance unit with more resources than the current enforcement unit. The new compliance unit was created as part of the ethics reform package passed along with this year's budget, which Cuomo has attributed, at least in part, to the work of the Moreland Commission.
"We are planning on doing more follow-up with filers to insure they are making complete and correct filings more in keeping with our requirements," Conklin said in an email. "In the past, with only 4 auditors we have spent most of our time making sure a filing was made and doing follow-up audits as to form when we had the time and opportunity."
State Sen. John Bonacic's committee had the second- highest total of unspecified campaign spending after Maziarz's, according to the Commission documents, reporting over $100,000 in what appear to be credit card payments with "little or no information" about their "underlying purchases." Bonacic's treasurer wrote to City & State that the campaign abides "by all the rules of the NYS Board of Elections and all their filings are proper."
The next highest total was run up by Gallivan, who had about $80,000 in "unreported credit card expenses." In Gallivan's case, records for a Capital One card revealed $1,200 spent at casinos, $1,000 on cigars and $300 on "tanning beds and at salons." The senator also had approximately $4,000 in unreported charges to AT&T, $3,500 in unreported charges to Verizon Wireless, $4,000 in charges to the DeLacy Ford dealership in Elma, N.Y., and almost $3,000 in unreported loan payments to M&T Bank. The Commission was apparently unable to obtain records for an American Express card that had $47,000 in unreported campaign charges.
"We have always endeavored to comply with the state's campaign financial disclosure requirements and are in the process of reviewing all of our filings to ensure full compliance," Gallivan's campaign said in a statement.
Although the Moreland documents distinguish between "unreported" and "unitemized" in their analysis of lawmakers' expenditures, City & State was unable to verify examples of unreported spending cited in the documents and it is possible that some items categorized as "unreported" were in fact personal spending that was later paid for with a candidate's own money, rather than campaign funds.
Conklin noted that many candidates use a personal credit card and submit part of their bill to the campaign committee to get reimbursed for purchases that are legitimate campaign expenses. In other cases lawmakers will foot the entire credit card bill, campaign expenditures included, and later repay themselves using campaign funds for the campaign-related expenditures.
"Either way is perfectly proper," Conklin said.
State Sen. Greg Ball's expenditures also raised eyebrows, according to Commission documents, including $23,000 spent at retail and clothing stores and "large amounts of money on hotels all over the United States (and in some cases, outside the United States)." Among the Ball campaign's bigger clothing purchases were $680.60 at a West Nyack Banana Republic in October 2010, $581.61 at a Brooks Brothers in Central Valley in January 2011 and $252.72 at Amore Clothing in Albany in March 2012. He also spent several hundred dollars at the iTunes Store in 2011 and on what appears to be a $99-a-month gym membership for half a year in the middle of 2010.
Asked to explain the specific purchases noted in the Moreland documents, Joe Bachmeier, a spokesman for Ball, responded in an email, "The clothing purchases were for campaign use, including campaign photos, television shoots and production. iTunes downloads were for campaign iPod use at dozens of campaign events. The gym membership was part of an incentive package for campaign staff. As for paying for hotels, dinners and meetings, as a campaign and office, we have a strict policy of never allowing a constituent, lobbyist or other party to ever pick up a tab, we pay for all meetings to avoid any question of impropriety."
The Moreland documents also cite a 2013 study by NYPIRG that found Ball's campaign reported 995 expenditures between January 2011 and January 2013 with the payee's address either missing or incomplete—more than double the figure of the campaign committee with the next highest number of incomplete filings in the state during the same period of time, that of Mount Vernon Mayor Ernie Davis, and 584 more than the third- place finisher: state Sen. Maziarz's campaign. In all, NYPIRG determined that 66.8 percent of Ball's itemized expenditures over the two-year period were missing at least part of the payee's address. Bachmeier said that when the Ball campaign was made aware of the report, it updated its filings.
Though Ball, Bonacic, Gallivan and Maziarz are all Republicans, the Commission's investigators did flag legislators on the other side of the aisle as well. State Sen. John Sampson, who is currently under indictment for a host of corruption charges and others allegations, got the Commission's attention for $38,000 in "unitemized credit card expenditures without any memo detailing the expenses." Sampson also had over $50,000 in expenditures related to the New York Yankees described as fundraising costs.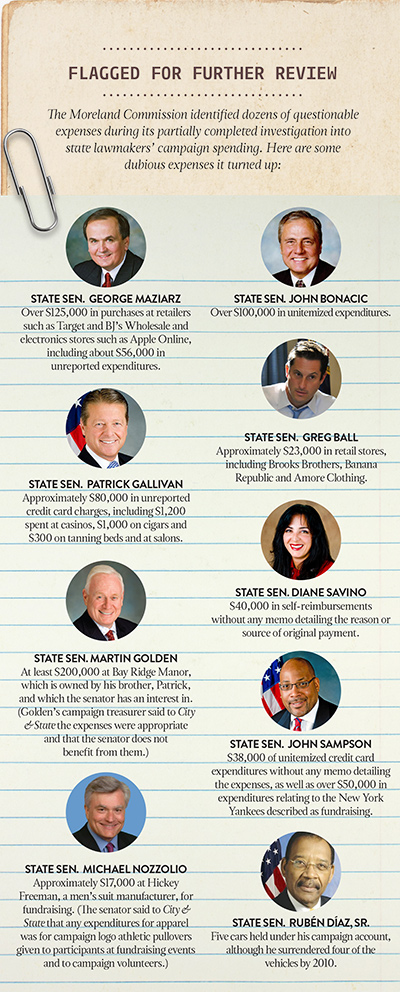 Attempts to reach Sampson's campaign were unsuccessful.
The Commission documents also note that another Democrat, state Sen. Rubén Díaz, Sr., who had over $18,000 of unexplained charges and expenditures to American Express from mid-2007 through mid-2013, at one point "held five cars under his campaign account," although by 2010 he had "surrendered the plates" of four of them.
Díaz said he was not available to comment.
State Sen. Diane Savino, a member of the Independent Democratic Conference, had $40,000 in self-reimbursements without any memo detailing the reason or source of original payment. Bronx Democratic Party Chairman Carl Heastie, one of the few members of the Assembly who turn up in the Commission documents, attracted attention for the approximately $25,000 in unitemized credit card expenditures his campaign made over the years the investigators analyzed, most of which without any explanation of their purpose.
The Savino campaign declined to comment.
Heastie, reached by phone, said, "I've heard nothing from them. I'm not concerned whatsoever. You're not required to itemize expenses under 50 bucks."
The Commission also flagged Brian Kolb, the Assembly minority leader, and state Sen. Jeff Klein, the head of the IDC and co-leader of the Senate Majority coalition, but the documents contain few details on either leader.
"My campaign committee is committed to properly detailing all expenditures and revenue figures. We have not been notified of any improper practices," Kolb said in a statement.
As to Klein, Candice Giove, the IDC's deputy director of communications, said, "The Senator's campaign filings are in full compliance with the law."
The remaining two dozen-plus lawmakers probed by the Commission attracted attention because of unitemized spending by their campaign committees, primarily in the $10,000 to $20,000 range.
Categorizing expenses as unitemized is common practice, of course. One of the Moreland Commission documents specifically noted that large unitemized spending totals could simply be a reflection of inadequate campaign finance disclosure, and not constitute a violation. A City & State review of campaign expenditures of all 63 of the state's senators between July and December of 2013 found that 29 of them—close to a majority—reported unitemized expenses in their filings. Additionally, the 29 senators identified their unitemized expenditures with little consistency, with some listing lump sums and others going so far as to provide details for individual unitemized expenditures—in one case down to $1.50 for a miscellaneous expenditure.
Such discrepancies notwithstanding, there is a proper format for tallying unitemized expenditures on campaign filings, Conklin said, noting that the Board of Elections holds seminars on how to accurately file such reports. The problem is that candidates and campaign treasurers often do not follow the rules.
"The seminars are not mandatory and we do try to do our best to communicate to all new treasurers the importance of attending one of the seminars and reading the handbook," Conklin said.
Whether Cuomo and the Legislature will act this session in an effort to plug some of the porous provisions of the campaign finance laws governing personal use and the reporting of expenditures remains to be seen.
Susan Lerner, the executive director of the good-government group Common Cause New York, said the ethics package in this year's state budget did not include any provisions to address the types of campaign spending the Moreland Commission was investigating. She added that the Legislature has indicated it is comfortable with the vague statutes and standards that allows candidates to decide for themselves which expenses are and are not related to their campaigns.
"It is amazing to me that our elected officials don't realize how they put themselves between a rock and a hard place by not setting a higher standard that's clear in the law for what is an appropriate expense and what isn't and how to report it in a way that does not invite questions and aspersions," Lerner said.
An entity could be designated or created to conduct audits of all candidate filings, Lerner said, similar to how the New York City Campaign Finance Board operates. Alternately, it could take a more random approach, similar to the system in Arizona—where the Arizona Clean Elections Commission audits campaign books without warning. Lerner added that the Moreland Commission clearly established that the Board of Elections does not see itself as having the responsibility or the capability to enforce the campaign finance elections law.
"There are various ways to address this. Right now, it's not being addressed at all," Lerner said. "There is no oversight."
In its preliminary report issued to the public in December, the Moreland Commission concluded there were "few rules limiting the personal use of campaign funds and even less enforcement." The report cited a 2013 legislative proposal by Cuomo that campaign contributions should be used only for a purpose "directly related to promoting the nomination or election of a candidate or the execution of duties associated with the holding of a public office or party position." Among its recommendations, the Commission called for legislation more clearly defining what candidates cannot spend campaign dollars on, which would bring the state in line with stricter federal rules.
The Senate Democrats' ethics package announced earlier this month includes tighter regulations on campaign spending. A bill sponsored by state Sen. Terry Gipson would only allow expenditures "promoting the nomination or election of a candidate" or for carrying the duties of public office, and would more clearly define the "personal use" ban to cover a range of specific non-campaign-related expenses, including mortgage and rental payments, clothing, cars and sporting events and concerts. A bill sponsored by Assembly Minority Leader Kolb includes a similar list of "expenditures for personal use" that would be explicitly banned. Kolb's bill and another measure introduced by the Senate Democrats would also prohibit campaign spending on criminal attorneys or legal fees.
Whether anything will come of the Commission's extensive investigation into personal use—or any of its other investigations, for that matter—is another area of uncertainty. Though Bharara's office has already taken possession of all of the Commission's investigative files and issued a grand jury subpoena "seeking emails, text messages and other records from all of the members of the Commission," according to The New York Times, it is unclear whether Bharara will pursue the personal use investigation or its findings.
The U.S. Attorney's Office declined to comment.
NYPIRG's Mahoney said that while the Commission had several strong leads in its investigation, it did not appear to have had enough time to find any smoking guns—if indeed there were any to find.
"It's possible they had informally started investigations that had gone further, but anybody who picks this up, like the U.S. Attorney, will probably need to spend a lot of time starting these investigations from scratch," Mahoney said. "It's a shame that they made so much progress in starting an investigation into this area, but were unable to follow this investigation through to completion."
This post has been updated with a comment from the Ball campaign that it updated its filings after the NYPIRG report found incomplete reporting of expenditures.