Cuomo takes on guns, NYCHA and the Percoco verdict
Frank G. Runyeon/City & State
Cuomo takes on guns, NYCHA and the Percoco verdict
The governor joined students walking out to protest gun violence.
"Is that Cuomo?" onlookers asked as Gov. Andrew Cuomo stood in the middle of Zuccotti Park in Lower Manhattan, surrounded by student activists who had gathered for a school walkout to protest federal inaction on gun control.
It was a busy morning for Cuomo, who marched and chanted with over one hundred students from the Leadership and Public Service High School. The march was one of many nationwide protests taking place one month to the day after the shooting at Marjory Stoneman Douglas High School in Parkland, Florida, that killed 17 people. Students carried hand-crafted signs bearing slogans such as "fear has no place in our schools" and "f*** the president," and shifted rapidly between a series of chants. The governor participated in the nearly 20-minute rally held by students before they returned to class, along with American Federation of Teachers President Randi Weingarten and United Federation of Teachers President Michael Mulgrew.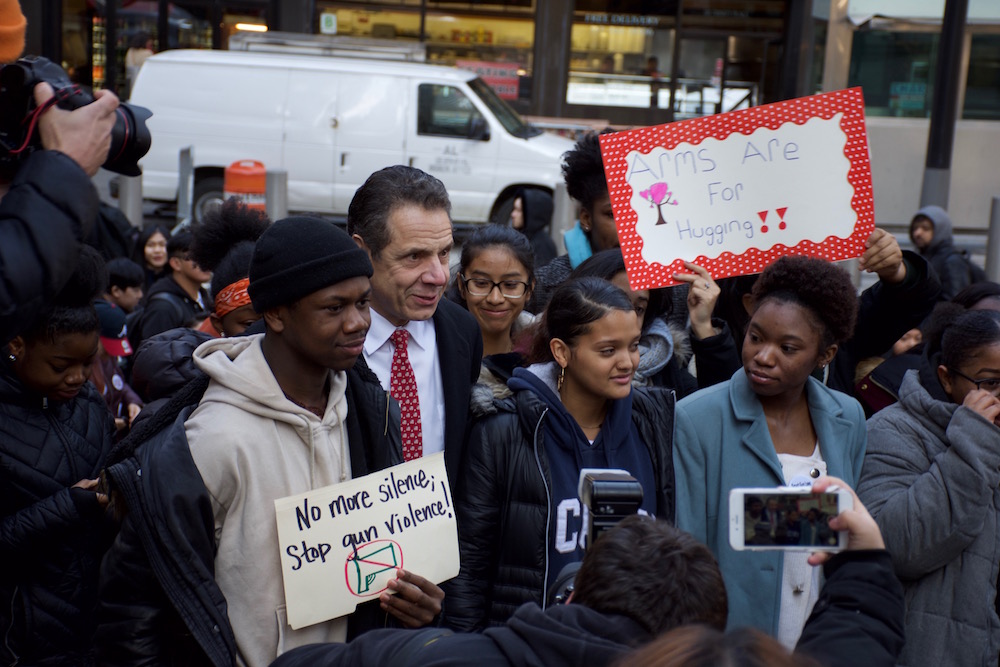 Frank G. Runyeon/City & State
It was a wide-ranging public appearance for a typically press averse governor, who also held a brief press conference after the march at a makeshift podium in an alley off Trinity Place. In less than an hour Cuomo went from clapping along with students' chants to distancing himself from former aide Joseph Percoco, who was found guilty on corruption charges on Tuesday.
Here are the biggest takeaways, from his take on the Percoco verdict to discussing the ongoing crisis with the New York City Housing Authority, and how he differs with student activists on gun control – including video excerpts of the governor's remarks.
Cuomo also spoke today about new steps his administration is taking on gun control, including a website with links for students to contact their representatives. pic.twitter.com/xiATP4aDNK

— Grace Segers (@Grace_Segers) March 14, 2018
Cuomo in the background
Although the governor was the main draw for the hordes of reporters that hovered around the perimeter of Zuccotti Park, he was not the focal point of the student-organized walkout. The protest was very ad hoc, with students clustering in the center of the park and shouting various, and at times competing, chants. They switched from shouting "enough is enough" to "never again" to "not one more" with such rapidity that the governor at one point told a student to settle on "enough is enough."
At one point during the protest, Cuomo, Weingarten and Mulgrew joined students in holding a brief lie-in, as onlookers and reporters stood on the marble benches and tables in the park to get a better view. The event concluded with a student reading out the names of the 17 people killed in Parkland a month ago, with participants chanting "we remember" in response to each name. Cuomo later began his address to reporters by congratulating the students for their activism.
"Sometimes I think, like in this case, you have the students showing more leadership than the so-called leaders in Washington," he said.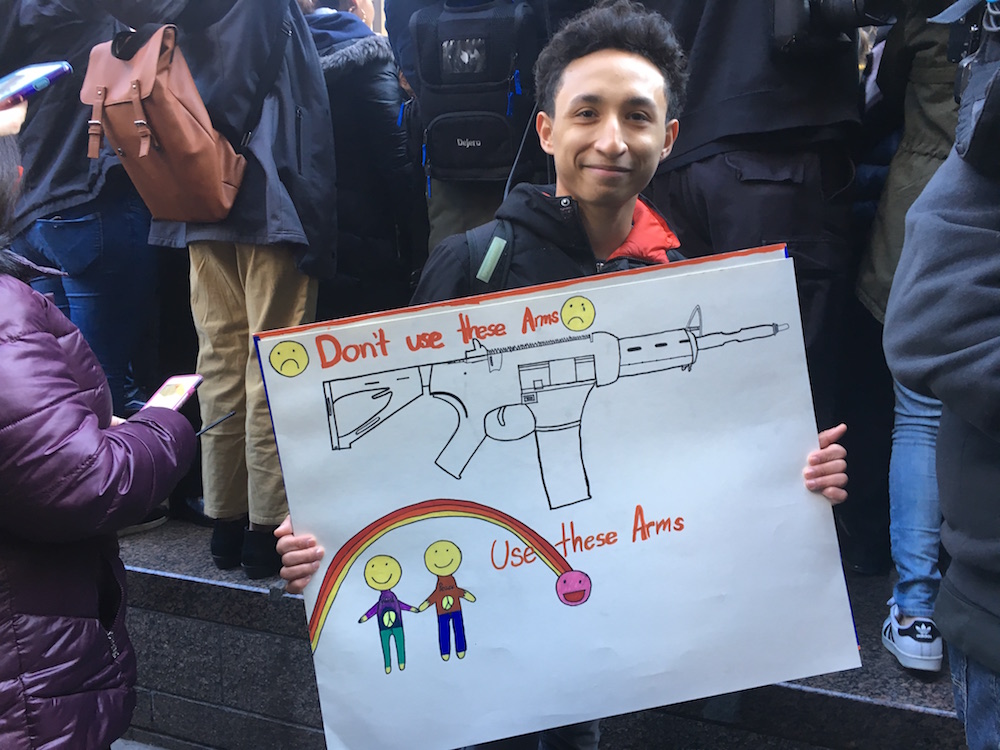 Frank G. Runyeon/City & State
Cuomo advocates on gun control
Cuomo announced that his office would work to mobilize the student activists calling for greater gun control measures in the state. He announced the creation of a website, New York Students Against Gun Violence, which would provide links for students to contact their representatives in the state Legislature and Congress. Cuomo promoted legislation currently pending in the state Legislature that would ban bump stocks and prevent people convicted of domestic violence from possessing firearms. He also touted the SAFE Act, which was passed after the shooting in Newtown, Connecticut, in 2012, and enacted stricter gun regulations. He repeated his praise of the SAFE Act after being asked about his response was to students who say he hasn't done enough on gun control.
"I don't want to argue with the students because I'm very impressed with them and their activism," he said. He added that the SAFE Act was the "the best law in the country" and "the most aggressive law in the country" on gun control.
However, Cuomo said while he understood students who want to ban guns outright, he believes that is against the U.S. Constitution. This was perhaps a way to burnish his progressive credentials on gun control, while appealing to citizens in more rural areas of the state who continue to view the SAFE Act as an affront to their Second Amendment rights. It could also be a prototype for his argument on gun control to national voters, as many speculate he will run for president in 2020.
Cuomo, speaking to reporters, addresses the Percoco trial. He calls Percoco's behavior an "aberration" in his administration. He once called Percoco "my father's third son." pic.twitter.com/jYUXZNsxHI

— Grace Segers (@Grace_Segers) March 14, 2018
Taking on ethics reform
Cuomo addressed the Percoco verdict in his opening statement, saying that his former senior aide's behavior was an "aberration" which "violates everything that my administration is about." When a reporter asked him about a statement by good government groups urging the governor and the state Legislature to take on multiple ethics reform measure, Cuomo shifted the focus to one proposal – banning outside income for state legislators.
"When you have a person who works in government and also gets paid on the outside for another employer, that conflict always causes problems," Cuomo said. "You can't be a part-time legislator. First of all, it's not a part-time job."
He said that despite resistance from the Legislature, he would continue to push the issue, and make it a campaign issue in November. However, when asked by another reporter about the outside income that MTA Chairman Joe Lhota receives, Cuomo struck a different note.
"Well, there's a difference between people who are serving on boards and don't get paid by government, who basically volunteer their service. If they volunteer their service, then of course they have a separate job, because they have to feed their family," Cuomo explained. "I'm comfortable that he has conflict rules and regulations that he's abiding by."
"I'm shocked – shocked – to find that gambling is going on in here"
Cuomo inadvertently echoed the famous line by Claude Rains in "Casablanca" while distancing himself from Percoco, a man he once referred to as "my father's third son."
"When I first heard about it, I was shocked. I was just shocked," Cuomo said of the allegations of corruption against Percoco. "I'm shocked about the behavior, I'm sad for his family." Cuomo noted repeatedly that Percoco has two daughters. The Daily News reported afterward that in Cuomo's notes for the press conference, he had written "Personal sad SHOCK-FAMILY, 2 young daughters."
The governor also reiterated that he has not been connected to any wrongdoing.
"There was absolutely no suggestion ever made that I had anything to do with anything," he said. "It was an exhaustive investigation in an exhaustive trial, and there was never any suggestion about any involvement by me."
The trial revealed that Percoco had used the governor's office even after leaving the administration, and apparently conducted business on behalf of the governor. Cuomo said that when Percoco was using the office, he believed that his former aide was handling matters of his transition from government service.
"He was there for a very long time, he was in an important position, and he would come back and he was handling the transition. Which is fine," he said. "But, there should be no other work done from a government office besides that transition work, and in the trial there was a suggestion that there was, and that's a violation of the rules."
Progress with NYCHA
The governor, who toured a NYCHA facility in the Bronx on Monday, told reporters on Wednesday that it was "as disgusting as anything I've ever seen." He also met with members of the New York City Council on Tuesday to discuss the crisis in public housing in the city.
Cuomo told reporters that he had heard three demands from NYCHA residents, including passing legislation to ensure faster construction periods, having an independent contractor to build new facilities, and giving residents a say in choosing the contractor.
New York City Council Speaker Corey Johnson told reporters on Tuesday that the council's three demands were an emergency declaration to waive requirements for faster construction, a speedier contracting process for construction, and more funds.
"I said I would press demand of legislation, I can't guarantee it. I support an independent contractor, and I'll do an emergency declaration allowing that to happen," Cuomo said he told members of the city council. "I support the residents being part of the selection of an independent contractor and the oversight of that independent contractor."
Deliberate silence on de Blasio
The governor, whose longstanding feud with New York City Mayor Bill de Blasio has flared up in recent weeks, did not directly address the mayor, although he did discuss issues about which the two have disagreed. He said that he was supporting legislation that would ask the city to request design-build authority for individual projects, including for NYCHA and building new jails to replace the one on Rikers Island.
"It's just an unconscionable premise to say it's going to take us 10 years to get people out of Rikers Island," Cuomo said. "We can build an airport in four years, we can build a bridge in four years, it's going to take you 10 years to build a jail?"
De Blasio has previously said that the Rikers Island complex would be closed within a decade. He also supports design-build legislation – and his administration has pushed unsuccessfully for authorization to use the procurement method.
Cuomo also indicated that the design-build legislation would save the city money, freeing it up to spend its half of the subway action plan for emergency repairs to the city's beleaguered subway system. De Blasio has refused to spend the requested $400 million on the plan, but New York City Council Speaker Corey Johnson said he would support it if there was a lockbox provision included to ensure the funds would only be used on the subway.
"If the city saves a billion dollars, and they pay for the subway action plan, they come out way ahead," Cuomo said.
Cuomo also did not address rumors that actress Cynthia Nixon, an activist and close ally of de Blasio, may challenge him in a primary. Cuomo previously suggested that de Blasio may be egging Nixon on to run.
"I'm not nervous about whoever runs," Cuomo said on Wednesday. "There will be people who run, that's called elections, and that's fine."