Brooklyn Heroes
Eight Brooklynites who came to the rescue in New York's darkest hour
Jessica Santana
CEO and Co-Founder, America on Tech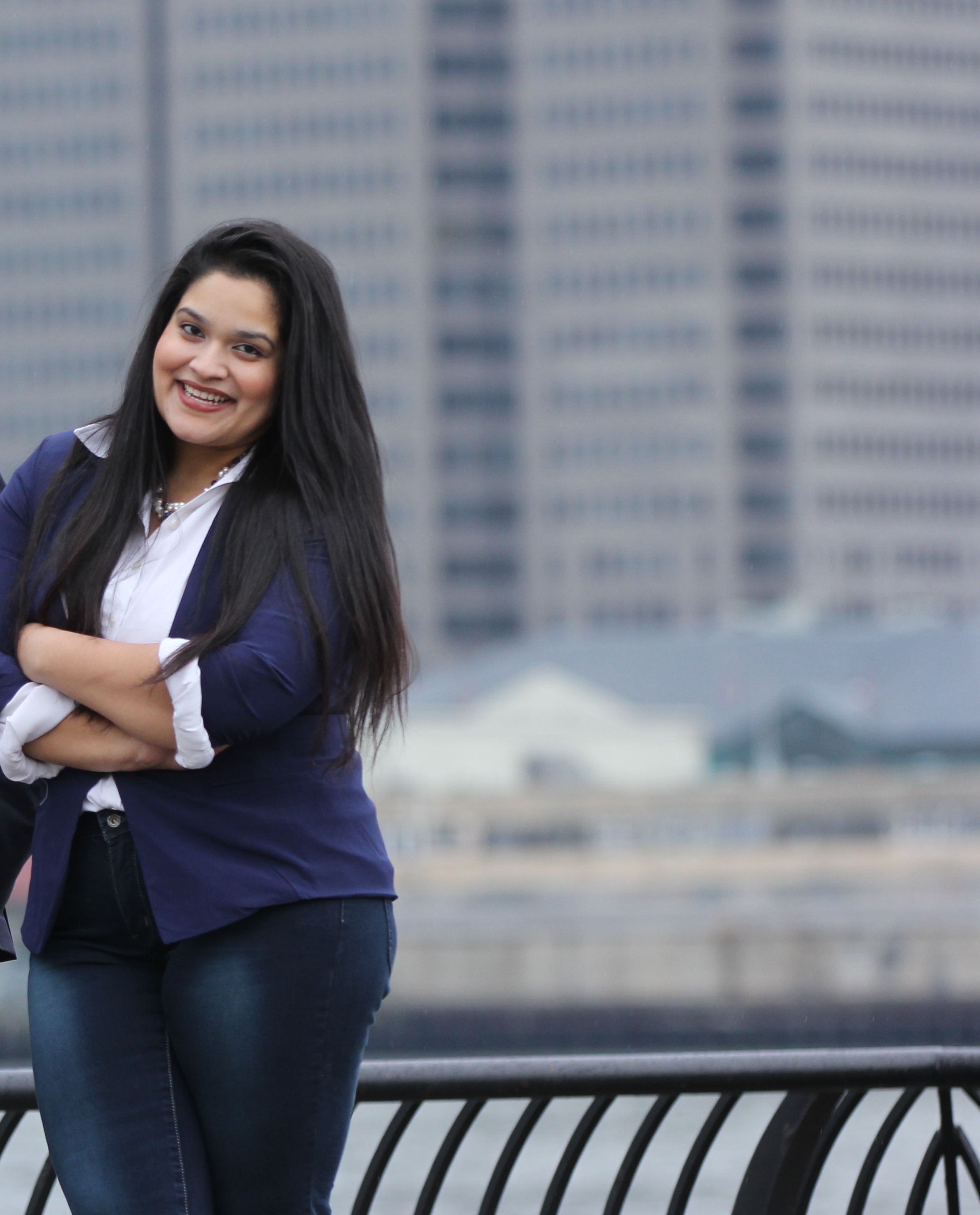 Logistically, it wasn't difficult for the nonprofit America on Tech, which provides free tech programming to Black and Hispanic students, to pivot to virtual learning. "It would have been silly for us not to continue and to provide young people with opportunities when we had the actual infrastructure and systems in place to do so," CEO Jessica Santana says. Within 48 hours, the team put their entire tech curriculum online. They communicated with hundreds of students, parents and volunteers to help them understand the transition. That was the easy part.
"It's one thing for us to have our classes online. It's another thing to know that there are young people in the city of New York and in Brooklyn that just don't have access to laptops. They don't have access to reliable Wi-Fi," Santana says.
Many America on Tech students also depended on the New York City Summer Youth Employment Program, which was suspended this year and replaced with a virtual bridge program. Then there was the mental health toll of living in a city ravaged early on by the coronavirus pandemic as well as processing the killing of George Floyd and the subsequent race reckoning. Those were more difficult problems, and Santana took them on.
To address tech access in her programs, Santana and her team fundraised to purchase and distribute laptops to students. They also distributed stipends to students to help make up for lost work opportunities. They shared information with families about discounted and free Wi-Fi offers. The team scheduled virtual office hours to make sure students knew they had someone to talk to. After Floyd's death, they held a virtual town hall to discuss racism.
Santana says she noticed that many government responses to these crises that were intended to help young people did not involve young people.
"It's really incumbent on our leaders in the community, in colleges, in agencies and institutions all across New York City to think about: How do we design with young people during this time, rather than designing for young people during this time," she says.
Jelanie DeShong
Director of Government Relations, SUNY Downstate Health Sciences University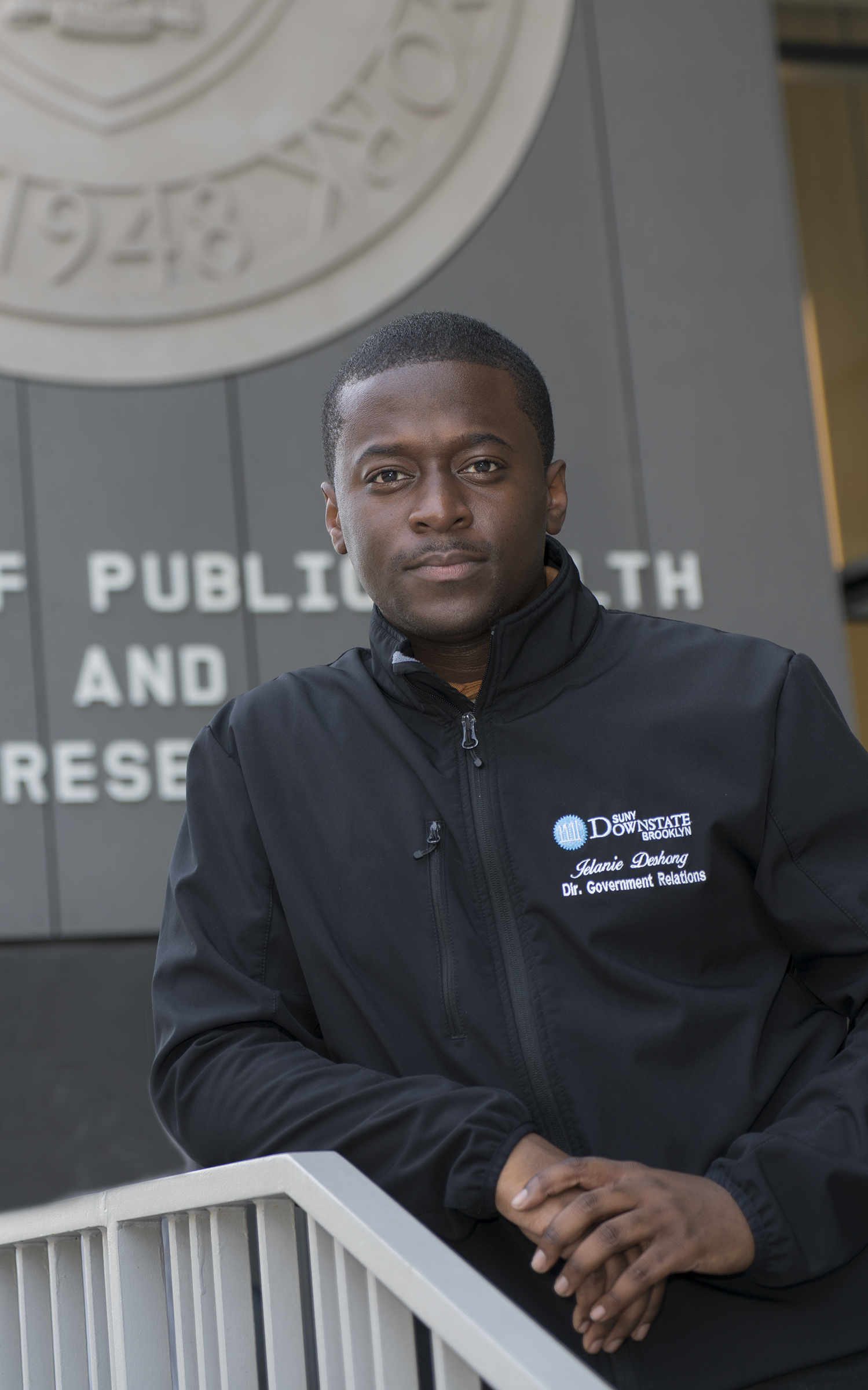 As a lobbyist for Brooklyn's only academic medical center, Jelanie DeShong usually goes to work behind a desk, wearing a suit and tie. When the pandemic began to take hold in New York, DeShong was given the option of working from home. Feeling a sense of duty to his home borough, he decided to keep showing up at the hospital.
"For me, it was such a pride to not just live in this community but also work in this community," he says.
Gov. Andrew Cuomo designated the hospital as a coronavirus-only facility in late March, meaning patients with other illnesses were transferred, and the hospital was entirely dedicated to treating patients with the coronavirus. DeShong's suits were replaced with head-to-toe personal protective equipment, and he took on an additional role of spearheading the hospital's donation drive and coordinating food deliveries for the hospital staff. As he helped deliver food to health care workers, security guards, facilities workers and social work staffers, he tried to get to know as many people as he could. He also found himself relaying information to patients' families when they arrived at the hospital worried about their relatives and unable to visit them.
"As someone who has had family in the hospital, I wouldn't want to show up and not know what my loved one is going through," he says.
DeShong says he was able to spend time with families when health care workers and administrative staff were overwhelmed with patients. He could relate to those families because his mother, Charmain DeShong, battled breast cancer when he was in high school. She immigrated to New York from Grenada in the 1980s and was raising two children as a single mother when she was diagnosed. She ultimately recovered, still managing to support her children throughout her illness. While working at the hospital during the pandemic, DeShong could understand people's fears for their family members who were suffering, and he was also inspired by his mother's strength and courage.
Andrew D'Amora
First Deputy Commissioner, New York City Emergency Management Department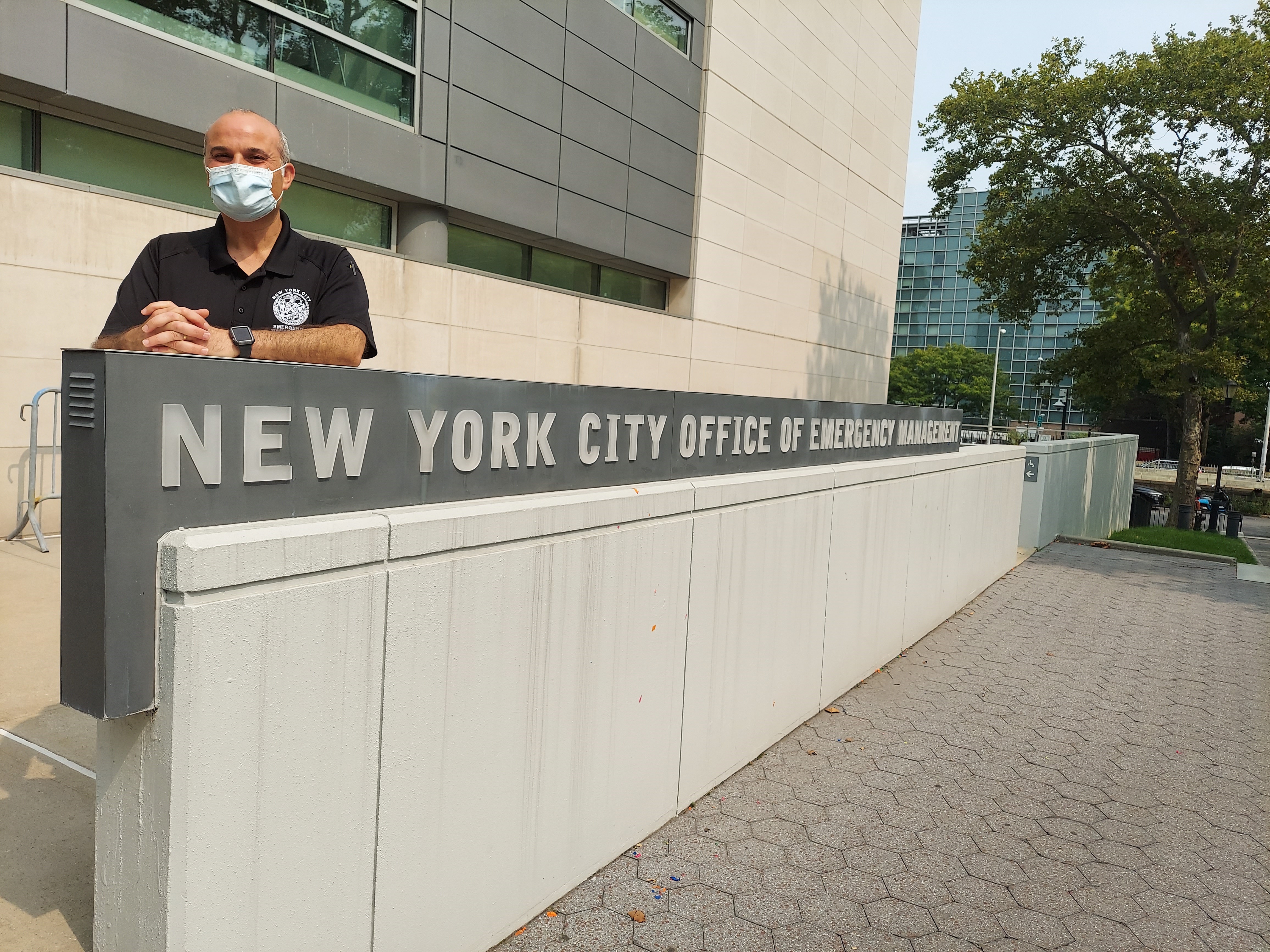 Andrew D'Amora lived in the emergency management building on Cadman Plaza while he managed New York City's emergency response to COVID-19, sleeping on an office couch from March to June. The career New York City Police Department officer who grew up in Marine Park says he's used to that level of commitment, citing his deployment to Puerto Rico after Hurricane Maria in 2017. He says the hardest part of that assignment was seeing his family only on FaceTime for more than three months.
D'Amora calls emergency managers the "stagehands of the city," always working but rarely visible. He is uncomfortable with the word "hero."
"The heroes are the doctors, the nurses," he says. "Myself, I help coordinate, I was in the supporting role."
D'Amora spent those sleep-deprived months as a coordinator among multiple city, state and federal agencies as they collaborated to bring relief to hospitals. That included building a temporary hospital at the Jacob K. Javits Convention Center and overseeing the deployment of personnel and resources.
"All credit goes to the people who work for you and how hard they work," D'Amora says. Among them was Gregory Hodge, an EMT who worked for the New York City Fire Department for 24 years and was assigned to emergency management as a watch commander. Hodge died of the coronavirus in April.
"He was really a great guy and, you know, gave all that he had to this job," D'Amora says.
Much has been said – and criticized – about government leadership throughout the pandemic, from city representatives all the way to the White House, but from D'Amora's perspective, public servants on the ground at all levels collaborated tirelessly to save New Yorkers. And he worked with droves of them: Department of Defense medical staff who supplemented health care workers in New York hospitals, the Army Corps of Engineers workers who helped design the temporary hospital at the Javits Center, the U.S. Department of Health and Human Services, the Federal Emergency Management Agency, state emergency managers and city first responders.
"What I saw is that everybody worked so diligently together to get those resources," he says.
Michael Stamatis
President and CEO, Red Hook Container Terminal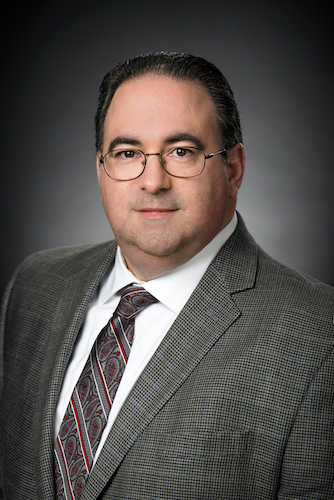 Michael Stamatis' initial contribution to coronavirus relief in Brooklyn was a container of fresh pineapples – as in, a shipping container. With the help of trucking partners at MTC Transportation and organizer Karen Blondel at the Fifth Avenue Committee, the load of more than 10,000 pineapples was quickly distributed to community organizations, food pantries, churches and housing developments in the area surrounding the Red Hook Terminal shortly after the stay-at-home order was issued. In these trying times, the pineapples brought some sweetness. Almost immediately, it was clear there was a serious demand for more food that was both fresh and free.
Beer, beverages, fresh fruit and vegetables from all over the world are among the cargo that passes through Stamatis' container terminal, the smallest of six container ports that make up the Port of New York and New Jersey. Stamatis has worked in shipping since he was 19 years old, when he was a banana handler in New Jersey, unloading box after box of fruit from South America. Stamatis says New Yorkers "should really know that a lot of the food and items that they're buying in local stores is coming into the city right here in Red Hook."
After New York City shut down, his first pineapple donation led to a second, then to more.
"Seeing how much demand there was, how many people were really in need and suffering due to the pandemic, we decided to continue it," Stamatis says. "We didn't want to stop."
Essential workers at the port practiced social distancing, did temperature checks and wore personal protective equipment. With the help of their food distribution network, Stamatis and his business partner, Peter Malo, donated hamburgers, chicken and more produce, mostly in the Brooklyn neighborhoods of Red Hook and Sunset Park, ultimately totaling about 1.5 million pounds of fresh food, Stamatis says, crediting Blondel with organizing the distribution. He says people were thankful to receive perishable items that could be hard to find.
"We had nothing here that would sit. It would go as fast as we had it," he says.
Annie John
Deputy Director, Adolescent Health Programs, Start Treatment and Recovery Centers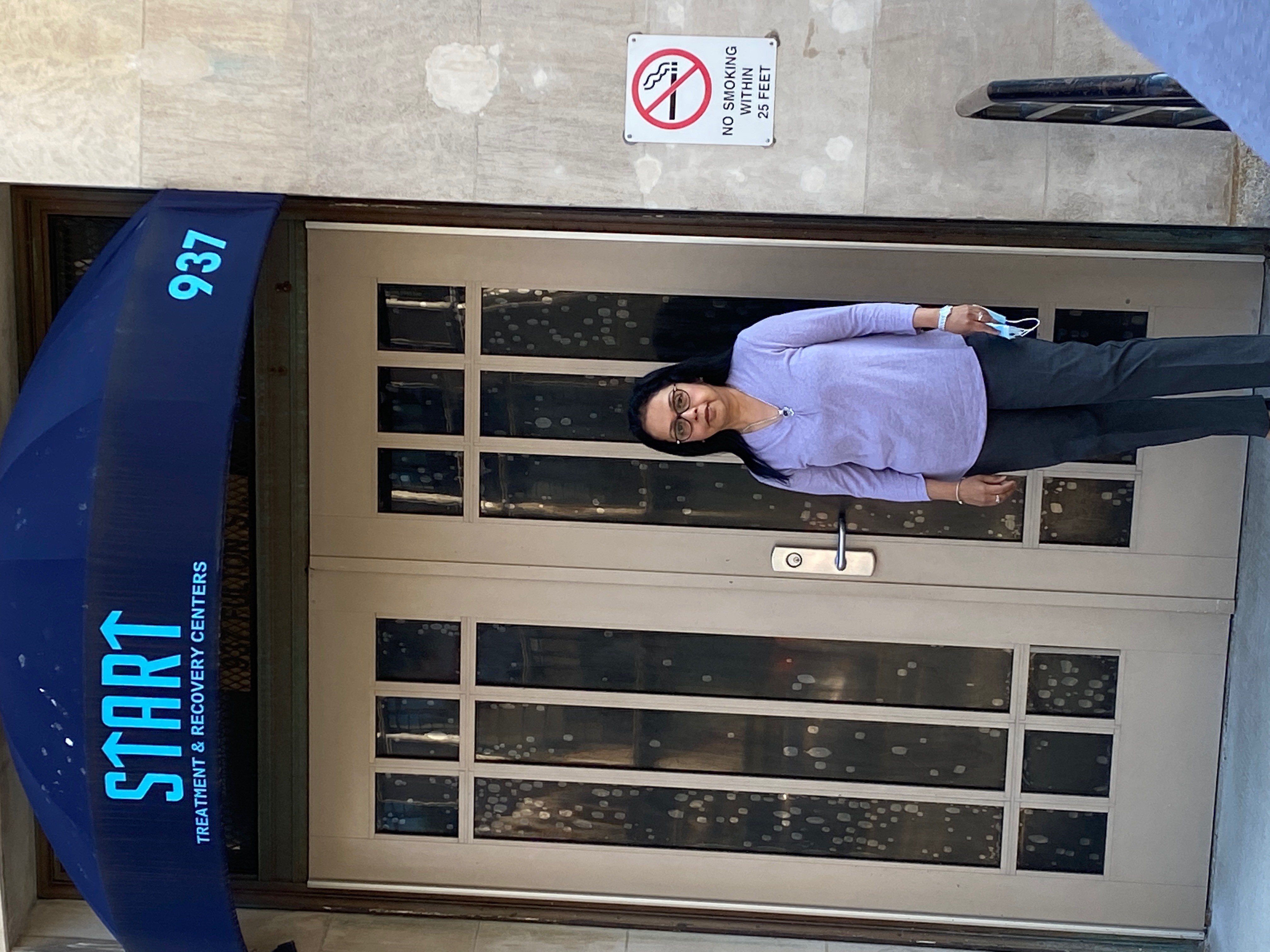 Image Credit:
START Treatment & Recovery Centers
Without hesitation, Annie John acknowledges that this crisis has been the biggest challenge she has faced in her position coordinating mental health services for young people living in detention. "Undoubtedly, in my lifetime," she says. In the process of trying to understand the risks and transition to virtual mental health services, there were few clear answers and there was constant change. "Prior to this, there was no infrastructure in place. It literally caught everyone off guard," John says. The only constant, she says, was her team's focus on the needs of the kids.
The team of clinicians contracts with the New York City Administration for Children's Services to offer mental health screenings, psychotherapy and group counseling to dozens of young people in the Crossroads Juvenile Center's secure detention site in Brownsville, Brooklyn, and in group homes. In August, 67 young people at Crossroads and 10 group home residents were enrolled in the program.
"Being in detention takes away a lot of their choices to begin with," John says. "This is the one thing that we want them to participate in voluntarily."
In late March, when coronavirus prevention measures restricted in-person access to detained young people, clinicians began conducting therapy and screenings by phone while sitting in a separate part of the Crossroads building. There were only a few available phone lines, and calls had to be transferred to the half of the mental health team that worked remotely each week. In-person intervention was restricted to just young people in crisis.
John says initial screenings with incoming adolescents have been extremely difficult to conduct by phone. Young people who were already involved in the programs expressed feelings of abandonment when their clinicians could not meet with them in person. An April coronavirus outbreak at the detention center infected dozens of youth and staff, leading to a greater restriction of movement and programming in the building. The situation made the availability of mental health services even more vital, John says.
"That change itself was something that made it necessary for services to continue to be in place," John says.
Antonio Méndez
Vice Chair, Emergency Medicine, The Brooklyn Hospital Center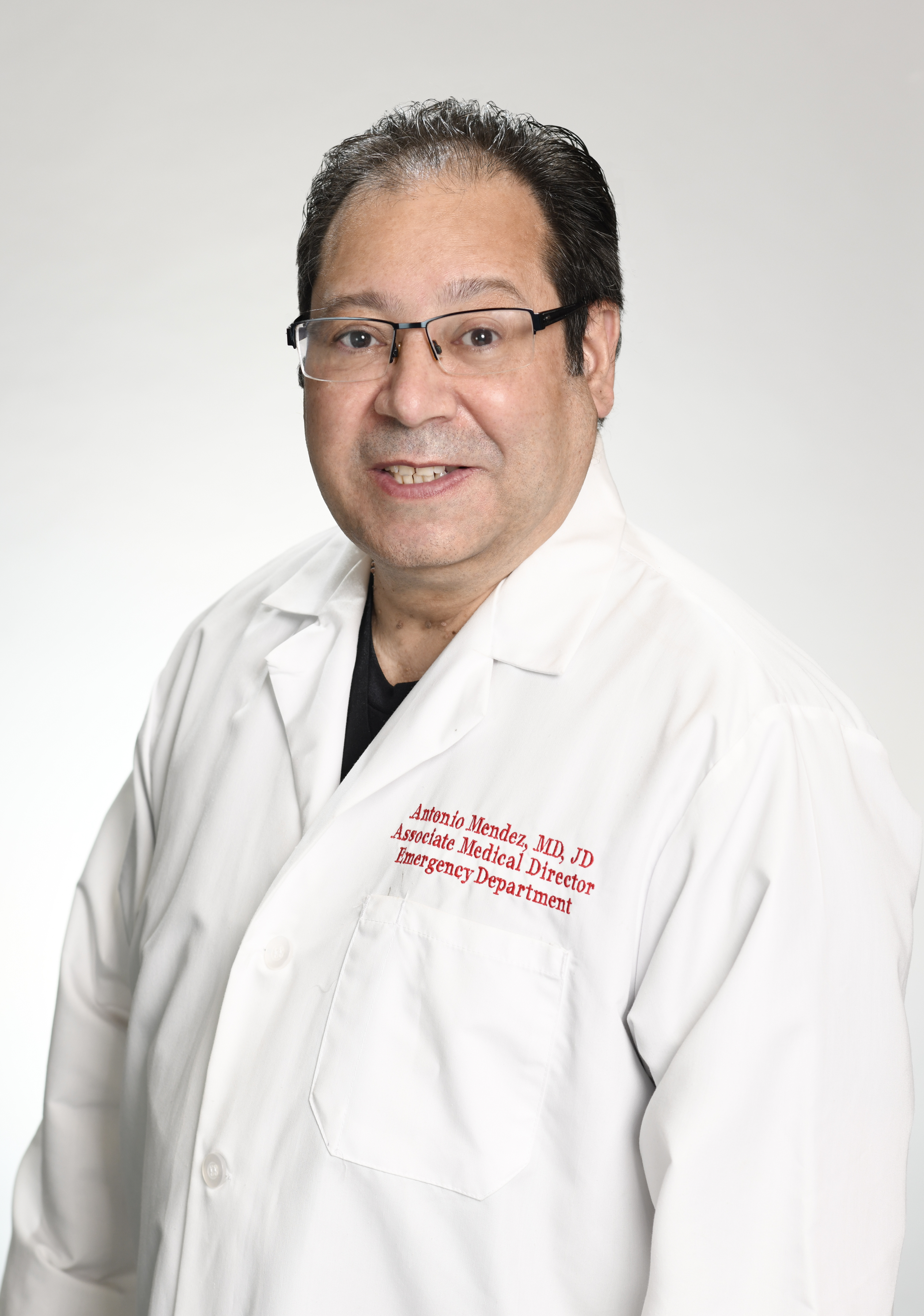 Dr. Antonio Méndez was born at The Brooklyn Hospital Center. So were his sister and two of his children. For decades, but especially during the coronavirus crisis, he has labored to save lives there. In April, his mother died there from COVID-19.
Thinking about the spring now, Méndez says it is difficult for him to remember the order of things. Much of that time is hazy and difficult to describe.
"Most of my colleagues, including myself, we were just dealing with the business at hand," he says. "From beginning to end ... your brain couldn't relax."
In the beginning of the pandemic, he returned early from a vacation to help the hospital absorb the escalating number of patients. With leadership from Emergency Medicine Chair Dr. Sylvie de Souza, a tent was set up outside the hospital to assess incoming patients. As the number of sick people escalated, staff and their families began getting sick too. "It was like somebody flipped a button," Méndez says. "It was literally pandemonium."
A first-generation college graduate, Méndez grew up in public housing in Williamsburg, Brooklyn, and he wanted to be a doctor from a young age. When he was in medical school, he had interests across the field. "In emergency medicine, you've got to know a little about everything." In the 2000s, Méndez completed a law degree mostly out of curiosity, a pursuit he says deepened his love for medicine. "I am a believer in knowledge for knowledge's sake," he says. During the height of the coronavirus crisis, Méndez says it was difficult to realize there was little he could do to help some patients.
Méndez's father, his sister and his wife also fell ill from the coronavirus. His mother-in-law died of the disease shortly after his mother died. Méndez says his experience wasn't too different from that of many other health care workers. While still monitoring the recovery of his wife and his father, he returned to work at the hospital.
"What can you do?" he says. "You have to."
Michael Antoniades
Executive Vice President and Chief Operating Officer, Maimonides Medical Center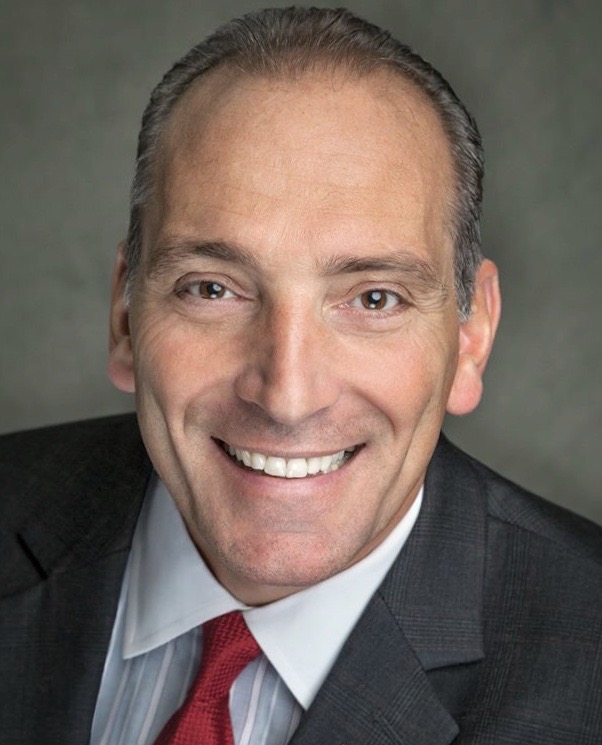 The first coronavirus patient arrived at Maimonides Medical Center in Borough Park, Brooklyn, on March 9. One month later, there were 471 coronavirus patients admitted at the hospital. "We made decisions in minutes and hours that normally take weeks or months," says the hospital's emergency incident commander, Michael Antoniades.
In the incident command center, administrators had major tasks before them as they tried to keep up with constantly changing coronavirus information. While maintaining social distancing in a large boardroom, they set up a communications center to coordinate with patients' families, media and other agencies. They established a staffing center responsible for redistributing staff to manage coronavirus patients as other parts of the hospital shut down. They had to mine their networks to find new ways to provide personal protective equipment for workers, establishing a new, much more expensive supply chain. They created a virtual health care system for noncritical patients and facilitated participation in clinical trials.
Antoniades ran three (partly virtual) meetings every day, seven days per week, for more than two months. "A number of us never missed a day, because you couldn't," he says. The crisis required people to radically change their day-to-day responsibilities. The chair of psychiatry, for example, led the conversion of a new, vacant Crown Heights nursing home into a unit for Maimonides coronavirus patients who were no longer in critical condition.
While nurses and doctors on the floor faced the virus directly, Antoniades and his team oversaw the entire mobilization from the incident command center, trying to make those workers safer. "We are made up of 6,400 people," Antoniades says. "Every member of the team was an essential part to make this work." Administrators, warehouse workers, housekeepers and information technology workers all took on new roles. Antoniades says the information they learned this past spring will prepare the hospital in the event of a second wave.
"Every day, we got better," he says. "We learned something. We implemented something. We found a way to deal with something that we couldn't yesterday."
Fabiola Mendieta-Cuapio
Community Organizer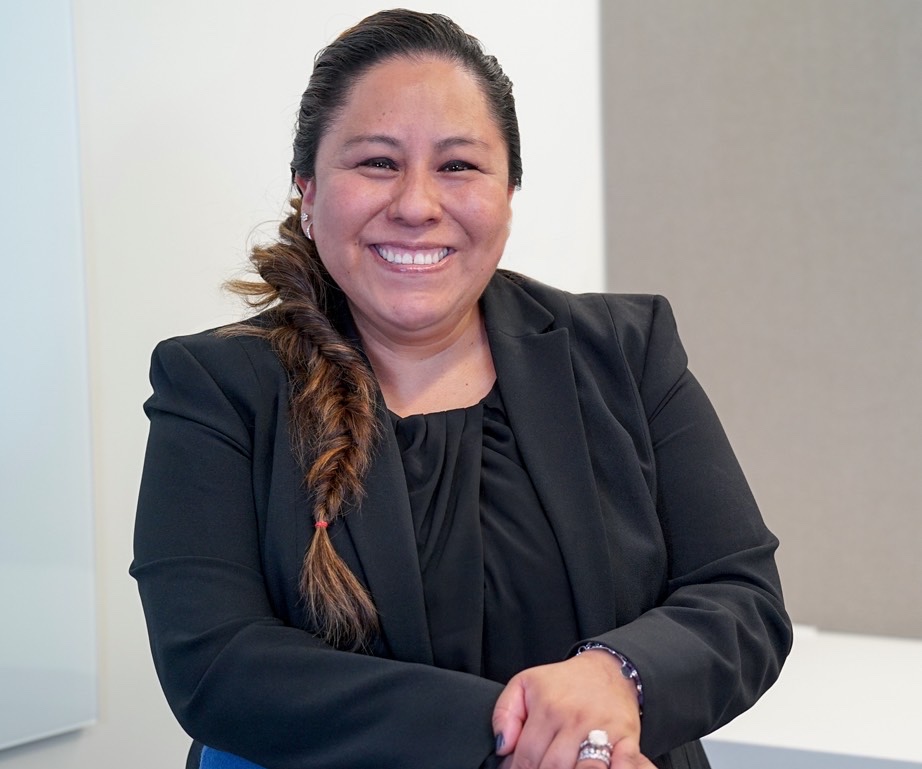 When New York City shut down earlier this year, human rights activist and organizer Fabiola Mendieta-Cuapio started receiving a lot of calls – between 10 and 20 each day. People would call her to say they were feeling sick and didn't have health insurance, that they didn't know how to get food, that they didn't know anyone in the city, or that they had lost their jobs and were experiencing a financial crisis.
An immigrant from Mexico and a single mother, she works primarily with undocumented people in South Brooklyn. "I'm a member of a lot of groups, and somehow my name and my phone number move around," she says. "It was heartbreaking getting those phone calls every single day."
Mendieta-Cuapio called a fellow activist, Devon Morales, to figure out how to mobilize. Mendieta-Cuapio's brother offered his garage in Gravesend, Brooklyn, as a mutual aid headquarters. Another brother traveled to New York from Connecticut to help. A third brother and her sister in Staten Island volunteered as well. Using donations and proceeds from a GoFundMe page, they bought food and began distributing it from the garage. Mendieta-Cuapio worked with Families for Safe Streets to recruit volunteers for deliveries, quickly forming a team of drivers. They called the effort Brooklyn Immigrant Community Support, and word quickly spread around the city.
When the peak of the crisis passed and things started to open up again, Mendieta-Cuapio was not ready to stop working. She wanted to use her newfound community relationships and her long-standing connections to move into a second phase: In addition to distributing food, the group mobilized to do census outreach in South Brooklyn.
"We can get more resources and more food if we all do our little part and we all do a little civic engagement," she says. The third phase was voter registration ahead of the June primary. Mendieta-Cuapio says housing is a major need now, as people have fallen behind on rent and are worried about being evicted. "It's devastating listening to phone calls now about housing, and how the system is not working for our immigrant community," she says.