Criminal justice
Criminal justice reforms return as a defining political issue in Albany
Legislative lessons learned during the pandemic are now helping state lawmakers pass police reform.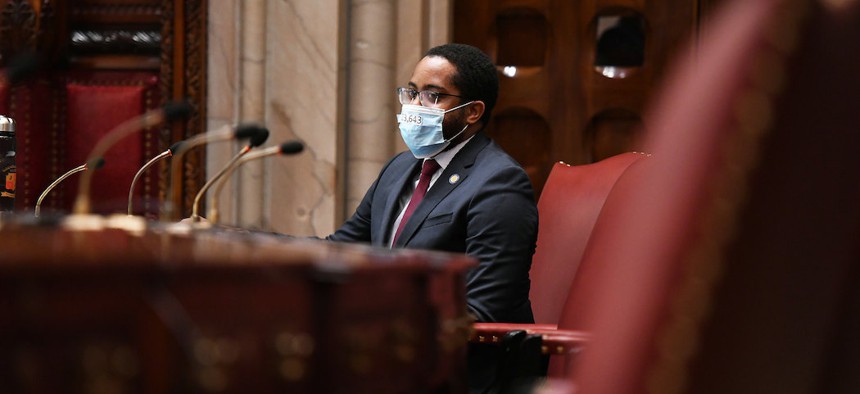 The state legislative agenda has been a roller coaster ride over the past 18 months. Last year belonged to the newly empowered progressive left, which won sweeping reforms protecting tenants, immigrants, victims of abuse and assault and criminal defendants. In early 2020, the political initiative shifted to the political center, with efforts to scale back cash bail reforms dominating state budget discussions. Then the coronavirus pandemic struck, and nonemergency policy issues were put on the back burner.
In early April, Gov. Andrew Cuomo and centrist Democrats ultimately teamed up to pass a partial rollback of bail reform in the state budget. COVID-19 might have become the overriding issue for the next two months, but even as the public health and economic toll mounted, issues linking public health, systemic racism and the criminal justice system were always bubbling below the surface. 
"We have more black people dying," said Assemblywoman Rodneyse Bichotte, whose Brooklyn district has been the center of the public health crisis and recent protests. "We have more black people losing their businesses. We have more black people unemployed." Another turning point came on May 25, when George Floyd died at the hands of Minneapolis police officers – and a confrontation between a white woman and black birdwatcher went viral. "Then boom!" said Bichotte – and criminal justice reform once again became the focus in state politics.
This latest disruption in the political landscape is now giving state lawmakers an opportunity to pass a package of long-sought police reforms while also taking action on several political lessons learned during the pandemic. 
Cuomo's consolidation of power early on in the pandemic left state lawmakers mostly on the political sidelines until the middle of May, when Assembly Speaker Carl Heastie and state Senate Majority Leader Andrea Stewart-Cousins announced – after drawing criticism from good government groups for their inaction – that state lawmakers would return to their normal work of passing bills and holding hearings. 
This time around, the circumstances are much more advantageous to lawmakers. The governor has taken a wait-and-see approach to the protests, ceding some ground to lawmakers on addressing police reform. That is leaving an opening for a state Legislature led by two black Democratic leaders. The pepper-spraying by NYPD officers of state Sen. Zellnor Myrie and Assemblywoman Diana Richardson – two black lawmakers who introduced legislation earlier this year to change the NYPD disciplinary process – at a Brooklyn protest has galvanized support for their efforts.
"I'm hoping that my experience shows people that this isn't some sort of made up grievance," Myrie told City & State in an interview. "This isn't a fake agitation. This is a deep-seated frustration with the system that has ignored us for way too long."
While the 2019 debate focused on the pretrial system through changes to bail and discovery laws, June 2020 has unexpectedly put Albany on the cusp of addressing police reform. "It's unfortunate that it (took) the tragic murder of George Floyd for this to happen," state Senate Codes Committee Chairman Jamaal Bailey said. "But I am heartened by the silver lining in such a dark cloud that people are starting to wake up and see that we need to change things." 
Legislative leaders have said that something is going to pass the second week of June. The top issue on the legislative agenda is a proposal to repeal a state law known as 50-a that allows New York City to shield police disciplinary records from public disclosure, a change that police unions have blocked for years through a combination of political donations and fiery rhetoric. They are hardly any more supportive on other bills that are likely to pass the state Legislature in the coming week that require courts to collect more data, a ban on racial profiling and codifying into state law the office of a special prosecutor to handle misconduct investigations. 
A Democratic source told the Daily News on June 4 that the legislative package would include 50-a repeal and codification of the state attorney general's role as a special prosecutor in cases in which a police officer kills someone, and that a ban on racial or ethnic profiling and a chokehold ban were also under consideration. 
The measures were among around a dozen proposals under discussion as state lawmakers get ready to reconvene in early June. While there is broad support for many of them, the size of the legislative package is still a matter of debate. "We need to consider as many as we can," said state Sen. Robert Jackson, who chaired a May hearing on how COVID-19 has disproportionately affected minority communities. Assembly Codes Committee Chairman Joe Lentol is urging a more constrained approach that would include the repeal of 50-a and legislation he is proposing to require more data collection by courts. "It might even be a mistake to try and pass everything we ought to pass at once," Lentol added. Another key factor is likely to be the level of opposition that materializes against the reform efforts. 
Like Cuomo sensing the political weakness of his own political opponents in budget negotiations, state lawmakers are now taking advantage of the sudden weakness of the traditionally all-powerful police unions. Groups including the New York City Police Benevolent Association played a big role in fueling controversy over bail reform earlier in the year, especially through fiery statements by leaders in the news media. That has now changed as public opinion gets behind reform efforts and past supporters, including state Senate Deputy Majority Leader Michael Gianaris, cut their financial ties to police unions. 
PBA President Pat Lynch is still lambasting New York City lawmakers for their purportedly "cop-hating" agenda for threatening the department with budget cuts. "The legislators pushing these measures aren't concerned about creating sound policy, just exploiting the politics of the moment," Lynch said in a statement. Other union leaders are saying they oppose the repeal of 50-a, at least as currently proposed. "(We) understand that change is inevitable," Thomas Mungeer, president of the New York State Troopers Police Benevolent Association. "That being said, we have always prided ourselves on being open minded and we are agreeable to having conversations to discuss potential modifications." This is a far cry for just a week or two ago, when the very idea of passing police reform appeared unimaginable given the public focus on the coronavirus pandemic. 
Cuomo appears to be eager to go along with some proposed reforms. Days after protests erupted in the state, he said he would sign a bill to allow the disclosure of disciplinary records. A four-pronged approach offered by the governor on Friday overlaps with proposals from lawmakers, including a ban on chokeholds and making false 911 calls a hate crime. "He sat on the sidelines and for some reason now tries to act like it is his agenda," Mike Murphy, a spokesman for Stewart-Cousins, responded via Twitter. "He has no involvement in any of this," he later added.
While the governor continues to back police – saying 99.9% of them are not a problem – the desire to get something done appears to be his top priority, as it has been before on various issues during his tenure. So he may be more open than usual to lawmakers' various proposals, despite some differences on the details. "We have to review the package," Cuomo spokesman Rich Azzopardi told City & State when asked about the lawmakers' proposals. Just how much lawmakers can pass will only become known once legislative leaders announce the actual bills, which had not happened by publication time. 
Another lesson lawmakers are recognizing is the need to act on their convictions. It is a simple idea, but hard to achieve at times. The early March vote on expanding the governor's emergency powers illustrates the prioritization of pragmatic politics over their idealist notions of the relative powers of the executive and legislative branches of government. The state budget approved in early April, which included the revisions to bail reform, is another example of state lawmakers choosing between getting things done and sticking to their principles.
Two months after those compromise measures, state lawmakers have a chance to advance bills years in the making. On paper, there were enough votes to pass them months, if not years, ago. The sudden political shift brought on by recent protests against police brutality and institutional racism now gives them a chance to act. The state Legislature might even regain some of the glow it had last year when the newly elected Democratic majorities in each chamber showed what they could do when they rally around one cause or another. 
That happened with rent reform and legislation allowing undocumented people to obtain driver's licenses. It happened with the package of bills last year that eliminated cash bail in many cases and sped up the trials process. That period of reform waned by the time the 2020 legislative session began, but now criminal justice issues are back on the legislative calendar as the first wave of the coronavirus pandemic subsides. 
With the political winds once again at their backs, the unexpected unrest is giving Democratic state lawmakers a fresh chance to prove that they can confront the biggest issues facing the state by translating rhetoric into action. "Don't just talk about it, don't just tweet about it," said the Rev. Kevin McCall, a longtime Christian minister and civil rights leader in Brooklyn. "But show us with the gavel."