Rikers Island
A timeline on the closure of Rikers Island
The shutdown of the jail complex was delayed by a year to 2027.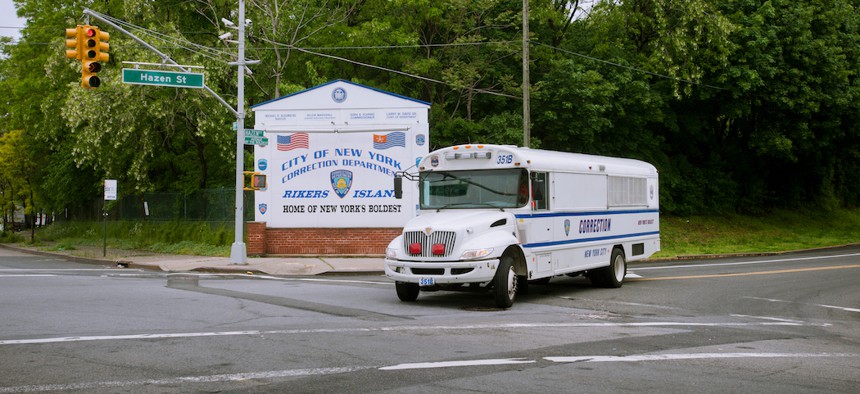 Following longtime calls for its closure, Rikers Island was set to be shut down by 2026. Now, New York City has delayed its death sentence to 2027.
The infamous jail complex, which opened in 1932, has a history of abuse and negligence toward its prisoners. The facility was heavily criticized in the 1970s and '80s for its prisoner overpopulation, dangerous conditions and unhealthy practices toward adolescent prisoners. Under then-New York City Mayor Ed Koch, the public began calling for the island to be closed.
In the past six years, those calls have been repeated with similar concerns related to the violent nature of Rikers Island, which has left adolescent boys physically and mentally harmed. Eventually, New York City Mayor Bill de Blasio came around to support the closure of the island. The process to get there, however, has not been without its own share of complications. Here is a brief timeline of the recent calls to close the jail complex and the steps taken so far.
Aug. 4, 2014
The U.S. Justice Department released a report after an investigation of Rikers Island found "a pattern and practice of conduct at Rikers that violates the constitutional rights of adolescent inmates." The department learned there was a "deep-seated culture of violence" that was pervasive among adolescent youth and that staffers frequently used force "not as a last resort, but … as a means to control."
March 12, 2015 
Following increased calls for action, Mayor Bill de Blasio and -then-city Correction Commissioner Joseph Ponte announced a 14-point plan to create a safe environment for inmates on Rikers Island.
Nov. 20, 2015
New York City Comptroller Scott Stringer announced his support to close Rikers Island.
Feb. 11, 2016 
In her State of the City address, then-New York City Council Speaker Melissa Mark-Viverito called for reforms to reduce the inmate population at Rikers Island and, ultimately, to shut down the island. Mark-Viverito's call for the island's closure gained support from Gov. Andrew Cuomo, while de Blasio shot down the proposal.
March 31, 2017
De Blasio pledged to shut down Rikers Island alongside Mark-Viverito in an announcement at City Hall.
June 22, 2017
De Blasio released a roadmap for the jail complex's closure, including safety protocols, reduced capacity and reduced isolation for inmates.
Feb. 14, 2018
Alongside New York City Council Speaker Corey Johnson, de Blasio announced four borough-based jails in every borough except Staten Island to replace Rikers Island and introduce fairer and smaller criminal justice system.
Oct. 10, 2019 
De Blasio and Johnson agreed to close the jail complex by 2026 and open four new jails at a total cost of $8.7 billion. A week later, the City Council approved the deal.
Aug. 12, 2020
Gothamist acquired planning documents that showed delays would stretch the closing of Rikers Island well into 2027.
Oct. 19, 2020
The city officially delayed the plan to close Rikers Island and build new jails until 2027.
November 2020
New York City is expected to shut down the Manhattan Detention Complex, commonly known as "The Tombs," in Lower Manhattan and the Otis Bantum Correctional Center on Rikers Island.
Powered By
NEXT STORY: How accurate are rapid COVID-19 tests?