Labor
NYC rolls out 20% pay jump for lifeguards in wake of dire shortages
Amid a national lifeguard shortage, city officials have agreed to increase wages and expedite training for lifeguards in order to staff public pools and beaches.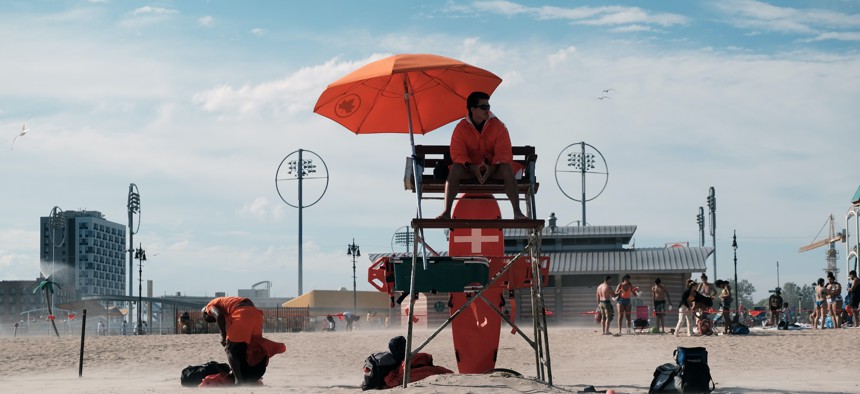 With summer in full swing and the lifeguards tasked with protecting New York City pools in short supply, city officials have struck a deal to raise starting wages to over $19 an hour amid a drastic staffing shortage that's limited access to beaches and pools statewide. 
The agreement between the New York City Department of Parks & Recreation and the union representing lifeguards, District Council 37, is the latest in a long-standing effort to adequately staff the city's 53 pools and 14 miles of beaches. As of Tuesday, there are currently about 778 lifeguards, which is roughly half of the city's parks department goal of 1,400 to 1,500 people each summer. 
"Every New Yorker deserves to safely enjoy our city's public pools and beaches this summer, and my team has taken extraordinary measures to make that happen," New York City Mayor Eric Adams said in a statement Wednesday morning. 
He pointed to the ongoing national lifeguard shortage as the reason behind the city's issues as well as "inefficient practices that are in dire need of further reform." Labor shortages in the city are not unique to lifeguarding positions. Over the past two years, employees across a wide spectrum of industries including city employees, have reconsidered and challenged long-standing practices like an inflexible work environment or low wages. 
In addition to boosting starting wages a little over 20%, the city will also create a new lifeguard class tasked with solely guarding mini pools, which are often found in playground areas and serve young children. Lifeguards who work through the summer till the end of the season would also receive a $1,000 retention bonus in September. The wage increase would only apply to this year. 
While some people have expressed concerns that any new training for lifeguards at this point in the summer won't be completed until the close of the season, Henry Garrido, District Council 37 executive director, told City & State that training for the mini pools will be able to be completed over an expedited three-day training certification. 
"A lot of these people are returning from season to season … We had way over 300 folks who didn't come back for wages," Garrido said. "We're not starting from scratch as people think, but we do need to get them certified. Our hope is to get them done so we can open those pools by next weekend." 
He said it became apparent to the union early on that a staffing shortage might be imminent when many of the lifeguards who usually work over the summers weren't responding to calls. Low wages and other entities offering more than the city's $16 was the No. 1 reason they said they weren't planning to return to city positions. New York state recently raised starting pay for lifeguards up to 34% to $22 an hour.  
While the lifeguard shortage is impacting various parts of the country, the city's own shortage has had rippling effects – particularly in neighborhoods with limited access to beaches or green spaces where access to free public pools is all the more vital on hot summer days. Some pools were unable to open over Independence Day weekend, while others operated under a limited capacity. In mid-June, the city announced that it was canceling its free swimming lesson program in outdoor pools in addition to senior and lap swim. 
"Pools are more than places people go to swim," Garrido said. "They are cooling centers, and they are centers for people with no access to green spaces. Especially in particularly low income neighborhoods that are struggling with all kinds of issues – gentrification, problems where people have no access to open spaces in the way that other neighborhoods perhaps, pools become that center where young people can go and find refuge."
With bolstered wages and expedited processes approved, Garrido said he's hopeful that New Yorkers aren't going to need to wait until the end of the summer to have greater access to these spaces again. 
"Our effort is always to err on the side of caution and safety," Garrido said. "This is the eighth year we haven't had any drownings, and we are very proud of that. But if you don't pay the workers to recruit them, retain them the way they deserve, you're never going to get to that point." 
Powered By
NEXT STORY: Hochul signs climate bills, but advocates want more