Ethics takes center stage in Nassau County executive race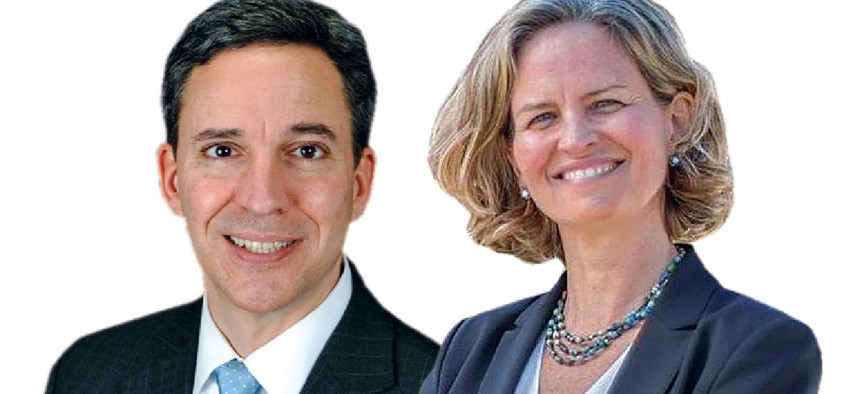 A series of political scandals are eroding public trust in government on Long Island. In 2015, former state Senate Majority Leader Dean Skelos, a Republican from Long Island, was found guilty on eight counts of bribery, extortion and conspiracy. Nassau County Executive Ed Mangano pleaded not guilty late last year to corruption charges, alongside former Oyster Bay Town Supervisor John Venditto. Venditto was also indicted on separate corruption charges last month, along with several other town officials.
Not surprisingly, ethics reform become a focal point of the Nassau County executive race, as three candidates vie to replace the embattled Mangano this fall. Republican candidate Jack Martins, Democrat Laura Curran and Republican turned Democrat George Maragos (below left) have named ending corruption as a top priority.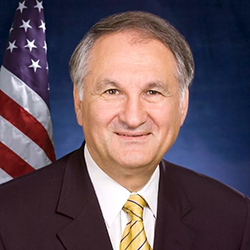 Despite efforts to differentiate their plans, there are similarities between the three candidates' blueprints for ethics reform. Both Maragos and Curran call for term limits for county officials and the creation of an independent inspector general's office. Curran and Martins both emphasize merit-based hiring to combat nepotism, and expanding financial disclosure requirements.
The Curran and Martins plans differ on key issues, however, especially regarding composition of the county Ethics Board. However, this election is about candidate identity as well as policy, and proving that they aren't the same old corrupt politicians that Nassau County citizens have come to expect.
RELATED: 25 Long Island influencers you need to know
In has campaign messaging, Martins draws on his record as former mayor of the village of Mineola and in the state Senate. He has also received an endorsement from Rep. Pete King, a respected member of the Long Island political establishment. Martins believes that his experience legislating on a bipartisan basis would inform his actions as executive, as he would work with both Republicans and Democrats in the county Legislature to enact reform.
"I certainly feel it is the responsibility of an executive to bring people together and to build consensus around ideas," he said. "I do think I'm uniquely positioned to be able to do these things because that's what I've done my entire time in elective office."
Martins also criticized his opponents for what he sees as politicizing the issue of ethics reform. Although they have spoken about issues of ethics reform, Martins says that he is the only candidate with the skills to enact change.
"It's got to be more than just a slogan, it's got to be more than just a talking point, and it certainly has to be more than just a political commitment that's made during an election year," he said.
While Martins uses his background as a politician as proof of his ability to reform Nassau County, the Maragos campaign is employing a different strategy, using only small donor contributions and denouncing entrenched corruption.
"The pay-to-play culture was allowed to grow unabated and unchallenged and became ingrained within the political system," said Maragos. He not only is refusing donations from what he calls "special interests," but hopes to ban all vendor contributions to political campaigns and candidates. Maragos believes this is the "huge differentiating factor" between himself and the other candidates.
"If you take big money from vendors and special interests, you become beholden to them and they will be looking for favors," he explained. "And both (of) my two opponents are taking big money from vendors."
RELATED: How Rep. Pete King learned to stop worrying and love the Donald
Curran pushed back against the idea that she was compromised by accepting funds from large donors, which have included the owners of tax grievance firms.
"The case that I make is resonating with all kinds of people in all different communities all over the county, and I think that's why I'm getting the support that I am getting," she responded, adding that she was the only candidate who had received endorsements from labor organizations.
In her campaign, Curran strongly emphasizes the immediate need for independence in the county Board of Ethics and with a new inspector general position, but her background outside of the Nassau County political machine is also a significant part of her pitch to voters. She is a former reporter who became involved in politics by serving on the Baldwin Board of Education. She said that her four-year service as a county legislator does not conflict with her image as a political outsider, separate from corrupt Nassau politics.
"I just think the kind of candidate I am symbolizes the fresh start that I want to give Nassau County," she said. Former Rep. Steve Israel echoed this sentiment in his recent endorsement of Curran, calling her "the independent leader we need to reform Nassau County."
Having a concrete plan for change is important, but so is gaining the trust of voters. The future of ethics reform in Nassau County, and the race for county executive, depends on one of the candidates being able to convince residents that they are the right person to sweep away corruption.