Islip is making it easier for communities of color to be represented
Most towns in New York use an at-large election system, which favors white majorities.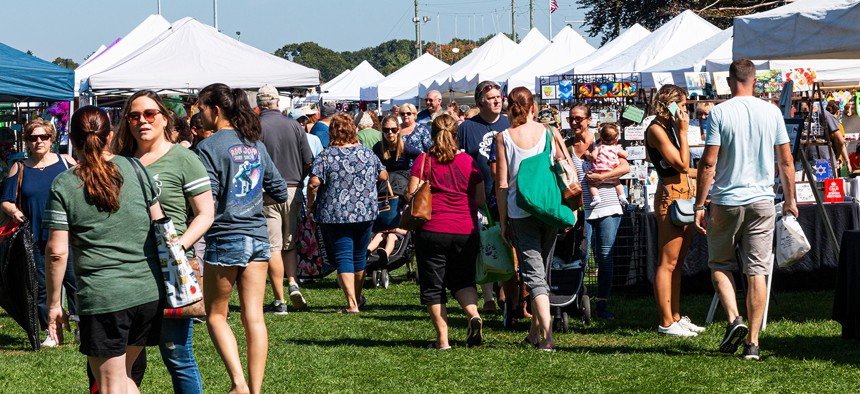 In 2014, more than 40,000 tons of contaminated construction debris was found in Roberto Clemente Park in Brentwood, a majority-Latino part of the Town of Islip in Long Island's Suffolk County. At that time, New York Communities for Change had been campaigning to have the park's pool reopened after budget cuts shut it down in 2012, said Lucas Sanchez, Long Island director for the organization advocating for low-income communities. "Suddenly, this campaign was not about reopening the pool, it was about how did this happen?" he said. "How is it that so much toxic material was dumped in a park with no one at the town level allegedly hearing about it or doing anything about it?" 
Sanchez and other local activists would come to realize the problem may have stemmed from a lack of political representation. Though Latinos make up nearly 30% of Islip's population, no Latino has ever been elected to the Islip Town Board. So in 2018, four Brentwood residents, Make the Road New York, an immigrant advocacy group, and New York Communities for Change filed a lawsuit alleging that the town's method of conducting elections systematically excluded their voices, in violation of the federal Voting Rights Act. Islip's at-large voting system has all four of its board members voted on by everyone in town, but Latino residents concentrated in Brentwood and Central Islip couldn't get enough votes to have their preferred candidates chosen. All current board members are white, and only one person of color has ever been elected to a position in Islip town government.
The lawsuit was settled in October this year, and will require the town to use geographic districts in local elections, including one from a district that is dominated by largely Latino communities including Brentwood, North Bay Shore and Central Islip.
Having at-large seats that may reduce representation of racial and ethnic minorities was not a situation unique to Islip. In fact, most towns and school boards in New York rely on this system. In suburban areas that have diversified in recent years, that has the potential to exclude the voices of voters of color.
The prevalence of at-large legislative bodies is a holdover from when these towns used to be more rural and racially and ethnically homogenous, said Gerald Benjamin, director emeritus of the Benjamin Center at SUNY New Paltz. As the countryside becomes suburban, and then the suburbs become less white – but are often segregated, with communities of color clustered in certain villages or parts of towns – this can become a cause of underrepresentation. 
Towns have the option of replacing at-large councils with a ward system, via referendum, in which council members are elected in districts rather than by the whole town. But only about 15 out of 932 towns in New York use a ward system, according to the New York Department of State. Aside from Islip, only three of those are on Long Island: Hempstead, North Hempstead and Brookhaven. 
Among school boards in the state, only two do not use an exclusively at-large voting system: Buffalo's Board of Education and East Ramapo's school board. East Ramapo is only changing next year, as a result of a lawsuit complaining that its school board was composed predominantly of white, ultra-Orthodox Jewish men who diverted money away from public schools that mostly taught Black and Latino students. 
Many of the changes to at-large election structures in New York have been spurred by lawsuits alleging voter discrimination. The Town of Hempstead, in Nassau County, had to adopt a district-based system in the late 1990s because of such a lawsuit. A plaintiff in the case, Dorothy Goosby, went on to become the first African American woman elected to the board in 1999. She still serves on the board today. In the 2000s, New Rochelle and Port Chester in Westchester also had to change to a district-based voting system, after successful litigation indicated Black and Hispanic voters had their preferences disregarded. 
In the early 2000s, the Long Island towns of North Hempstead and Brookhaven changed their systems voluntarily, via ballot referendum. Similar efforts to bring such a change have failed elsewhere on Long Island, including in Oyster Bay, Babylon, Islip, Huntington and Southampton. Proposals to shift away from at-large voting in Southampton have been historically backed by Democrats, the minority party, but failed to gain support from voters. Republicans made a similar push in 2016 in Babylon, where Democrats have retained much political control. In fact, Islip had previously voted down the proposal itself. 
It has often been difficult for local governments to back a new districting system, since it often means current elected officials may lose their seats. In some cases, so will the majority's favored political party. When Brookhaven's vote to replace the at-large voting system took place in 2002, Republicans had held control on the Brookhaven Town Board for two decades. Town board members tried to block the referendum, and when that failed, they campaigned against it.
"Sometimes the communities aren't aware of their rights. They don't know about the Voting Rights Act. If they do, they don't have the support financially to mount one of these challenges." – Randolph McLaughlin, law professor at Pace University
But some civil rights attorneys say what happened in Islip is likely not an isolated case. 
"I think there's a high likelihood that the kind of problems we saw in Islip and in Hempstead and New Rochelle and in Port Chester, are replicated all across the state," said Randolph McLaughlin, a law professor at Pace University who was an attorney for the plaintiffs in each of these cases. 
At least three conditions must be in place to prove an at-large council system is in violation of the Voting Rights Act. There must be a highly concentrated racial minority population, which votes for largely the same candidates, residing in the town. If they consistently fail to elect their preferred candidates over time, while the candidates picked by majority-white voters succeed, there is a basis for litigation. "Then you go from there," said Frederick Brewington, a civil rights attorney who led challenges in Islip and Hempstead. "What's going on in the fabric of that community? What's taking place with regard to things that may impact their ability to live the quality of life that's similar to their white counterparts in other parts of the community?" That means evaluating disparities in housing, education and health care, among other issues.
But the effort involved in proving this pattern of discrimination and pursuing litigation can be an obstacle. "Sometimes the communities aren't aware of their rights," McLaughlin said. "They don't know about the Voting Rights Act. ... If they do, they don't have the support financially to mount one of these challenges."
Perry Grossman, a senior staff attorney at the New York Civil Liberties Union who led litigation on the case in the East Ramapo School District in Rockland County, said it was difficult to quantify how common the problem is. "How prevalent is it statewide is hard to say, because you have to go collect data from every single school district individually, in every single village individually," he said. Grossman did identify a few school boards where there was little or no representation for minorities, despite having a significant minority population in local schools, such as the William Floyd School District and the Middle Country Central School District in Suffolk County. 
"We have a more diverse Long Island, but that hasn't translated into more political power for people of color on the island." – Lucas Sanchez, Long Island director for New York Communities for Change
Tracey Edwards, the NAACP's Long Island regional director, said the Islip case was an important step for a racially segregated region. "I look at this as a piece of the overall pie for voting rights and representation for communities of color," she said. 
And as the population of Hispanic, Asian and Black residents on Long Island continues to grow, the need for political representation will become all the more important. 
"We have a more diverse Long Island, but that hasn't translated into more political power for people of color on the island," Sanchez said. "So this case is about chipping away at that exclusionary white supremacy that has structural power on Long Island."