Campaigns & Elections
The Democrats wanting to replace Letitia James as New York Attorney General
Zephyr Teachout is officially running for state attorney general, while Andrew Cuomo is reportedly among many Democrats mulling entry in the 2022 primary.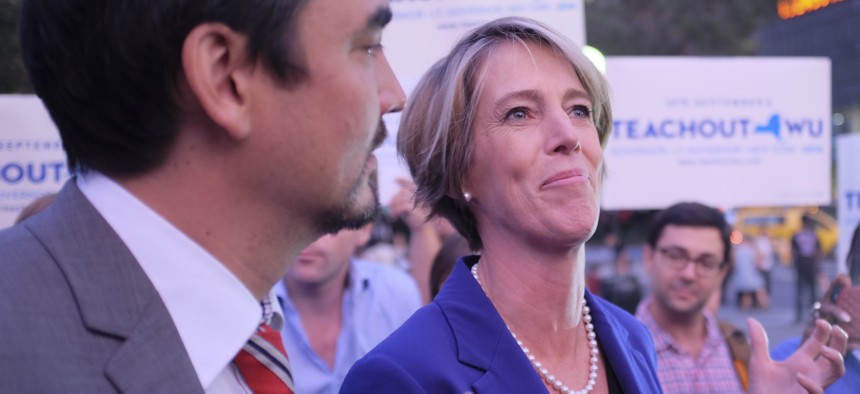 State legislators. Local officials. Academics and members of Congress. They're all represented in the growing pool of potential candidates for state attorney general.
The race to become the top law enforcement official in the state became an open primary as soon as the current occupant of the office – Letitia James – announced her campaign for governor in October. A dozen or so Democrats are now hoping they have the right stuff to replace her, but they have to win the June primary first.
Any of them might prevail in a crowded primary where a plurality of votes is enough to win. Here is a round-up of the Democrats who might jump into the race now that James is moving on to other things. 
This article was last updated Nov. 18.
Running 
Daniel Goldman
Daniel Goldman, a former federal prosecutor who was counsel to House Democrats in the first impeachment probe of President Donald Trump, announced his candidacy in a video released Nov. 16. Goldman vowed to "fight for one standard of justice for all," protect abortion rights and take on climate change and the NRA. Goldman previously served as an assistant U.S. attorney for the Southern District of New York under former U.S. Attorney Preet Bharara, where he worked on cases against Wall Street corruption and the Mafia.
Fordham University Associate Law Professor Zephyr Teachout
The now-four-time candidate announced her official entry into the state attorney general's race on Monday. Flanked by allies including state Assembly members Ron Kim and Emily Gallagher outside the Justice Ruth Bader Ginsburg Municipal Building in Brooklyn, Teachout laid out her platform to battle corruption, tech monopolies and "greed" in the pharmaceutical industry. She also said she would advocate for women's rights, climate justice and improved elder care if elected. Past campaigns for governor, state attorney general and Congress have shown that Teachout can compete, but the bonafide political-corruption expert is evidently hoping that the fourth time might be a charm. 
State Sen. Shelley Mayer
One dark horse in the race is the Yonkers state senator, an attorney who has cultivated strong ties to organized labor during her time in both chambers of the Legislature. She made her campaign official just as she got ready to rub elbows with potential supporters at Somos in early November. Her record as a relative moderate could give her an edge against the competition depending on who else might jump into the race. 
Possibly running
State Senate Deputy Majority Leader Michael Gianaris
The electoral train might finally be arriving for the longtime Queens legislator who has eyed the state attorney general's office since Republican George Pataki was governor. Astute reporters note all the little hints he is dropping about his interest in finally moving on from the state Legislature.
Brooklyn District Attorney Eric Gonzalez
Gonzalez has been "fishing around" lately with his political allies to see whether a campaign for state attorney general might work, according to The City. His reputation as a lefty reformer – and willingness to support changes to progressive reforms – could help him assemble a winning coalition statewide, but it remains to be seen how well he could mount his first statewide campaign. 
Queens District Attorney Melinda Katz
The City cites four sources saying Katz is "certainly" going to run in an open primary. Let's hope for all our sakes that her next campaign does not come down, like last time, to a few dozen votes and a ton of litigation.
Rep. Sean Patrick Maloney
The absence of an upstate candidate means this Hudson Valley powerbroker might have an edge north of the Bronx County line. His national donor network could go a long way in a Democratic primary for statewide office, but it remains unclear whether Maloney is really interested in avenging his loss in the 2018 primary for state attorney general. A spokesperson did not respond to a request for comment by publication time. 
Assembly Member Clyde Vanel
Vanel told City & State at Somos that he is still assembling a campaign team – with an official announcement sometime this month. Considering how the Queens legislator has been all about making New York a space hub in recent years, we're going to have to all call him Attorney General Moonbeam if it all works out. 
Rep. Kathleen Rice
The Long Island member of Congress ran in a Democratic primary for attorney general years ago. Whether she will do so next year remains an upcoming question. A spokesperson did not respond to a request for comment by publication time. 
Maria Vullo
The former superintendent of the Department of Financial Services has created a campaign committee after multiple media outlets reported she is considering a run for attorney general. Her experience overseeing the multitrillion-dollar insurance and finance industries, as well as her time leading a national abortion rights advocacy group, could help stick out in a crowded primary field. 
Former Gov. Andrew Cuomo 
Whispers that the disgraced governor could mount a comeback run for office have been swirling since he stepped down in August, with insiders speculating he could again seek the position that catapulted him to the Executive Mansion. Cuomo served as state attorney general from 2007 to 2010, the year he was elected governor.
Not running
Rep. Tom Suozzi
The Long Island Congress member might get a boost in a potential gubernatorial run if Washington Democrats end up increasing federal tax breaks for affluent people to keep them in states with high local taxes like New York – an issue he's staked his political future on. Whatever happens in that race, a source close to Suozzi told City & State weeks ago that he is not interested in running for attorney general.