Criminal justice
A timeline on the closure of Rikers Island
Construction on external work began this week on the Tombs in Chinatown, one of the proposed locations for borough-based jails that would replace Rikers.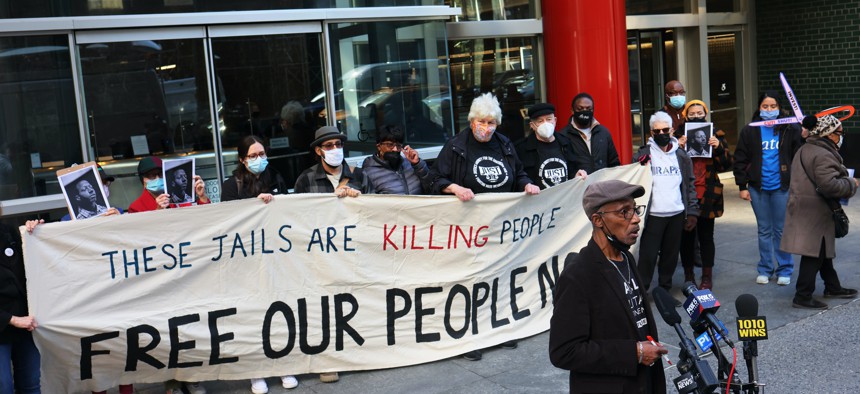 New York City Mayor Eric Adams has expressed support for closing Rikers Island, but his opinions on his predecessor's plans to create four borough-based facilities in place of the notoriously fraught jail complex in the East River are less clear. This week, those plans hit another milestone, as began to come to fruition. Construction crews started external work on the former Manhattan Detention Complex in Chinatown known as the Tombs, where one of the new jails is expected to be located, prompting protests and leading to the arrests of some demonstrators, including Evelyn Yang, wife of former presidential and mayoral candidate Andrew Yang.
Rikers, the infamous island jail complex, which opened in 1932, has a long history of abuse and negligence toward inmates. The facility was heavily criticized in the 1970s and '80s for overpopulation, dangerous conditions and unhealthy practices toward adolescent prisoners. Under then-New York City Mayor Ed Koch, the public began calling for the island to be closed. 
In recent years, those calls have amplified amid similar concerns related to the violent and inhumane nature of Rikers Island, which has been plagued by understaffing, gang violence, crumbling infrastructure, an influx of contraband and deaths of inmates.
Eventually, New York City Mayor Bill de Blasio came around to support the closure of the island and introduced plans to begin the process. Getting there was not without its own share of complications. Here is a brief timeline of the recent calls to close the jail complex and the steps taken so far.
August 2014
The U.S. Justice Department released a report after an investigation of Rikers Island found "a pattern and practice of conduct at Rikers that violates the constitutional rights of adolescent inmates." The department learned there was a "deep-seated culture of violence" that was pervasive among adolescent youth and that staffers frequently used force "not as a last resort, but … as a means to control."
March 2015 
Following increased calls for action, de Blasio and then-city Correction Commissioner Joseph Ponte announced a 14-point plan to create a safe environment for inmates on Rikers Island.
November 2015
New York City Comptroller Scott Stringer announced his support to close Rikers Island.
February 2016 
In her State of the City address, then-New York City Council Speaker Melissa Mark-Viverito called for reforms to reduce the inmate population at Rikers Island and, ultimately, to shut down the island. Mark-Viverito's call for the island's closure gained support from Gov. Andrew Cuomo, while de Blasio shot down the proposal.
March 2017
De Blasio pledged to shut down Rikers Island alongside Mark-Viverito in an announcement at City Hall.
June 2017
De Blasio released a roadmap for the jail complex's closure, including safety protocols, reduced capacity and reduced isolation for inmates.
February 2018
Alongside New York City Council Speaker Corey Johnson, de Blasio announced four borough-based jails in every borough except Staten Island to replace Rikers Island and introduce fairer and smaller criminal justice system.
October 2019 
De Blasio and Johnson agreed to close the jail complex by 2026 and open four new jails at a total cost of $8.7 billion. A week later, the City Council approved the deal.
August 2020
Gothamist acquired planning documents that showed delays would stretch the closing of Rikers Island well into 2027.
October 2020
The city officially delayed the plan to close Rikers Island and build new jails until 2027.
November 2020
New York City Department of Correction officials announced the city would shut down the Manhattan Detention Complex, commonly known as "The Tombs," in Lower Manhattan and the Otis Bantum Correctional Center on Rikers Island.
June 2021 
The New York City Board of Correction approved new rules aimed at reducing the use of solitary confinement in city jails. The rules require inmates in punitive segregation to spend at least 10 hours outside of their cells a day and limit the length of stay in the most restrictive tier of punitive segregation to 15 days in most cases. Advocates said the rules fell short of de Blasio's promise to completely ban the practice.
September 2021
New York City Congressional Democrats called on President Joe Biden to launch a civil rights investigation into the humanitarian crisis at Rikers. 
October 2021
Then-mayoral candidate Eric Adams expressed support for closing Rikers Island, telling NY1 he believes it should be closed and replaced with borough-based jails. "Yes, I do," he said when asked by anchor Errol Louis if he agreed with the plan promised by de Blasio. "And I believe we need to change the ecosystem of our incarceration system."
October 2021 
Gov. Hochul and de Blasio announced that nearly all women and trans individuals incarcerated at Rikers Island would be transferred to state custody, amid safety and staffing concerns.
December 2021
Advocates and community leaders expressed concern that Adams' plans for Rikers Island are unclear. He had said repeatedly that he supports closing the island jail complex, but his comments on how the city would go about that – and whether borough-based jails would be a part of his plan – were described as "intentionally ambiguous," Tracie Gardner of the Legal Action Center told Politico.
December 2021
Inmate William Brown was found dead at the Anna M. Cross Center, marking the 16th death at Rikers Island in 2021 – more fatalities than the last two years combined and the most since 2016.
December 2021
Adams appointed Louis Molina, chief of the Las Vegas Department of Public Safety, to lead New York City's jail system as commissioner of the Department of Correction.
January 2022
Hundreds of inmates staged a days-long hunger strike in protest of abhorrent conditions at the island jail complex, including a lack of heat and hot water in some units, inconsistent medical care, rampant fighting, and issues with security and sanitation.
April 2022
More than 8,400 inmates missed medical appointments in city jails in February alone, according to city data released in April. That's up from 1,600 missed appointments in January 2022, what advocates called "further proof that DOC remains unwilling  to protect the health and safety of the New Yorkers in its custody," the Legal Aid Society, Brooklyn Defender Services and Milbank law firm said in a statement "We once again call on the courts, prosecutors, and elected officials to use every avenue to effect immediate decarceration."