New York City
The Daily News' destruction shows only right-wing newspapers will be left
The Daily News' destruction shows only right-wing newspapers will be left. Corporations and billionaires have no use but propaganda for money-losing papers.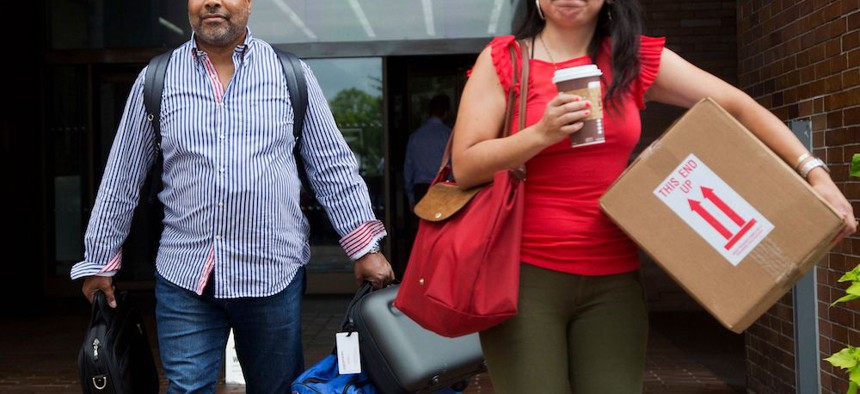 This week, New York became Ground Zero in the onslaught on American local print media: mainstream and progressive papers downsized to the breaking point by their corporate owners, leaving intact only the vanity projects of right-wing moguls. The New York Daily News announced that its owner, Tronc – which stands for "Tribune online content" and sounds, appropriately, like a movie monster – is laying off half its staff. This will reportedly leave the ninth largest-circulating newspaper in America with a newsroom numbering 40 or 45, about one-tenth of where it was 30 years ago. The paper already closed all its outer-borough bureaus in 2015.
Journalism's death spiral wrecks accountability in politics, criminal justice and the delivery of public services. As Daily News columnist Harry Siegel wrote, "there are just a handful of reporters left covering public housing, schools, transportation and courts." When journalists no longer have eyes and ears on the ground, the geeks and industry professionals can go behind paywalls to read expert opinion while the larger public is blinded.
Do not consider it a coincidence that the side surrendering in the city's great newspaper wars is the less conservative tabloid. Newspapers are businesses, owned typically by corporations or wealthy individuals. With the collapse of dead-tree advertising, the old business model is defunct, leading to three possible outcomes: total shutdown, profit-driven shrinkage, or vanity sale to the super-rich (almost always white men). Unsurprisingly, billionaires skew conservative on inequality and deregulation, so the ones shuttered, gutted or sold off are the mainstream and liberal papers. Here in New York, the once-great Village Voice has been reduced to a shell of its former self by its corporate overlord, heir to a retail fortune based in Pennsylvania. Earlier waves of downsizing had long since cost the Voice the muckraking services of legendary journalists like Wayne Barrett and Tom Robbins.
A popular newspaper is much more than a property. It's a public square. It needs to be energetic, prickly, defiantly local and invested in shoe leather. In recent years, the News broke crucial stories about government's failure to protect the public – from recovery workers at Ground Zero to the city's public housing projects – and confronted Donald Trump on its cover with its own brand of New York bluster (most recently showing Trump shooting Uncle Sam in the head and charging him with "OPEN TREASON.")
Tronc's drawing and quartering is typical of how the company runs its papers.
Under Tronc's regime at the Los Angeles Times (recently sold) and the Baltimore Sun, reporters' salaries started at $30,000 and topped out at $62,000. At the same time, as the Columbia Journalism Review reported, executive compensation at Tronc soared 80 percent between 2015 and 2016. In March, barely ahead of a Fortune story alleging sexual harassment, Tronc's former CEO, Michael Ferro, resigned as chairman of what Albert Burneko of Deadspin aptly called the "media-looting hell-company Tronc" only to be awarded a $15 million "consulting contract" at the exit door for his pains. Ross Levinsohn, a top executive suspended for allegedly harassing staffers and ultimately reinstated, made $6.9 million in 2017.
New York is lucky to have one of the few remaining newspapers that remains in relatively good health journalistically and economically, but the family-supported New York Times has other preoccupations besides local news.
So, the wreck of the Daily News leaves the New York Post as the big local paper in town. How much money the Post loses is not a matter of public record, but there is nothing visibly different about its expenditures or revenues, leading informed observers to estimate that the Post loses as much or more than News. What's for sure is that, thanks to governmental connivance, it serves Rupert Murdoch as a loss leader. (Murdoch was permitted to buy the Post in 1993 thanks to a waiver from FCC cross-ownership rules.) The millions Murdoch loses in revenue is more than made up for in political clout he buys in Manhattan. So, in a largely Democratic and majority-minority city, where a solid local newspaper might represent working-class readers – the majority – the last fully staffed local paper left standing is a right-wing propaganda vehicle with little taste for exposing the depredations of the ownership class.
As for the ownership class, also consider the Observer, which until early 2017 was owned by Murdoch's protégé Jared Kushner. (I wrote a biweekly column there between 1992 and 1999.) Before President Donald Trump's son-in-law bought the then-weekly newspaper, it was renowned in media circles for stylish writing and editing. Editor Peter Kaplan had an eye for young talent, and trained a gimlet eye on the lifestyles of the rich and famous. Top national media and politics reporters were trained there. Now, it is a website devoted to promoting Trump's and Kushner's political and personal interests and smearing their enemies. Long gone are the days when reporter Charles V. Bagli – subsequently hired away by The New York Times – regularly exposed the city's real estate industry shenanigans.
If the News hadn't been sold to Tronc to be vandalized, it might have ended up another bauble for a conservative businessman: Supermarket magnate John Catsimatidis, who ran for mayor as a Republican in 2013, toyed with buying it.
What can be done to restore the New York press corps to vitality and disinterested public service? Logically, there might be two ways to support local papers. One is philanthropy propped up by tax advantages, as with the Tampa Bay Times and the gutted remains of the Philadelphia Inquirer and Daily News. Larger foundations have declined to step up, as – for the most part – have universities, which might be thought to care for the state of public information. The second possible redirection would be public funding. In Norway and Sweden, government tax revenues help subsidize newspapers without regard to their political slants. In the U.S., of course, any public efforts to make up for market failure incur howls of objection from both the public and journalists. It's more in the spirit of this moment that the state of New Jersey has just granted a modest $5 million to a five-university consortium to encourage local news coverage. True, that's more than nothing. Already 10 years ago, Princeton sociologist Paul Starr pointed out the number of reporters covering statehouse activities in Trenton had fallen from more than 50 to 15 within the decade.
Information is out there to be found, but it doesn't come cheap. It comes specialized. The newspaper was the great aggregator for a public of diverse interests. You may have opened the paper for sports news or comic strips, but on your way across the pages you found out something of what was happening in city government. Now, the wonks are still well served; they can buy their ways behind paywalls to find expert opinion and specialized news. But when the mass public's journalists are deprived of eyes and ears on the ground, democracy flies blind. The general public has been stripped of its stars and demoted to private.