New York City
Farah Louis is at home in the New York City Council
A Q&A with Farah Louis, the Brooklyn councilwoman-elect who's succeeding Jumaane Williams.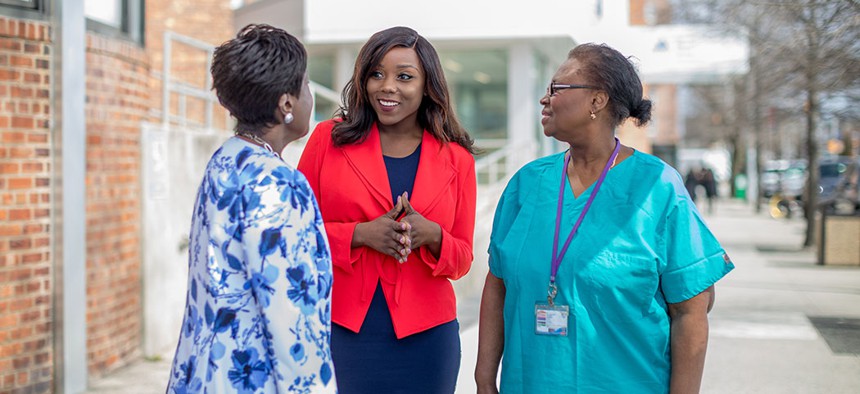 Farah Louis was elected to the New York City Council on Tuesday, topping seven other candidates on the ballot – including Monique Chandler-Waterman, the top choice of Jumaane Williams, who vacated the seat after being elected New York City public advocate. But Louis built a coalition and won the race with an impressive 42% of the vote.
Now the City councilwoman-elect is participating in meetings and getting her feet wet before being sworn in later this month. Louis talked to City & State about feeling at home at City Hall, whether she expected Williams' endorsement and how she'll win again next month's primary.
You've been working in the City Council as a staffer since 2013, and now you've been elected councilwoman. Is this going to be an easy transition?
Today when I went to City Hall, I knew where everything was. I had a lengthy conversation with the speaker's staff on what I'm planning to do next. The members all knew who I was. They congratulated me, they talked to me about some things that are coming up in their committees and how I can be helpful to them and how they could be helpful to me. Everyone greeted me peacefully, respectfully, and it was just great to be back home. I consider the City Council chambers and City Hall to be home, so it was great to be back.
The Parks and Recreation Committee is currently without a chairperson. Would you be interested in taking that? What committees do you want to join?
As chair, no. But I would be interested in the committee, since I do have some parks in my district that need resources. Some of the committees that I'm interested in are Housing, Economic Development, Education, Land Use. Those committees I feel can be helpful in the issues that are happening in my district.
You just won a hard-fought special election against seven other candidates. What was your strategy?
It was definitely a team effort. I'm really grateful for all the unions that endorsed me. I'm grateful for the elected officials that endorsed me, and all the volunteers. I feel like they played a major part in winning this race. We were just focused on community, putting my name out there, letting people know that I was running. Branding. The unification platform – ensuring that folks knew that I was all about unification and getting folks to remember me. Remember that I fought for them and advocated for them when it came to funding community initiatives, going to community board meetings and civic meetings and taking all of their questions and concerns back to the City Council to address those matters. We were boots on the ground. We were knocking on doors, meeting people on the street. So it was a collective effort and we just wanted to ensure that the community knew who I was, remembered who I was and encouraged them to go out and to exercise their right to vote.
Were you surprised to not get Jumaane Williams' endorsement in the race?
I was surprised, seeing that we did have a conversation about him staying out. But I'm fine that I didn't get his support because the support came from the community. It came from the voters. It came from the folks that needed the support from me to ensure that I was providing the resources back to the community. So it was fine.
You're just the latest Haitian-American elected to public office in the state. Does it feel like the community is growing in political power?
We've always had a platform, a voice in the community. We've always been influential. There is a Haitian bloc here in New York City, and I'm proud of my heritage. I'm proud and I'm thankful that Haitians came out to support me in this race. That they remembered me and that they know my work and that I am a true advocate for the community at large. But the support wasn't just from the Haitian community. The support was from the community at large. That's the Orthodox Jewish, the Haitian, the Muslim community, the South Asian community. I work for everyone. And unifying above the ethnic titles is what's important to me
You are up for election once again on June 25. What's the strategy? Do you expect the other candidates to campaign hard against you?
I don't really have thoughts on June in regards to other candidates and what that looks like on their end. I'm not focused on that. What I am focused on is strengthening, rejuvenating and rebooting the team to go back out there. We had a really tough race. We won because we stuck it out until the end and we built a collective effort within. The goal right now is just to keep pushing forward, keep pushing the same platform. And, for me, it's balancing the work that I have to do in the City Council and running for the City Council seat.
Do you have any close allies in the Council, or colleagues you've worked with well?
Yes, Council member Helen Rosenthal has been an ally. I've worked closely with her office. I've always tapped on her shoulder or knocked on her door if I had a question, and she was always there to lend her support and speak with me. Same thing with Council member Justin Brannan, he's always been someone that I could sit down and talk to, as well as his staff. Council member Rafael Espinal's staff and I are very close. Council member Carlos Menchaca's office. There are so many different Council members that I have worked with their offices directly, like Council member Alicka Samuel's office, City Council member Vanessa Gibson. There's so many! I want to continue to cultivate those relationships and continue to work with their staff.
The city budget is due at the end of June. Do you have any particular priorities you want to get funded?
Before I left the Council in March we submitted the budget already to the speaker's office, so everything will remain the same. The goal is to fund the same groups we funded last year, adding a few more on. The priorities for me is to work on the parks equity initiative, the DOVE initiative, which is the domestic violence initiative in the City Council, there's an initiative for formerly incarcerated folks, there's so many different ones.
The City Council has recently sanctioned members for sexual harassment. At your victory party, Kings County Democratic leader Frank Seddio reportedly commented on your looks. Were you comfortable with those comments? Did you talk to Seddio afterwards?
Spokeswoman Tanisha Colon-Bibb: We're not going to speak on that right now.
Powered By
NEXT STORY: David Paterson wants websites to be more accessible