New York City
Apolitical Army vet Loree Sutton on jumping into the mayor's race
The commissioner-turned-candidate says she'll shake things up with bipartisanship, listening.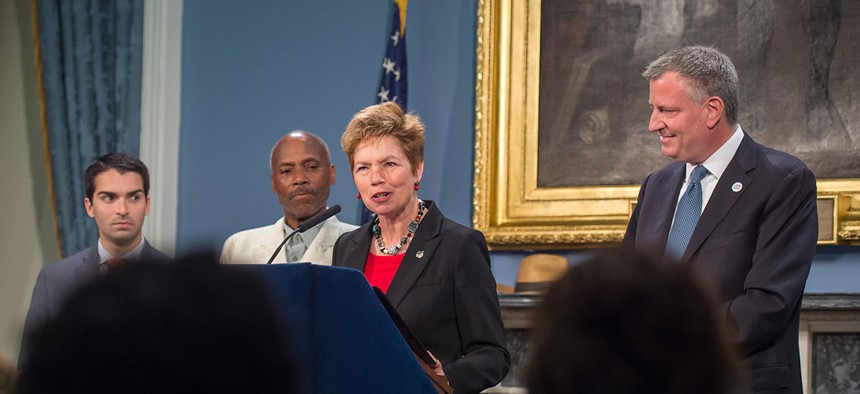 New York City already has a handful of longtime politicians running for mayor, so why not an apolitical technocrat? A psychiatrist and retired brigadier general in the U.S. Army, Loree Sutton has a very different profile than former Mayor Michael Bloomberg, but she seems to be pitching his model as she runs for mayor in 2021. Sutton, 60, served as New York City Mayor Bill de Blasio's veterans' affairs commissioner for five years before launching her candidacy for mayor Thursday. A lifelong political moderate and independent, she recently registered as a Democrat, and will be gunning for the Democratic primary in June 2021. 
The California born-and-raised Sutton is the most high-profile women to enter the race, but more candidates are expected to join in the coming months. She's also gay, married to Laurie Leitch, a psychotherapist and consultant. The Manhattanite has almost no political experience, other than stumping for Hillary Clinton in 2016, but is promising that the lessons she learned from her three-decade career in the Army, like bipartisanship, can be applied at City Hall – even in this heavily Democratic city that's seen the left win grow in influence. City & State caught up with her Thursday on the phone to talk about listening to President Donald Trump, what she'd do better than de Blasio, and her sandwich order. This interview has been edited for length. 
President Donald Trump is planning on coming to the Veterans Day Parade on Monday. Are you attending, and if so, are you hoping to interact with him?
I've heard that he's coming to town. I am definitely going to the mayor's breakfast at Gracie Mansion and I definitely plan on going to the wreath-laying ceremony and I'll march in the parade. I'm not sure exactly when (Trump) will be speaking, but absolutely. If I can make it back from Gracie Mansion to hear the president, I think that's something as a citizen I would want to do.
You retired as a brigadier general in the U.S. Army. There are more than 200,000 military veterans in New York City, and almost 500,000 if you include family members. Has anybody ever tried to leverage that community politically before?
There were 18 new veteran members of Congress (in 2018) – three of whom were women veterans, thus doubling the number of women veterans in Congress. I take great courage from their courage. They're taking moderate positions. They're looking for common ground, they're working across party lines. Veterans are demonstrating, as they have throughout history, that we come from a culture, a tradition that gets stuff done. Operations is a sacred term in the military world. I think our country is in a tough, tough way. And one element of the solution, the strategy going forward, is to harness the voices and the experience of veterans and their families.
You're really talking up bipartisanship. We have some candidates moving left, aiming to be the progressive choice. Where do you fit in politically?
I'm definitely moderate. Absolutely. I've been a lifelong independent. Certainly, as a military officer, that's been my stance. Three years ago, still a registered independent, I did get involved as a veteran surrogate for Hillary Clinton's campaign. And then it wasn't until this last year, as I was pondering this run for mayor, that I realized, OK, this is the time to step up, and if I'm going to run for mayor in New York City, then I'm going to run as a Democrat. So I re-registered and here I am. But I'm definitely a moderate.
You worked for a progressive, Bill de Blasio, for five years as his Veterans' Services commissioner. What would you do differently as mayor? What's the biggest change you would make from his administration?
We're definitely two very different people. What I have most appreciated about Mayor de Blasio has been his commitment to veterans and their families. I also have applauded the work he has done: Pre-K for All, 3-K for All. I've applauded the work that he has done with respect to supporting this historic mental health movement, ThriveNYC – and I understand that there's been quite a bit of criticism, but that is a work in progress, and as a psychiatrist, I am eager to take that program to the next level if elected as mayor. 
When it comes to the far left and the far right – we're in a position right now where I think it's important to understand the experiences that inform the views of, let's say, AOC and the generation she represents. You know, there is no reason in the world why this generation, millennials and Gen Z, why they would have a positive view of capitalism. Student debt, America's role in the world with the Iraq invasion. We've been at war virtually their entire formative years. And so we have to understand that, and we have to appreciate and we have to listen. 
On the other side, we have to understand that we have another group of Americans that feel like they no longer recognize the country they're living in. They feel disdained. They feel like they've been discarded. They feel ridiculed. And I think that it's important to understand the experiences that they have had that have informed those opinions.
I strongly believe all voices matter. And I just love mixing it up with New Yorkers learning from them. I don't have all the answers. I'm still posing questions to myself every single day. So the conversation we have today will be different from what will have next month, or six months from now, but I'm excited to have taken the step and being on the road to 2021.
You say you understand skepticism of capitalism. Do you consider yourself a capitalism skeptic? 
I tell you, I am a huge fan of capitalism. I have the historical perspective, both lived experience as well as historical perspectives, to celebrate that capitalism is the strongest engine for creating wealth that the world has ever known. But I will also say I was heartened a few weeks ago when the American Business Roundtable decided that we're not serving the greater good. We need to broaden our sights, and invest in communities so that our efforts go beyond maximizing short-term gains for the shareholder. And I think that it's going to be important to engage with our moguls of industry, our corporate executives, and here in New York City we have a wealth of of leaders in that regard. I look forward to engaging with them and finding out, OK, how can we invest in communities in ways that truly count? And to do that you're going to have to talk to the communities themselves, because they have the answers. We just need to listen.
What's the biggest issue facing the city right now?
I think sustainability and accountability. I think there's going to be a huge challenge for the next mayor to be able to really do a scrub of how the city is spending its money. What are the outcomes of those investments? And to answer three questions going forward: Of the money that the city spends, what are the essential roles that must be governmental roles? OK, great, let's make sure those positions are filled with people of character who are competent and capable of returning New York taxpayers' investments. But then there are going to be other roles that are better filled by consultants and contractors who can give more flexibility. We did this in the military all the time. And then in the middle between those two types of roles – this is my favorite – the partnerships. The public-private partnerships. Governing is all about relationships. It's about making choices. It's about talking. But it's more importantly about listening. And I think where the next mayor can really move things forward is to examine those three questions and particularly focus on building robust, sustainable, accountable public-private partnerships.
When did you move to New York after leaving the military?
Moved to New York in the spring of 2013. The mayors race was in full flower at that point. We were civic tourists at that point. We were not yet registered to vote, so we kind of had front-row seats. When Mayor de Blasio then won, we thought, well this is really going to be interesting. A few months later, early 2014, Laurie, my now wife, we were on a train going to D.C. to do some suicide-prevention work on Capitol Hill. And Laurie is reading The New York Times. There's one sentence that says the new mayor has not yet appointed his commissioner for what was then the Mayor's Office of Veterans' Affairs. She leans over and she says, "Hey, look at this! Would you be interested in that?" I looked at it and started grinning from ear to ear.
A lot of mayoral candidates are very tied to a borough or neighborhood. Where's home for you?
We started in Brooklyn, at MetroTech, on Lawrence Street. When we got married in 2016, our beloved dog Cooper, a goldendoodle, died. In our grief we started rethinking our lives. We moved to Manhattan, the corner of Broadway and Rector. We could see Alexander Hamilton's grave from our living room window and the last thing we saw every night from our bedroom was the Freedom Tower. Oh my gosh. That was tremendously poignant, meaningful for us. But we were surrounded by construction on all four sides. Our new puppy, Moxie, just trembled in place all day under the couch. So we just recently moved in May. We're still in Lower Manhattan, and we just love it. 
You're married to a woman. Do you identify as a lesbian? 
I identify as gay. Big-tent gay. I've got room for all the letters of the alphabet under my big-tent gay.
Your launch video has you being handed a bodega sandwich over a counter. What's your go-to order?
Hero roll. Two slices of salami, double provolone, lettuce, tomato, spicy mustard, extra pickle on the side and tomato. I'm a very happy, happy camper.