Andrew Cuomo
Andrew Cuomo, superstar
New York's COVID-19 outbreak has pushed the governor into the national spotlight.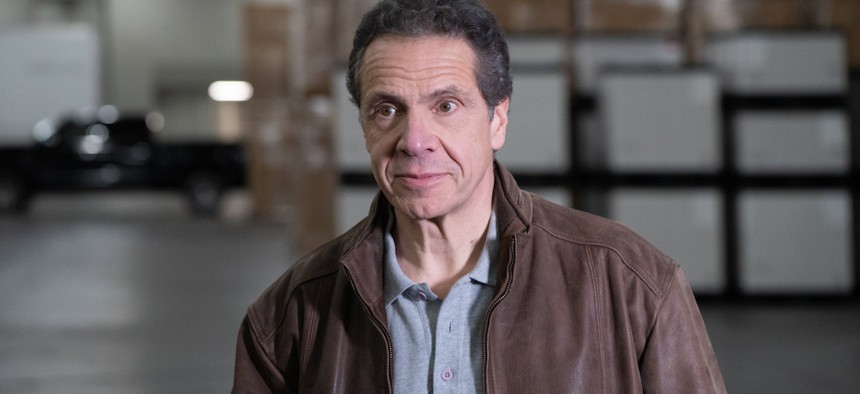 About seven months ago, Gov. Andrew Cuomo received his lowest approval rating since taking office. Now, he's one of the most popular politicians in the country. 
Cuomo entered the national spotlight as New York became the epicenter of the COVID-19 outbreak in the U.S. And in true Cuomo fashion, the governor has tackled the virus head-on, asserting himself as both a fierce leader and calming presence in the face of the unknown. "I'm not doing anything different than I have ever done," Cuomo said on Monday, according to The New York Times. "It's just a bigger audience. And it's a more intense time."
But being himself is now more appealing to many New Yorkers and more noticeable to those outside the state. The governor's daily press conferences, that provide updates on the state's COVID-19 crisis, have suddenly become must-watch TV aired on multiple national cable television networks. Last Friday, Cuomo accounted for 1% of total airtime coverage, while President Donald Trump accounted for 3.3%, according to RealClear Politics. 
His leadership has been amply praised by The New York Times, the Washington Post and CNN, his suburban-dad attire has been complimented by GQ and he has even received some vaguely concerning romantic interest from a previously antipathetic reporter. Celebrities, such as comedian Chelsea Handler, retired tennis star Billie Jean-King and Long Island native pop star Billy Joel, have been lauding the governor's leadership. 
Cuomo has even managed to win over some of his old political opponents. "It's uncharted waters, and he's providing the leadership necessary in what is a very trying time for us all," Dutchess County Executive Marc Molinaro, a Republican who ran against Cuomo for governor in 2018, told The Wall Street Journal.
Over the past three weeks the governor's Twitter following went from 863,000 to 1.1 million, and his Instagram following also saw a sharp rise, going up from 56,000 to 92,000. On Saturday the hashtags #PresidentCuomo and #CuomoForPresident began trending on Twitter. 
Many out-of-staters are among the governor's biggest fans, who have turned to Cuomo rather than President Donald Trump to provide them with valuable information and hand-holding, amid this disaster. 
"I don't know how the rest of the country is feeling but, Andrew Cuomo @NYGovCuomo is officially the only President I will be listening to going forward," Julie Anne, a California resident, tweeted. "This man is a public servant of the highest quality. Facts and comfort Thank You Governor."
"Governor Andrew Cuomo of New York, is a true leader and American," Terri McCormick, a radio host from Nebraska, said. "His demeanor and speech are bringing a much needed calm to this country."
"He represents the kind of leadership we should have in the presidency and don't," California Rep. Jackie Speier, told the Times. "His stock has gone way up."
However charmed people may be by Cuomo at the moment due to his take-charge attitude and ability to quell panic, this is nothing new. The governor is simply built to handle disasters. "This is not Andrew rising to the moment, this is the moment rising to Andrew," Steven Cohen, who worked with Cuomo during his first term as governor, told the Journal.
But it's clear that Cuomo is filling a void in leadership left by Trump, whose primary concern appears to be bolstering the economy in the near-term, regardless of what public health experts have advised. "I think the rest of the country is witnessing and appreciating this because of the lack of leadership coming from the White House," Rep. Grace Meng, from Queens, told the Times.
Another stark difference between the governor and Trump is that the governor, typically known for his tendency to be somewhat of a bully, has shown a softer side of himself. A side most New Yorker's never even get to see.
"He's not Mr. Rogers," Steven Greenberg, a pollster for Siena College, told U.S. News about Cuomo's disposition. "He's not (New York City mayor) Fiorello LaGuardia, reading the comics over the radio. That's not who he is. But in the midst of all of this, he has shown that side of himself to New Yorkers for the first time."
Cuomo has also been able to appeal to people on a more personal level, by bringing his daughters Michaela and Cara Kennedy Cuomo to press briefings and conveying his own fears as a father while COVID-19 continues to wreak havoc. 
He has also spoken openly about Michaela being under a precautionary quarantine, which she is no longer under, after being exposed to someone who may have had COVID-19. "That's everything to me," Cuomo said on March 13. "That's why I get up in the morning. How can I protect my daughter."
He's also shown a great deal of empathy for vulnerable groups, such as the elderly. Last week, the governor named a new law, aimed at protecting the most vulnerable against contracting COVID-19, after his mother Matilda. "My mother is not expendable," Cuomo tweeted on Tuesday. "Your mother is not expendable. We will not put a dollar figure on human life."
Powered By
NEXT STORY: A Q&A with New York City's go-to crisis manager