New York State
How much lead-contaminated water does NY let students drink?
It's not just NYCHA that struggles with potential lead poisoning. Schools across New York state may also have lead contamination at levels experts consider unsafe, and now activists are calling for tightening the lead regulations and strengthening the testing and remediation rules.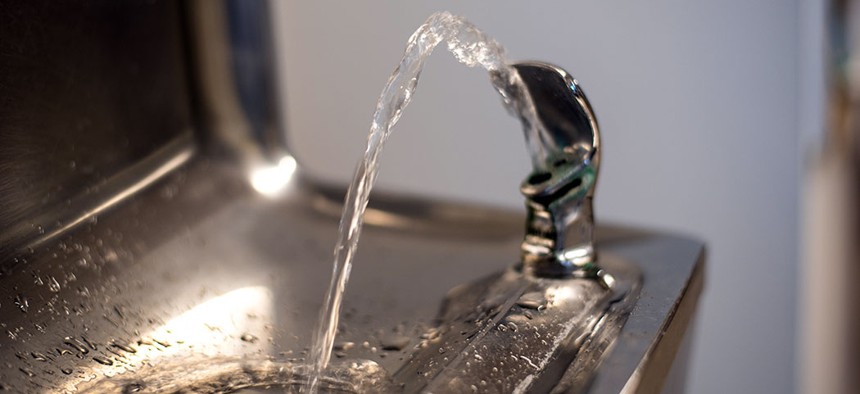 It's not just NYCHA that struggles with potential lead poisoning. While reports of children being exposed to lead in New York City Housing Authority projects have generated negative headlines, schools across New York state may also have lead contamination at levels experts consider unsafe.
Environmental health advocates say New York state's current standard for lead contamination in for public school drinking water is far too high and needs to be changed. The current action level – the threshold at which remediation must occur – is 15 parts per billion (ppb). It was set in September 2016, when Gov. Andrew Cuomo signed landmark legislation mandating that all of New York's public schools' drinking water be tested for lead. Lead gets into public school drinking water through the corrosion of lead pipes and fixtures, and tends to be especially prevalent in older cities and buildings constructed prior to 1986. 
Now environmental advocacy organizations such as the Natural Resources Defense Council and children's environmental health advocacy group Healthy Schools Network are hoping New York will lower its action level to 1ppb before public schools begin testing their for lead again in 2020. "There is no safe level of lead in drinking water for kids," NRDC's Director of Urban Water Management Joan Matthews told City & State. "There just isn't." 
Lead, which is found in water – due to the corrosion of older lead pipes or solder that connects pipes – and in paint, soil and dust, is a powerful neurotoxin. It can reduce a child's ability to learn and it can also damage the central nervous system, kidneys and blood, according to the federal Centers for Disease Control and Prevention. More severe lead poisoning can lead to a coma, convulsions and ultimately death. The effects of lead are irreversible. The CDC and the World Health Organization maintain that there is no safe level of lead for children. Children are especially susceptible to lead exposure due to "hand-to-mouth" activities, like eating paint chips or playing in contaminated soil, and their growing bodies tend to absorb lead more than adults, according to the CDC. Pregnant women and women of childbearing age are also encouraged to steer clear of lead, as it can affect unborn children. And it's not just drinking water that exposes children to lead at school. Crumbling or chipping lead paint – which has been documented as being a considerable problem in NYCHA housing – remains an issue for schools, as WNYC reported in June. 
NRDC's Matthews, Healthy Schools Network Executive Director Claire Barnett and others have drafted a model bill, published on NRDC's website in April, that addresses lead in public school drinking water in the hopes that it will be adopted by legislatures across the country. One of the bill's primary goals is lowering the lead action level to 1ppb. 
Barnett told City & State that she and Matthews, along with Josh Klainberg, the senior vice president of the environmental organization New York League of Conservation Voters, have been trying to set up a meeting with the state Department of Health and Water Quality for over a month in the hopes of discussing the bill they've created. "I'm a little concerned about that," Barnett said of the state agency's unresponsiveness, "although they are certainly aware of what the new model bill talks about and why it talks about it."
Erin Silk, a spokeswoman for the state Department of Health, told City & State via email that the department will meet with NRDC and other advocates who requested a meeting. "Since the Lead Testing in Schools Program requirement began in September of 2016, the Department has partnered with local health departments statewide to focus attention on activities to increase school compliance including enforcement, if necessary," Silk said in a statement. "This outreach has included facilitating meetings between local health departments and schools to determine why a school is not in compliance and a plan to achieve compliance within an expedited timeline."
Although passing a version of the model bill would be up to state lawmakers in New York, Barnett said they want to discuss how the state Department of Education and the governor's office can change the state's lead testing regulations to create more permanent remediation solutions and administratively lower the lead action level for public school drinking water without having to go back to the state Legislature. (The Department of Education is actually in charge of testing public school water for lead contamination, but the Department of Health lays out the protocol which it follows.)
Many national and international governments and organizations have already lowered their action levels, although none have gone as low as NRDC's proposed 1 ppb. The World Health Organization has lowered its recommended action level to the equivalent of 10 ppb, and the CDC has stated as recently as February that there is no such thing as a safe lead blood level in children. The European Union and Canada have also lowered their lead action level to 10 ppb. States including Illinois and D.C. have lowered their lead action level to 5 ppb and recently Vermont lowered its action level to 4 ppb. The U.S. Food and Drug Administration's action level for lead contamination in bottled water is 5 ppb.
New York has relatively strong lead laws, but contamination remains. Although 43% of schools nationwide testing for lead in public school drinking water, New York is one of only 15 states that actually requires such testing. NRDC analyzed the statewide 2016 public school lead test results from the state Department of Health and the New York City Department of Education in 2018 and found that 56% of schools across the state tested above the 15 ppb action level at 5% or more of their taps.
The New York League of Conservation Voters is currently assessing how many schools would need to be remediated if the state's action level was lowered to 5 ppb based on the city's 2016 lab reports from all of the 4,700 public schools tested in New York. "Our goal is to analyze this data prior to the 2020 round of testing in order to educate school administrators, concerned communities, and policy decision-makers on the importance of instating a more protective action level to ensure that our public schools are not contributing to childhood lead poisoning in New York," stated a 2018 blog post on the organization's website.
In July 2016, the American Academy of Pediatrics, a professional association of pediatricians, published a study in its medical journal stating that there is no safe level of lead exposure for children, recommending an action level of 1 ppb. New York's approach to testing for lead in public school drinking water is currently based on EPA's Lead and Copper Rule regulation which was published in 1991, stipulating that if lead concentrations in drinking water reaches or exceeds 15 ppb than action must be taken to remediate the problem, such as replacing any fixtures or pipes contaminated by lead. 
The action level in the EPA's Lead and Copper Rule isn't a health-based standard - it's a tool meant to evaluate community-level exposure to lead. The actual action level that the EPA has set for health is zero, the American Academy of Pediatrics explained in its 2016 study. That's because, even with low lead-blood levels, irreversible damage can be done to children who have been exposed to the heavy metal and the only real way to combat lead exposure is to completely eliminate it. "The key to preventing lead toxicity in children is identification and elimination of the major sources of lead exposure," the academy's study states. "Primary prevention of lead exposure is now widely recognized as the optimal strategy because of the irreversible effects of low-level lead toxicity. The primary prevention approach contrasts with practices and policies that too often have relied predominantly on detection of lead exposure only after children develop elevated blood lead concentrations."
In the model law crafted by Matthews and Barnett, they propose a five-pronged approach to testing and remediating lead in school drinking water is proposed: taking inventory of all drinking and cooking water taps, labelling what each tap is for (i.e., drinking, handwashing, nothing at all), installing filters in the taps, testing the water from each designated drinking or cooking tap for lead, and lastly remediation. "The approach that we are taking in the model bill, is the approach that the D.C. school district took, which is to filter [water] first and then test," Matthews explained.
Matthews said the installation of filters may seem like putting the cart before the horse but that testing filtered water provides a more accurate reading, especially since all plumbing - even newer plumbing - is not entirely lead-free.
And similar to the current protocol already set forth by New York, the bill stipulates that depending on the results of the lead tests - if taps test at or above the action level of 1ppb - the tap must be shut off and an alternative water source, such as bottled water, must be provided until the taps are fully remediated.
The model law also requires local water utilities to assess whether or not lead service lines are providing water to schools and child care centers, and that they're responsible for fronting the cost of replacing any lead service lines. 
"(Day cares) might have lead service lines because they tend to be smaller buildings," said Matthews.
This would be of considerable importance since, according to the American Academy of Pediatrics, children are more likely to ingest and absorb lead during the first two years of their life. 
Training and guidance would also be provided for schools, specifically for those in charge of installing and maintaining filters and the testing of lead, according to the bill. Currently, public schools in New York oversee the testing of lead drinking water themselves, with guidance from the state Department of Health.
"We want the state, whatever state it is, to provide guidance and training for janitors or whoever is going to be replacing filters," Matthews said. "The school administrators and the janitorial staff have to get it in their heads that this is a public health matter for kids."