Coronavirus
Battling racial inequities in coronavirus vaccine distribution
Prioritizing people of color will be easier said than done.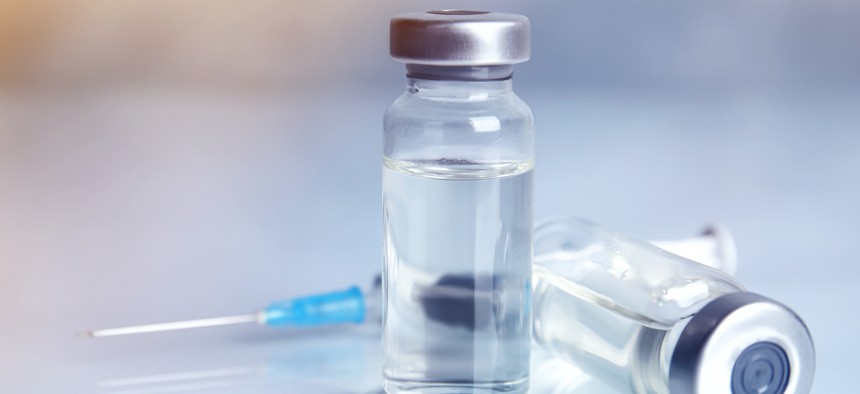 People of color have disproportionately suffered during the coronavirus pandemic, including higher rates of infection, fatalities and loss of income. That is why public health experts and elected officials say Black, Latino, Native American and other populations deserve some extra consideration when the time comes to distribute a future COVID-19 vaccine.
Prioritizing people of color for vaccination is a simple idea, but hard to implement in practice. Legal barriers, logistical concerns, public health strategies and past experiences with racism in the health care industry all present challenges.
The current federal plans for vaccine distribution were heavily influenced by an October report by the National Academies of Sciences, Engineering and Medicine that outlined a four-phase approach that prioritizes front-line workers and the most vulnerable people. "We're making sure that we're prioritizing those communities who have borne the largest burden of this pandemic," Helene Gayle, president and CEO of The Chicago Community Trust who helped author the report, told Stat. Others are not so sure.
Gov. Andrew Cuomo, for example, has suggested the current federal plans fall short because of their reliance on pharmacies to administer the vaccine despite a lack of them in many heavily minority areas of New York City. "If you don't have a Rite Aid or a CVS, then you're in trouble" he told ABC's "Good Morning America" on Tuesday. "That's what happened the first time with COVID." While it remains to be seen how the ongoing tensions between the state and the federal government will affect vaccine distribution moving forward, it is just one of many issues at play.
There are not too many legal precedents when it comes to allocating health care resources based on race, according to an October overview in the Journal of the American Medical Association, but there are ways that policymakers could use the law to boost vaccine access among people of color. The Social Vulnerability Index used by the Centers for Disease Control and Prevention is based on social variables – including race. The CDC is advising states to keep this in mind when developing their own distribution plans. "Race, therefore, could be among the explicit factors that health professionals will use to allocate scarce COVID-19 vaccines," reads the JAMA analysis.
The new conservative bent to the U.S. Supreme Court, however, could make it harder for such an approach to withstand a legal challenge. A safer approach could be to use what is called the Area Deprivation Index, which relies on variables like income, education, employment and housing quality. "Although it does not use race as a variable, the ADI still captures structural disadvantage and systemic racism because racial minorities are far more likely to be economically worse off," concludes the JAMA analysis. Current plans in New York do not specifically mention either index.
Planning is one thing; getting the vaccine distributed is another. Some of the most likely vaccine candidates have to be kept at very low temperatures before they are administered. That could mean minority-heavy neighborhoods, and rural communities, could suffer because they lack the appropriate facilities to store vaccines. New partnerships between the federal government and corporate pharmacies like CVS and Walgreens do not include the small, independent pharmacies that can be the only points of care in some areas. The bottom line is that plans are still very much in flux over where best to locate vaccination facilities in areas where health care infrastructure is relatively scant.
If and when a vaccine is available, policymakers still have to figure out how to convince everyone, but especially people of color, to receive it. That is not so easy considering the history of American health care. There are historical examples where researchers have performed medical experiments on Black men and women – like early anesthesia-free gynecological experiments on Black women and a mid-20th century experiment that infected Black men with syphilis under the guise of providing medical care. No need to go that far back in time though, according to a recent Twitter thread by Dr. Oni Blackstock, who, along with her sister Dr. Uché Blackstock, researches how the health care system affects people of color. Her own concerns that a white doctor would not provide pain medication for her young son was just one example of how racial bias, implicit or not, continues to sow distrust in the health care system among people of color, according to Blackstock.
Overcoming such distrust requires community outreach and partnerships with trusted local organizations, according to Dr. Wafaa El-Sadr, a professor of epidemiology at the Columbia University Mailman School of Public Health. "It takes hard work to identify trusted community spokespeople and champions, to provide them with the information so that they can share with their own constituencies," she told City & State in a recent interview. "Failing to do this will set us back and jeopardize our ability to succeed in confronting COVID-19." And even if that issue can get addressed in the coming months, there is still one more issue that will likely affect the degree to which people of color get infected with the coronavirus compared to their white counterparts.
The current state and federal plans (that are likely to change once President-elect Joe Biden takes office) rely on the underlying philosophy that vaccines should go to the most medically vulnerable people first as well as front-line workers who are critical to treating them. That makes a lot of sense given the limited vaccine supplies that can be expected in the coming months, but it might not be the best way to curtail the spread of the coronavirus. Prioritizing the people who are more likely to spread the coronavirus also needs to be considered, some public health experts say.
A more balanced approach is likely needed between protecting vulnerable people directly and thinking of new ways to control COVID-19, according to Dr. Syra Madad, senior director of the System-wide Special Pathogens Program at New York City Health + Hospitals. "This is something that we need to start discussing now," Madad said in a recent interview. The same could be said for all the different ways that policymakers could still ensure that the upcoming distribution process is as equitable as possible for people of color considering all of the tremendous barriers.