Percoco verdict proves corruption won't go unpunished, after all
The former Cuomo aide was convicted of some counts and acquitted on others.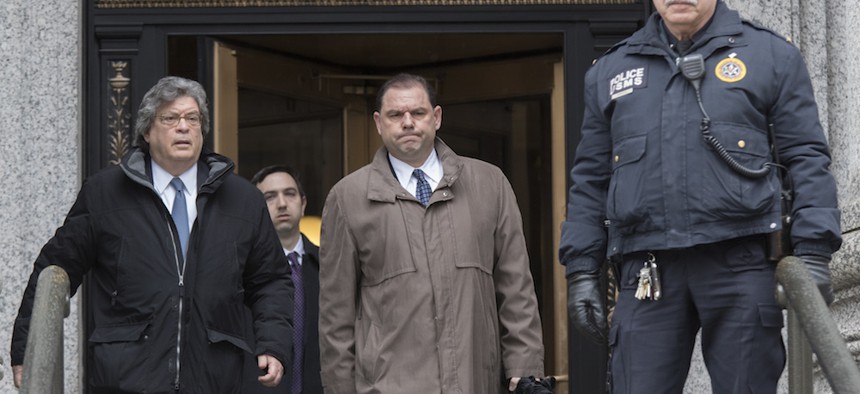 The jury in the federal corruption trial of Joseph Percoco, a former close aide to Gov. Andrew Cuomo, found him guilty on three counts of conspiracy to commit honest services fraud, conspiracy to commit honest services wire fraud and solicitation of bribes and gratuities. He was found not guilty of conspiracy to commit extortion, extortion and a second bribery count. He will be sentenced on June 11.
Public corruption experts say that the result is reassuring proof that holding unscrupulous public officials responsible is still possible, despite a controversial 2016 ruling by the U.S. Supreme Court that narrowed the definition of bribery.
Percoco had been accused of accepting over $300,000 in bribes from three co-defendants. Peter Galbraith Kelly, an executive at Competitive Power Ventures, allegedly provided a "low-show" job for Percoco's wife, Lisa Percoco. The jury was deadlocked on Kelly's verdict. The other two defendants, Cor Development executives Steven Aiello and Joseph Gerardi, were separately accused of paying Percoco $35,000 in bribes. Gerardi was found not guilty, and Aiello was found guilty on a count of conspiracy to commit honest services wire fraud.
The verdict comes after the jury twice declared that it was deadlocked, on March 6 and March 12, and U.S. District Court Judge Valerie Caproni instructed the jury to continue deliberations both times.
On Tuesday, Caproni informed the jury that they could return a partial verdict. Two hours later, after an eight-week long trial marked by a lengthy case by federal prosecutors and a brief one by defense attorneys, the jury handed down its verdict.
Percoco was a trusted staffer and family friend to Cuomo, who once referred to him as "my father's third son." The governor has not been accused of any wrongdoing.
Jennifer Rodgers, the executive director of the Center for the Advancement of Public Integrity at Columbia Law School and a former assistant U.S. attorney for the Southern District of New York, said that the jury may have found Percoco not guilty on charges of conspiracy to commit extortion and extortion under color of official right because some of his alleged wrongdoing occurred after he was no longer a public official. Caproni had previously dismissed an extortion charge against Percoco for the $35,000 bribe he received from Aiello and Gerardi in 2014 because he was not a public official at that point.
Rodgers also said it was possible that the jury, which had been so divided just days before the decision, had made an internal bargain for a partial conviction. "Sometimes there's a split and they say, 'well, we'll convict on these things and not on these things,'" Rodgers said about jury deliberations. "They may have just compromised."
However, Vincent Bonventre, a professor at Albany Law School, said that the defendants could possibly appeal if it seemed as if the jurors were pressured into reaching a verdict by Caproni.
"The question is, if there were, as there must have been, at least one juror who had reasonable doubt, was that juror then pressured into voting for convictions because of the judge's order to them to reconsider, and because the jurors wanted to finish up with their work and get home," Bonventre said.
The verdict also offers some vindication for Preet Bharara, the former U.S. attorney for the Southern District of New York, who had brought the charges against Percoco in an anti-corruption campaign that also saw charges brought against former Assembly Speaker Sheldon Silver and former state Senate Majority Leader Dean Skelos. Both Silver and Skelos had their charges vacated in 2017, based on a narrowed definition of what constitutes corruption by public officials outlined in the 2016 U.S. Supreme Court case McDonnell v. United States. They are both set to be retried this year.
"There was a concern out there among people who like to see these cases prosecuted that McDonnell was really damaging prosecutors' ability to win these cases, and so I think that the conviction here is a good sign that prosecutors still can make these cases and still can win these cases," Rodgers said. "I'm sure that Preet is very happy about the verdict today."
U.S. Attorney Geoff Berman, who replaced Bharara, said in a statement that Percoco had sold "the sacred obligation to honestly and faithfully serve the citizens of New York," and that the office "will continue relentlessly to bring to justice those public officials who violate their oaths by engaging in this especially offensive misconduct."
Much of the prosecution's case hinged on the testimony of star witness Todd Howe, a former lobbyist who pleaded guilty to eight felonies and reached a plea deal with the government in exchange for testifying against Percoco and his co-defendants. Howe was arrested midway through his testimony in early February for revealing that he had violated his agreement with the government.
The trial often painted the Cuomo administration in a negative light, with testimony from Howe and others revealing how Percoco was used as an enforcer for the governor. When staffers contemplated leaving at an inconvenient time, Percoco was alleged to have bullied them into staying with threats to get their job offers revoked. The revelation that Percoco was often at the governor's office while not employed by the state because he was running Cuomo's 2014 re-election campaign also raised the possibility of a campaign law violation. Testimony also showed that the administration, which once promised to be the most transparent in history, often released schedules that often did not include certain meetings and their participants.
The result in the trial is bad news for Cuomo, who is considered a potential candidate in the 2020 presidential race. He also may be facing a primary challenge this year from actress Cynthia Nixon, and has been attempting to highlight his progressive credentials in recent days, and the corruption conviction of a former close aide may not reflect well on his political ambitions. The governor's office did not respond to a request for comment on Percoco's verdict, although it later released a statement from Cuomo saying he respected the jury's decision.
"There is no higher calling than public service and integrity is paramount – principles that have guided my work during the last 40 years," Cuomo wrote in the statement, which distanced himself from Percoco while asserting his own morality. "The verdict demonstrated that these ideals have been violated by someone I knew for a long time."
The trial underscored a pay-to-play culture that has been the scourge of good government groups in Albany. A coalition of ethics watchdog groups in the state published a statement shortly after the conviction, saying that "the Percoco trial revealed stunning failures in New York's laws and ethics oversight system." The statement called for Cuomo and the state Legislature to pass ethics reforms, such as enacting restrictions on state vendors and closing the LLC loophole.
Zephyr Teachout, a professor at Fordham Law School who challenged Cuomo in the 2014 Democratic primary, wrote on Twitter that while she was pleased with the verdict, the trial left her "sad and disappointed," as "corruption tears at the heart of our democracy."
Rodgers said that Percoco will be sentenced based on the amount of bribes he received, and as it was over $300,000, which is relatively low compared to the millions in bribes that Silver received, it would likely not be near the maximum.
CORRECTION: The incorrect year was listed for the U.S. Supreme Court ruling in the McDonnell v. United States case, which concluded in 2016. Additionally, the wrong title was stated for Dean Skelos, who is a former state Senate majority leader.