New York City
Jumaane Williams backs Chandler-Waterman to replace him
Jumaane Williams backs Chandler-Waterman to replace him.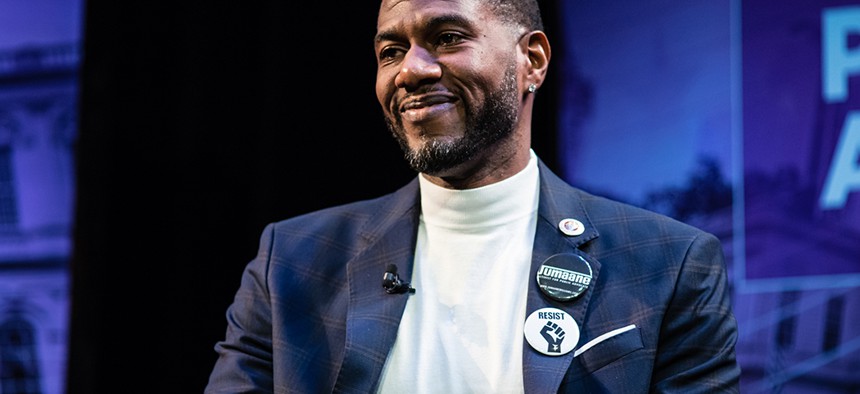 New York City Public Advocate Jumaane Williams is endorsing a neighborhood nonprofit leader in the race to fill his old New York City Council seat, shunning another candidate in the race who recently served as his deputy chief of staff.
Williams' campaign told City & State that he is endorsing Monique Chandler-Waterman in the special election for City Council District 45 in Brooklyn. That's a serious blow for Farah Louis, who had worked in Williams' City Council office for nearly six years and is leading the race in fundraising and the number of endorsements.
"This comes at the perfect time," Chandler-Waterman told City & State on Tuesday. "People love the work that he has done in this community, and they respect him greatly, and respect his decision of who he would like to take the baton and hit the ground running."
Chandler-Waterman, 38, is the executive director and CEO of East Flatbush Village, a community services nonprofit with a focus on preventing violence. She has known Williams for a decade, including during his early days in the City Council, when they arranged an anti-violence march together. Chandler-Waterman also worked in Williams' Council office for two years, from 2012 to 2014, as his director of community outreach. The pair have stayed close, especially in recent months. She hosted a fundraiser for his public advocate campaign in December, and her Twitter photo features her with Williams. The pair appeared on a panel together at the National Action Network convention earlier this month and spoke at the same City Hall rally for mental health services on April 4.
Not all emergencies need a police response- and any officers who DO respond to mental health crises need proper training to provide help, not harm.

Thank you to @ca_nyc for working to create better crisis intervention in NYC. pic.twitter.com/qGUmu1T0rC

— Jumaane Williams (@JumaaneWilliams) April 4, 2019
The ballot will likely be crowded for the special election on Tuesday, May 14. Eleven candidates have filed with the New York City Campaign Finance Board, including Chandler-Waterman, Louis, Anthony Alexis, Anthony Beckford, Victor Jordan, Jovia Radix, Hercules Reid, Xamayla Rose, Adina Sash, Jean Similien and Rickie Tulloch.
Chandler-Waterman said she expected Williams to campaign with her across the district, which covers Central Brooklyn neighborhoods including East Flatbush and Midwood. Williams is popular in the district, defeating the incumbent Kendall Stewart to first win the office in 2009, and has never been seriously challenged since. He dominated the area in both his losing 2018 bid for lieutenant governor and his successful 2019 public advocate bid.
Chandler-Waterman appears to have a tough rival in Louis. She leads fundraising after the first public filing, having received nearly $38,000. Chandler-Waterman is second, with nearly $34,000. Jovia Radix, who was recently a lobbyist with Kasirer, is third in fundraising, with over $27,000.
But Louis also has garnered major endorsements, including from Brooklyn Borough President Eric Adams, Kings County Democratic Leader Frank Seddio and Assemblywoman Rodneyse Bichotte, who represents much of the district.
Asked if it was a two-person race between her and Louis, Chandler-Waterman demurred. "I'm going to run a strong campaign," she said. "There's about ten candidates in the race right now."
Powered By
NEXT STORY: Poll: Which hot-button issues will advance in Albany?