Races to watch for potential come-from-behind victories
Several NYC primaries are close enough that a second-place finisher on election night could pull ahead.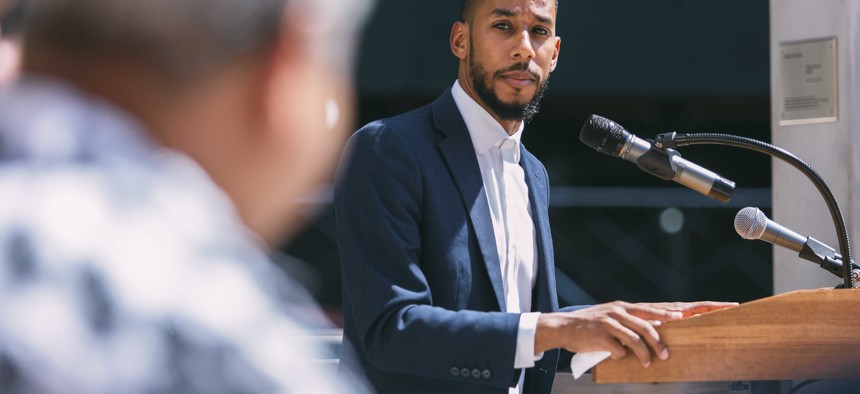 In the wake of New York City's first major test of ranked-choice voting, everyone who voted for a candidate currently in second or third place among first-choice votes is wondering: Can someone come from behind for a win after trailing on election night? 
While statistically unlikely, it remains possible in several tight races in the city. The new voting system creates a chance that someone who doesn't win the most first-choice votes could wind up the winner once the instant runoff is conducted, as candidates with the fewest votes are eliminated and their votes are redistributed. Since the New York City Board of Elections won't conduct that instant runoff for weeks, until after all the absentee ballots are in, candidates and their supporters in races in which no one won a clear majority of first-place votes remain in limbo.
That includes the mayoral election, in which Brooklyn Borough President Eric Adams ended election night with 31.7% of first-choice votes, Maya Wiley ended with 22.2% and Kathryn Garcia ended with 19.5%. History suggests that candidates almost never make up that large of a margin. However, three borough president races and several City Council races are still close enough that the second place finisher on election night has a more plausible shot at winning.
Although candidates losing on election night may still hope they'll emerge victorious, with the help of lower-ranked votes, it doesn't happen often in cities and states with ranked-choice voting. In fact, it only happens about 4% of the time. According to FairVote, a national ranked-choice voting advocacy organization, only 15 out of 375 ranked-choice elections held in the United States between 2004 and 2020 have resulted in a victor other than the person leading in first-choice votes. Of those, only two were originally in third place, the other 13 having placed second. In the vast majority of New York City primary elections held on Tuesday, whoever finished the night with the most first-choice votes will likely remain in the lead throughout the tabulation process. 
In many of those ranked-choice elections a candidate won a majority of votes on election night, whereas in elections that actually go beyond the first round counting – as the mayoral race will – someone other than the initial leader wins 12% of the time.
Only three times out of the 375 ranked-choice U.S. contests in has a candidate come from behind by as much as Wiley would have to to win and no one ever made up as big a margin as Garcia would have to. 
In most elections ranked-choice elections in the state Maine and cities such as Minneapolis, when a second- or third-place finisher prevailed, the results were pretty close after the first round of counting, generally only a few percentage-points differences or less. No candidate more than 10 points behind in first-place votes wound up winning. Although many candidates in city races currently lead by over 10 points, there are still many separated by five points or fewer, making them the most likely to see the lead change hands. 
Absentee ballots, which still need to be counted, could change the calculus in some races before vote tabulation begins, by widening or narrowing the gap between the top two first-round finishers. 
Borough president races are separated by fewer than 5 points in Queens, Manhattan and the Bronx. Surprising many observers, Queens Borough President Donovan Richards is locked in a very tight reelection battle with former Council Member Elizabeth Crowley. Richards leads with 41.3% to Crowley's 40.2 percent. Council Member Jimmy Van Bramer, the only other candidate in the race, finished with 17.8%. As the second-choice votes of his supporters get redistributed, Crowley could pull ahead. 
The race in Manhattan has a bigger field, with City Council Member Mark Levine leading state Sen. Brad Hoylman by 3 points. In the Bronx, Council Member Vanessa Gibson was ahead of Council Member Fernando Cabrera on election night by just under 5 points.
A number of City Council races were close enough on election night that the second-place finisher may have a glimmer of hope. In the 9th Council District in Manhattan, incumbent Bill Perkins only holds a 1.3 point lead over second-place finisher Kristin Richardson Jordan. Amanda Farias is ahead by a little less than 1 point over William Rivera in a tight race for the 18th Council District in the Bronx. In Queens' 23rd Council District, Jaslin Kaur trails Linda Lee by just under 5 points. Julie Won leads Amit Bagga by less than 1 point in the crowded race for the 26th Council District in Queens. Just 1.5 points separate election-night leader Lynn Schulman and second-place finisher Aleda Gagarin in the 29th Council District in Manhattan. In the 32nd Council District in Queens, Felicia Singh is only ahead of Michael Scala by about 1.3 points. Crystal Hudson leads Michael Hollingsworth by 4 points in the 35th Council District in Brooklyn. Rita Joseph is ahead of Josue Pierre by a little less than 5 points. And in the 48th Council District in Brooklyn, Steven Saperstein led on election night by about 2.7 points over Mariya Markh.
None of this means someone who trails by more than 5 points can't theoretically win. In the 2010 Oakland mayoral race, Jean Quan trailed frontrunner Don Perata by 9 points among first- choice votes, only to win after tabulating the ranked results. It's also likely that most races don't feature eight major candidates and leave as many votes to be redistributed as the New York City Democratic mayoral primary did this year. 
Council Speaker Corey Johnson may be hoping to repeat Quan's feat, as he is trailing in the comptroller's race, with 22.5% of the vote to Council Member Brad Lander's 31.3%. Council Member Robert Cornegy, who trails fellow Council Member Antonio Reynoso by 9 points in the race for Brooklyn borough president, also has the low likelihood of a dramatic comeback.