Opinion: Latest Siena poll shows NY Democrats have only modest wind in their sails
The Democratic advantage is less than half of what it has been recently, which is a clear indication of the poor electoral climate members of the party will face this fall.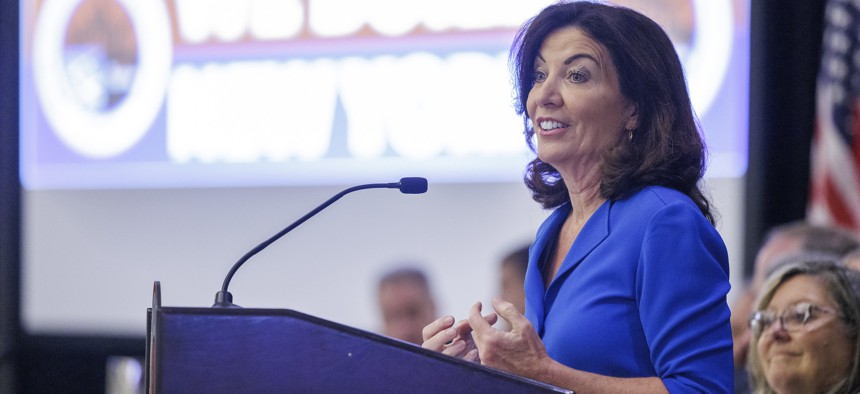 The newly released Siena College poll – taken in historical context – paints at best a lukewarm picture for the fate of New York Democrats.
The poll shows that at the top of the ticket, Democratic Gov. Kathy Hochul leads her Republican challenger Lee Zeldin 53% to 39% – a lead of 14 points. Many will interpret this data as a sign of strength for Democrats. The thinking goes that despite the poor national and statewide mood and aided by an overwhelming party registration advantage statewide, Democrats are certain to prevail across New York on Election Day in November 2022.
However, looking back, it's clear the Democratic advantage is less than half of what it has been recently, which is a clear indication of the poor electoral climate that Democrats will face this fall. In mid-summer of the 2010 gubernatorial contest, Andrew Cuomo had a 30-point lead over his opponent and in 2014 he had a 31-point lead. The 2018 primary was held in September, making the early August polling data hard to compare to where we are today. So, Hochul's lead today is slightly less than half of what Cuomo's was at a similar point in the race. And that potentially means a significant number of losses for the party downballot.
Furthermore, the conventional wisdom holds that if the 7% who are undecided voters break about evenly, that will be more than enough to re-elect Hochul by a healthy margin – say 57% to 43%. However, that same thinking was nearly wrong in the 2009 New York City mayoral race between Mike Bloomberg and Bill Thompson. Polling in that race had Bloomberg consistently between 50% to 55% of the vote, while Thompson polled in the 30% range on several occasions. On Election Day in November 2009, Bloomberg squeaked by with just 50.7% of the vote – evidence that undecided voters breaking in even modest numbers for the incumbent isn't always the case.
Just four years ago, in the November 2018 General Election, with a growing Democratic and Independent backlash to President Donald Trump, Andrew Cuomo received 59.6% of the vote to Marc Molinaro's 36.2% of the vote. Democrats are almost certainly not going to achieve that level of electoral success for a number of reasons – the headwinds are just too strong.  Consider the following:
The mid-term elections almost always punish the party holding the White House, in this case it's the Democrats. Indeed, since 1994, the president's party has lost the House vote in six of the last seven mid-term elections by between six and nine points.  And that's before the Special Master in charge of redistricting redrew the congressional lines and state Senate lines, making success an even more uphill climb!
The political environment is terribly toxic to Democrats. Biden's approval ratings are the lowest that the Gallup poll has ever recorded for any president, with just 38% approving of the job he is doing. Even in blue New York State, Biden's approval ratings are underwater according to the Siena poll, with 47% saying they approve and 51% saying they disapprove.
Only 19% of New Yorkers say the country is on the right track and only 36% say the same of the state.
That is not to say that Democrats won't win or cannot do well. Indeed, in the midst of the 2010 nationwide shellacking that Democrats took at the ballot box, Andrew Cuomo won 63% of the vote against Republican Carl Paladino, who won just 33.5% of the vote.
But here is the challenge for Kathy Hochul and the Democrats. Despite some legislative successes, Hochul isn't getting enough credit. Her approval ratings are 52% approve and 41% disapprove. And, don't expect a boost from her personal brand – 46% are favorable towards her and 41% are unfavorable towards Hochul. According to the Siena poll data, there doesn't appear to be an obvious segment of voters who say they will vote for her. Her ratings at this point seem relatively flat.
Beyond the macro environment, several key points emerged from our analysis of the Siena poll suggesting trouble for Democrats – especially those downballot.
While Hochul leads in New York City by a large margin, Zeldin – even with only 39% of the vote statewide – has a three point lead in both upstate and in the suburbs. We are keeping a close eye on races on Long Island and the northern New York City suburbs and anticipate that Democrats will lose a good number of federal, state, and local seats there, even as Democrats atop the ticket will prevail.
Hochul has 84% of Democrats supporting her and Zeldin has 84% of Republicans in his camp. The critical group of Independent voters favor Zeldin 44% to 42% and, again, this is another reason why suburban Democrats in swing districts are in trouble.
Hochul's vote margin is 70 points among Black voters, but only 8 points among Latinos, further evidence that they are a swing voter group that Democrats will need to work hard to win over. The fact that Zeldin is getting over 40% of their vote is an indication that the Democratic Party does not have a coherent strategy to win Latino voters over, and keep them in our camp.  
For all that is made of the issue of abortion and the overturning of Roe vs. Wade, we are skeptical that this will be the silver bullet that Democrats need in order to win in 2022. Kathy Hochul made protecting abortion rights the signature issue of her primary campaign and Democratic turnout was down 44% versus the Democratic primary of 4 years ago.
Motivating sympathetic voters to support Democrats this fall will require a different kind of message, strategy and tactics than what are being used today at either the federal or state levels.