New York City
Queens' top librarian on bookstore-killer Amazon
Queens Library President and CEO Dennis Walcott on what HQ2 means for the Queens Library.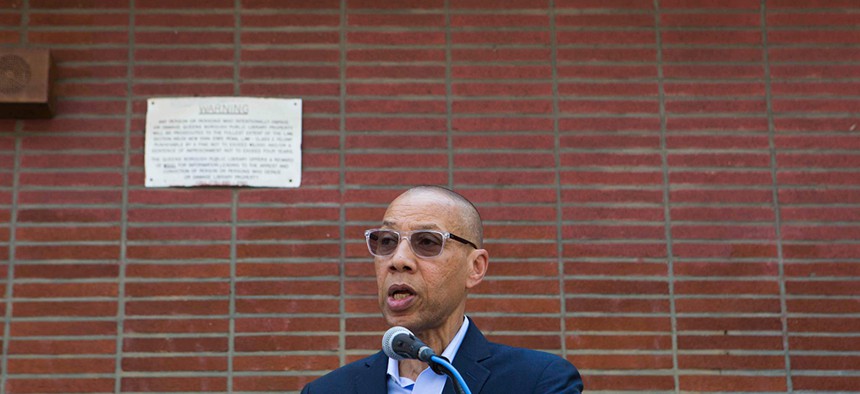 Amazon gets a lot of flak for killing bookstores, but that isn't stopping Queens Library President and CEO Dennis Walcott from welcoming the tech giant to his borough. City & State caught up with the former New York City schools chancellor about the Amazon deal, the literary relevance of "Jaws," waiting in line for books and whether he's in for Bloomberg 2020.
Are libraries bastions of liberalism, with immigration assistance and kids' programs like "Drag Queens Story Hour"?
Libraries are the last true democratic institutions in the city. Any individual can walk through their front door and not have any type of ID asked about them, who they are, their background, whether it's sexually, racially, based on religion or their immigrant status. Anyone can walk into any of our libraries and get quality services and what they're looking for. When somebody relocates to this country, a lot of times the first place they go is a library, based on word of mouth from somebody who received a service. And based on a Pew study, libraries are the most trusted institutions in the country. We make sure that we reinforce the message of openness and we're here for everyone, and make sure that we treat people with the utmost respect.
Does the library take on extra importance in Queens, this borough of immigrants?
No question. The intersection of both airports, LaGuardia and Kennedy being in Queens and the magnet of the airports in attracting people of different countries and backgrounds here. We have a responsibility to be even more assertive as far as our position of being open to everyone and being respectful to everyone.
We always like to say that every Queens resident lives within a mile and a half of a Queens library. You don't want to say a mile and then someone says, 'Well, I live like a mile and a half away.' (Laughs.) We view them as neighborhood libraries that reflect the uniqueness of that particular community as well. We take that role very seriously and try to produce programs and services to respond to that need.
What's the best book you've read this year?
For me, "Indianapolis" (by Lynn Vincent and Sara Vladic). The World War II ship that delivered the A bomb. I was gripped the entire time I read that. Some of my colleagues and I were not just talking about the book, but the intersection with the movie "Jaws."
In "Jaws," when the character played by Robert Shaw is talking to the character played by Richard Dreyfuss, and they're comparing wounds and injuries. All of sudden, it gets even more serious when the Robert Shaw character starts talking about that he was on the Indianapolis when it was sunk and watched all of the men get eaten by sharks and he had these wounds as a result of that tragedy. While "Jaws" obviously was fictional, the story was true to life.
You're a good librarian.
It's fascinating, because I've read a lot of interesting books. While I have not gotten to it, because it's on a lengthy reserve, the Michelle Obama book when it came in, was gone in two seconds.
You don't get to cut in line as CEO?
I honestly do not. And I make it a habit not to.
Amazon building a new office in Long Island City could change Queens. Is this an opportunity for the library, or are you worried about the impact?
I think it's an opportunity not just for the Queens Library, but for Queens and the city overall. And I know there's a lot of work to be done. And a lot of meetings to be held, and a process that needs to be put in place, but I think it's a golden opportunity for the borough, and more importantly, for the people of the borough. And people at all levels of income and opportunity.
We have a tech lab in Queensbridge Houses, so there's a connection there. And then we have a universal pre-K site in Ravenswood as well. So we have a relationship with the (New York City) Housing Authority and Amazon. (Those clients) are people who will definitely, I think, benefit of the intersection with Amazon. We met with (Amazon) probably around three weeks ago now and we met with seven of their VPs and team members and had a productive meeting.
You've been a strong defender of mayoral control for New York City schools. Are you jealous that de Blasio will probably have an easier time getting it renewed this year with a Democratic state Senate?
I have a good relationship with both sides of the aisle (as New York City schools chancellor, from 2011 to 2013). It's always a process explaining what you've done and how you've improved the system, and I think school governance the way it is currently structured is the way to go. I think it's beneficial to the students and the city and it allows the continuity of the system and to build on the successes of the past. And I think it allows the mayor and the chancellor to talk about what they've done and how they're going to continue to improve the system and having an audience that's receptive. Just because somebody may be on the Democratic side doesn't mean that they're not going to get questions about accountability and measurements and performance. That's the way it should be. That's what accountability and governance is about.
But it makes it easier also for the Legislature, because they have a single point to deal with, and it's not the disparate setup of the old Board of Ed. That's what this current mayor and my boss before, Mayor Bloomberg, signed up for, to be held accountable as far as performance.
You were schools chancellor under New York City Mayor Michael Bloomberg. Would you vote for him if he ran for president?
I am a big believer in Michael Bloomberg. I think Michael Bloomberg has done a tremendous job both as a mayor and a businessman. But for me, how I view the man is as a philanthropist as well. (Walcott sits on the board of directors at Bloomberg Philanthropies.) If one does a deep dive on his philanthropic efforts, one will be extremely impressed. I am a very big believer in Mike Bloomberg, and I believe in not just the man, but I believe in his continuous commitment to making the world a better place.
New York City Case Studies
Powered By
NEXT STORY: 4 things to know about Crystal Peoples-Stokes