Michael Gianaris
State Sen. Michael Gianaris has big plans for 2019
State Senate Deputy Majority Leader Michael Gianaris wants to show that the party can get things done.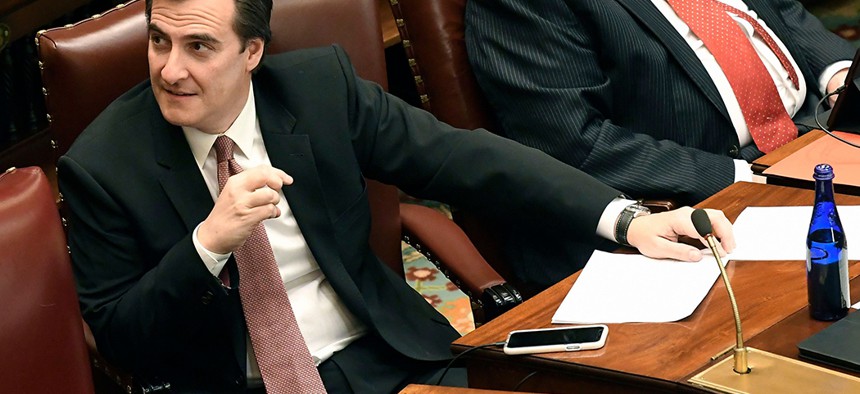 State Senator Michael Gianaris had a big role in bringing one-party rule to Albany. As chair of the Democratic Senate Campaign Committee, Gianaris was in charge of recruiting primary challengers to the now-defunct Independent Democratic Conference – a group of eight Democrats who allied with the Republicans to keep them in control of the Senate. By ousting six former IDC members and recruiting winning candidates against Republican incumbents, Democrats were able to secure a Senate majority that is not only their largest in a century, but also poised to pass a litany of progressive priorities.
With the legislative session beginning this week, Gianaris is excited to put this new majority to work. Democrats are planning to hit the ground running with bills to expand abortion rights, reform election laws and pass the Child Victims Act, among other efforts. Gianaris – who is now the deputy majority leader – will be a key figure in pushing Democrats to realize their legislative agenda at a time when the party also controls the Assembly and the governor's mansion. The lingering fallout of a deal that would bring Amazon to Long Island City in exchange for billions in tax benefits has also brought more attention to Gianaris' district, which stretches across the western Queens neighborhoods of Astoria, Long Island City and Sunnyside.
City & State caught up with Gianaris before the holidays to discuss his plans for 2019, his ongoing response to the Amazon deal and the reason why he was eating Cheetos for dinner. The following interview has been edited for length and clarity.
Is there anything big coming up in your district?
I assume you mean besides Amazon? We are acutely feeling the problems with the subway system. Just the other day, we had a station that turned people away – which I've never heard of before – because the trains stopped working and the station itself became so crowded that they told people to walk away when they were showing up to the subway. So, we have a lot of people who use the subway to commute in these neighborhoods and the problems with the viability of the system are felt to a great degree in western Queens. So I've been focusing on that and on affordable housing, which ties into the Amazon question as well. The rent laws and affordable housing are big, big issues that will have a huge impact on people's lives when we improve them.
You mentioned that the Amazon project shows that legislation is needed to curb the use of nondisclosure agreements.
One of the problems that was revealed through this terrible process was that Amazon required the bidders to sign secrecy agreements, essentially refusing to tell the people they represent what they're doing in their name. I don't think there's any reason for that to be a process that our government should participate in and I'm going to propose that we ban that in the future.
What's an example of a proper process that could have been a model for bringing Amazon to Queens?
That's a good question. I'll have to give that some thought. I know that this process was unprecedented in its scope and the bidding that was required of all the localities and in the secrecy that was part of the process – down to the point that it required the localities to notify Amazon of any public records requests, so they could fight against it. It was a level of control of an economic development process that was unprecedented and the problem is the shifting of power from government to corporations. We see it with the way economic development funds are normally allocated in New York. The governor has a bidding process where companies and entities that want the economic development dollars compete with the state. In this case, all the states and cities are competing with the giant corporation having the control. We have shifted to a very dangerous template where corporations are dictating policy instead of governments.
What should we expect in January in terms of legislation?
Progress. I believe this is going to be one of the most productive sessions in New York's history. There are a number of issues that were kept on the shelf by Senate Republicans that we hope to move on relatively quickly.
What are you particularly proud of accomplishing this year?
The fact that we were able to get not only a Senate majority, but a substantial one, that I think was not only the result of the blue wave that hit the country. It was the culmination of years of effort, of playing my part in getting the conference to a place where enough voters and donors and political supporters had confidence in Andrea Stewart-Cousins and in myself to entrust us with such a large majority. It is going to be transformational for this state and we're anxious to show in 2019 that things have really changed and it's not just more of the same.
So how does Sen. Gianaris unwind?
I'd say dinner and a movie and bike riding for exercise.
And some pretty good Cheetos?
These are regular Cheetos puffs, but I had one hour of free time between my last meeting and my next event so it's the best I could do today, unfortunately.