Andrew Cuomo
The most unlikely allies in New York politics
Hakeem Jeffries and the Koch brothers. E.J. McMahon and Julia Salazar. John Flanagan and Carl Heastie. These are just a few of the strange bedfellows Albany has made.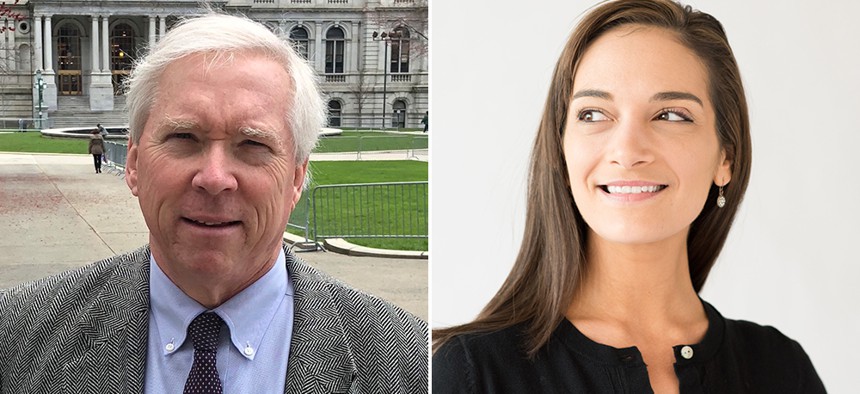 The saying "politics makes strange bedfellows" may be a cliche, but that doesn't make it any less true. Even during the increasingly partisan times politicos operate in today, interests still can align in the most unusual ways, with unexpected alliances forged between opposing forces. New York is certainly no different.
Here are just a few of the strange bedfellows politics has created in the state.
E.J. McMahon and Julia Salazar: corporate subsidies
It's not often that a fiscal conservative and a democratic socialist agree on policy, but evidently it happens. State Sen. Julia Salazar introduced legislation that would create a pact with other states not to offer company-specific subsidies, such as those offered to Amazon as part of the now-scrapped deal for the company to locate in Queens. While Salazar's aim is to end "corporate welfare" for ultrarich companies like Amazon, McMahon pointed out the proposal would also appeal to small government conservatives who want less interference in the free market. He praised her proposal, albeit with critiques, but was sure to remind us how different the pair are on almost every other issue.
Hakeem Jeffries and the Koch brothers: criminal justice reform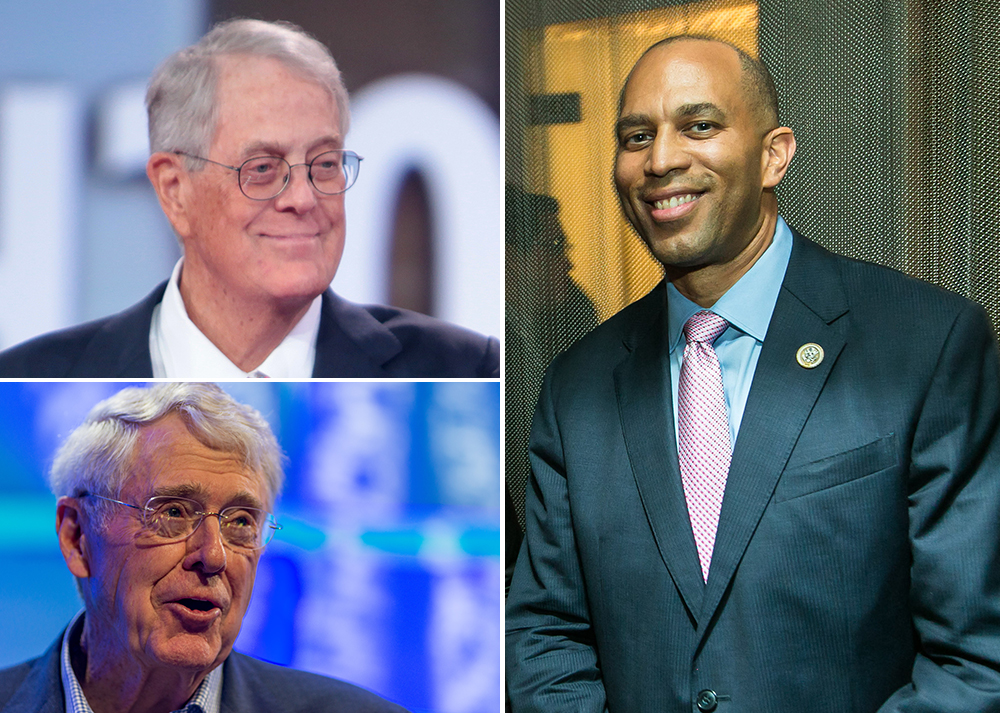 When conjuring images meant to scare Democrats, megadonors Charles and David Koch would generally be somewhere high up, the antithesis of George Soros on the other side. Rep. Hakeem Jeffries, a progressive rising star from New York's congressional delegation, likely views the Kochs as his enemies for as long as he has been in elected office. Yet they found themselves on the same side in the fight for criminal justice reform.The Kochs have made the issue a priority, including throwing their support behind Jeffries' criminal justice reform bill that President Donald Trump signed into law late last year.
John Flanagan and Carl Heastie: the state constitutional convention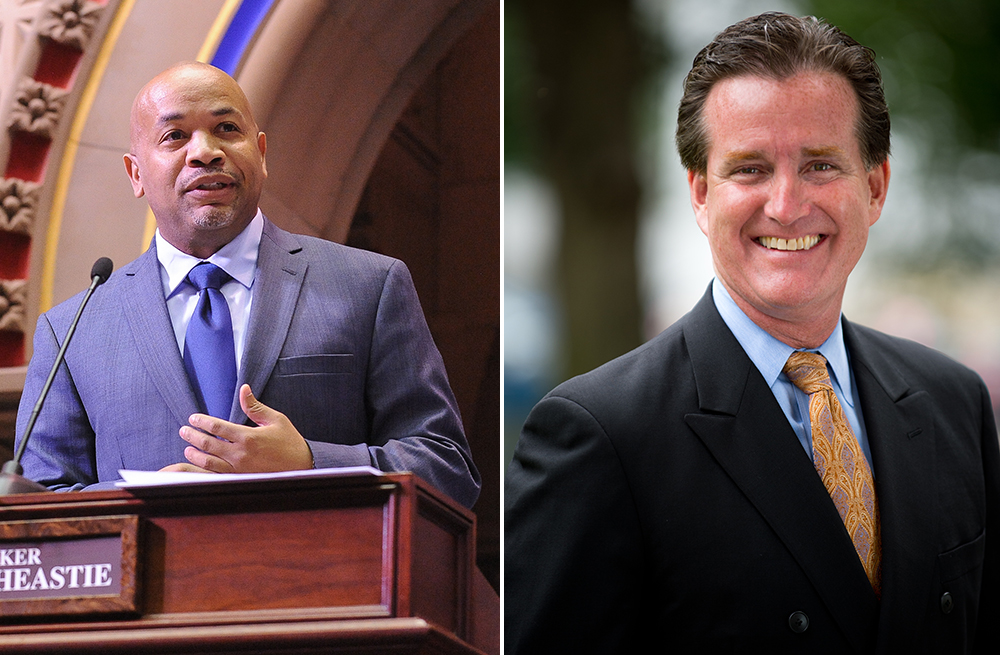 It seemed that nearly everyone was opposed to a state constitutional convention in 2017 – the ballot proposal was resoundingly defeated by voters that year. Politicians from both sides of the aisle joined forces to make sure it didn't become a reality, including then-state Senate Majority Leader John Flanagan, a Republican, and Assembly Speaker Carl Heastie, a Democrat. The pair didn't agree on much, with each chamber having a habit of passing legislation that the other never voted on, but they agreed that a constitutional convention would be bad for the state, although for differing reasons. Heastie feared monied interests would influence the convention and would lead to more harm than good, while Flanagan argued that there were more efficient ways to make changes to the constitution.
David Soares and Sonia Ossorio: discovery laws
Prosecutors and women's rights advocates don't find themselves on opposite sides all the time. What makes their shared fight strange is that their issues simply don't overlap all that often. But Albany County District Attorney David Soares, who is also president of the District Attorneys Association of the State of New York, and Sonia Ossorio, president of the National Organization for Women New York City, have found themselves fighting the same battle against changes to pretrial discovery laws that would give prosecutors 15 days after an arrest to hand over victim and witness information to defense. Ossorio has argued that such a change would discourage rape victims from coming forward out of fear that their attackers would have access to their addresses and phone numbers. Soares shared Ossorio's concerns about endangering witnesses and victims through reforms to the discovery process, while citing concerns with the broader criminal justice reform platform as well. (Criminal justice reform advocates say that the legislation would not endanger victims as it simply requires "contact information" to verify the accuser's identity, like a phone number or a friend's phone number, which a prosecutor can ask a judge to redact in any case he or she has concerns about.)
Héctor Figueroa and Jeff Bezos: Amazon deal in New York City
Amazon is fairly well-known for its anti-union practices. It was a key sticking point among opposition to the company's deal with New York City and the state to build a campus in Queens. Most unions in the city opposed the deal, which on the surface made sense: Unions tend not like businesses that don't like them. But Héctor Figueroa, president of 32BJ SEIU, hopped on the Jeff Bezos bandwagon and supported the deal. Amazon agreed that 32BJ SEIU's service workers at the new development, like janitors and security guards, would be unionized. Figueroa quickly became the odd man out when it came to his fellow union leaders and certainly an odd supporter of a company like Amazon.
Andrew Cuomo and Marc Molinaro: legislative term limits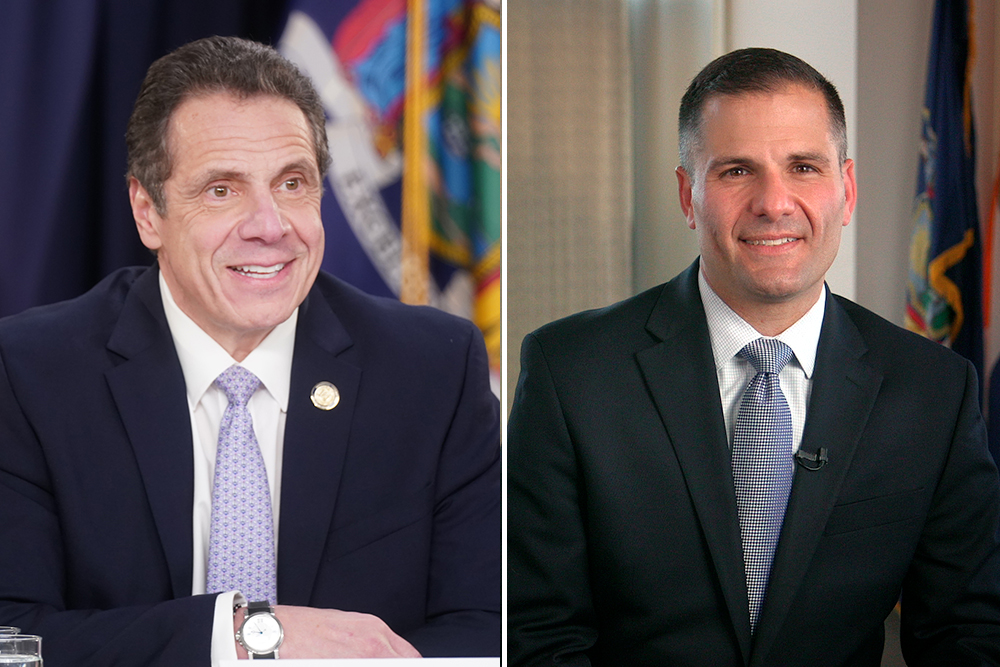 An incumbent and a challenger don't often agree. Gov. Andrew Cuomo and recent Republican gubernatorial challenger Marc Molinaro certainly did not, beyond broadly wanting the help the state. They did, however, agree that term limits should exist for members of the state Legislature and for statewide offices. Currently, there are none. Although no governor has served more than three four-year terms since Nelson Rockefeller, it's not strange for state legislators to spend decades in their seats. The issue of term limits is one that does not have a clear partisan divide, although Democrats in the Assembly have opposed them, while state Senate Republicans passed legislation to require them for leadership positions.
Rudy Giuliani and Mario Cuomo: the endorsement
Years ago, before he was President Donald Trump's outlandish lawyer, Rudy Giuliani was a popular mayor of New York City. He was also, then as now, a Republican, so when the 1994 gubernatorial election rolled around, the first of his mayoralty, George Pataki would have been the obvious choice to win his support. Instead, Giuliani bucked party lines and shocked political observers by endorsing then-Gov. Mario Cuomo, who was seeking a fourth term. Giuliani said that though he still followed his party's ideals, Cuomo was the better choice for downstate New York. Unfortunately for both of them, the endorsement did not lead to victory, as Pataki won in the end.