Andrew Cuomo
Andrew Cuomo, the auteur
The governor's coronavirus mountain is just one of his many artistic creations.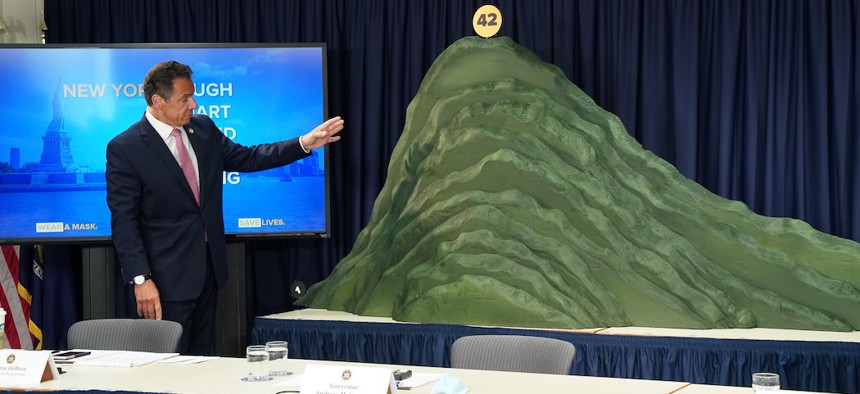 On Monday, Gov. Andrew Cuomo unveiled his latest in a long line of metaphorical, artistic creations: the coronavirus mountain.
The enormous foam mountain, which was dramatically revealed during a press conference, was constructed to represent the state's battle with the deadly virus. "We paid the price and we dealt with that spike and we climbed right up the mountain," Cuomo said. "We got smart. New Yorkers stepped up. We wore masks. We socially distanced. We closed down. And we stopped the curve. We plateaued."
The mountain quickly became the subject of mockery and criticism on Twitter. Many pointed out that COVID-19 remains an active threat, while some suggested that the sculpture made light of the high number of tragic deaths caused by the virus.
I'm sorry but in addition to this being indescribably embarrassing this strikes me as also tempting really, really bad fate. You're gonna be so sad you showed off this 5th grade vinegar-baking-soda volcano project in two months if numbers go back up. https://t.co/sJrSyMakwI

— Rebecca Traister (@rtraister) June 29, 2020
Ugh. People are not props. https://t.co/zBSbnTYNx5

— Yuh-Line Niou (@yuhline) June 30, 2020
When I think about the 6,300 older adults who died alone in nursing homes and the countless families who can't stop crying, I want to take a sledgehammer and break this COVID mountain into pieces. https://t.co/ikJE4APYWk

— Ron T. Kim (@rontkim) June 29, 2020
Despite criticisms of the sculpture, it's not unusual for the governor to use various artistic media to express his different political thoughts or ideas, from paintings to PowerPoints. Cuomo may not be creating this artwork himself, but he has commissioned all of his political artwork with precisely what he wants to convey in mind, like a true auteur.
"I am an artist," the governor said after unveiling his latest creation on Monday, while adding in jest: "Where before I would just do drawings and some light painting, now I've increased that to sculpting."
Here are several examples of Cuomo's major creative efforts over the years:
Cuomo the sculptor
Some have mocked the governor for the "COVID mountain" that represents the ups and downs of pandemic deaths at scale. Sure, the green color only makes it look even more like Jabba the Hutt from Star Wars, but the governor proved that $185 worth of styrofoam can win a lot of eyeballs despite a little comic relief during the grand unveiling. If the governor keeps it up, he might overtake his maternal grandfather – an Italian immigrant and artisan who made stone castles out of lots of little stones he picked up at the beach – as the real sculptor in the family.
Cuomo the executive producer
The three-term governor has also given other artists a boost in recent months. His daily briefings have given a lot of exposure to the "Cuomocore" musicians whose license-free music served as the opening act for months. He created a public contest allowing New Yorkers to make some super-slick PSAs for mask wearing. Then there was the chance he gave to an unknown state employee who designed those new state license plates. What a guy!
Cuomo the portrait artist
He might not be much of a painter, but Cuomo took a crack at creating "A Self-Portrait of America" in late April. All it took was hundreds of masks sent to New York from people across the country and a big board to stick them on. It might have been a bit abstract, but it sure did convey the point that everyday Americans were looking for a cause to rally around as the pandemic slammed the state. "Politicians, try to be half as good as the American people," Cuomo said at the time.
Cuomo the stage manager
Some stellar stage management skills went a long way towards hyping a state-branded line of hand sanitizer to overcome a supply shortage early in the pandemic. "This is a collector item," the governor said in March after pulling a jug of the stuff from under his desk during a briefing. It was hardly the first time that the governor leveraged a good reveal to his political advantage. The spectacle even earned enough laughs to distract the Capitol press corps away from the emerging controversy over using prison labor during the pandemic. 
Cuomo the .PPT guy
PowerPoint presentations have been the governor's go-to artistic medium ever since he first got elected in 2010. Not only do they convey his points with brevity, they also make for some memorable memes that mark the Cuomo brand of comedy, such as "Today is Saturday." Political insiders mocked his briefings for years, but guess who's laughing now?
Cuomo the poster designer
He did not do the drawing, but the governor was very much the mind behind the creation of a poster called "A Visual Representation of New York in 2020" that quickly became one of the most sought-after pieces of political memorabilia in the state Capitol. Whether it was the turn of the 20th century style, the so-called "Steps to Progress" or the power of a double rainbow, there was an undeniable je ne sais quoi to defining progressive politics on Cuomo's terms. 
Cuomo the writer
A.J. Parkinson was a creation of his father, former Gov. Mario Cuomo, that came in handy when either of the Cuomos wanted to disguise their own self-made aphorisms as literary erudition. "Life is better than death, even when it's not your own," reads one quote that made its way into a gubernatorial briefing during the pandemic. Unlike other Cuomoesque artforms, Parkinson is most effective when he is most unnoticed. "I'll tell you what's funny," Cuomo told WAMC in the spring. "I quoted A.J. Parkinson last week on the screen. Nobody said a word … which means they are not students of A.J. Parkinson." While Cuomo's 2015 autobiography only sold a few thousand copies, he is still getting a foot inside the door to the writing world after all.