Personality
Nancy Goroff would be the first woman with science Ph.D. in Congress
The Stony Brook professor is the Democratic nominee to challenge Rep. Lee Zeldin on Long Island.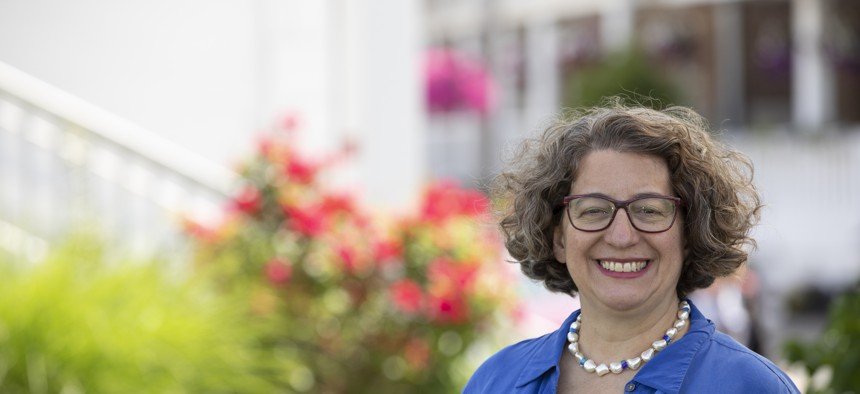 If there ever was a time to have a scientist in Congress, Nancy Goroff, a chemistry professor at Stony Brook University, hopes that it is now.
Goroff, a Stony Brook resident, just secured the Democratic nomination in the race to challenge Republican Rep. Lee Zeldin in New York's 1st Congressional District, defeating former Democratic nominee Perry Gershon by about 600 votes – and dispatching two other candidates in the process. If elected, Goroff would be the first woman in Congress with a science Ph.D. 
But Goroff first would have to unseat Zeldin, a loyal supporter of President Donald Trump. Zeldin has won three times in the district, which includes most of Suffolk County on the east end of Long Island. In 2018, Zeldin beat Gershon by four points. 
Following her primary win, City & State checked in with Goroff about getting scientists a seat at the table, the politicization of climate change, the coronavirus pandemic and her hopes of flipping this Long Island swing district. Asked about Goroff's criticisms of Zeldin in this interview, representatives for the congressman forwarded a press release touting his achievements in office including securing personal protective equipment for health care providers and first responders in Suffolk County and cited a study showing him to be a relatively bipartisan lawmaker.
This conversation has been edited for length and clarity. 
After a pretty close race, you managed to defeat three opponents and win the Democratic nomination in New York's 1st Congressional District. How are you feeling about that win?
We are excited. We've been working hard and are really thrilled at the response from the voters and are raring to go. 
If elected, you would be the first woman in Congress with a Ph.D. in science. To what extent is your background driving you to run?
My research is primarily on developing new materials for solar energy and other applications like that, but (climate change) is a major focus for me. I've been a member of the Union of Concerned Scientists for many, many years. Climate change is a huge threat to our way of life because of sea level rise, coastal erosion and extreme weather events like (Hurricanes) Sandy and Irene. That's certainly something where I want to be a leader in Congress and serve as a resource for other members of Congress. Vice President (Joe) Biden yesterday unveiled a new infrastructure plan with a focus around clean energy. I think it's important we have people in Congress who can partner with him to make sure that plans like that get put in place. Having people who are knowledgeable and understand the science and technology behind all of that, I think is going to be really important. We don't need a Congress full of scientists, but right now, there's only one PhD scientist in Congress. I think this is a moment when people are looking to scientists to take leadership, not only for clean energy and climate, but also to get us out of the COVID-19 pandemic safely. 
And who is the one Ph.D. scientist in Congress now?
That's Rep. Bill Foster from Illinois. He's a physicist, and he has been a strong supporter of my campaign. 
You mentioned concerns like rising sea levels and coastal erosion. Are there other reasons why it's important that Long Island in particular be represented in Congress by a scientist?
We have a number of different environmental concerns here, in addition to the climate change issues that I mentioned earlier. There's also issues with clean water, both in our bays and in our taps. Contamination from things like perfluoroalkyl compounds that have recently been found to be dangerous in even very, very small concentrations, as well as nitrogen pollution in our bays and on our coastlines. These are things that need attention both at a local level and at a federal level. I think for all of those reasons, as well as the current situation with the pandemic, people are excited about getting a scientist elected.
What do you think about both climate change and the coronavirus pandemic being very political issues – and science in general being politicized?
I think it's foolish in the short term and the long term, the way that the president and his allies – like Lee Zeldin – have chosen to politicize things like wearing masks, instead of focusing on what will actually keep people safe. It has made people much less safe throughout the country, including those people who are doing the right thing and wearing masks, because of course it raises the incidence level of viral infection. It's really putting their own desire to score political points, or get their base riled up, ahead of the welfare of Americans. We can see now that it is costing people's lives. This partisanship is dangerous – it's bad in the best of circumstances, but right now it is really harmful. It is hurting people in New York and even more so in other states, where the governors have been less responsible in sticking with facts and science. I find it very upsetting, because it doesn't matter whether you believe in the science or not – the science just is. 
You said that Congress doesn't need to be "full of scientists." But should more issue-area experts or people with non-political backgrounds be running for office – whether that's a scientist, a teacher or an economist?
I do believe that the recent increase in interest in serving the public in office by people from lots of different backgrounds is a strengthening of Congress. If you look at the people who are elected in 2018, like (Reps.) Katie Porter and Haley Stevens – people who come from lots of different backgrounds and are bringing their expertise in – I'm a big believer in the strength that comes from diversity. You need people from many different backgrounds, different ethnic and religious backgrounds, racial backgrounds, but also different career backgrounds, because people bring their experiences and their expertise. 
You've defeated your primary opponents, but you still face a tough challenge in November against Zeldin, who has an edge on you in fundraising and is the incumbent in this swing district. What do you see as your path to victory in the general election?
I think it's critical that voters understand who Zeldin really is. He has had a veneer of bipartisanship while owning one of the most extreme far-right voting records in the House. He has a 10% career voting score from the League of Conservation Voters, but he talks about how he loves the environment. (Editor's note: It's actually 13%.) And he has an "A" rating from the (National Rifle Association), including having supported and co-sponsored a bill that would make concealed weapons laws across the country reciprocal. So I think if voters understand his record and understand how much time he has spent on cable TV defending the president compared to how little time he has spent in the district listening to voters and their needs – and how many times he's voted against the interests of the residents here – I think that they will be very much looking for an alternative. That's our job, is to make sure that they really understand who he is and what he represents.
New York State Case Studies
Powered By
NEXT STORY: Cuomo's coronavirus poster, annotated