Is Maya Wiley the woman for NYC?
The civil rights watchdog is running for mayor in a year when police reform could dominate the debate.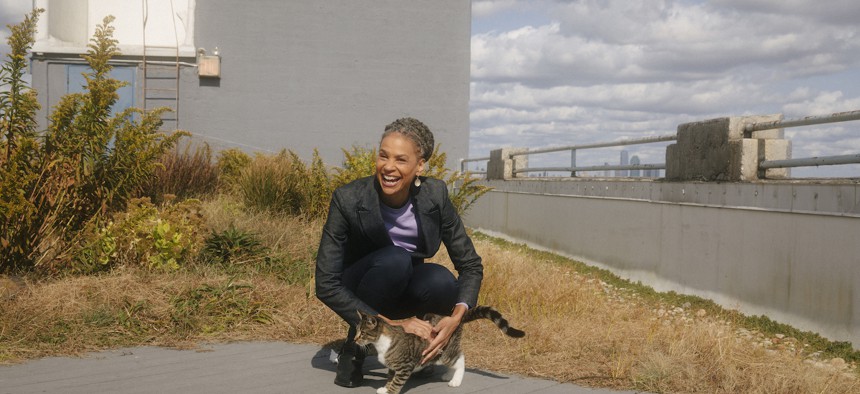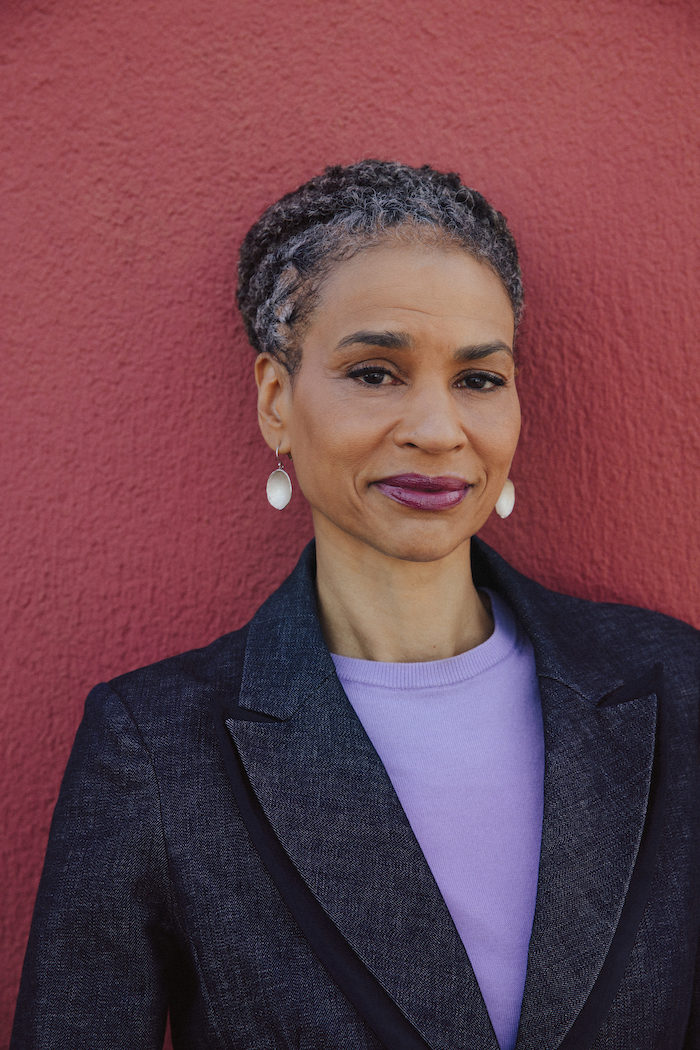 When elected officials were brought up on the stage at the Oct. 17 Black Lives Matter rally in front of Trump International Hotel and Tower, Maya Wiley stayed planted on the asphalt. She isn't elected to anything – yet – and her mayoral campaign is trying to present that as an asset, repeating the catchphrase, "I'm not a politician." So while a top opponent in the race, New York City Comptroller Scott Stringer, spoke to the crowd, with another mayoral candidate, New York City Council Member Carlos Menchaca, standing behind him, Wiley talked with protesters.
It was a meeting of a national, intergenerational movement, viewed through a historic lens. Flyers read "From Eleanor Bumpurs" – killed in the Bronx in 1984 – "to Breonna Taylor" – killed in Louisville, Kentucky, in 2020. Hundreds of New Yorkers, most of them Black, joined activists that had come in from Louisville.
At one point, a man gestured Wiley over to a barricade beside the stage, and gave her something that might have been even more valuable than speaking time: a reminder of why she was running, why she was hoping to make history as the first Black woman – and the first woman at all – to become mayor of New York City. 
The man talking to Wiley was Jacob Blake Sr., the father of the younger Jacob Blake, who was shot by a police officer in Kenosha, Wisconsin this August. "He looks me in the eye, and he says, 'I am so proud of you,'" Wiley would recall, welling up with tears. While the rally went on around them, Wiley and Blake spoke about her work as a legal commentator on the cable news network MSNBC, and his fight pursuing punishment for the officer who shot his son. "His point is, 'You are representing, and you're doing it in a way that makes us feel heard,'" Wiley would say the next day. Wiley is a Black woman who has found huge platforms to talk about law and justice. And Blake was telling her that "I didn't let him down. And that was probably the biggest compliment I could ever hope to have."
Wiley stuck around for almost three hours, long after almost all the other politicians had left. The No Justice No Peace gospel choir from Louisville literally shook the stage as they sang. Wiley, backstage at this point, bounced up and down to the music, then pulled out her phone to take a video. "Are those my people? Yeah, those are my people," Wiley said later. "We all have to see each other as, 'We're all our people,' … but there is something that is very powerful and important about the Black experience in this country that transcends geography. That transcends even class."
Combating systemic racism and police brutality is a top issue in the mayoral race, and Wiley is an expert on the subject. She's a one-time civil rights attorney with the American Civil Liberties Union and the NAACP Legal Defense Fund, and the former chair of the Civilian Complaint Review Board, the body that evaluates claims of violence and other misconduct by New York City Police Department employees. It'll be a central tenet of Wiley's campaign – "There's no leading this city out of the crisis we're in without transforming policing," she said.
Wiley could carry that message to victory – just like New York City Mayor Bill de Blasio did in 2013, vowing to end the targeting of racial minorities with stop-and-frisk policing. Wiley worked directly for de Blasio for two and half years as counsel to the mayor, and her campaign, which is staffed by some close allies to the mayor such as his former intergovernmental affairs director Jon Paul Lupo, has started out strong. Wiley is well-known among many New Yorkers who are plugged into national politics for her frequent criticism of President Donald Trump on MSNBC and Twitter – a platform where she has more than 371,000 followers. As a Black woman from Brooklyn who's popular among highly engaged progressives in and out of the de Blasio orbit, she could be well-positioned to replicate the mayor's feat of assembling a coalition of Black New Yorkers and liberal reformers of all races. Day one endorsers at her widely covered campaign launch included Bronx Assembly Member Michael Blake, who is a vice chair of the Democratic National Committee, and state Senate Deputy Majority Leader Michael Gianaris, a progressive stalwart from Queens. 
"To my fellow Democrats," Blake said at her announcement, "we can't say that Black women are the backbone of our party, but you won't support them to be mayor of New York City."
But she faces some obstacles, and repeating de Blasio's strategy may be harder after his two terms. The mayor's relationship with those who want a smaller and more accountable NYPD has soured, and some leaders in the movement are hesitant to trust any candidate who worked closely beside de Blasio. Wiley's time at the CCRB was criticized by some civil libertarians for failing to do more to rein in the NYPD. 
Black women in politics warn she will be held to an unforgiving standard that de Blasio wasn't in 2013. "Because she has the record of the CCRB, because of her record at the NAACP and all this, she will be judged differently," Yvette Buckner, a political consultant at Tusk Strategies, said. "Black women always have to do twice as much to get half as much. So she will be judged differently regardless."
Leaders of the police reform movement are withholding judgment, eager to hear more from Wiley. "I think she has an impressive social justice record," said Joo-Hyun Kang, director of Communities United for Police Reform Action Fund. "That doesn't translate necessarily into credibility as a mayoral candidate or as mayor, in terms of the NYPD."
"We can't say that Black women are the backbone of our party, but you won't support them to be mayor of New York City." – Assembly Member Michael Blake
Wiley lived in Manhattan for a year, as a baby, and she says she always planned to come back. She was born in 1964 and grew up in Washington, D.C., in the Dupont Circle neighborhood – "but when it was still Black, and when it was still poor." Her mother, Wretha Whittle Wiley, was white and her father, George Wiley, was a Black civil rights leader who founded the National Welfare Rights Organization. He died in a boating accident when Wiley was young, and when her mother remarried, it was to D. Bruce Hanson, another civil rights organizer. Wiley spent a summer in New York City while a student at Dartmouth College, working at a summer camp for kids with disabilities on Staten Island and taking calls at the Lincoln Center information desk. Wiley went to Columbia Law School, and after graduation, she clerked for federal judge James Giles in Philadelphia for two years. Then she moved to Brooklyn in 1991, and she hasn't left New York City since. She now lives in a spacious, detached house in the Prospect Park South Historic District, with her husband Harlan Mandel, a fellow lawyer, their two daughters, Kai and Naja, and four cats. 
Once in New York, Wiley got into civil rights law, working as a young lawyer on cases to advance racial justice for the ACLU and then the NAACP Legal Defense Fund. In 1994, she took a job as a litigator in the civil division for the U.S. Attorney for the Southern District of New York, hoping to harness the civil rights enforcement power of the federal government. President Bill Clinton had begun appointing more liberal federal prosecutors than his Republican predecessors, and a former colleague at the NAACP recruited her to join the Southern District. But that period, from 1994 to 1997, is the only blank spot on her personal LinkedIn page. Her three years at one of the most prestigious prosecutors offices in the country is left off the "Meet Maya" page on her campaign website, and it was left off her bio page when she worked at the CCRB as well. 
Wiley told City & State the omission wasn't intentional, and "it's not touchy" because in the civil division, enforcing civil rights statutes and defending federal agencies, she wasn't a criminal prosecutor. Her unit was "the stepchild" compared to the criminal division, Wiley said. She has previously talked about her experience at SDNY in public: her time in the Department of Justice was frequently referenced during her appearances on MSNBC.
These days, an association with law enforcement is a potential liability in Democratic primaries, but other candidates have succeeded despite having much more involvement than Wiley. Sen. Kamala Harris' time as San Francisco district attorney was criticized by criminal justice reformers, in the presidential primaries and led to countless written indictments and defenses of her record. Of course, Harris still became her party's vice presidential nominee. And Wiley never did any of the prosecutorial work, like prosecuting marijuana offenses, that put Harris on the defensive. 
Wiley's time in the de Blasio administration is likely to be an asset to most Democratic voters, who are typically less down on de Blasio than the media and activist elite. Some 52% of New York City Democrats approve of the job de Blasio is doing as mayor, according to a September 2020 Manhattan Institute Poll. Among Black New Yorkers, 64% approve. Wiley has more experience in City Hall than any of her leading opponents in the race, including Stringer, Brooklyn Borough President Eric Adams and former Citigroup vice chair Ray McGuire. One possible exception would be Shaun Donovan, who served as Housing Preservation and Development commissioner for five years under former Mayor Michael Bloomberg, and will have to separate himself from a former boss, who was a Republican, then independent, while he was mayor. Former city Sanitation Commissioner Kathryn Garcia, too, has worked closely with de Blasio in a number of jobs, but she hasn't worked on hot-button issues like police brutality that a counsel to the mayor necessarily gets involved in.
"It's a blessing and a curse," said Buckner. "She has to say, 'Because I was there and on the ground, I do know how to do (the job) and now it's for me as mayor, and not for somebody else.'"
Her supporters are ready to draw that line between de Blasio and Wiley. "She has seen how not to manage, working for one particular person," City Council Member Helen Rosenthal said, referring to Wiley's time in the mayor's office. "That yelling at people and micromanaging probably shuts people down and doesn't bring out the best in your top commissioners, your deputy mayors." Rosenthal, who endorsed Wiley at her announcement, said she would lead like former Mayor David Dinkins – "somebody who has a heart, but somebody who is also very brilliant and strategic."
Wiley's impressive resume and media presence may enable her to compete with the elected officials in the race, such as Stringer and Adams. "In her mind, she sees the field as three people," a former elected official from New York City who has worked with Wiley and requested anonymity to avoid implicating their current employer told City & State. "And I think that's probably accurate."
"She has an impressive social justice record. That doesn't translate necessarily into credibility as a mayoral candidate or as mayor, in terms of the NYPD." – Joo-Hyun Kang, director of Communities United for Police Reform
Wiley is working carefully to separate herself from de Blasio's perceived shortcomings. De Blasio hired Wiley right at the beginning of his term, in 2014. The two didn't know each other, and Wiley hadn't worked on, or even donated to his mayoral campaign. But she had a strong reputation in New York's legal and civil rights community as president of the Center for Social Inclusion, a nonprofit she co-founded to promote racial equity. De Blasio had just come into office promising to combat inequities himself – and chief among them was addressing "the crisis of stop and frisk," where mostly young men of color were stopped constantly by police without clear justification. 
Over the next seven years, as de Blasio resisted accountability for police officers who injured or even killed New Yorkers, many of the voters who helped elect de Blasio gradually became disappointed in him. Wiley was long gone before de Blasio's stock with progressives hit its nadir this summer, when the mayor defended the police officer who drove his car into New Yorkers protesting the killing of George Floyd. But for the first two and a half years of his tenure, Wiley was closely tied up in the mayor's work. She was his counsel, advising him on all matters of law, and was also given her own projects to lead, like expanding broadband internet access to low-income New Yorkers. At the same time, she served as the city's minority- and women-owned business enterprise director, connecting businesses to city contract dollars. Wiley left de Blasio's office in July 2016. The New York Times reported that she felt cut out of the mayor's inner circle. If so, Wiley would hardly be alone among women who left de Blasio's team. If Wiley discussed this on the campaign trail, it could help her emphasize the importance of female leadership – a subject she references when asked about her ties to the mayor, saying she's a woman "who stands on my own two feet." She's not the only experienced woman running this year: in addition to Garcia, former city veterans' services commissioner Loree Sutton and former nonprofit CEO Dianne Morales are also in the race.
Criminal justice reform activists say Wiley must explain how she and the mayor differed during and after her time with him. "Of course, she wasn't the sole decision maker (in the de Blasio administration), but the reality is, we need to understand the distinction between her and the existing mayor," said Jawanza Williams, director of organizing at VOCAL-NY, an advocacy organization for low-income New Yorkers. 
Wiley has been separating herself from de Blasio already. In July, she wrote an op-ed in the Daily News that de Blasio should fire NYPD Commissioner Dermot Shea. Her campaign launch video declared "a crisis of confidence in our city's leadership," and she took a swipe at the mayor in her Oct. 8 campaign launch press conference with a joke about how she would be in New York City, not campaigning for president in Iowa, if she became mayor.
When asked at that press conference, Wiley refused to say whether she ever privately pushed back against a mayoral decision while at City Hall, avoiding specifics so as "to keep the confidences" of her former employer. But she did criticize some of his actions. If she were the mayor, she would have fired Daniel Pantaleo, the former NYPD officer who killed Eric Garner in 2014 and pushed for the full repeal of the law shielding police disciplinary records known as 50-a, "much sooner" than de Blasio did. 
Wiley drew another line between her and de Blasio at a mayoral forum hosted by the Jim Owles Liberal Democratic Club later in October. Back in 2016, de Blasio refused to release emails between himself and various private citizens serving as outside advisers. Then counsel, Wiley reportedly devised the justification – the emails should be treated as internal, private communications because the advisers were acting as "agents of the city." Now a mayoral candidate, Wiley said she could only push her boss so far. "You give advice, and the client makes the decision," she said. But if she were mayor? "Those emails would have been made public if I was the decision-maker."
Wiley's time on the CCRB is another double-edged sword: it shows her expertise and commitment to addressing police brutality, but also could be used by opponents to tie her to the status quo. When she left her job as counsel, de Blasio asked her to chair the board as a part-time job, while she worked as a professor of urban policy and senior vice president of social justice at The New School, the progressive university in Manhattan. She resigned a year later, in August of 2017 to focus on her main job at the college. Criminal justice reformers like Williams appreciate that she has experience working directly on the issue, but emphasize the need to know more about how she'd address it as mayor. "It's a good sign for us that she's interested in holding police accountable," Williams said. "However, that's not far enough. That's barely a beginning." 
Nor was her tenure at the CCRB wholly without controversy. Christopher Dunn, associate legal director of the New York Civil Liberties Union, publicly criticized the board for lacking public discussion while Wiley was chair. Under Wiley's watch, the board was also accused of softening the language in a report on the use of Tasers, possibly to make it appear less critical of the NYPD's use of the stun guns. Wiley publicly denied it at the time, saying in part that the dataset was simply too small to draw conclusions. 
Dunn's very job is to push the board to do more, and Wiley was just one player in a system that is understaffed, underfunded, and dependent on the NYPD to cooperate with investigations – which it often doesn't. At the end of the day, Wiley wasn't the one punishing officers: all final decisions are up to the police commissioner. "The CCRB has been powerless, has been a toothless agency that does not actually have any power to enact discipline," said John Teufel, a former CCRB investigator who now works on the campaign promoting an elected civilian review board. Wiley's potential success in enacting police transparency and accountability depends on taking measures like giving the oversight board real enforcement power, Teufel said. When Wiley was asked at the Jim Owles forum if the board should have the final say over police discipline, rather than the commissioner, she said only that the department needs strong civilian oversight. 
Because of her experience, "people are going to be looking at her to have a very thoughtful plan about how police reform and criminal justice reform is done," Buckner said. "I want to hear the actual plan." But it's still early, with more than seven months to go until the Democratic primary that is tantamount to the election in New York City. 
Having just gotten in the race, Wiley hasn't yet released a specific plan to radically transform policing. The campaign says one will come, as well as an economic recovery plan, and more. But for now, she is mostly talking about "putting the public back in public safety." She said "government has to listen," and police disciplinary standards have to be "publicly negotiated." When asked about precise proposals, including whether the next police commissioner should come from outside of the department and the CCRB should be replaced with a publicly elected board, she expresses openness but is hesitant to firmly pick a side yet. The NYPD budget should be reduced and the force "right-sized," she said, but hasn't yet specified by how much. 
"Black women always have to do twice as much to get half as much. So she will be judged differently regardless." – Yvette Buckner, a political consultant at Tusk Strategies
Wiley posed for photos on a Bed-Stuy rooftop, with clear views of Brooklyn, Manhattan and Queens. She was comfortable on camera – after all, she'd spent the last two years on TV, more in the public eye than ever, even if she'd been largely removed from city politics. Now she's back in city politics in a big way, and she's having fun. "This is the 'New York is dead' shot," she laughed, sarcastically echoing all of the city's critics. When one of the cats that lives in the building padded up to her, the towering candidate crouched down and fell into the sing-songy voice everyone does with cats. "Hi! You came to visit? Hello!"
After the photoshoot, she sits down on a bench on the roof, facing the Lower Manhattan skyline, and talks about the Black Lives Matter rally the day before. Has she ever been arrested herself? No, Wiley said, and not even at a protest, for civil disobedience. "I was always in the stuff that had permits." 
She says she has felt scared during interactions with police, though. Wiley recalled a time when she was pulled over for no apparent reason by a police officer in D.C. after dropping a friend off at home after a party. It was late, and the street was very dark. There were no other people around. She was a young Black woman, alone, with a white cop, and she felt "panicked." But she made it clear to the cop she was in law school, and not just any law school, but Columbia Law School. He let her go with a warning to fix her car's cracked reflector.
"It was a traumatizing encounter, because I understood what that encounter was, and I understood what saved me," Wiley said. "And I also understood that's not what most of us have. … We are not going to survive as a city if we are not being honest about the fact that we have to radically transform policing."
When it came to the 2020 presidential primary, Wiley said she was split between supporting Harris and Elizabeth Warren. She has a lot in common with both women, attorneys who were vying to be the first woman president. Each also reflects an element of Wiley's political persona and drew support from a constituency she will court in her campaign: Warren was the most progressive woman in the race and Harris was campaigning to make history as the first Black woman in the Oval Office. 
Some activists have high hopes for Wiley as a candidate. "We need Black-led leadership in the city," Williams said. "Black people in particular, and Black women especially, (have a) nuanced perspective, and oftentimes are more able to understand the issue with a policy, or why a policy is good, and willing to understand what movements like the Movement for Black Lives is calling for."
Wiley said she's up to the task. In fact, she's been preparing for it her whole life. "That is exactly the kind of responsibility that comes with what my parents taught me," she said. "'If you've been given much, much is expected.' And your job is to step up to it. But you have to step up to it with authenticity. You can't step up to it and pretend you're something you're not, or be something other people want you to be."
Correction: Due to an editing error, the Communities United for Police Reform Action Fund was initially misidentified.