Rudy Giuliani
How Rudy's reputation melted away
He was already making a fool of himself as Trump's lawyer, but 2020 spelled the end for America's mayor.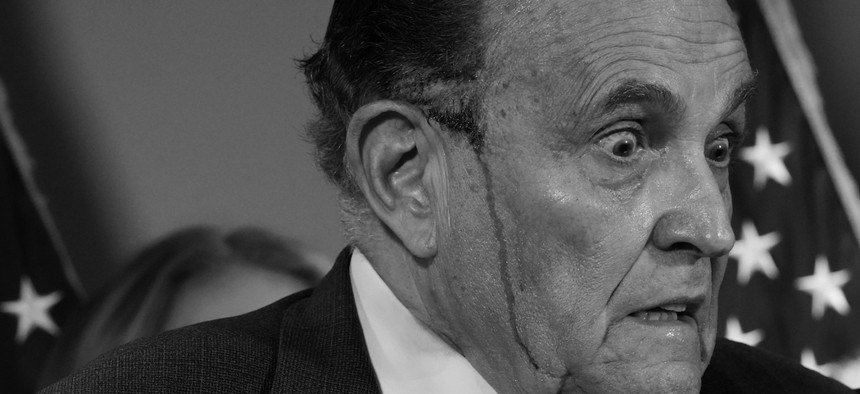 What do you do when one of your losers of the year has created more discord in the last two months than you have space to write about? You dedicate another article to his most recent shenanigans. Rudy Giuliani has been embarrassing himself for a while now, but if the end of 2020 is any indication, this list will get plenty of updates in the new year. 
Borat 2
Some politicians get their hands caught in a cookie jar, but this former mayor got his hands caught somewhere else in a viral scene from "Borat Subsequent Movie Film." Giuliani claimed he was only tucking in his shirt after removing his mic … but he was in a hotel bed … and had just patted the butt of an actress who he thought was a journalist. Is that supposed to be redeeming?
Four Seasons Total Landscaping
Conveniently located next to a crematorium and a sex shop, Giuliani's infamous press conference at Four Seasons Total Landscaping (no, not the hotel) was the perfect juxtaposition to the raucous crowds celebrating in his hometown as major media outlets finally called the presidential race in favor of his client's opponent.
Hair Dye-Gate
What does Rudy Giuliani have in common with the Wicked Witch of the West? They both hate small, furry animals, and they seem to melt when defeated. As the internet debated whether it was a bad hair dye job, the dissolution of some other hastily applied makeup, or maybe just the ghost of a dead ferret, the spectacle completely overshadowed his baseless claims of election fraud.
Public flatulence 
Giuliani farted so loud during a hearing with Michigan state lawmakers (not once, but twice!) that state Rep. Darrin Camilleri went on late night TV to confirm that the videos circulating weren't edited. And yet Giuliani seemed more embarrassed by the outrageous star witness he'd brought along, whom he tried to shush as she made herself into a meme.
COVID-19 diagnosis 
The 76-year-old has been diagnosed with the coronavirus and was hospitalized for treatment, but there's no reason to worry. Back in October, a maskless Giuliani told a room of Trump supporters that "people don't die of this disease anymore." The entire Arizona state legislature closed down for a week though, just in case.