Personality
Alexa Avilés is a big-table socialist
The Democratic nominee to rep District 38 on the City Council wants to empower immigrants in Sunset Park.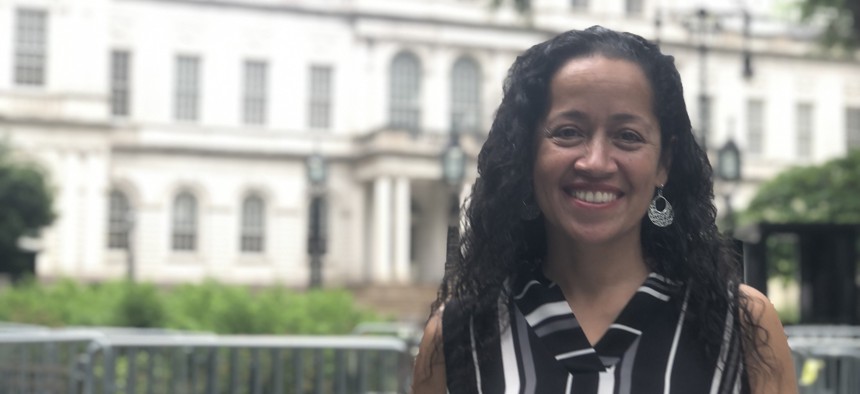 Alexa Avilés, a 48-year-old South Brooklyn public education advocate, declared victory July 6 in the City Council District 38 primary, which covers Sunset Park, Red Hook and sections of Borough Park. 
Avilés was born in Puerto Rico and moved to East New York when she was 5 years old, and she's lived in Sunset Park for nearly two decades. In addition to a coveted endorsement from the New York City chapter of the Democratic Socialists of America, she scored endorsements from the United Federation of Teachers, Rep. Nydia Velázquez and the Working Families Party in a crowded Democratic primary race to replace City Council Member Carlos Menchaca.
City & State checked in with Avilés to ask her about what her plans are for City Council, how she coalesced support and what it means to be one of two DSA-endorsed candidates who won their primary races. 
Responses have been edited for length and clarity. 
You are one of the two NYC-DSA endorsed candidates that won. What are your plans? Not just as an individual, but as a potential socialist caucus in the City Council next year?
We still have to get through the general. I technically have a person that's running against me getting through the general. 
I'm really doing some good planning and, obviously, we have so many colleagues on the current City Council that share our values, share socialist values — maybe not DSA members, and maybe don't identify that way, but (we are) certainly building those bridges around what we're going to do in the council. I have no concrete elements that we're going to do right now, but really just having a lot of meetings around what the future is going to look like.
Tell me a little bit about yourself, what brought you to running for office and what you have been doing professionally for the past few years.
For the past few years, I've actually worked in … funding policy, advocacy, organizing groups on a whole range of different issues for social justice.
I guess my path to this moment was really always engaged in social justice work. I grew up in Brooklyn with a mom who was very community-oriented, and I actually had a long career in foundation world. And when I had my children, I really started to do community work as a PTA president. It's one of those entry points of many community activists and I just started doing work in the community. It wasn't about cupcakes – it was really about servicing parents in the community and how the school could be better, and how we could really integrate services to meet the needs, and that just continues to evolve. 
It was so notable to me that you as a democratic socialist also got so much support from labor unions. Really, almost everybody got behind you. What did you do to coalesce these two sides that are often up against each other in elections? 
I think our campaign was really focused on creating the biggest table we could, and that's how I work. That's how I've always worked in community and I think that was reflected very much in the campaign. People felt that there was space there – it was an ever growing table, and I think that's why labor came on board and I think that's why others did too. 
Our endorsements truly did reflect our community and the diversity of that, and, you know, making space for people. I think we all know that the challenges we face are complex and it will require movement. 
When it comes to Industry City, the most recent upzoning plan was not even brought up for a vote. Would you support changes and new development at Industry City under the right conditions?
I was on the community board, I'm still on the community board, so I was very involved in that process and reviewing those documents, so I know them rather intimately and certainly, what the documents said and what the rhetoric was being put in the press were very different things. 
I think what the community has been saying is that we want a working waterfront and we don't want a luxury waterfront. We want a waterfront that's going to continue to employ our folks. If plans are proposed that are in alignment with a working waterfront with clean, resilient jobs, with real jobs – then we are open to those conversations. If it is more of the same retail luxury hotels, we are not interested in that, and the community has been pretty clear about that over the years. It's not a new message. 
Looking ahead to the speaker's race, there's been whispers that fellow democratic socialist Tiffany Cabán might be considering throwing her name in the mix for speaker. Do you have any thoughts on who you plan to support, and broadly would you want to see a female speaker?
I haven't thought about the speaker's race. I'm still trying to figure out what my next five months is going to be through the general election, so I guess I don't really have a comment on that other than we'll be looking at all the possibilities and having those discussions.
I would have loved a woman mayor so I'm absolutely supportive of having a woman speaker. I think someone did mention today that all the citywide elected officials are men, and it would not be a strange thing for us to push a woman speaker. 
The DSA often gets a reputation of being young, white gentrifiers – I believe you are none of those, with all due respect. Do you think it's important that your candidacy does counter those narratives? 
Absolutely.  I think when we look at our campaign and we look at who came we had over 700 volunteers – tons of people from the neighborhood, we've had 60- and 70-year-old volunteers who are grinding on those doors as hard as a 23-year-old, (we had) multiracial, multicultural, multilingual volunteers.
I think we want to continue to show that it's a multiracial, multilingual, multicultural, working class community as a whole movement. Those narratives are not helpful for anyone, and you see that diversity and also invisible alliances, all of us people of color, who are part of DSA are helping to move the organization forward. 
I think you just got to look closely, and we hope to challenge those narratives.
What's on your agenda as far as immigration issues when you enter the City Council? 
I guess one of the big policy changes that we'd love to see is the one city, one vote granting municipal voting rights.  
(Immigrants without citizenship) pay taxes, they own homes, they work, they're involved, and yet they're not able to vote. I think if we can see that pass, that would be tremendous for our community. 
Obviously, we got to look at the funding – legal services, we got baseline language services this year. I think making sure that legal representation is available – that's a huge one that families need help and it's legal representation for support across the border. Everything from housing issues to actual immigration issues. In schools, we need a lot of help with students who speak English as a second language and their families need that support. There's definitely a lot to do.