Interviews & Profiles
The company improving internet access in NYC's airports and tunnels
Boingo CEO Mike Finley discusses connecting JFK and LaGuardia to 5G service.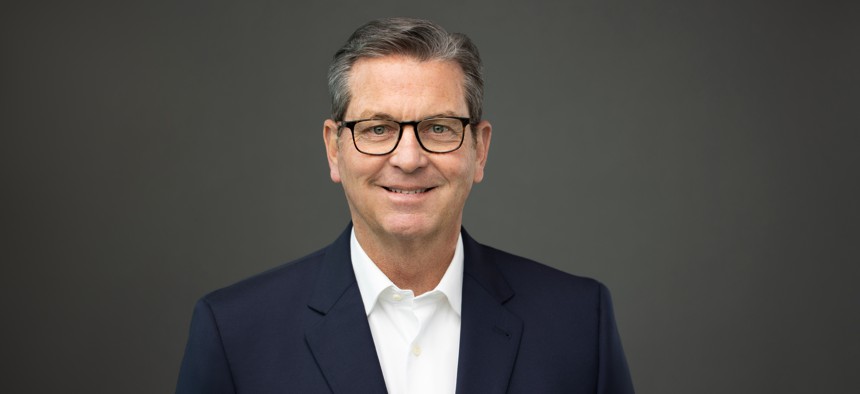 Boingo CEO Mike Finley was in New York last week to announce that his company and AT&T had teamed up to bring 5G to 12 airports, including John F. Kennedy and LaGuardia airports, which are both run by the Port Authority of New York and New Jersey.
The project focused on providing high-speed internet in major gate and concession spaces, two areas seen as having the most need at the two transportation hubs, according to Boingo and AT&T.
Finley also was on hand to announce that Boingo activated Wi-Fi service in the Long Island Rail Road's Atlantic Terminal and switched on cellular connectivity for Verizon subscribers in the tunnel between the Atlantic Terminal and Bedford Avenue. Cell service for subscribers of other carriers is also being added to help extend connectivity in the tunnel between East New York, Brooklyn, and Jamaica, Queens, and Wi-Fi to the LIRR's Jamaica Station.
City & State caught up with Finley to discuss how the work on both projects has come along during the pandemic, other work Boingo is doing in the region and his thoughts on how to expand broadband to more New Yorkers. This interview has been edited for length and clarity.
How did the coronavirus pandemic impact Boingo's recent work in the New York City region?
I will highlight that I am very proud of our team and all the people we worked with because other than one week from the pandemic, they worked, and it was right after the pandemic hit. I think the whole city for the most part was shut down. But we had people in the tunnels. Our contractors had been there, the union had been there, and doing work building out this network. We're excited for that to be turning on. With the airports, our team has done a phenomenal job of really improving the capabilities. You're starting to see the fruits of their labor coming together. I come in and out of those airports, they're really good. Our connectivity there has improved greatly. We're very focused on that and making sure that type of connectivity is there for New Yorkers and people coming through.
What are your thoughts on how broadband can be rolled out to a greater number of people in New York?
The thing that I think the government, in a lot of ways, has to look at is when you're solving for that, you need to solve for the long term. I don't want to say it's easier to solve for the short term, but this business has evolved. It changes so quickly that you know everything is really a combination of things working together. So these devices get built, the chips that enable these devices have all these capabilities and then infrastructure gets built and then access points get built. And then over time those things change and so, I think the biggest piece of my advice would be as you're doing these things and trying to bring access, make sure you have a long-term plan for that, because access that's not very good or is really slow or can't keep up with the needs of technology needs to be addressed too. So be thinking longer term about those types of things.
What do you perceive are the obstacles to that kind of long-term planning?
I mean I hate to be so simplistic about it, but it's really cost and return. There's a cost to putting those types of capabilities in place. And if you're a business, you need to be able to figure out how you get at least your cost back. I don't think there are any companies that are really trying to get rich off of this kind of stuff. I think what they're really trying to do is be good corporate citizens, but it shouldn't just all fall on those entities. I think it's got to be, it's going to have to be a combination of the private and public sector working together.
How good is broadband in New York at the moment and what other projects is Boingo working on?
The one thing, all of our venue partners, especially here in New York, they're so focused on the experience for the end user. It starts with connectivity first, right? You have to have some kind of connectivity, then you get into speeds and reliability. That's all been greatly enhanced. There's more work to do, but we're committed to it.
We focus primarily on big venues with lots of people coming through. So it's historically been the airports, transportation hubs. We've won the rights to Wi-Fi at Rockefeller Center. We're working with Tishman Speyer there. I'm part of the industry, I think people should want to get connectivity wherever they're at all the time. But coming out of this pandemic, people really see that.
We're doing work in private networking, hospitals, manufacturing and industrial plants. There's not as much of that here in the city, but those are big areas of opportunity, not just for connectivity, but the utilization of the connectivity. So for example, a big plant that uses robotics, in order to move that around, if they're all wired and plugged in, that's hard to change. If it's all wireless, if you want to run a different type of product or change a floor, on the wireless side, those are the types of things big plants and companies are thinking about.
Where does broadband fit in as cities like New York move to rebuild after the pandemic? 
I think it's essential. When we build, we build more neutral and agnostic. So broadband, generally identified as Wi-Fi, is continuing to grow too. There's Wi-Fi 6 out now. That's what we're doing at Rockefeller Center. Wi-Fi 6, generally, means higher speeds (and) lower latencies. Everything's around security and privacy, so that's all in place. But that obviously keeps getting advanced as we're building out.
When we build, we build future-proof builds. That sounds like a great buzzword, but the tunnels are a perfect example. A lot of it has to do with the wiring that you're putting in and so you don't want, when you have the East Side Access as an example, to put a bunch of wires in and then two years later, come back and have to change those wires out. So it's not as easy as you know when we're doing it for the next 50 years, because that stuff changes too.