Winners & Losers
This week's biggest Winners & Losers
Who's up and who's down this week?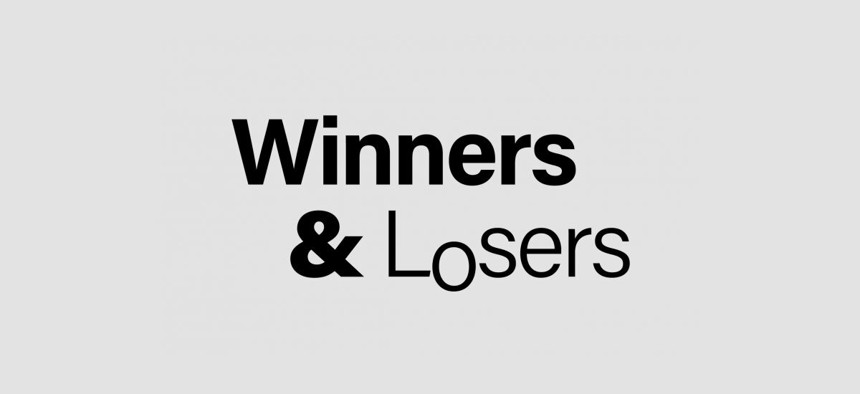 Kathryn Garcia came within 8,426 votes (according to preliminary results) of being NYC's first woman mayor. She's not a winner, that title belongs to her opponent Eric Adams, but it would feel wrong to call her a loser. Perhaps she said it best in her concession speech - the glass ceiling wasn't shattered, but "[she] cracked the hell out of it, and it's ready to be broken." Credit to her and her campaign for getting so close, and while the incoming executive branch of New York City looks overwhelmingly male (with the exception of Vanessa Gibson), more women than ever are poised to hold office in City Council.
WINNERS:
Eric Adams -
It's possible that no one had a better week than Brooklyn Borough President Eric Adams, who has officially been named New York City's Democratic mayoral nominee, even though he technically won two weeks ago. And to celebrate Adams decided to get a spanking new earring at pre-teen accessories chain Claire's, which feels like a perfectly on-brand way for the professional eyebrow-raiser to celebrate, in our humble opinion. The best part though? Now Adams doesn't have to claim that ranked-choice voting stole his win from him. All the newly minted nominee needs to do now is chill out, make a smoothie and soak that ear in some saline solution!
Alvin Bragg -
Alvin Bragg has plenty to brag about as the Democratic nominee for Manhattan district attorney. He managed to beat out seven other candidates – including a top rival who significantly outraised him thanks in large part to contributions from Wall Street – and he's set to become the first Black district attorney of Manhattan. As he's pretty much guaranteed to be the next person to take over the position, Bragg will have a chance to make a major name for himself between leading the prosecution of the Trump Organization and taking on various criminal justice reform proposals.
Vito Fossella -
New York does love a comeback story. Vito Fossella was riding high in Congress in the 2000's, even seen as a potential contender for mayor at one point. But he left office in 2008 in disgrace after a DUI bust revealed that he had a second family in Virginia. More than a decade later, Fossella – with the help of the endorsement of Donald Trump – rose from the ashes to win the GOP primary for Staten Island borough president. For his sake, let's hope no one digs up a third secret family. If that doesn't happen, Fossella seems to be golden.
Brad Lander -
Scoring support from members of the progressive left like Rep. Alexandria Ocasio-Cortez and Sen. Bernie Sanders, Brooklyn City Council member Brad Lander officially declared victory in the New York City comptroller Democratic primary Tuesday. His opponent, New York City Council Speaker Corey Johnson, was hailed by many as the person to beat, making Lander's victory all the more notable. Lander has previously said he will be an activist comptroller, pledging to use his power to build a city that is more just and equitable, so it'll be interesting to see how he will put these words into action once he inevitably beats the Republican nominee in November.
Zellnor Myrie & Pat Fahy -
When Gov. Andrew Cuomo held a major press conference declaring gun violence a disaster emergency, he gave a special shout out to state Sen. Zellnor Myrie and Assembly Member Pat Fahy. He was preparing to sign their landmark legislation meant to circumvent federal law and allow lawsuits against gun manufacturers for actions they take that harm the public. It's the first law of its kind in the nation. And Cuomo shared the credit, applauding Myrie's and Fahy's work in getting the bill passed at the end of session (when Cuomo largely stayed on the sidelines). The governor may still be persona non grata in some circles, but getting both his signature and acknowledgement at a major press conference still holds weight.
LOSERS:
Elizabeth Crowley -
It looks like Elizabeth Crowley will lose the Queens BP race to Donovan Richards… again. Unlike the 2020 special election, the contest was shockingly close: she lost by 1,044 votes in the preliminary results. Crowley hasn't conceded yet, but that didn't stop Richards from taking a victory lap on Twitter Tuesday night, where he accused his opponent of racism and asking him for a deputy BP job. Crowley denies the allegations, but if your opponent has any cause to tweet out "We beat your racist ass"... that's a really bad look.
Corey Johnson -
Just about everybody expected New York City Council Speaker Corey Johnson to win the Democratic nomination for comptroller. He had the name recognition, has been the presumed frontrunner for months, and had endorsements from major labor unions like the United Federation of Teachers. But when election results rolled in, things didn't look so good for Johnson. His concession this week is the latest in what's been a challenging year for the long-time politician, including his dropped mayoral bid in September and accusations of absenteeism in his duties as City Council speaker.
Luis Tejada -
The New York City Board of Elections is – by all means – worthy of criticism. But there's a line between good faith debate and political opportunism, and Luis Tejada, the sore loser in City Council District 7 in Manhattan, crossed it when he organized a protest outside the BOE's Lower Manhattan office Tuesday. The BOE screwed up the ranked-choice count the week before, so he wanted to "call for new elections in September" and "imprison those responsible for the fraud." Why was he so sure there was fraud? "All the people said Luis Tejada, you're going to be the winner. So how come in the whole district, (I got) 1600 votes?" he asked City & State. Tejada ended up in sixth place in his race.
Elizabeth W. Smith -
Ever since New York City ended the Trump Organization's handling of Wollman Rink, the nonprofit that manages care for Central Park made the case that it should take over next. Smith, the head of the Central Park Conservancy, said the organization could ensure the ice rink be used as a public good instead of a source of profit for private companies. City officials previously threw cold water on their proposal – arguing the group wouldn't be ready to get skaters on ice in time for the winter – so it may come as no surprise that they went in a rather different direction. Instead, the city picked a group led by major developer Related Companies, gym chain Equinox and the owners of the New Jersey Devils to operate the rink.
Your Pal Val -
There is New York politics before the Board of Elections tweeted about brunch, and then there is New York politics after the BOE sent a tweet reply to a New York Post reporter assuring them that the latest information about our democracy would be released in "more brunch special vs. club hours." This new era of the BOE 'tweeting through it' lasted approximately 8 hours, before they had to update us in much more subdued tones that they had missed any semblance of a brunch deadline, and were hoping to get us the results at 7:30PM. (They ended up going live at 6:39PM.) Before you feel too much empathy for some anonymous, overwhelmed social media intern, they also tweeted that "…you can call me your pal Val!" We're pretty confident that refers to Valerie Vazquez-Diaz, Director of Communications & Public Affairs, and she's perfectly capable of sending a press release. "Val" probably rues the day she tweeted about brunch. #relatable.