Interviews & Profiles
Fernando Ferrer talks about the nature of power
The former Bronx borough president weighed in on City & State's lists and New York's biggest political players of the past five years.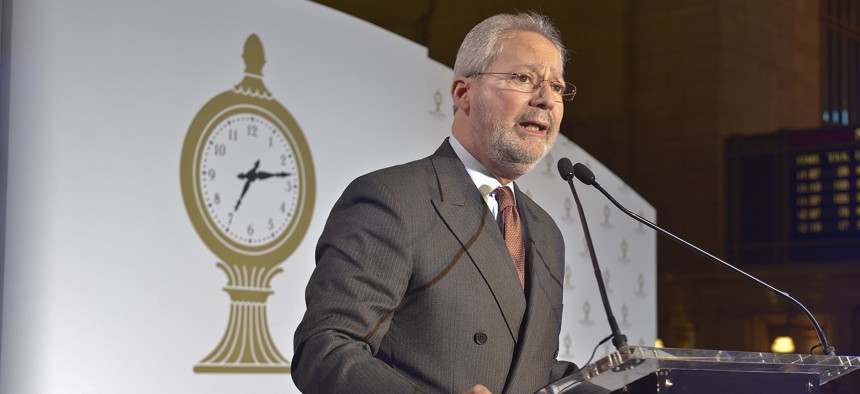 Fernando Ferrer was Bronx borough president from 1987 to 2001, the year he also launched the first of two unsuccessful runs for New York City mayor. Ferrer also served three stints as acting chair of the Metropolitan Transportation Authority for Gov. Andrew Cuomo.
City & State caught up with Ferrer for its 15th anniversary issue just days before Cuomo announced his resignation in light of the sexual harassment allegations investigated by state Attorney General Letitia James.
Ferrer spoke about City & State's lists and how he perceives power. He tried to skirt around talking about Cuomo while speaking about other powerful political players from the past five years. This interview has been edited for length and clarity.
So, the last time we spoke, you said to me, "Oh and by the way Ralph, if you ever do a 70 Over 70 list, I'm going to come down there and kick your ass!" I know you were joking. But why do you think people clamor to be on City & State's lists?
Well, I think for a large number of people who are named on these lists, it's meaningful. It's an affirmation of their work.
Do you know how many times you've been on these lists? 
No, I haven't counted. A couple times? I don't know. I would not like to see myself on any list. I'm a demure kind of guy. But I know some people consider it a blessing. I consider it a mixed blessing.
The lists are about people with power. How do you define power?
That's a very interesting thing. The traditional definition is to get someone to do something they wouldn't normally do or could not easily have done.
We certainly have witnessed abuses of power recently …
I knew you would try to dance me in this direction. I feel horrible for (Cuomo's) mother. I know her. She's a terrific woman. I just feel horrible. You know, but all the other stuff I never witnessed anything so I'm not in a position to judge.
What message does Cuomo's plight send about power these days?
Well, more than 20 years ago the news of Monica Lewinsky broke on the front pages, you know, this isn't new.
What stands out the most looking back at the past five years regarding power in New York City and New York state politics?
The age of Trump. I mean, to describe nausea every day doesn't begin to capture it. And that's a guy I know. He's a bad guy. He says whatever he thinks is necessary to say to advance himself, and that can change 25 times on a given day. I saw him do that a couple of times and it just drives me crazy. This is a guy with absolutely no morals. None. Not going by the script is one thing. Flipping the script is one thing. But, what he did was frightening in the context of our democracy. What's even more frightening are the people who let him do it.
What are your thoughts on another standout power player from the past five years, Rep. Alexandria Ocasio-Cortez? Has her work countered some of Trump's?
At some point, somebody is going to ask, does any accomplishment of hers match her aspirations? Because that's the standard by which anyone in public office is judged, and you can't evade it. There'll be a time for her to do that. I don't see her in an executive position. I read something recently that an executive office like mayor or governor didn't appeal to her. I understand that. She's much more influential as the player she is, not trying to run something because I don't think she could do it. You need a whole different set of skills to do that. She's more of an individual who's set the pace on some reforms, set the trend on how we look at things. I give her a lot of credit. She's done quite a lot with her position in the Congress.
How about Letitia James?
Look, you're asking somebody who's an unabashed big fan. I've been a fan of her since she was then-Assembly Member Roger Green's assistant. When she first ran for the City Council, I got a call from somebody in the Working Families Party. "She didn't get the Democratic nomination. Would you support Tish?" the person asked. I said, "Gladly! Happily support her." So I've been a supporter of hers right from the start. I think she's a woman of very unusual integrity.
What were your thoughts on the independent investigation into Cuomo?
You know, he's going to face some accountability for this, and not only legislatively. So you want to be very careful how you treat people and how you encourage prejudging things.
After almost eight years of another power player, Bill de Blasio, knowing what he set out to accomplish and how he diverted to run for president, what do you think his next act is going to be?
I don't see elected office in his future. He may be able to go out and you know continue (in) public service as an adviser, something like that, but I just don't see. He expressed interest in running for governor. I don't see that happening.
How do you see his legacy?
Let me start by saying we're friends. I supported him. He has supported me in the past. I mean, friends and allies, you know, even when I, as a member of the MTA board appointed by Cuomo, I would talk to him. Look, we're going to have some disagreements on things but that doesn't mean it should escalate out of control to the detriment of people who pay a fare and expect to be taken somewhere safely and affordably. So, the extent to which you can work with people, you should do that. I think he knows that his time at governing is drawing to a close and I don't see another time for him.
I appreciate that you made the time to speak with me.
Happy to. Let me just add one final thing. You asked interesting questions and it was all founded on perceptions of power. And I suppose that's how people who are on the outside or even on the inside (who are) just beginning look at politics and public service and government. I've come to a different place. So that's why I'm a lot more sober about it. I've seen a lot about these things, I've seen a lot, done my share.
Somebody asked me, "Why are you driving yourself crazy with the MTA?" I've been acting chairman three times. I'm a public servant. Being the acting chairman of the MTA doesn't enrich you, doesn't put more money in your pocket, doesn't give you any more power. You don't even get a free MetroCard, goddamnit. But all you do, and that should be enough, is have the sense that you served, did a few good things, even if other people are going to take credit for what you started. That's OK. You can always say, "This is why I went into this, I am a public servant." So for people who think this is about power, that's only one way of looking at it.