Interviews & Profiles
New York City faces climate risks like air quality and flooding
A Q&A with New York City Chief Climate Officer Rohit Aggarwala on how the city is preparing to handle a variety of challenges.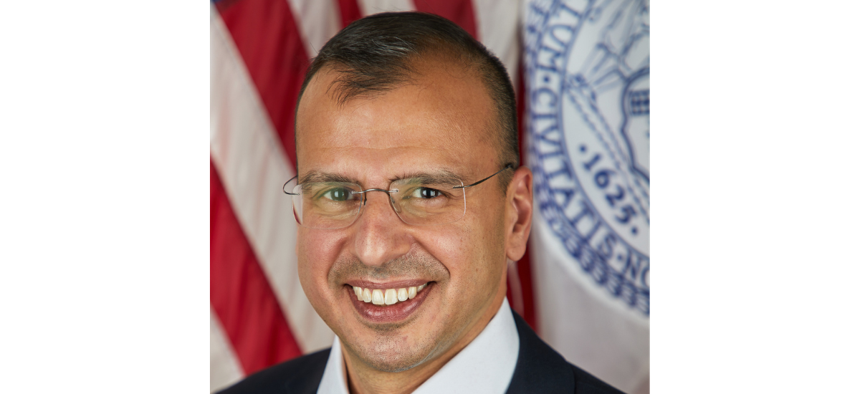 New York City Department of Environmental Protection Commissioner Rohit Aggarwala oversees the city's sewers, flood-prevention projects and air pollution mitigation efforts, while also shaping the city's climate change policy. Aggarwala has a history of working on urban sustainability by leading the creation of the Mayor's Office of Long-Term Planning and Sustainability under former Mayor Mike Bloomberg. He also founded the sustainability practice of Bloomberg Associates and most recently worked on urban systems at the urban technology startup Sidewalk Labs. This interview has been edited for length and clarity.
What are the biggest impacts that climate change is having on New York City today, and what are the biggest future impacts from climate change that the city will need to start planning for today?
So in any given year, the biggest impact that climate change is having on New York right now is that of excess heat. We don't know yet how bad this summer will be, but we do know that over the last decade, heat has actually killed more than 300 New Yorkers, which is, of course, far more than flooding. The flooding of Hurricane Ida killed 13 New Yorkers and the flooding of Hurricane Sandy killed 44 New Yorkers a decade ago. But we estimate through the Department of Health that we lose more than 30 New Yorkers a year to climate change-induced heat, and so that's probably the single biggest impact that climate change is having on us right now. Of course, we see a lot of other things – we have clearly seen a change in rainfall patterns. Two years ago, of course, we saw the record-setting rainfall of Hurricane Ida that did kill 13 New Yorkers, and one of the reasons it was so devastating is it essentially doubled the record amount of rain that New York had ever experienced in one hour. And it's that intensity that causes flooding, not the total amount of rain over time that causes flooding. But what we've also seen since Hurricane Ida is a series of very intense, often quite short and very highly concentrated storms, many of them difficult to predict.
Atlantic hurricane season just started this month. Given the devastating flooding that took place in basement apartments when the remnants of Hurricane Ida hit, what progress has the department made during your tenure on flooding mitigation?
Last year, we issued a new map that identifies, down to the building block and block level down to the individual street address level, we indicate the likelihood of flooding due to rainfall. That's a map that had never existed before last year. We did direct outreach to the most at-risk locations, encouraging them to look at that map and understand their risk. We have a couple of projects that we've made real progress on over the last year and a half. We've embarked on a significantly accelerated and enhanced planning effort to think about comprehensive stormwater resilience across the city. We're working on a citywide Bluebelt strategy. In Staten Island we have several, we've got a couple in Queens, lakes that we connect either to surface drains or more often to high-level storm sewers within the roadway (that) become fantastically big and flexible holding tanks during storm events. It's one of the reasons that Hurricane Ida didn't have that much of an impact on Staten Island, because the Bluebelts worked so very well compared to the rainfall that it got. We are now identifying where across the city Bluebelts could and should be implemented that might require acquiring property. That leads to the fact that in April, Mayor Adams announced our intention – citywide we're going to have news on which agency will lead this effort soon – but we're working on the creation of a voluntary buyout program, so we can go to specific property owners where we say, "Look, we've done all the planning, it's going to be very difficult or impossible to protect your property. Maybe it's better that your property actually becomes a Bluebelt or becomes a piece of green infrastructure." And so those are things we're working on, but, as I say, the reality is that stormwater infrastructure is a multiyear effort, not a multimonth effort.
City & State wrote back in 2019 about all the pending sea wall projects in the city. Where do we stand today on projects like the Staten Island Sea Wall, and the sea wall resiliency projects in lower Manhattan?
Well, there's been a lot of progress on a number of those projects. Last September, we officially broke ground on the Brooklyn Bridge-Montgomery Coastal Resilience project, which is basically the same project or a similar project just to the south of the East Side Coastal Resilience project, which is in construction. Another milestone we reached last year was the installation of the first moveable gate. Now there are actually several other moveable gates already in place and that project is doing very well in terms of construction. The Battery Park City Project, which is led by the Battery Park City Authority, although the city is very closely connected, that's moved forward very well. We're all, both the city, the state, even at the Army Corps (of Engineers) level, disappointed that the South Shore of Staten Island Project has taken so long, but it's something that we're laser-focused on and I'm very pleased to say that in a couple of weeks there will be actually a very significant step forward on the South Shore of Staten Island project.
The mayor's PlaNYC report said there'd be a new leadership structure for coastal flooding resilience led by your department. Is that new structure in place, and if so, what does that look like? What methods are the department prioritizing to deal with flooding?
Part of the reason the DEP is going to take the leading role in coastal resilience is that stormwater flooding and coastal flooding are very closely connected. Certainly when it comes to stormwater, our leading approach is going to be green infrastructure. It's very slow and very expensive to try to capture stormwater by expanding our sewer system and there are some places in the city where quite literally you could not expand the sewer without tearing down homes to widen the streets that we put the sewer underneath. And so that's why as I mentioned Bluebelts, green infrastructure, rain gardens, the cloudburst initiative. Over the last year we've made real progress on seven projects using this cloudburst design, where you design public infrastructure to be a holding tank for water. When we have to, we'll look into underground storage but green infrastructure is clearly our preference. We're in the midst of recruiting a deputy commissioner for coastal resilience. That's a job that's been posted, we have candidates, we're seeking even more candidates. This is in fact a national and international search that we're looking for that role and at the same time we're doing both an interagency working group that's already underway to identify what functions should be centralized within this new bureau of DEP and which functions should remain at other agencies. Coastal resilience is always going to be an interagency collaboration. The bulk of New York City's waterfront is owned either by the Parks Department or the Economic Development Corp. Those two agencies are always going to be deeply involved. The Department of City Planning has to be deeply involved. The Department of Transportation has a lot of waterfront infrastructure; they're always going to be involved. The question we're working through right now with our sister agencies is what functions should be centralized in this new bureau.
Since you're both a department head and chief climate officer, have those dual roles helped you in terms of making progress on critical environmental problems?
I think having the dual role of chief climate officer and DEP commissioner has been quite beneficial. I think when it comes to climate policy, the fact that I also have the responsibility to make sure that we can deliver capital projects and operate our water system 24/7 and manage a fleet of vehicles at this agency, it means I have to be really pragmatic when it comes to making climate commitments. I think we've also been able, with this structure, really very aggressively to prioritize climate action at DEP. We just announced a couple of weeks ago we started our new gas-to-grid system so that we're capturing biogas at the Newtown Creek facility. That's a project that's been underway for a decade, but we finally got it into operation this year. I personally put a lot of my time and effort into that over the last year. We've prioritized a broader approach to organics and circularity that's described in PlaNYC and I hope to do more biogas capture, among other things, at several of our other treatment plants.
Catch basin complaints more than doubled from fiscal year 20 to fiscal year 22, according to the Mayor's Management Report, while the number of basins cleaned decreased and the response time increased. What is causing this backlog and has it been improving?
The most important thing to remember is that fiscal year 2022 included September 2021, and Sept. 1, 2021 was Hurricane Ida. There was Hurricane Henri 10 days before Hurricane Ida, but then Hurricane Ida created massive impacts. So, yes, of course when you have a record-setting storm, you are going to have more sewer backups, our crews had so much work to do in the couple of weeks after Hurricane Ida that things like cleaning catch basins had to fall by the wayside because they were doing emergency recovery and in many cases helping helping homeowners deal with catastrophic losses. And there were some challenges related to COVID staffing, but I really think the bulk of the difference between fiscal year 2021 and fiscal year 2022 was Hurricane Ida and Hurricane Henri.
Air quality complaints had already increased from fiscal year 2021 to fiscal year 2022, but that's certainly more top of mind for New Yorkers given the recent smoke from the Canadian wildfires. What are the administration's priorities when it comes to improving air quality in the city?
The reality is that air quality in New York City, wildfires aside, is actually much better than it's been in decades. On an average day, New York City's air quality is better than it's been in 60-80 years. That's due to the fact that, over the last decade, we've phased out the use of dirty heating oil. Nationally, we phased out the use of diesel that has high sulfur content so even the diesel trucks on the road, while they're still highly polluting, they're nowhere near as polluting as the same kind of truck a decade ago. As a result, right now our leading local sources of air pollution, which are particulate matter, are actually commercial cookstoves in restaurants. We intend to work with the restaurant sector but there are going to have to be controls over time that restaurants place on things like char broilers. Now the reality is, all of our local efforts could be overwhelmed if pollution from things like wildfires becomes much more frequent. Unfortunately, the city has nothing directly we can do other than contribute to the effort to reduce climate change, because these wildfires are a direct result of climate change. And if you're in a hole, the first thing you do is stop digging. And that's why it's so important if you care about air quality, you have to care about decarbonizing buildings, you have to care about decarbonizing transportation. We had a big victory this week with the federal approval of congestion pricing. That's a massive win for the environment, a massive win for air quality.