Preet Bharara
Elon Musk's hyperloop stirs hyper buzz (and confusion)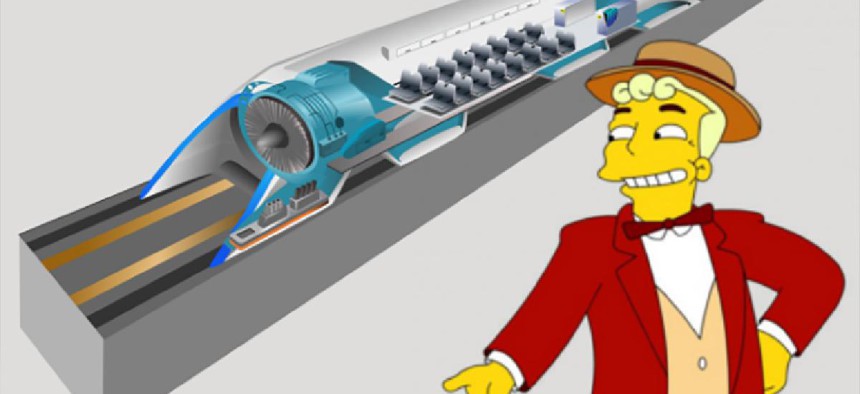 On Thursday morning, Space X CEO Elon Musk tweeted that he had received "verbal govt approval" to build an underground "hyperloop" that would connect New York City to Washington, only taking commuters a mere 29 minutes to travel just under 230 miles. The tweet drummed up considerable excitement, but left many wondering: who exactly gave this apparent government approval?
In a later tweet Musk clarified that the verbal approval came from the "federal level" but failed to identify who exactly.
The mystery served only to further build the hype around the already enticing story.
Early concept footage of Elon Musk's NYC-to-DC hyperloop pic.twitter.com/WSRwjjaGXP

— Andrew J. Hawkins (@andyjayhawk) July 20, 2017
Yet, not everyone is excited by Musk's announcement. In fact, it seems many were blindsided by it, including most New York politicians who apparently were unaware of Musk's plans.
This is news to City Hall. https://t.co/GmEm0b5C4i

— Eric Phillips (@EricFPhillips) July 20, 2017
The MTA was similarly in the dark.
I just talked to the New York MTA about this. Press aide is so flabbergasted that they're asking me to spell Elon Musk's name for them. https://t.co/mLWb4Abfb8

— Nathan Bomey (@NathanBomey) July 20, 2017
Ben Sarle, Deputy press secretary for the mayor's office was equally perplexed, stating, "Nobody in City Hall, or any of our city agencies, has heard from Mr. Musk or any representatives of his company."
Watch the hyperloop complete its first successful test ride:

Some, such as Preet Bharara, suggested that Elon should use his genius to help solve the escalating subway crisis.
Dear @elonmusk, I do want this to happen fast. But are you familiar with our Mayor & Governor? Could you also help with the subway? Please? https://t.co/5wY0s7RxSO

— Preet Bharara (@PreetBharara) July 20, 2017
@elonmusk if you could get all of us from Brooklyn to manhattan in 29 minutes we promise to love you forever pic.twitter.com/nWwR3l7GPj

— Josh Trachtenberg (@joshtracht) July 20, 2017
Others were simply not happy with the plan, claiming it prioritizes unrealistic fantasies over real infrastructure plans such as the Gateway Program, which is still waiting to receive federal funding.
Richard Barone, Vice President for Transportation Programs at the Regional Plan Association stated that "Hyperloop needs to be weighed next to more conventional and proven technologies like high speed rail, which would incrementally build off of our legacy investments, including existing rights-of-way and stations."
Reporter Andrew Hawkins of the Verge was equally critical of the plan in a series of tweets where he suggested that the tunnel planned by the Gateway Program, which is only about 9,000 feet, should be prioritized over the 226 mile Hyperloop.
Despite its alleged "approval" Musk and the Hyperloop still have a long way to go to materialize this plan and convince citizens of its worth.
"Elon Musk wants to bring really fast transit system to East Coast." pic.twitter.com/fcprrWHmgv

— Mary Grace Lambert (@marylambertRW) July 20, 2017