Are the politics of climate change finally reaching a turning point?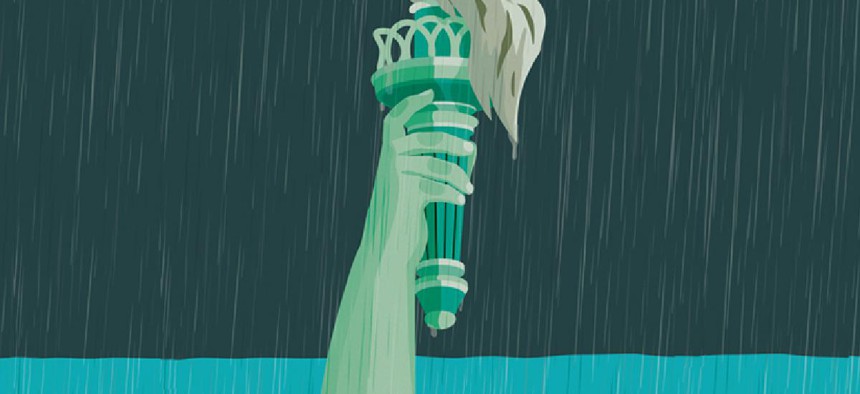 When Hurricane Harvey swept through South Texas last month, it inundated Houston and the surrounding coastline, displaced thousands, flattened homes and killed scores of residents. President Donald Trump tweeted about the "HISTORIC rainfall in Houston" and the "unprecedented" flooding brought by Harvey, which set a continental U.S. record with more than 51 inches of rain.
A couple weeks later, Hurricane Irma roared through the Caribbean and up the Florida coast, setting its own records as one of the most powerful and longest-lasting storms of its kind. The president called the storm "of epic proportion, perhaps bigger than we have ever seen." In Irma's aftermath, dozens have been reported dead.
And then Hurricane Maria, following in Irma's wake, swept over Puerto Rico, decimating homes and knocking out power to the entire island.
The collective cost from Harvey and Irma could be as much as $200 billion, while the extent of Maria's damage is still being tallied.
But will these storms trigger a Pearl Harbor moment in the politics of climate change? It is simply too soon to know for sure.
RELATED: Learning from Hurricane Harvey and Superstorm Sandy
In December 2014, I wrote in Newsday that voters had made clear that they take global warming seriously and that elected officials must take heed – or face the consequences at the ballot booth. Since then, the country elected Trump, who has questioned the science of climate change. When asked recently about the link between the storms and climate change, the president reversed course by downplaying the impact of hurricanes Harvey and Irma.
But I stand by what I wrote at the time: "Most scientists agree that weather events will increase in frequency and severity. A growing majority of voters want pragmatic solutions, reflecting not just common-sense compromise but purposeful results. When events leave voters no choice but to connect the impact of superstorms, a steep political price will be paid for inaction. That hasn't happened, but when it does, it will likely produce a Pearl Harbor moment. In the blink of an eye yesterday's policy caution could be seen as political infamy."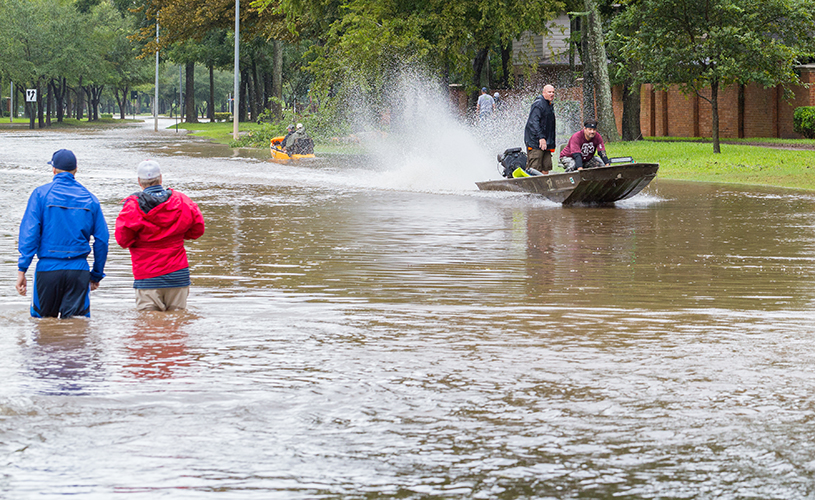 Residents of Sienna Plantation, a Houston suburb, walk in the flood waters created by Hurricane Harvey. (michelmond / Shutterstock)
The susceptibility of Texas' Gulf Coast and the coast of southern Florida to hurricanes like Harvey and Irma was quite predictable.
The Houston metropolitan area grew by 78 percent from 1980 to 2010 and that explosive growth over the years hasn't diminished recently, as Harris County, where Houston sits, "added more people than any other U.S. county during the eight years before 2015," according to The Wall Street Journal.
Between 1996 and 2011, Harris County added 150 square miles of pavement – a 24 percent increase in 15 years – and took away large areas of wetlands, which are nature's protection from storm surges. Meanwhile, precious little green infrastructure has been added to the topography to compensate and hence protect Houston from storm flooding.
In terms of Florida, the Times reported in May 2014 that sea levels had risen eight inches since 1870, but those sea levels were projected to rise another one to four feet by the end of this century, threatening its entire coastline.
As the damage from these storms grows, the public will demand not just that attention be paid, but that action be taken.
"Miami is exceptionally vulnerable because of its unique geology," the Times reported. "The city is built on top of porous limestone, which is already allowing the rising seas to soak into the city's foundation, bubble up through the pipes and drains, encroach on freshwater supplies and saturate infrastructure. County governments estimate that the damages could rise to billions or even trillions of dollars."
Therefore, it is not really a surprise that despite making its second landfall on Marco Island in southwest Florida, Irma hit Miami in the southeast and Jacksonville in northeast Florida with the worst flooding.
When you look at the devastation across Florida in the wake of Irma, it is ironic that in the 2016 presidential debates, Florida's junior senator, Marco Rubio, cited the economic impact of any effort to address climate change as the main reason not to move forward.
After Hurricane Irma's massive damage, can Florida's economy be protected without confronting climate change?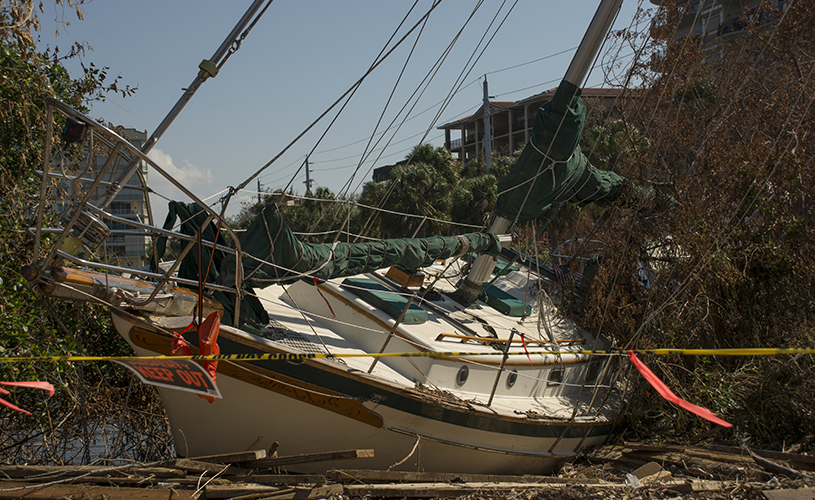 Hurrican Irma leaves a wrecked sailboat along the Florida coast. (Carolyn Hutchins / Shutterstock)
While we don't yet know if the damage and heartache wrought by hurricanes Harvey, Irma and Maria will trigger a political transformation around climate change, we do know seven things.
First, the political potency of climate change is undervalued by politicians in both parties. The roots of that miscalculation lie in the significant decline in public support for confronting climate change in the immediate wake of the Great Recession. While that dip in public opinion was relatively short-lived – it began in 2009 and ended in 2013 – the political perception has not caught up with the reality emerging from more recent polling data.
Second, there is an arithmetic formula for measuring the political potency of climate change, which I dubbed the "climate change gap" in my Newsday piece. In 2014, that formula nationally still worked in favor of those hewing to the denial side of the debate, but recent shifts in public opinion are driving that equation to favor those who want to address climate change.
RELATED: As Harvey hammers Texas, lessons from Sandy go largely ignored
In the 2014 national exit polls, 57 percent of voters believed global warming was a serious problem, compared to 41 percent who did not. This 16 percent difference is the climate change gap.
Moreover, voters divide sharply between the two parties on this issue. In 2014, those who saw global warming as a serious problem supported Democrats 70 percent to 29 percent. Those who did not think it is a serious issue supported Republicans 84 percent to 14 percent.
In New York state, the 2014 exit polls revealed 68 percent of voters believed climate change was a serious problem and they supported Gov. Andrew Cuomo over his Republican challenger, Westchester County Executive Rob Astorino, by a 73 percent to 20 percent margin. The climate change issue narrowly hurt Democrats nationally, but significantly helped Democrats in New York state in 2014.
For climate change to shift against the deniers nationally, that gap must grow from 16 percent to 25 percent and voters must break by a full 3-to-1 margin in favor of candidates committed to addressing climate change.
Democrats must find their fighting hearts to deploy the climate change gap as a political wedge, while more Republicans must find their heads.
The potential for just such a shift is real. A January 2015 poll found that two-thirds of voters were more likely to vote for candidates who campaign on fighting climate change.  hat marked a significant shift from 2014, and it has continued into this year's national polling data.
Third, climate change can become a wedge issue for the Democrats, if the Republicans continue to hew to the denial approach, best evidenced by Trump withdrawing the U.S. from the Paris Agreement. One poll from June showed that only 28 percent of people supported withdrawing from the climate deal. Consequently, the climate change gap can help nourish the Democratic base, while separating independents as well as moderate suburban Republicans – especially those living in coastal communities – from the clutches of Republican candidates singing from the denial songbook. The question becomes: Will the Democrats find the nerve to deploy climate change as a wedge issue?
Fourth, the Catholic voter is the hidden pocket within the climate change gap that can transform this issue into a political force for the 2018 congressional elections and during the race for president in 2020. The Pew Research Center took an in-depth poll in June 2015 that illuminates the Catholic factor in the politics of climate change.
Pew's 2015 data showed 68 percent of all Americans believed that the Earth is warming, but it was 71 percent among all Catholics, including 85 percent among Catholic Democrats, 72 percent among Catholic independents and even 51 percent of Catholic Republicans. On the seminal question, 46 percent of people believed that global warming is a very serious problem, but more Catholics, 48 percent, believed in the severity of the problem. Back in March 2013, just 33 percent of Catholics believed climate change was a very serious problem.
The Catholic vote is nearly a quarter of the national electorate, but more importantly, it usually approaches 40 percent of the nation's swing voters – lodged in the key Electoral College states along both coasts and in the Great Lakes' Midwestern states – potentially acting as a fulcrum of the American electorate. Consequently, if Catholic voters move sharply along this climate change gap, their shift is capable of moving political mountains.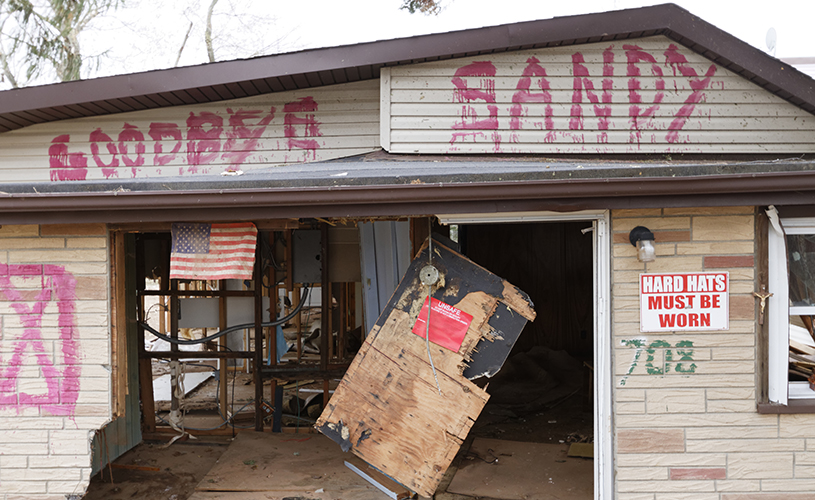 Superstorm Sandy left a wake of destruction in New York City and tristate area. (Andrei Orlov / Shutterstock)
Fifth, the media has changed how it is covering climate change. The media is no longer treating major climate disruptions as either isolated events or as an academic abstraction. Instead they have begun to connect the dots for readers and viewers.
On May 7, 2014, when USA Today led with a front-page headline "Climate Change Costs Already Hit Home," it signaled a shift in media coverage. "Devastating droughts in the Southwest, ruinous flood in New York City, killer wildfires in Colorado, intense heat waves in the Plains," the story began. "These are some of the disasters today that are being exacerbated by global warming and will continue to worsen in coming decades."
The wall-to-wall television coverage of hurricanes Harvey and Irma underscores the fact that a new public consensus has emerged. This is reflected in a recent Times op-ed by Stanford University researchers Katharine Mach and Miyuki Hino, who wrote, "Climate change doesn't cause extreme events. It amplifies them." As the damage from these amplified storms grows, the public will demand not just that attention be paid, but that action be taken to address the full range of dislocation caused by climate change.
Texas Gov. Greg Abbott and Florida Gov. Rick Scott and their administrations are working hard in the immediate aftermath of hurricanes Harvey and Irma, thankfully overcoming the shameful lessons of Hurricane Katrina in New Orleans. When the public sees this immediate response to such storms as not doing enough because the public comes to demand a long-term approach from their public officials to prepare for climate catastrophes, we will know that we have reached that Pearl Harbor moment.
RELATED: How New York can become an environmental leader
In upstate New York, the public reaction to recovery from Hurricane Irene in 2011 was fairly positive, but the reaction in New York City and on Long Island to the recovery from Superstorm Sandy was much worse. But that was nothing compared to the disappointment to the slowed down recovery aid for Sandy in New Jersey, which hastened Gov. Chris Christie's fall from grace as victims got further away from the October 2012 storm. In short, the ultimate political tail can be a delayed reaction with superstorms.
While their past approach of denying climate change has not yet caught up with Abbott and Scott, let's wait to see if there is a delayed political backlash geared to the cleanup phase of hurricanes Harvey and Irma before reaching a final assessment on the political ramifications of these storms.
Sixth, it would be preferable to rebuild the old bipartisan tradition around the environment forged by former President Richard Nixon and Sen. Ed Muskie as well as former President George H. W. Bush and Sen. Al Gore. Nevertheless, given the current positioning of the Republican Party as reflected by the Trump administration repeatedly branding climate change a "hoax," the cutting edge of the climate change gap will probably have to be deployed politically before the healing balm of bipartisanship can be applied.
Seventh, while an inchoate political consensus is forming at the surface of the American electorate around the need to seriously prepare for climate change, no consensus has formed yet on the policy steps that need to be taken.
For those seven factors to meld constructively on politics and productively in terms of policy, we need to break the current stasis of the Tin Man and the Scarecrow. In short, Democrats must find their fighting hearts to deploy the climate change gap as a political wedge, while more Republicans must find their heads, joining George Shultz and James Baker, two widely respected Republican elder statesmen who have written both passionately and persuasively in support of lessening the nation's carbon footprint through changes in federal tax policy.
Hurricanes Harvey and Irma, coming on the heels of this summer's forest fires in the West as well as the 41 million people impacted by the massive flooding in South Asia, and within the same decade as the famine that was at the root of the violent diaspora in Syria, could be seen in hindsight as seminal points in history.
At some point, the fact-based consequences of rising land and water temperatures, flooding from rising sea levels, massive fires and even famine, will merge with political necessity, leading to voters treating caution on climate change policy as political infamy. By then, the American electorate will be demanding action on behalf of taking, to use Pope Francis' words, "care for our common home."
Bruce N. Gyory is a political and strategic consultant at Manatt, Phelps & Phillips LLP and an adjunct professor of political science at the University at Albany.