Energy & Environment
How can Cuomo hit his environmental goals?
An interview with energy czar Richard Kauffman and DEC chief Basil Seggos on how Andrew Cuomo can hit his environmental goals.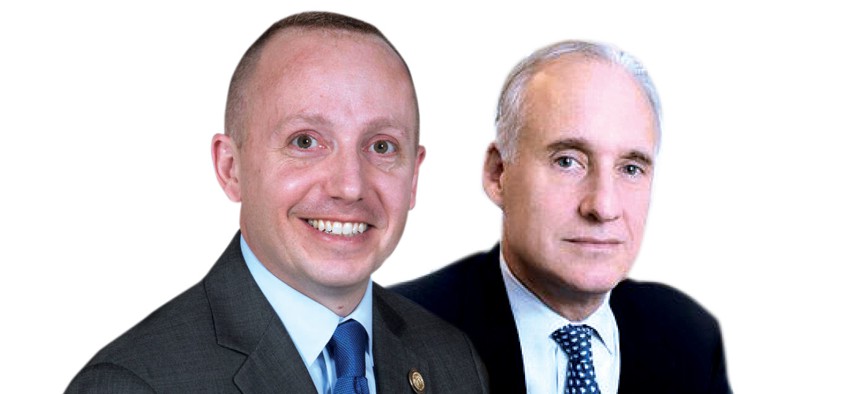 Gov. Andrew Cuomo has said he wants New York to be a national leader when it comes to clean energy. In 2016, he created the Clean Energy Standard, mandating that 50 percent of New York's electricity come from renewable resources by 2030. His administration has been working toward his ambitious offshore wind plan to generate 2.4 gigawatts of power by 2030. And earlier this year, Cuomo announced a record $1.4 billion for 26 different renewable energy projects.
Among those working to make Cuomo's goals a reality are Basil Seggos, commissioner of the state Department of Environmental Conservation, and Richard Kauffman, New York's chairman of energy and finance. The pair spoke with City & State's Rebecca C. Lewis about the state's progress in meeting the governor's goals and the impact of the Trump administration on the state's environmental agenda.
C&S: What are your top environmental and sustainability priorities?
BS: For the governor, the top environmental priorities are fighting climate change and protecting clean water. So when it comes to clean water, we have had the fortune of having great support from the governor and the (state) Legislature in the last two budget cycles: $300 million (for the) Environmental Protection Fund and a $2.5 billion Clean Water Infrastructure Act. They provide funding that is directed to communities all across the state to begin addressing what has been a source of significant neglect over the decades, when water infrastructure was falling apart, and as a consequence, our rivers and streams were put into jeopardy. So the Clean Water Infrastructure Act and EPF, those that set up the state very well, are leveraging significantly more dollars in financing loans and private investment and backing up the governor's position to keep New York in a leadership position on drinking water and clean water, which he has made very clear over the last two terms.
C&S: And what about fighting climate change?
RK: So I think in terms of climate change, the continuing thrust is to reduce greenhouse gases through an initial focus on changing the power grid, both in terms of having more renewables put onto the system so we have a mandate down to the governor's leadership. There's a mandate under the Clean Energy Standard for 50 percent renewables by 2030. But it's not just bolting on those renewable resources onto the old, early 20th century grid; it's also trying to build the next-gen grid, which can be more resilient (and) give customers more choice. It will also be more affordable and also reduce emissions. Just look at the solar sector in the state, it's grown 1,000 percent since 2011. We've just announced the procurement for large-scale renewables last month, and it's the largest single procurement of renewables a state has done at one time. So there are 26 large-scale solar, wind and hydro projects and then there's going to be another procurement for renewables that will begin later this month. The other thing that we'll be working on in terms of renewables is offshore wind. We have the most ambitious offshore wind plan in the country that we're implementing, so the first procurement for that will happen later this year.
BS: As you know, New York state, along with several other states, were awarded a significant amount of money. New York state was awarded $127 million as part of the Volkswagen settlement to ostensibly reduce nitrogen oxide emissions through investments in cleaner transportation. We're in the process of rolling out the plan for this, which we will make public soon. Suffice it to say, we intend to use these funds to make a transformational change in the way in which the state both invests its money into clean transportation and the way in which we can leverage private investment in that field.=
C&S: Speaking of clean transportation, have you weighed in on the debates around congestion pricing from an environmental standpoint?
BS: I think we'll defer to the transportation agencies on that, but I would say that congestion pricing would have significant environmental benefits in reducing air pollution and just having people drive less and use mass transit more. So there are clear environmental benefits to it. But that issue is being handled obviously between different agencies.
C&S: You haven't weighed in at all on the potential benefits?
BS: We certainly know that there would be benefits, and there's no dispute about the environmental benefits at this point. I think we would seek to get more involved and quantify the benefits and see how congestion pricing can help us meet overall air quality standards.
C&S: What sort of action has been taken to address President Donald Trump potentially opening up the Long Island shoreline for offshore drilling?
BS: I think the governor has been very clear since the day this was announced by (U.S. Interior Department) Secretary (Ryan) Zinke that this is not New York's future. We don't support offshore drilling. And frankly none of the states on the Eastern Seaboard, or any of the states, should as well. We've written to the secretary a number of times, submitted detailed comments in the public comment period. We did an event in the city to highlight all the opposition to offshore drilling with (former) Vice President Al Gore about a month ago. And we intend to keep the drumbeat going. This would pose a significant threat to New York, both in the exploration of the offshore oil and gas potential, and then drilling ultimately as well. And then, of course, through the spills that could occur, and we see occuring on a fairly regular basis all across the world.
RK: I guess what I would add is that I would say that the horizon offshore wind is not just filled with clouds from the federal government. I think that there have been a number of engagements with the Department of the Interior and so the department recently has announced that it is interested in working with states on additional areas of offshore wind development and leases. So the Trump administration at least signaled that it's not one or the other.
C&S: State Sen. Thomas O'Mara recently mentioned the issue of not just electrical energy but heating as well, and how the state should be looking more into cleaner burning gas. Is that something that's being looked into, or are their efforts to find alternative ways to provide heat?
RK: Yes, we have enjoyed a reduction of emissions in the state because there has been conversion of not only generating plants of coal to natural gas, which has fewer emissions, but also the conversion of heating in buildings from fuel oil and bunker oil to natural gas. So that's been a positive. But having said that, natural gas is, as people have long observed, a bridge fuel. So the gas infrastructure is very long-lived, so the governor says we ought to be very careful of the expansion of the natural gas infrastructure. So there is more than one way to think about the transition from fuel, which many people in New York state still use, and that's to also think about using electricity for heating. So think about the increase in the volumes of renewable energy that we're putting onto the system, it is a carbon-free way to have conversion away from fuel. And so you will see, there'll be more details of that when we talk about our energy efficiency initiatives.
C&S: While this is an issue for the state Legislature, where do you stand on the plastic bag fee, in terms of whether it has the momentum to pass and if it is the best way to address plastic waste?
BS: We have the benefit right now of near-unanimous agreement that bags are a significant environmental problem. When you can start from that position, it makes finding a solution a great deal easier. The report that we put out this year identified really seven options. Our job now in highlighting those options is to work with the legislature to find a path forward. The governor's made clear that this is an issue, and we want to solve it. I think there's enough momentum now, worldwide frankly, on the problem of plastic in our waterways and on our landscape that many states, municipalities, countries have found ways to get this done. Some have not succeeded, some have. And what the plastic bag report reveals is sort of the breadth of potential solutions, and where it's worked and where it hasn't. I won't forecast the likelihood of success in the legislature, but I'm optimistic that something can get done because we have that agreement that there's an issue that needs to be resolved.
C&S: Are there any other issues we should know about?
RK: I think I would say that the governor has been very clear about that there's not a false choice between sustainability and environmental protection and the economy. So as Basil said before, when we look at offshore drilling and offshore wind, we see that offshore wind, as in the case of other renewable, clean energy opportunities, can be a boon to economic development. So (we) have now in New York state 150,000 jobs, clean energy jobs, direct jobs and indirect jobs, that come from the policies that the governor has implemented. So this is one of the fastest growing sectors of job growth in the state.
BS: We are at a critical turning point in history right now. When you have such clear evidence of the importance of the environment, when you talk about the changing climate, severe weather, the persistence of pollution in our waters, we need government at all levels to be leaning forward, fully focused and aggressive. The lack of leadership coming out of Washington is of great concern to us. We have major concerns with the way in which the Trump administration is approaching the environment and jeopardizing the gains we have made over 40 years here in New York and around the country. The governor's made it very clear that, in absence of federal leadership, New York will lead. It will find a way to protect our state and our people, while also protecting the economy.