Coronavirus
The leftover lottery
Each day New Yorkers line up outside of clinics and hospitals hoping to get an unclaimed dose of a COVID-19 vaccine, regardless of their eligibility.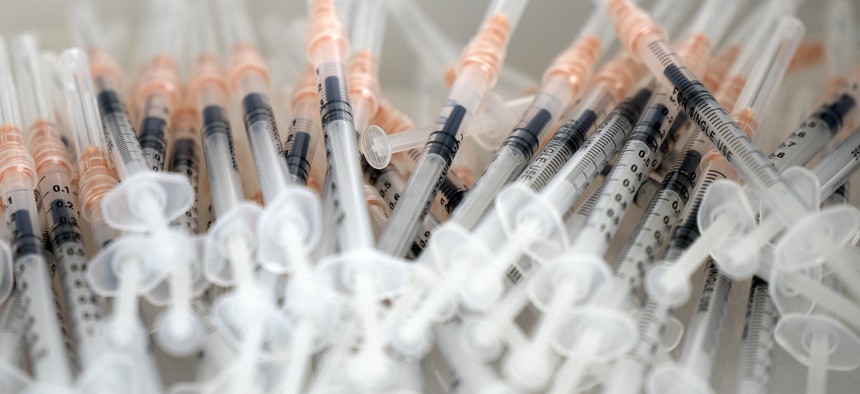 It's eerily quiet at NYC Health + Hospitals' Gotham Health, Cumberland clinic in Fort Greene, Brooklyn, on Tuesday evening. So quiet that it's hard to imagine that a line wrapped around the corner with people waiting patiently all day for a spare COVID-19 vaccine, just a few days ago.
The clinic says it's out of the first doses of the COVID-19 vaccine upon inquiry, which probably explains the lack of a line, as you can not take a second dose before the first. The city has been running low on first doses and is expecting to potentially run out of them by the end of this week. Multiple vaccination hubs around the city have delayed their openings several times due to supply shortages. Only one woman in her mid-thirties waited outside of the clinic with her young child, hoping that the clinic was lying about the possibility of first vaccine doses being unavailable to obscure the clinic's growing reputation for administering any left over vaccines to those willing to wait for them. "What's the worst that could happen? I waste one or two hours of my day," she told City & State.
COVID-19 vaccine administrators in New York have been threatened with large fines, should they let any vaccine doses go to waste, yet it's unclear how the city or state should reallocate unused doses. While state guidance says that hospitals and clinics should be using remaining doses solely for eligible individuals who may not have made an appointment, oftentimes there aren't any individuals who fit the state's eligibility profile available to receive them. 
Some clinics and hospitals within the New York City area have begun administering leftover vaccine doses to individuals willing to wait outside, sometimes all day, to receive some of the spare doses that remain at the end of a full day of vaccinations, regardless of their eligibility.
Neither the city's Department of Health and Mental Hygiene nor NYC Health + Hospitals responded to a request for comment.
A 30-year-old man from Crown Heights, who has asked to remain anonymous to protect his identity, told City & State that he waited at the Cumberland clinic from 11:45 a.m. until around 6 p.m. on Friday, in order to receive any remaining inoculations available. He was number three on the line that day, which he estimates had over 40 people waiting on it. Only five extra doses of the Moderna vaccine remained at the end of the day, which meant he was able to score a coveted dose of the medicine. "The trash was obviously the worst place that this vaccine dose could have gone – but my deltoid was arguably the second worst place," he said. 
He was tipped off by a friend of his, who had gone to the clinic for an unused dose of the vaccine the day prior. According to the nurse who injected him with the vaccine – and made him an appointment for his second dose – there's been a line outside of the clinic every day since the city began distributing vaccines.
"They didn't ask about eligibility in terms of people in the line with me when I was sitting in there (the clinic) filling out the forms or when I was about to get the shot; they asked me for various criteria that they were putting in the computer," a 25-year-old woman from the area, who asked to remain anonymous to protect her identity, who had also been to the Fort Greene clinic to receive one of its surplus vaccine doses, told City & State. "They asked if I was an essential worker at that point but it wasn't a prerequisite."
"I think it was definitely understood by everybody that I was in line with that we were all in the line because we wouldn't have been able to make appointments otherwise," she continued. "And that therefore we had no right to a dose and that it was only if they haven't had extras."
The clinic did not return to a request for comment. 
"Vaccine hunters"
"Vaccine hunters," individuals ineligible for COVID-19 vaccines but seek them out under false pretenses or have driven to different neighborhoods and states for vaccinations have made headlines in recent weeks. However, unlike those hunting down a vaccine and manipulating the truth to get their hands on one, these individuals are merely taking advantage of the inevitable vaccine spillover that would otherwise go to waste. 
"I'm happy that I got a dose. I also feel frustrated that we live in a system where, you know ... I work from home and I'm a young person, so I'm definitely not somebody who needed the vaccine most," said the woman who had received a vaccine at the Cumberland clinic. "At the same time, if it hadn't been me it would have been the other young, white people, who work from home, who were in line behind me."
However, this phenomenon isn't a new one. People all over the country have been patiently waiting outside of hospitals and clinics since the distribution of COVID-19 vaccines began in the hopes of lucking out and getting a spare dose. In January, chaos ensued when a media post falsely claimed that 400 extra doses of vaccines were available for walk-ins at the Brooklyn Army Terminal, driving hundreds of people to the vaccination hub. 
After word started to spread of 400+ surplus vaccine shots in Brooklyn—passed on by WhatsApp messages and screenshots—this is what *part* of the scene looks like right now pic.twitter.com/cndF7r5zzc

— Stephen Lurie (@luriethereal) January 14, 2021
While clinics and hospitals have not openly stated that extra doses may be available on any given day, individuals who have reaped the benefits of vaccine overflow have been sharing how they scored their dose by word of mouth.
A 23-year-old man from Harlem, who asked to remain anonymous to protect his identity, told City & State that one of his co-workers sent out a company email telling his colleagues about a walk-in clinic in the Bronx offering vaccines. The clinic took everyone with an appointment first, then a few hours later invited those without an appointment to come in without asking about their eligibility. "I would assume that most people came because they weren't technically qualified but there were also a ton of people that had appointments," he said.
The rush to administer remaining vaccines
COVID-19 vaccines have short expiration dates; both Pfizer-BioNTech and Moderna vaccine viles will expire six hours after it has been punctured, making it somewhat difficult for healthcare professionals to quickly find eligible candidates for the medicine.
"I'm glad New York State and other states are threatening people who violate the rules (regarding vaccine distribution) but I wish they would make up some rules about this problem … Despite all the committees, and commissions, and advisory groups, and expert opinions, I don't know any place that has laid out plans for distribution of excess vaccines," Dr. Arthur Caplan, one of the founding heads of the Division of Medical Ethics at New York University's Grossman School of Medicine, told City & State. 
On Dec. 22, Dr. Hasan Gokal, a doctor in Houston, Texas, was faced with a dilemma at the end of an all-day vaccination event: he had an open vial of the Moderna vaccine and no one left to vaccinate. The vial had ten remaining doses left and a 6-hour expiration date. At the end of the night, after administering the final doses to eligible individuals he had one left and 15 minutes to spare before its expiration. Gokal made the decision to vaccinate his wife, who has a severe lung condition, pulmonary sarcoidosis, knowing that the dose would otherwise go to waste. Gokal was fired soon after filing paperwork that indicated he administered the vaccine to his wife and was additionally charged with stealing vaccine doses. 
"To punish a doctor for getting rid of excess vaccine is ludicrous. It's ethically ridiculous," Caplan said. 
While Gokal's case was soon dismissed by a criminal court judge due to lack of probable cause, it highlighted the uniquely difficult position that numerous medical professionals are facing when it comes to vaccine distribution. If no eligible individuals are around and available to receive a vaccine is it more prudent to toss the remaining doses or inoculate an otherwise ineligible individual? Probably not, according to Caplan and Dr. S. Matthew Liao, a professor and chair of NYU's bioethics program.
"I understand why the state (New York) has this restriction," Liao told City & State. "They're worried about fairness and they're worried about people cheating the system. That's why we have prioritization and all these different policies but at the same time if it (the vaccine) is going to go to waste – this is, you know, a very precious commodity. There's a supply shortage right now, even as we speak, and we need to achieve herd immunity and try to get as many people vaccinated as possible."
Getting extra doses to eligible individuals
Still, the question of how to make the redistribution of these vaccine reserves more equitable lingers. City residents in zip codes with higher overall incomes have been vaccinated at higher rates than those in zip codes with lower incomes, despite being harder hit by the virus. And white people are being vaccinated at higher rates than Black and Latino people in the city since the rollout began. There are several reasons why many of the city's vaccine-eligible residents have yet to be inoculated from the disease, including being unable to take time away from work, having a lack of access to online vaccination appointment sign ups or being hesitant about the vaccine itself.
"I don't feel guilty at all (about receiving the vaccine)," the man from Crown Heights said. "Because the way that it's structured right now, if you're an essential worker who needs to be at work you cannot wait in this line all day. No, of course not. Even getting an appointment online takes hours because you just have to keep refreshing the page"
Liao suggested that making the availability of leftover vaccines more transparent to the public could help tackle the inequitable distribution of vaccines and lead to more eligible individuals gaining access to vaccine reserves. Kaplan recommended distributing vaccines on a more local level, making them available where most low-income individuals work and in places that are easy to get to by public transportation and at primary care sites. He also suggested making clear cut policies about dealing with excess vaccine supplies and defining the categories of people eligible for vaccines more clearly. However, both doctors agreed that it will be difficult to completely eradicate the inequalities that have led to the unequal roll out of vaccines at the end of the day. 
Until the question of what to do with leftover vaccines is adequately dealt with by the city and state it seems likely that extra doses will continue to be picked up by so-called vaccine hunters.