Eric Adams' COVID-19 plan keeps private sector vaccine mandate in place
The New York City mayor-elect stressed continuity – and better communication with city businesses.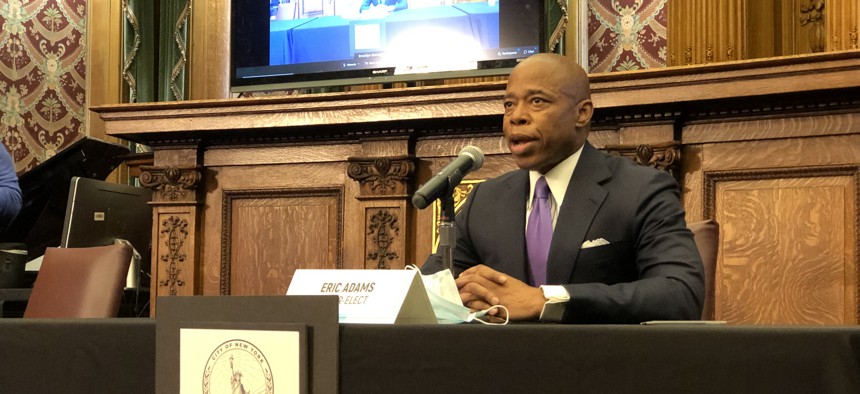 On the eve of his swearing in, New York City Mayor-elect Eric Adams rolled out a plan to fight the COVID-19 pandemic this winter as cases skyrocket with the rise of the omicron variant. Adams' approach will keep outgoing Mayor Bill de Blasio's policies in place, including a vaccine mandate for private employers that went into effect this week. And the incoming mayor showed no appetite for business or school closures, emphasizing fears that it would hurt the city's economy. 
"Keep our city open. That's the goal," Adams said at a press conference Thursday morning at Brooklyn Borough Hall. "We can't shut down our city again. We can't allow the city to go further into economic despair."
Adams, who is set to take the oath of office in Times Square shortly after the clock strikes midnight on New Year's Day, so far appears to be taking a similar approach to fighting COVID-19 as de Blasio has. Dr. Dave Chokshi, who is de Blasio's health commissioner, is staying in his position for the next couple months. Dr. Ashwin Vasan, a mental health specialist and physician, will step into the role in March. The incoming Adams administration also plans to keep the city's other existing vaccine and mask mandates in place.
Adams stressed that his COVID-19 approach would focus on continuity – calling it "a seamless transition" – but would improve upon de Blasio's "communication" to those affected by vaccine and other mandates. (During the mayoral campaign, Adams suggested he would do a better job than de Blasio of communicating with unions ahead of issuing a vaccine mandate for municipal workers.)
"If I was to critique any part of what was done, many people found out information after the fact," Adams said Thursday about the de Blasio administration's response to COVID. "I don't want to do that. I want to make sure I speak with the stakeholders."
Though the de Blasio administration hasn't imposed a large number of fines on businesses not enforcing vaccine mandates – only 15 as of mid-October – and has said that issuing penalties for the new mandate would be last resort, Adams characterized the outgoing administration as taking a "punitive response." Adams suggested that his administration would take an even softer approach. 
"I don't believe we need to be heavy-handed with our businesses. COVID has been heavy-handed enough with our businesses. COVID has traumatized our financial base, restaurants, small businesses, corporations," he said. "I think the right partnership, what we are doing now, speaking with our large businesses and our small businesses, we're going to receive the level of cooperation we need to ensure that we get the compliance that we need."
Adams also centered the city's businesses in discussing his desire to see more white collar workers back in offices, saying the city's "financial ecosystem" depends on it. Gov. Kathy Hochul has made similar comments, as has de Blasio, who made city workers return to the office full time in September. With cases of the omicron variant surging, Adams said he was open to allowing some city employees to work remotely for the time being. But he wants to see the end of remote work soon – for both city employees and those who work at private companies. "As soon as we see a decline in the surge, we're going to have people back into office spaces so that we can start not only recovering from COVID, but we have to recover the financial crisis that we're facing."
Adams declined to make any major announcements about implementing a vaccine mandate for eligible students in New York City schools – something de Blasio has also hesitated to do. (COVID-19 vaccination is currently required for Department of Education staff and teachers, however.) Adams said Thursday that he has been in discussions with Gov. Kathy Hochul and United Federation of Teachers President Michael Mulgrew about a possible mandate for students, noting that it will be the state's decision whether to include the COVID-19 vaccines in immunizations required for students. But Adams said he'd "lean on the governor" and share his thoughts – setting a timeline for an April decision regarding a mandate for the school year starting in the fall. 
As COVID-19 cases reach new highs on a near-daily basis – New York state reported 74,207 new cases on Thursday from the day before – some have also questioned whether COVID-19 booster shots should be required in vaccination mandates. Adams said Thursday that his team is studying whether or not to add a booster requirement, but did not announce specific plans to do so yet. 
"If we believe that mandate is needed, I'm not going to hesitate to do it for the city – for those areas that we are in control of," Adams said. "We're not there right now."
For the time being, Adams said that he would be encouraging New Yorkers who only got the first dose of vaccine to get their second shots. According to city statistics, 72% of residents have gotten two shots, while 81% have received one dose – a difference of 753,608 people. Adams also said that his administration would distribute two million more "higher-grade masks" such as KN95s through community-based organizations and health department sites.