Staten Island
New York Wheel and Empire Outlets to transform the St. George waterfront
The New York Wheel, which was announced by Mayor Michael Bloomberg in 2012 and approved by the New York City Council in 2013, was supposed to be the largest Ferris wheel in the world at 630 feet. It has since been exceeded by the Ain Dubai Ferris wheel, which will reach 689 feet – and that's assuming the New York City project comes to fruition. The Ferris wheel, which will be located in the St. George neighborhood on Staten Island, was supposed to be completed in 2016, but has been beset by delays in construction and legal issues.
The delays by the project's original designer and builder, Mammoet-Starneth LLC, led to millions of dollars in damages and lost revenue. After months of legal fights with the firm, New York Wheel fired Mammoet-Starneth in July, and is in talks to hire the American Bridge Co., the firm that built the High Roller Ferris wheel in Las Vegas and the new Gov. Mario M. Cuomo Bridge.
Despite the setbacks and turnover in the design team, New York City Councilwoman Debi Rose, who represents the area that includes the wheel, remains confident. She said she's spoken to the developer and they remain committed to completing the wheel. Current projections estimate it will open in 2018.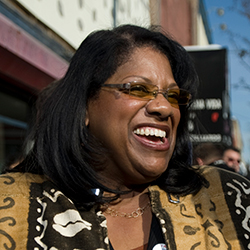 Rose has also been involved with the development of Empire Outlets, a mall and hotel slated to open in early 2018 that is also expected to attract visitors to the Staten Island waterfront.
"I have worked for years to open up waterfront access on the North Shore, and both the New York Wheel and Empire Outlets will give residents new waterfront recreation opportunities," she said.
Empire Outlets will be New York City's only outlet mall, and will be a boon for the local community as well as shoppers. The councilwoman secured a commitment from the owners of Empire Outlets, BFC Partners, so that 60 percent of the mall's 1,200 permanent jobs will go to Staten Island residents. BFC Partners has also worked with the councilwoman on providing a job readiness program for all Staten Islanders.
"This program will not only prepare participants for jobs at the Empire Outlets, but for positions with any retail employer," Rose said. "It's the largest workforce development program ever to come to Staten Island."
The councilwoman is also hopeful that these projects, when completed, will give people a new perspective on Staten Island.
"Most of the visitors who come to Staten Island on the ferry turn around and return to Manhattan," she said. "When these projects are complete, they will be more likely to take a closer look at all that we have to offer here."
Despite any setbacks, the New York Wheel and Empire Outlets aim to transform the Staten Island waterfront, changing the landscape and providing a new tourist destination.